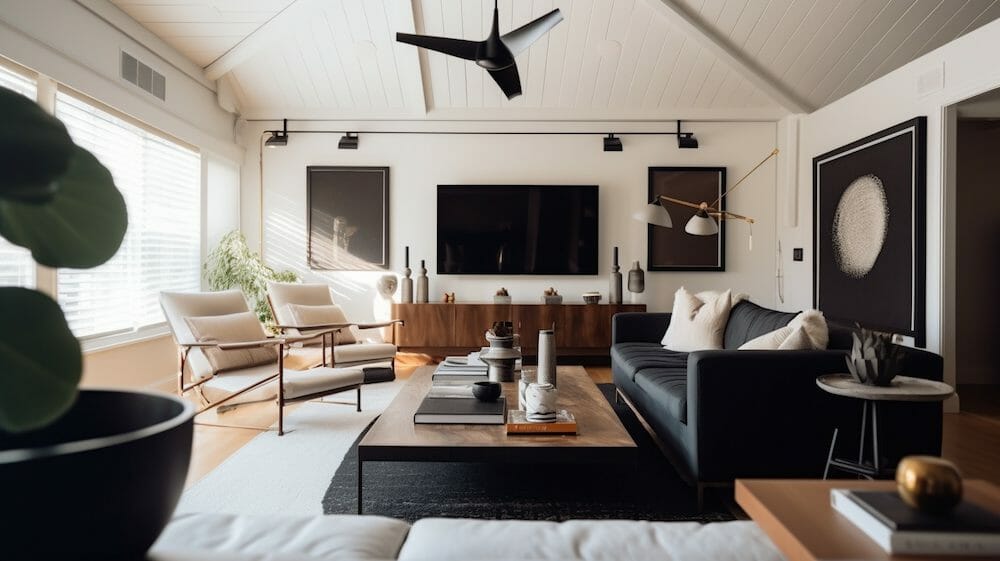 When it comes to home design, few projects are more rewarding than creating a beautiful and modern living room. Count that double if the space also features a dining area. Whether you want to create a serene oasis of relaxation or an elegant spot for entertaining guests, the right décor can turn any space into the luxurious haven you've dreamed of. So, let's take a closer look at how our designer transformed one client's living space using stylish modern elements. Don't miss the exciting details that added to this amazing outcome!
The Challenge: Modern Living Room  
A recent Decorilla client was excited to build their new home in Texas. They planned out each room's design ahead of time to ensure the project would run as smoothly and efficiently as possible. That included the main bedroom design, which was also their first—and very successful—online interior design experience. Moving forward with the plans, it was time to give life and character to the living room and dining design. The designer needed to:
Assemble a cohesive open-concept layout from the kitchen to the sitting room 

Source comfortable, long-lasting modern furniture that is also pet friendly 

Find a convenient spot for a TV in the living room, and also incorporate a sizeable black fan stylishly 

Include an eye-catching chandelier above the dining table set

Consider a statement piece of art on the black brick wall that houses the direct vent fireplace
Unsure if a modern style suits your living room design? Then take our

Free Interior Design Style Quiz

to find your true home style today!
Modern Interior Design Style Ideas & Decor Inspiration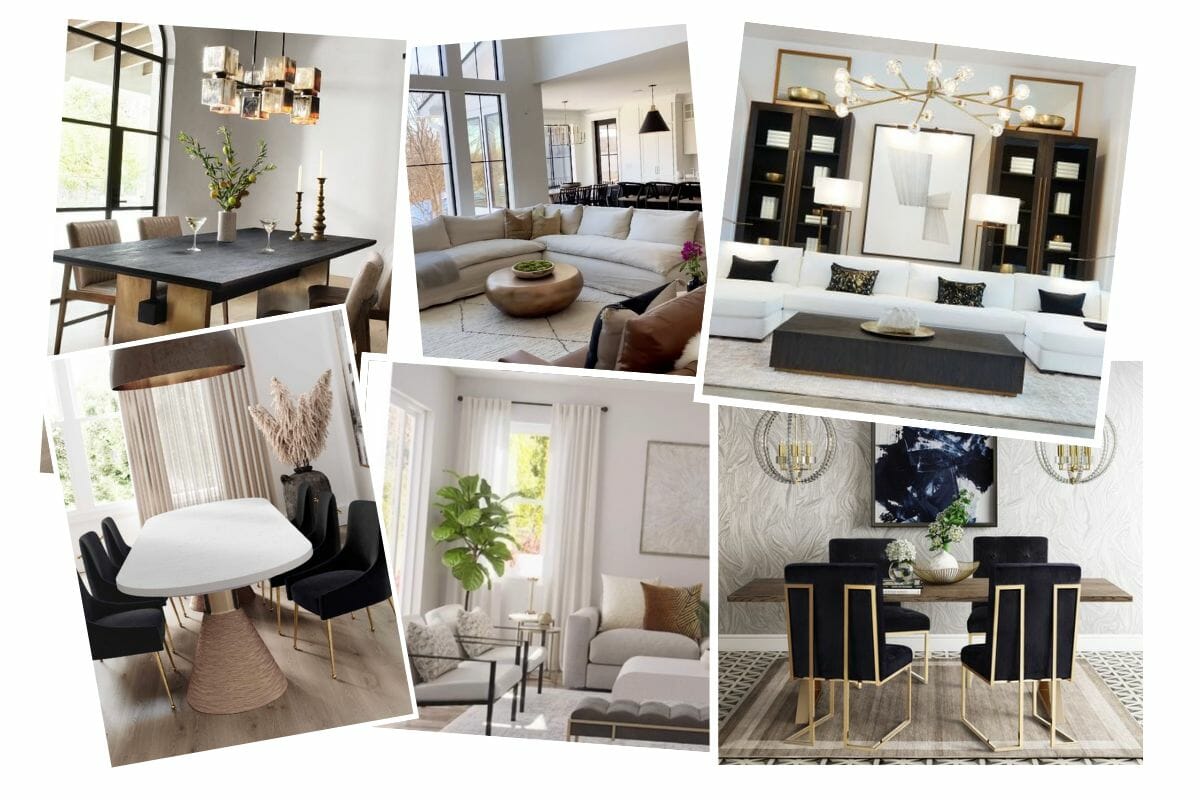 One of the best assets of modern living room decor is its versatility. It can be minimal but also allow you to play around with color and texture combinations. The client's inspirational gallery was somewhere in-between: it boasted vibrancy despite the simple, sleek modern furnishings. The key was in the curated accessories and statement pieces with unique forms showing off bold and creative expression. 
Modern Living Room Design & Moodboard
Decorilla made finding the best-suited interior designers covetable and simple with their meticulous design questionnaire. After initiating the contact, clients typically complete an online quiz to specify personal tastes and requirements, followed by further consultation with the team. However, in this case, the clients were so pleased with the specific designer's work on their other projects that they requested to work with the same person again. Hence, the concept by Drew F. was the one the clients couldn't wait to see.
Drew's first draft of the dining and living room design revolved around keeping the space light and fresh. The color palette was neutral, filled prevalently with softened shades of black and white. Meanwhile, gold and black accents linked the interior to the home's architecture and the previously designed principal bedroom.

Modern Living Room Design Result
The modern interior design style of the online living room includes a spacious, bright sofa in a performance fabric. While the initial concept involved caramel leather accent chairs, after consultation with the client, those were replaced with sleek, black armchairs. In addition, opting for the abundance of slender metal lines ensured a lightweight, breezy feel to the entire arrangement.
The area rug's intricate texture adds a level of controlled energy to the structured form of this modern living room. Similarly, the gallery wall leads the eye upward without compromising the established layout geometry. Its elegant and clever design also provides a sophisticated solution for hiding the TV behind an art frame. The choice of details, such as subdued decor pieces and a tall faux plant, further elevates the room's style.
Final Modern Dining Room
Similarly to the modern living room arrangement, the dining room design focuses heavily on sleek lines, contemporary furnishings, subtle shades, and bold accents. The modern dining room set is a prominent part of the design.
Nevertheless, it seamlessly blends with the adjoined conversational area, cultivating an inviting environment to relax and entertain. It's topped up with an elegant lighting solution in a perfect combination of style and functionality.
The irregular shape of the space allowed for the creation of another independent functional zone. It is now an intimate conversational area comprising four curved armchairs and a coffee table. In the background, a black brick wall hosts a fireplace and statement art piece. The sculptural cabinet also adds to the unique flair with its stunning aesthetic, producing an immediate "wow factor." Every aspect works together effortlessly to convey an unforgettable atmosphere full of contemporary style and comfort.
Modern Living Room Furniture Shopping List
Decorilla takes the stress out of home makeovers with services that quickly transform any space, from classic to transitional to modern. In addition to professional interior design ideas and helpful 3D visualizations, each client receives instructions and guidance every step of the way. Meanwhile, curated shopping lists provide a streamlined solution for timely and hassle-free sourcing featured elements. And then, those exclusive trade discounts make your dream space more affordable than ever!
Modern Interior Design Style Top Picks
Looking to give your home an upgrade? Then check out some of our favorite pieces that could leave a lasting impression on your guests!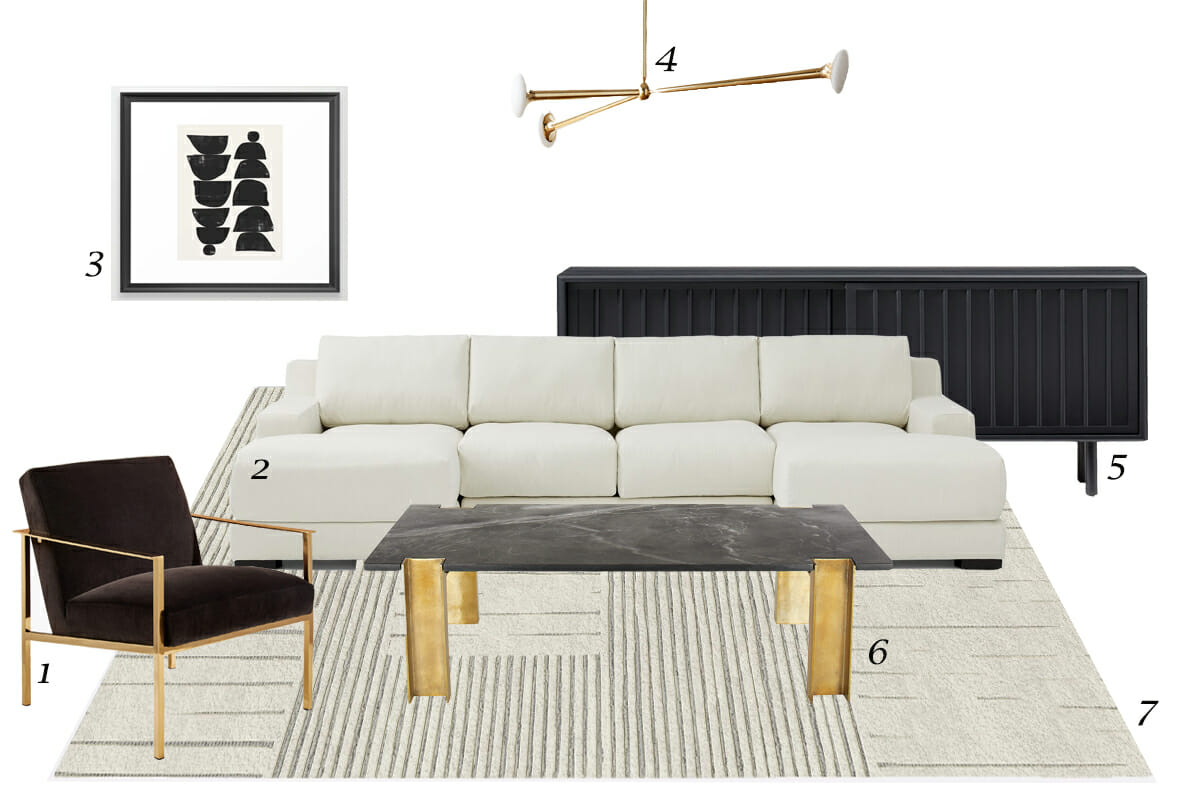 Thinking of your stylish modern living and dining room makeover?
Join forces with our interior design experts and witness an impressive transformation of your space. Schedule a Free Interior Design Consultation to learn more today!

[images: Decorilla project images]