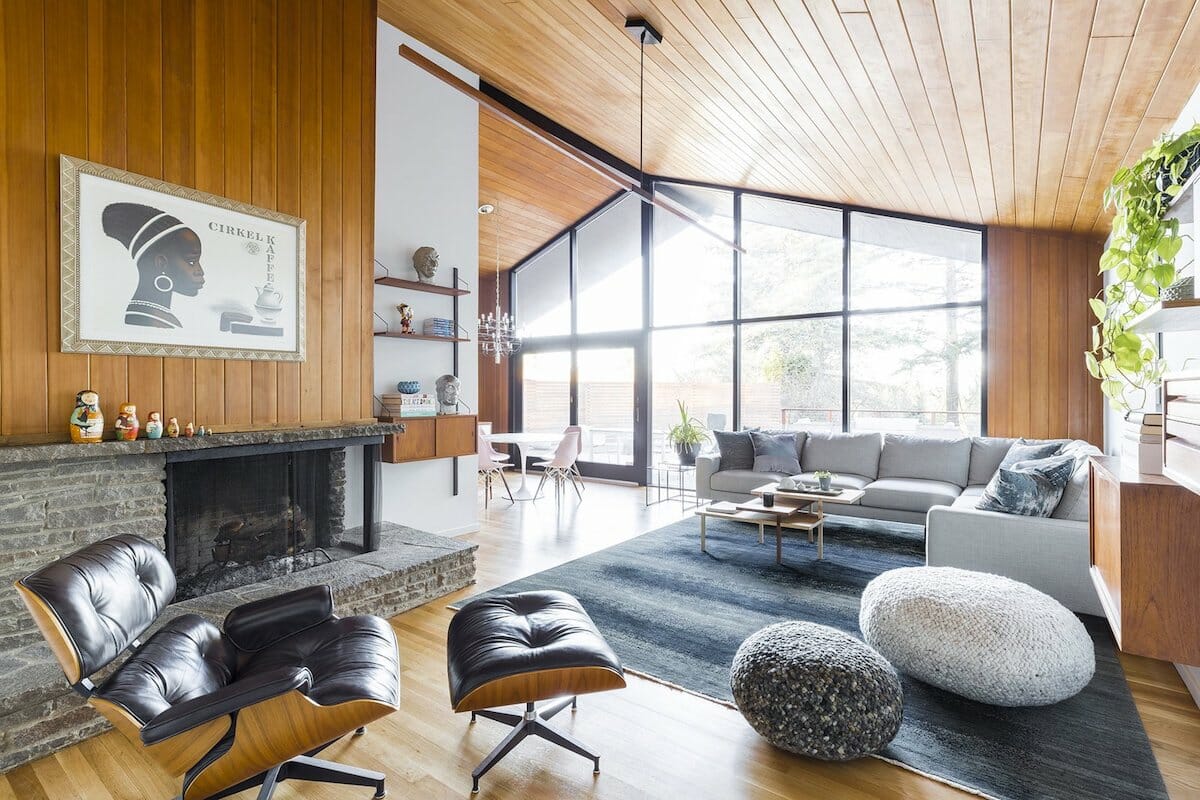 Uncluttered sleek lines and an understated appearance are making a decidedly welcome comeback. In fact, sumptuous mid-century interior design only took a short break in the late 20th century before bouncing back as a favorite. So, what keeps us going back for more? These no-fuss, functional designs deliver an unrivaled timelessness and nostalgia that are hard to say no to. Read on for our best tips to achieve the mid-century modern look as we dive into this style which is here to stay.
1. Understand its Origins: What is Mid-Century Interior Design?
Mid-century interior design marks an architectural and artistic era that spanned from the 1930s to the 1960s. It also forms part of the ultimate aesthetic cleanse, modern design. Modernism took shape as a reaction to the overly ornate and formal trends of the 1800s. By the 1930s, there was a spike in modern design due to the need for affordable practicality after World War I and newfound international influences, like Scandinavian design.
In this unique mix, this look became one of the popular styles of the era, and was finally coined 'mid-century modern' after its reign in the 1980s by writer Cara Greenberg.
Mid-century modern interiors are visually light and stick to the form-follows-function principle. As a result, creations from this period tend to take up as little space as possible. There is nothing unnecessary in their design. In terms of materials, plastic and wood often feature in furniture design, whereas architects relied on, then revolutionary, reinforced concrete and steel.
Mid-century modern houses, like the designs by Frank Lloyd Wright, have characteristic flat roofs, large rectangular windows and could even be cylindrical in structure. What's more, these new buildings could tower over existing homes and offices. What we now know as skyscrapers and modernism, in all its forms, changed the private and public spheres forever.
Not sure if mid-century modern interior design is right for you? Take our Free Interior Design Style Quiz to help discover your perfect style today!
2. Pair Mid-Century Interior Design with Your Personality
Some interior design styles are more suited to certain lifestyles or personalities than others. Fortunately, when you stick to your innate preferences you'll choose only what you adore. Following this practice will not only bring you closer to a home you love, but it will also give you the confidence to explore your style. Keep in mind that getting acquainted with the interior design styles trending right now will help a lot!
A mid-century modern home is for anyone. Yet, those who have a deep appreciation for authentic vintage styling will enjoy such an interior even more. The furniture also adapts well to even the smallest of rooms, while practicality and durability make them perfect for families.
3. Spot Mid-Century Home Interiors, Room by Room
Ever since its steady comeback in the '80s, mid-century interiors continue to influence house design. Consequently, homes are bolder, brighter, and comfier than ever before. But to achieve this look without making it seem tacky or outdated can be tricky. Yet, it is doable. Before attempting to create a retro modern interior design, familiarize yourself with the look of a mid-century modern house.

Mid-Century Kitchen Interior Design
Clean lines and door cabinets with simple pulls are among the top features of mid-century kitchen design styles. A kitchen island is not only a contemporary favorite, but it is also a vintage must-have. When paired with slim bar stools and a few select colorful accessories, a retro kitchen comes to life.
Mid-Century Modern Bedroom
Even in the bedroom, clean lines and muted colors prevail. Accordingly, designing a mid-century modern style is relatively straightforward, thanks to its gender-neutral look. And adding more personality is simple. Use contrasting textures, like a mohair rug and cotton weave throw, without reservation. And, above all else, be playful. The bedroom is for unwinding, so splurge on unique lighting design if that's what the room needs.
A retro-modern design bedside table, bed frame, headboard, or statement lounge chair can make all the difference! And if it's antiques you're looking for, the seven best ways to find and save on vintage furniture can help!
Mid-Century Modern Dining Room
The dining room is one area that is slightly easier to furnish than others. With an artisanal dining table and dining chairs in velvet and brilliantly shaped, it'll be easy to create a beautifully cohesive mid-century modern interior. Add a contemporary twist with a statement pendant light or chandelier dangling above the table.
Mid-Century Modern Living Room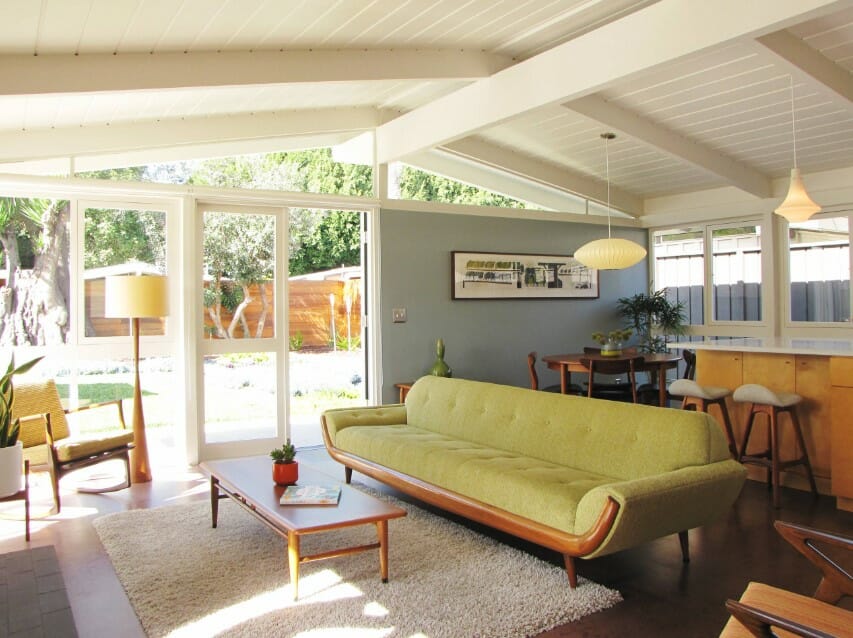 The purpose of modern interior design was to steer the focus toward what's natural and away from human-made. That's why living room layouts, fittingly, encourage social engagement. A television, for instance, will never be the primary focus of the room. Another vital aspect of these communal spaces is their open layout. A combined living and dining room chiefly opens more avenues for social interaction and provides an area to showcase a retro modern interior design's furniture.
Mid-Century Modern Bathroom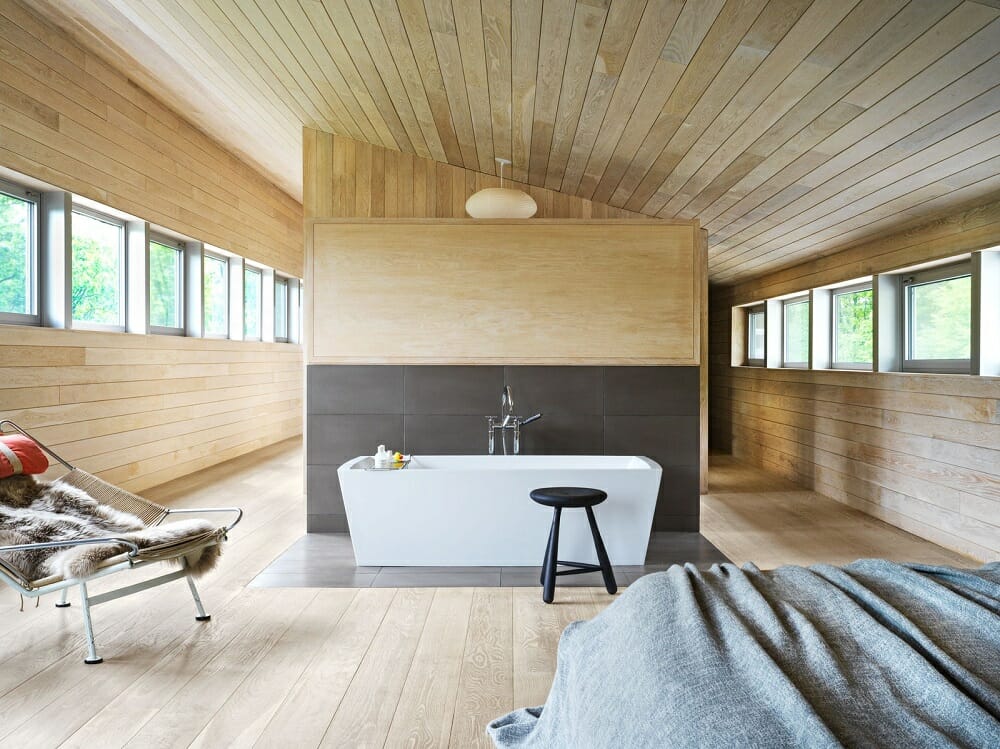 A bathroom may not be the first thing that comes to mind when you think of stunning mid-century home interiors. Nevertheless, the lavatory, in part due to its size, is ideal for practice. That is especially true if you want to test your color palette or retro design ideas. For starters, the cabinet drawers can be sleek and minimal. And you can add mid-century décor in small details like a side stool, pot planters, and one or two modern art pieces.

4. Add Elements of Mid-Century Modern Interior Design Ideas
As one of the most enticing styles of the 20th and 21st centuries, retro modern interior design is here to stay. After attending to a few key elements, you can also successfully create your mid-century home.
Simplified Form
Mid-century interior decorators and designers can make retro design inspiring. But they have help. They know that simplified form and clean lines are vital to perfecting this vintage style. At times, as form follows function, shapes can be geometric or organic. Keep in mind that the aesthetic focuses on the essential. In other words, the frame of a piece of furniture is not only its structural base but also its only decorative aspect. Surfaces are also free of clutter – always.
Open Plan Layout
Iconic modern buildings are airy and flow seamlessly from one room to the next. Architects and mid-century interior designers made sure attention shifted from the interior to outdoors, focusing on nature instead. They did this by using an open home floor plan, sliding doors, and glass panes. In the end, a mid-century interior must be practical and user-friendly above all else.
Mid-Century Modern Art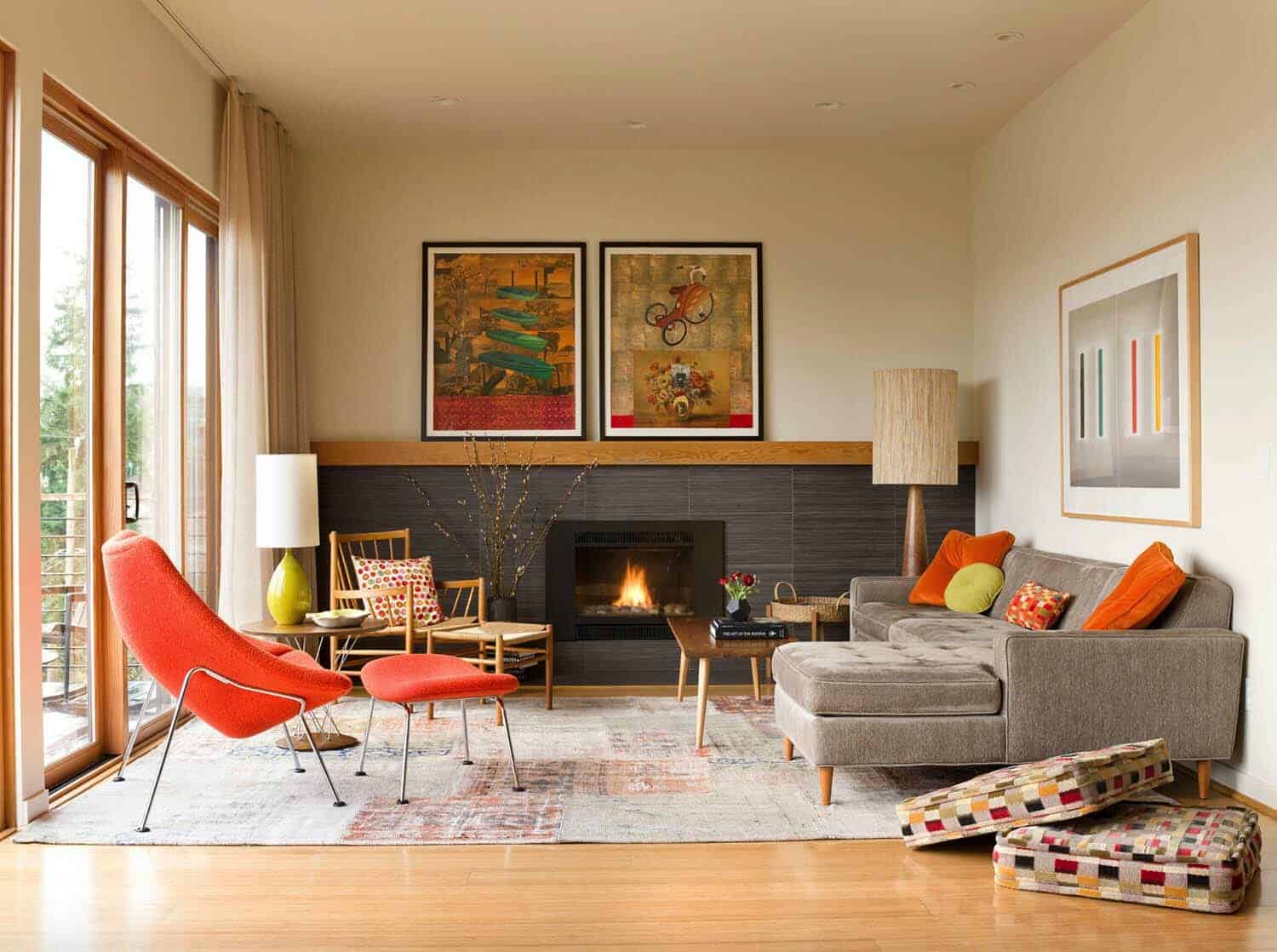 Artists were among the driving forces behind modernism. So, it's only natural that artwork from this period is as remarkable as the furniture and architecture. Some painters followed in impressionists' footsteps, like Henri Matisse, while others turned to a post-war atomic style by artists like Andy Warhol and Jackson Pollock. Whatever the preference, the color often plays a significant part in mid-century artwork. So, be sure to include bold pieces as well.
Minimal Window Dressing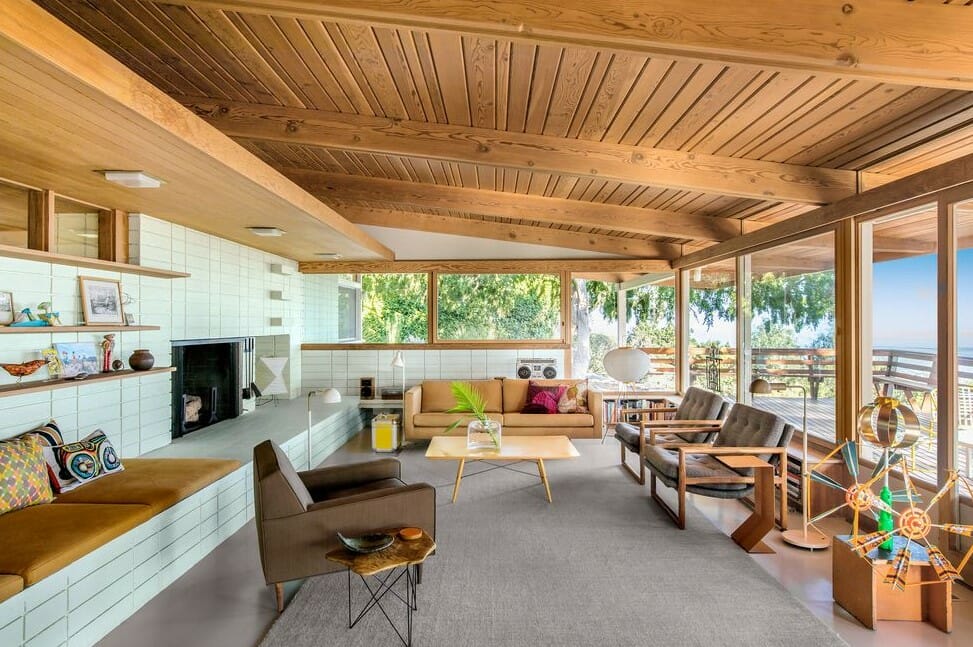 If you have large windows, you're in luck. Modernist architects made the most of the then-new building materials which needed less supportive structures. Large windows, as a result, feature in most mid-century modern houses. These expansive windows bring more natural light and blur the line between interior and exterior spaces. And what better way to show off great glass panes with minimal or no dressing? However, if curtains are an absolute must, stick to air-light fabrics, like voile or linen, that let in light while providing privacy.
Retro Colors for Modern Interior Design
Mid-century modern interior decorators and designers surely embraced color. Surprisingly, the retro color spectrum is vast. This wheel ranges from neutral to bright and bold, and even feature stark contrasts of black and white. However, we associate pastels, mustardy yellows, and blush with vintage interiors. The good news is that neutrals are timeless – so they will always be your safest bet.
Retro Furniture
An absolute must for a mid-century modern house is vintage furniture. Slender legs and straight lines are characteristic of the era and make these pieces ooze sophistication. Despite their apparent simplicity, mid-century furniture is still highly sought after in contemporary homes. Structure, material, and comfort are equally important here. Designers didn't manipulate one material to look like another. What you see, essentially, is what you get – plastics (like Lucite and Plexiglass), plywood, glass, wood, and metal in all their glory.
5. Get to Know Retro Modern Furniture in Interior Design
There is more to mid-century furniture than hairpin legs and straight-edged silhouettes. Plush, cocooning curves and dreamy shapes also form part of this trend-setting era. These are so sought after, in fact, that an authentic piece can sell for over $60,000! Fortunately, shopping vintage can be a much more affordable option. What's more, popular brands make high-quality replicas for every price range. Refer to the image below to get a better idea of what iconic mid-century pieces look like before shopping.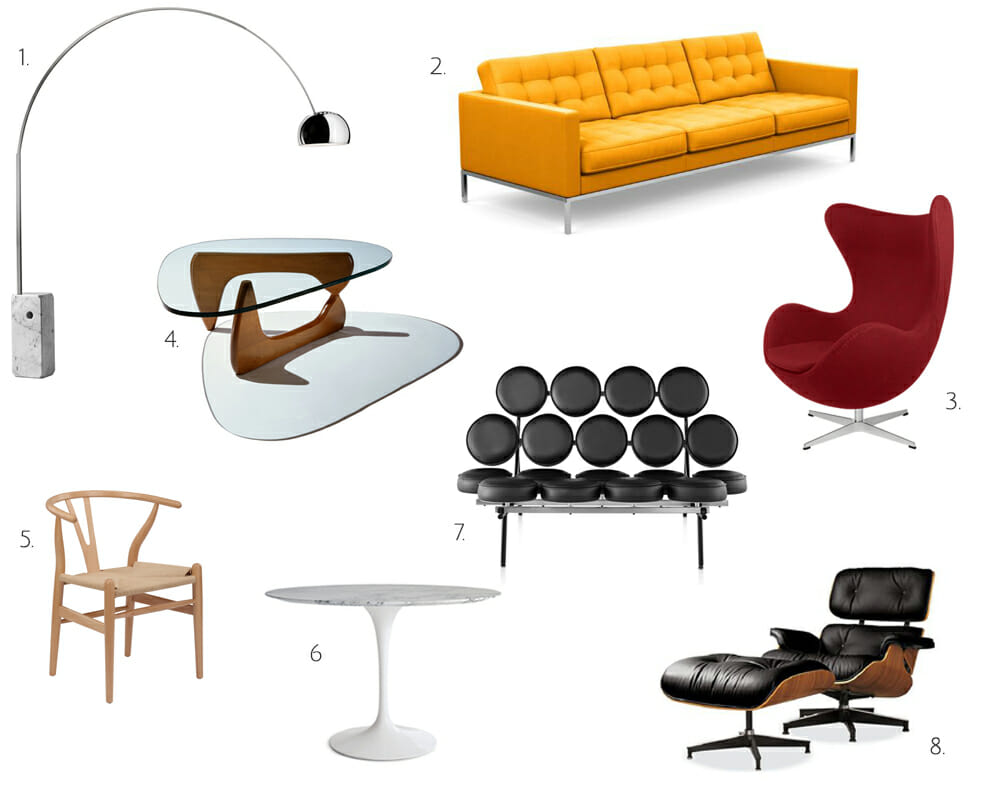 Too much retro furniture can make you feel like you're in an episode of Mad Men. But one or two distinct pieces like the Eames Lounge Chair (8), the Marshmallow Sofa (7), the Egg Chair (3), or Noguchi Coffee Table (4) is enough. On the other hand, some designer pieces, like the Arco Floor Lamp (1), the Wishbone Chair (5), Saarinen Dining Table (6), and the Knoll Sofa (2), are staples in both Contemporary and Scandinavian interiors. So much so that we often forget that they're classics.
6. Meet Iconic Mid-Century Modern Interior Decorators, Designers & Artists
As with any other style, a few creatives push the trend further than ever thought possible. The mighty minds behind mid-century modern homes include architects, decorators, artists, and interior designers. Some names may sound familiar. That's because many famous pieces have their designer's name as their moniker.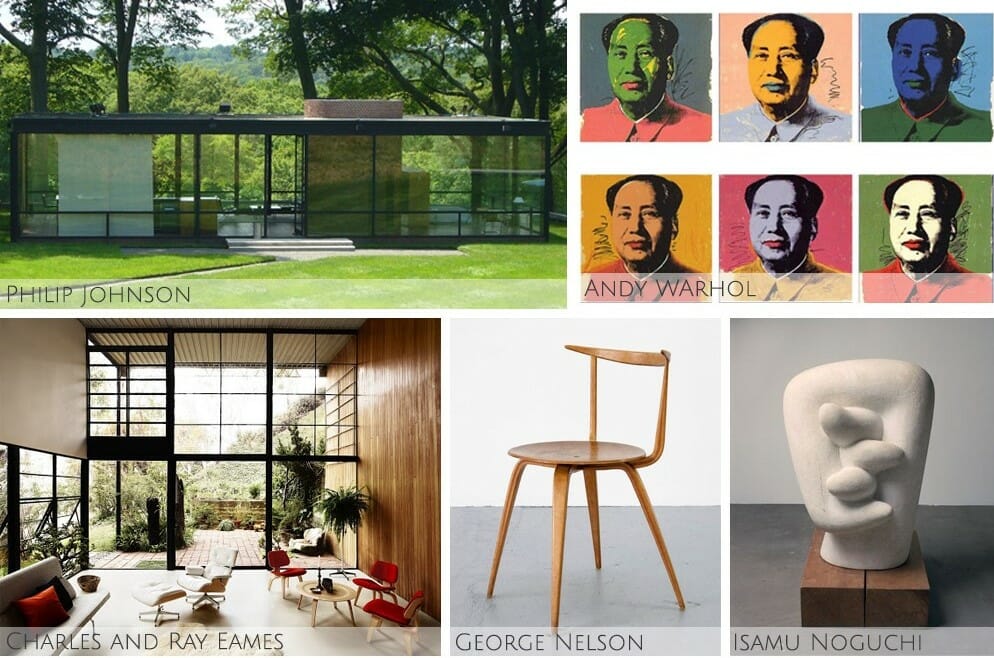 Architects continued the path Frank Lloyd Wright set. The resulting buildings are rectangular and sometimes feature more glass than walls. Philip Johnson is among the leading architects, while Charles and Ray Eames designed everything from buildings to furniture. The Eames Lounge Chair is one of their most popular pieces. George Nelson, the maker of the Marshmallow sofa (pictured under iconic furniture above), took great strides in bringing Scandinavian modern design to the global arena. In the meantime, artists like Andy Warhol and Isamu Noguchi (who also dabbled in furniture design) pushed art boundaries to create awe-inspiring pieces.
7. Balance Your Mid-Century Modern House
Decorating a home with strictly retro style furniture, like mid-century modern, is a challenge. Going too far could result in a kitsch look. While not doing enough could make your home look dated and watered down. So find a happy medium by balancing old and new. The mid-century decorating basics below will set you on the right path!
Play with Opposites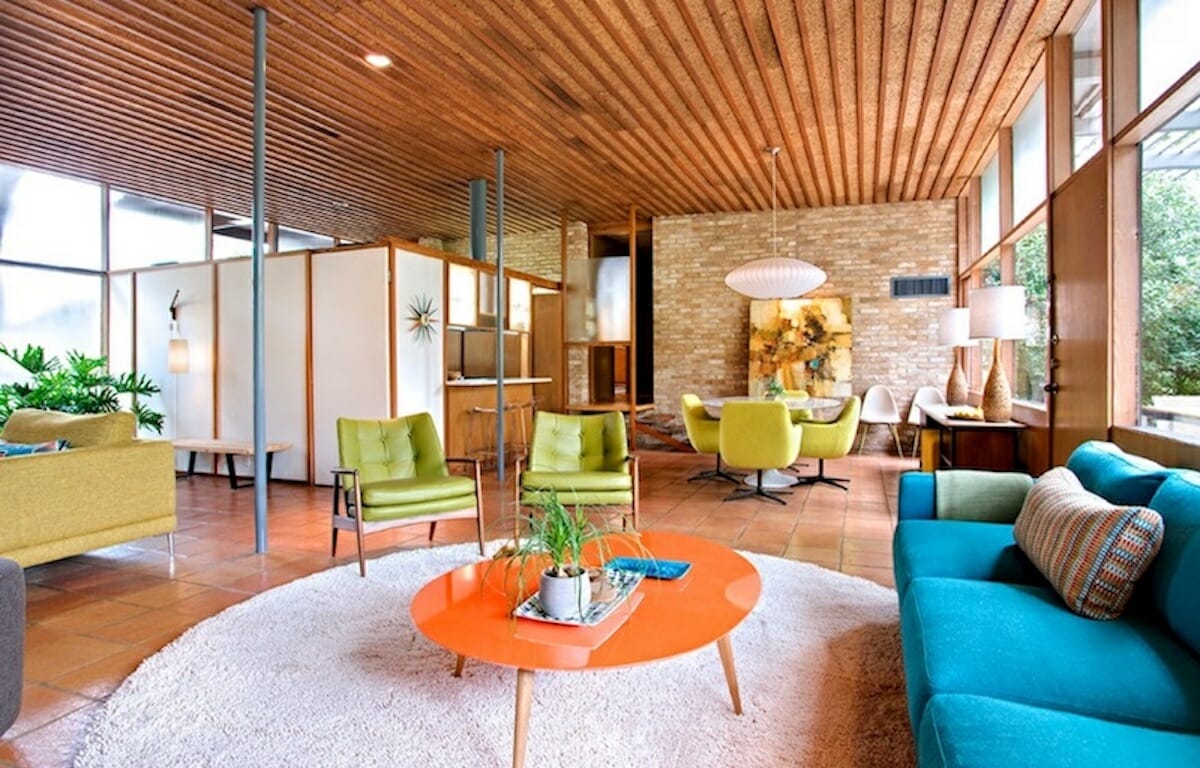 Be sure to add pieces of varying heights, shapes, and sizes. An elegant arch floor lamp, for example, balances low-lying furniture like a mid-century rectangular sideboard and modern armchair. Arranging opposites together can make all the difference in any living room.
Layer Levels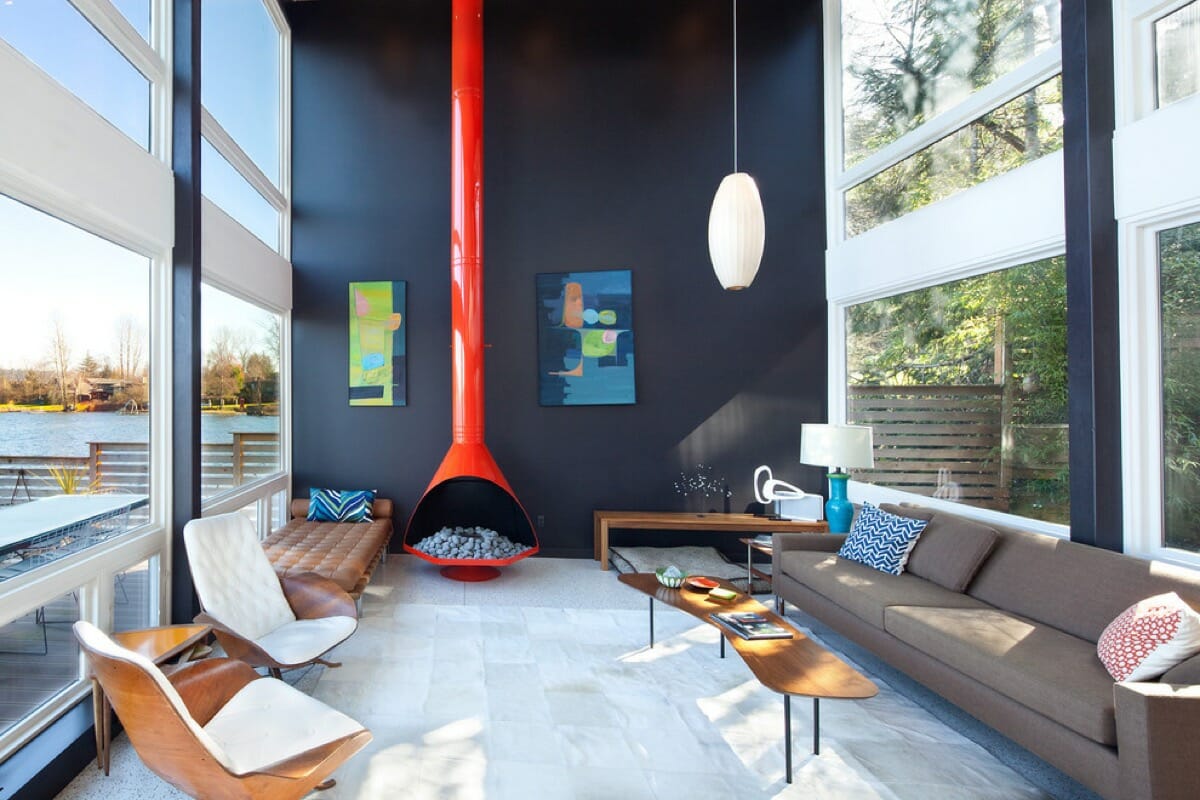 There is nothing worse than a one-dimensional interior. Fortunately, you can create a breathtaking home when addressing the different layers in your interior. The seven layers are architecture (includes the walls and ceiling), flooring, upholstered furniture, accent materials, non-upholstered furniture, accessories, and lighting.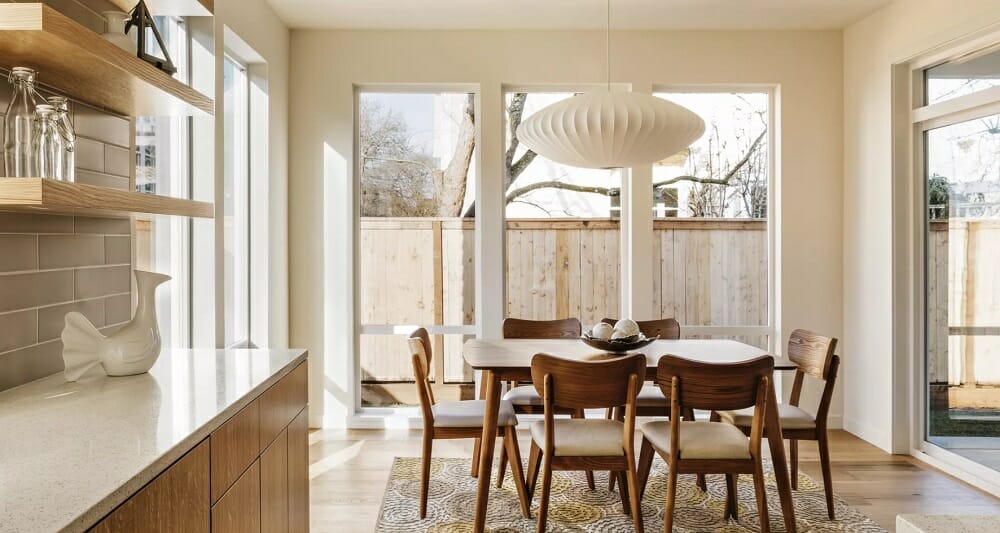 All in all, making use of these is straightforward. Start by choosing a wall and ceiling color, move on to selecting your flooring. When you pick upholstered furniture, go with one or two pieces at a time before adding more. This way, you can keep track of how everything fits together. Select an accent material that complements your color scheme. Then choose non-upholstered items based on practical needs. And, finally, complete the room with minimal accessories and lighting. And ditch anything that's finicky.
Mix Textiles
Different fabrics can make your room come to life. While solid colors, patterns, and florals could add visual intrigue, the secret to balancing textiles is using various textures – think velvet, silk, twill, wool, jute, and cotton. There are many avenues to explore. Once you start experimenting, you'll soon discover what works for you.
Incorporate Life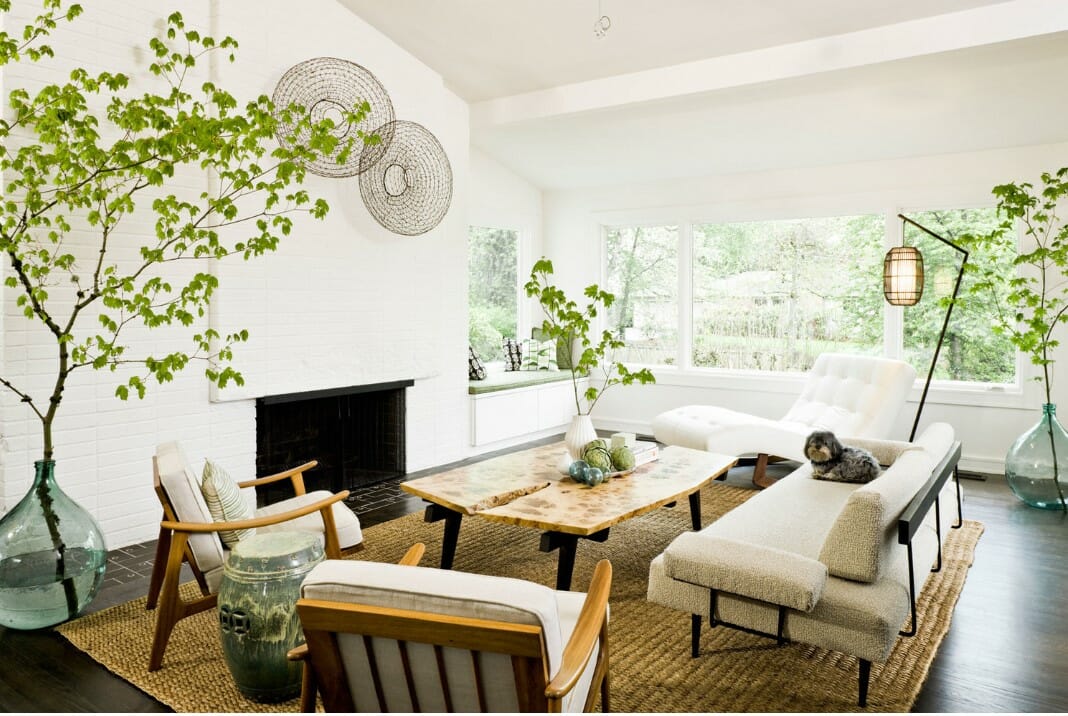 One of the aims of mid-century interior design is to help reconnect people to nature. And that's why adding greenery is vital. Not only will pot plants cleanse the air, but it will also uplift any interior scheme.
Perfect Color Palette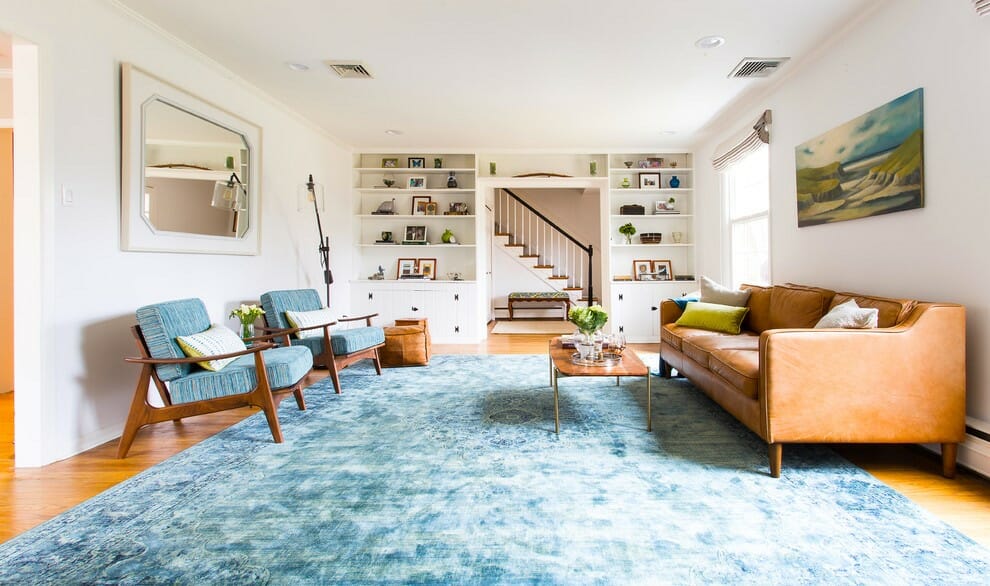 It's easy to get caught up in mid-century modern interior design ideas, but pulling them off is another story. This is certainly true when it comes to choosing the right color for your home. In this situation, plan your color scheme to make sure you like the results. Instead of changing the wall color, consider your furniture first and work around what you have. And remember to add contrast through accessories and textures.
Get Expert Help With Your Mid-Century Decorating
Ready to get started on your dreamy retro home, but not sure where to begin? Book your Free Interior Design Consultation with our team of experienced mid century modern interior designers to learn more today!

[images: 1, 2, 3, 4, 5, 6, 7, 8, 9, 10, 11, 12, 13, 14, 15, 16, 17, 18, 19, 20, 21, 22, 23, 24, 25, 26, 27, 28]