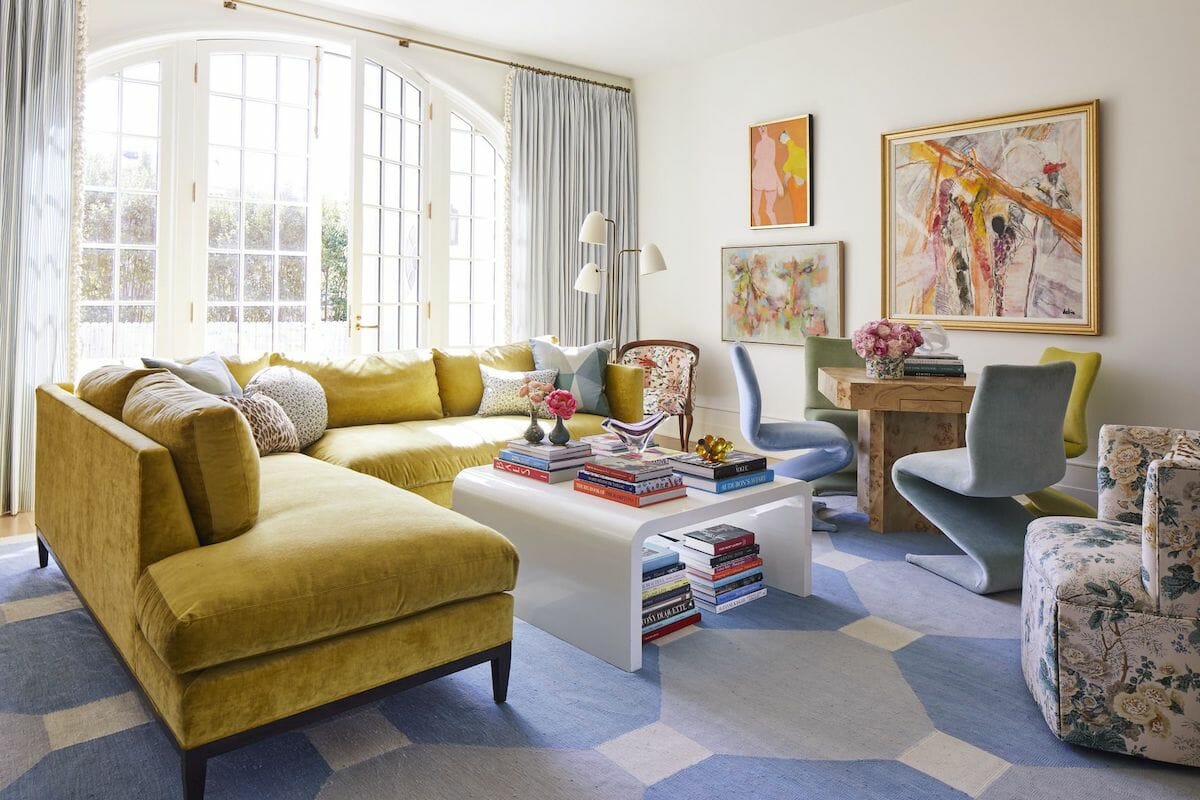 Your living room interior design is an exciting way to express your personality inside a cozy space for entertaining or relaxing. With the right elements, it can truly become a place you'll cherish for a long time. From bold colors and patterns to plush furniture and interesting decor items, there are many ways design aficionados showcase their vision. So check out these inspiring living room design ideas, and you'll be on your way to creating a space to adore!
Living Room Interior Design Tips
Meticulous planning is key to a successful living room interior design. When tackling the task, it is important to define the functional objectives and desired decor style clearly. What kind of atmosphere do you want to create? Who will use this area? Once you've decided on answers to these questions you'll have a better idea of what you're after. To help you further, here are some essential living room design ideas & tips:
When looking for living room design ideas, consider your room size and structure.

Keep your furnishings proportional – choose furniture that fits well in the room without overcrowding it.

Create a conversation area – set up seating arrangements to encourage interaction.

Choose a palette that conveys a sense of unity and flow with

shades that complement each other.

Invest in quality pieces – timeless, classic furnishings will last for years and never go out of style.

Take advantage of natural light – install window treatments that let sunlight in but without compromising privacy or energy efficiency.
Inspirational Living Room Design Ideas
Creating a living space that promotes comfort and satisfaction starts with the right living room interior ideas. So, let's look at some stylish and functional ways to reinvent your home. Here is a list of 20 contemporary ideas for genuinely cozy living room design.
1. Use Room Features as a Design Anchor
One of the most simple living room ideas is to use the features of the room as your focal point. For example, cluster furniture around the fireplace for a cozy gathering space for family nights in or entertaining guests. Add a soft area rug underfoot to make the space even more defined and welcoming at the same time. Finish off the look with a selection of coffee and side tables and you'll be ready to sit back and relax!
2. Invigorate Life into Your Living Room Design 
Is there such a thing as too many plants? We don't think so. Especially since indoor greenery brightens up a room, adds a layer of texture, and comes with several health benefits. Not to mention it is a must have for affordable living room design. So whether you have a green thumb or opt for faux foliage, plants are a must have living room interior design idea. 
3. Choose Configurable Furniture 
Utilizing modular or multifunctional furniture can maximize any area's usage. For example, the same piece can serve as a comfortable chaise lounge or provide an extra seating spot for guests. Creating clusters of miniature conversation areas can also help break up large rooms and make the space feel more inviting. 
4. Designate Zones
Open floor plans create airy living but they also require distinct zoning so each area of the room is able to serve its purpose. Group furniture together to create intimate seating areas. Anchor each space with accents for further definition. Great examples are an area rug under living room furniture or a statement chandelier above the dining room table.
5. Layer the Lighting
The right lighting can make or break your living room design ideas. Any design pro will insist of having layers of lighting that can work on their own or in conjunction. Keep the overall, or ambient lighting, soft and adjustable for varying brightness. Next, add in some task lighting, like a floor lamp next to the recliner. And finally, top it all off with accent lights to focus on artwork, shelving, or architecture features. Of course, any of these can also make a design statement with fancy finishes or abstract shapes.
6. Incorporate Your Favorite Hobbies  
Enhance your living room design by including things you enjoy to do in the space. The living room is one of the most frequented rooms in the house after all, so ensure you'll enjoy spending time there. Love to read? Add a wall of built-ins to store your favorite books. More of a movie buff? Hang a big screen TV and install surround sound for the ultimate at-home theater. 
7. Timeless Take on Living Room Interior Design 
Design trends come and go, but Mid-Century Modern is here to stay. This classic style can be achieved in your living room with a few iconic pieces from the era such as an Eames Chair or Arco Floor Lamp. Or go for a softer approach to the look by balancing sleek lines with organic shapes. Either way you'll have a living room design sure to withstand the test of time. 
8. Bring on the Texture
A proper living room design should be a visual and sensory experience, so you'll want to be sure to include a variety of textures. Let your creativity run wild when choosing materials. A sleek leather chair pairs well with a plush velvet sofa. Meanwhile, a solid raw-wood coffee table is perfectly juxtaposed by a knotted oversized area rug. Really, there's no wrong way to incorporate texture.
9. Wild Wallpaper
For the ultimate living room design statement, choose a bold wallpaper to be the center of attention. With a plethora of patterns and materials you're sure to find one that appeals to you. Then pair the wall covering with minimal furniture and decor that won't distract from the wallpaper design.
10. Use Space Enlarging Design Tricks
For the ultimate living room inspiration, source ideas that include interior design hacks to make a space feel larger than it is. A few of our favorites include:
Strategically placed mirrors will reflect light, adding depth and a sense of spaciousness.

Curtains hung at ceiling height and draping to the floor will draw the eye up, making the room feel taller. 

Create a focal point to capture attention and downplay a room's size.
11. Accessorize to Match the Trends 
Living room design ideas that decoratively match the trends provide an effortless way to maintain fresh appeal throughout the whole year. Moreover, this approach offers a simple solution to change a room's face quickly, affordably, and at any given time. Accessorize to set the vibe and ambiance, and feel free to be as subtle or bold as you wish.
12. Artful Displays
Accenting your room with visuals can naturally boost energy while also enhancing the aesthetic value of a modern interior space. The possibilities for presenting individual refinement through art are virtually endless. Plus, it's a matter of personal taste, so don't be afraid to consolidate different elements into one eclectic story.
13. Free-Flowing Living Room Layout
Not all floor plans are created equal, so where you place the furniture matters. You want to be able to move freely around the room without any worry of bumping your toes or knocking over decor. Therefore, it is important to select an amount and size of living room furniture that properly fits the space you have to work with. Then place each item in a grouped configuration that keeps walkways open while also keeping tables within arms' reach.
14. Unconventional Living Room Setups

No more cookie-cutter arrangements! Interior design trend predictions look forward to adding more unique pieces that make the living room layouts feel more stylized and dynamic. Instead of pairing a sofa with two armchairs, make space for a different prominent piece or two. For example, consider omitting an expansive seating element completely, in favor of a conversation-inspiring set of distinctive chairs.

15. 3D Living Room Wall Designs 
Spice up your living room interior design with 3D wall installments. Floor to ceiling slats are all the rage right now and upgrade the room's appeal with a sleek modern vibe. You're able to play around with the material, color tone, and arrangement of the slats to create a look that's just right for you. 
16. Monochrome Magic 
Not big on color? A monochromatic living room design could be just what you're after. Start be painting the walls, ceiling, and any built-ins in the shame hue for a streamline base to the room. Then choose furniture in varying shades of the same color for a little depth and interest. Finalize the look with a few throw pillows, plants, and decorative items and you'll have a designer living room in no time!
17. Create Indoor – Outdoor Flow
When blessed with a climate suitable for outdoor living you want to take advantage by creating a cohesive design between you indoor and outdoor space. Decorate with the same color palette in both spaces to make them feel like one. In addition, select pieces for the living room that are reminiscent of nature. Think a jute rug, bamboo accent chairs, or a driftwood coffee table base.
18. Layer Patterns for an Eye-Catching Look    
If you're looking for a way to make your living room stand out, consider layering patterns in an unexpected manner. Opt for stripes, florals, or geometric shapes, and mix them to convey a lot of dynamic visual interest. From bohemian to classic styles, mixing and matching surfaces brings a unique, eye-catching look as a result. 
19. Mix and Match Vintage Finds
Living room design ideas can take many directions, while some of the most timeless options include using antique pieces. A little bit of vintage can create a significant impact when it comes to elegant living room interior design. Antiques bring instant charm and character to any space, garnering attention while also adding a remarkable touch of sophistication. 
20. Add Pops of Color with Accent Walls 
One of the easiest creative ways to give your living room interior design a facelift is through paint color. In addition, by taking advantage of different shades you can incorporate pops of color without going all out. For added symmetry and balance among the room you can have dual accent walls by painting opposing walls the same shade. 
Looking for one-of-a-kind living room design ideas?
Our team of talented designers is ready to bring your vision to life. Schedule a Free Interior Design Consultation to get started today!

Featured image: [1]