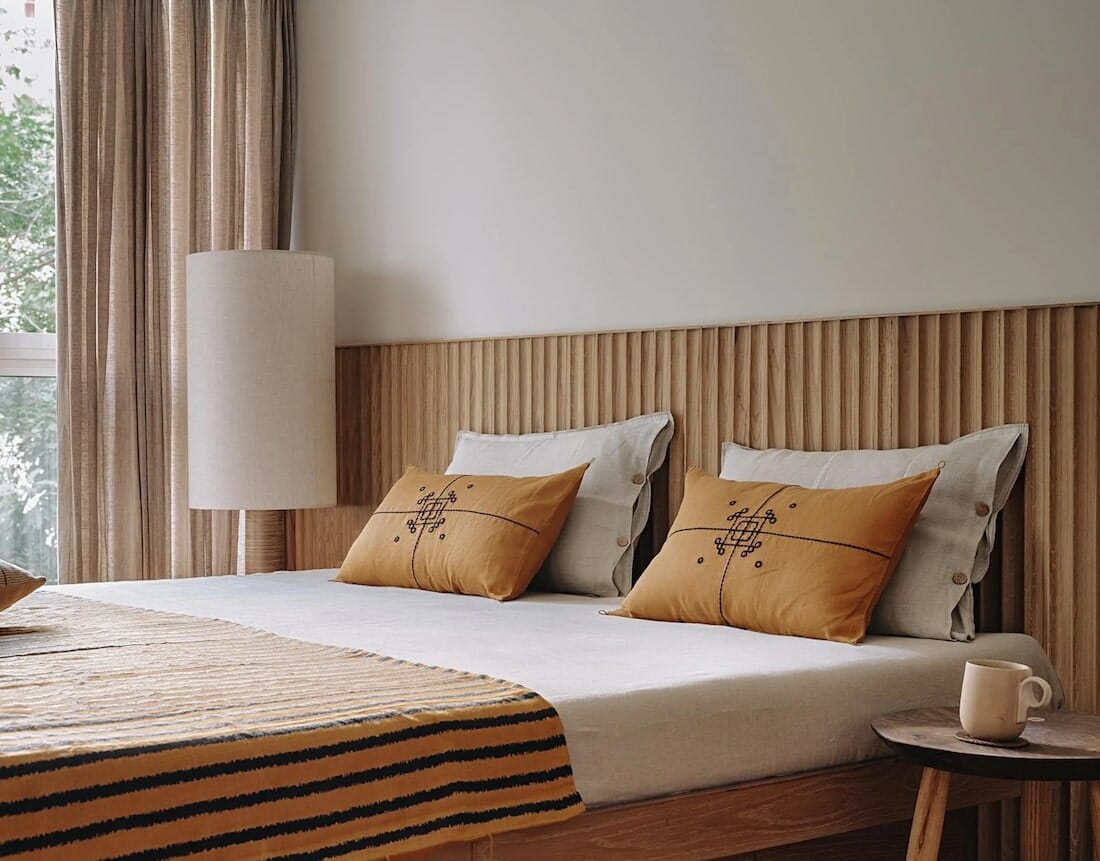 Japandi style holds the best of Scandinavian and Japanese interior design. Minimalism, neutral colors, and sustainability reign in these graceful spaces. One Decorilla client loved this look and wanted its tranquillity for their home. And so, they turned to Decorilla for help – see the stunning transformation below!
The Challenge: A Japandi Design 
Only a few items were present in the client's home. For this reason, it was a simple decision to start afresh with a Japandi-style design. Without any architectural obstacles, the designer could have free rein to work their magic. However, to call this Japandi interior design project a success, the designer needed to:
Use both paint and wallpaper to create a welcoming ambiance throughout the home

Ensure the interior design ideas form a cohesive whole in the separate rooms

Stick to a neutral color scheme with accents of sophisticated color

Include an appropriate amount of Japandi décor without leaving a cold minimalist feel

Layer Japandi-style textures in each room to bring about a natural look
Not sure if a Japandi style is for you? Then take our

Free Interior Design Style Quiz

to find your true style right away!
Japandi Style Bedroom, Home Office, & Nursery Ideas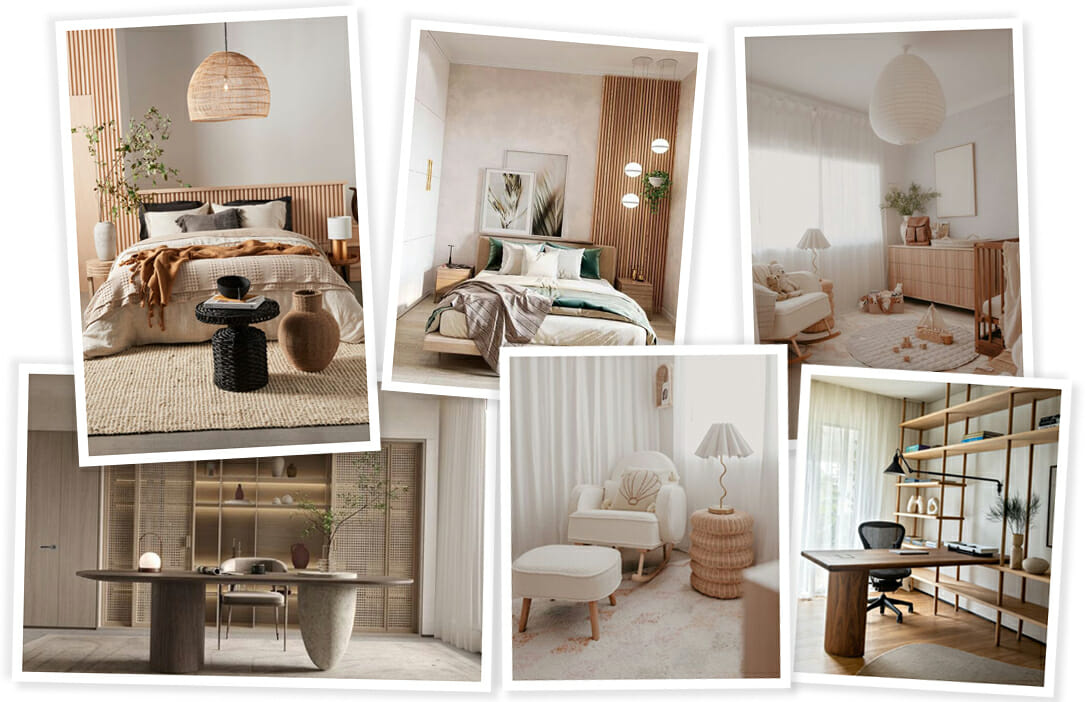 The client's interior design ideas were undeniably zen. They certainly enjoyed spaciousness with lots of light and organic colors. However, darker elements were included too, which contrasted nicely against the neutrals. In each of her favorite interiors, Japandi-style furniture set a minimalist tone. Their natural materials and sleek lines create a calming ambiance.
Japandi Style Design & Moodboard
With their vision in mind, the client reached out to Decorilla. And to start, they completed a quick and simple online questionnaire, followed by a virtual consultation with the team. Now, with the brief in hand, the Decorilla team could identify two great designers to work on the project. Both of these creatives came forward with excellent proposals, but it was Ryley B. who stole the show!
Ryley's concept displayed sleek lines, minimalist furnishings, and warm neutral tones. The welcoming Japandi-style bedroom moodboard showed interior design principles and elements at work. It promised to be a breath of fresh air with its earthy textures. These textures continued with the Japandi-style furniture picks for the nursery and home office. In the end, the minimalist yet cozy look won the client over.

Japandi Design Bedroom, Home Office & Nursery Result
The result is editorial-worthy! Each room holds a distinct character while forming a harmonious whole. Throughout the interiors, wood complements the light walls, while the windows and glass doors allow sunlight to stream in. Moreover, the Japandi home décor evokes a feeling of serenity and a touch of simple beauty in every nook.
Tranquil
Japandi Bedroom Design
The bedroom is full of detail and interest. A sun-kissed linen wallpaper sets a wonderfully tactile backdrop. Its delicate hue and coarse surface make the perfect blend for this Japandi bedroom design. Moreover, soft, flowy curtains, a boucle bedframe, and macramé wall hanging emphasize a light and feminine aesthetic. Deep ochre bedding provides a beautiful contrast too. 
Natural light fills the room from the vast windows, while the neutral color scheme creates a relaxed yet airy ambiance. This peaceful air is also conducive to productivity – ideal for the workspace in the corner. Here a black sculpture is striking against the light scheme. Its contrast echoes in the mirror's black frame. The reflective detail makes the space feel even lighter too.
The final touches include a woven rug, textured wall art, and a Japandi-style chair. Their craftsmanship elevates the design even more. Finally, the contrasts in color and texture add to the interest in the room while forming a fun and relaxed design.
Peaceful Japandi Home Office
Sticking to an organic theme, the Japandi home office interior design is tranquil and inviting. A light yet warm wooden desk and bookshelf clarify the room's purpose. The décor is also minimal and focused. They stand out against the neutral backdrop to add bursts of interest. 
As with the other rooms, this office contains dark accents in the form of two chairs, lamps, and a dark sideboard. They bring a pleasing contrast while remaining subtle. As a result, the office is interesting in its aesthetics. Lastly, as with all three spaces, greenery pops in the room and intensifies the organic theme. 
Soothing Japandi Nursery
Perfect for a little one's rest, the Japandi nursery overflows with a calm atmosphere. As a result, it is the most soothing space! A dark olive throw pillow, nature paintings, and soft wallpaper subtly incorporate color in the neutral room.
The gender-neutral nursery is as functional as it is beautiful. A chair for comforting the toddler sits in the corner of the room next to the curved changing station. A crib made from the same wood takes its place along an accent wall, creating a serene feature.
A hanging mobile above the crib and the play gym act as Japandi style décor. These bits add an innocent and playful touch to the interior. Lastly, a comfortable rug anchors the space while providing softness to the design.  
Before & After: How did the designer change the room?
In the end, the Japandi design is inviting, comfortable, and peaceful. It's perfect for all three rooms used for rest and work. But initially, these spaces were bare and uninviting. Fortunately, the designer has transformed them into spaces that tick all Japandi-style boxes!
Before, the bedroom contained nothing but a bed. The space was in dire need of structure and purpose. And so, the redesign began with the designer creating a cozy yet relaxed haven. This was done by balancing the color scheme, Japandi décor, and furnishings. Now, the bedroom feels light, airy, and calm.
Furnishing the Japandi Home Office
Similarly, the office space was initially bare. The designer added life to it through plants, natural textures, and appropriate décor. Structure and loads of storage space also gave this interior true functionality.
Creating a Relaxing Nursery
Once an additional home office, this room took on a completely new purpose. Now fit for a bundle of joy, the space exudes tranquility and calm.
Online Shopping List
Each completed project comes with a comprehensive online shopping list. As a result, the client can put their vision together at home. Furthermore, the package includes 3D renderings, implementation guides, and trade-exclusive discounts. These resources help each client create their dream interior, while saving time and money. 
Our Top Japandi Decor Picks
If you enjoyed this Japandi makeover, you could recreate this look with our top picks. All you need are a few pieces to get started!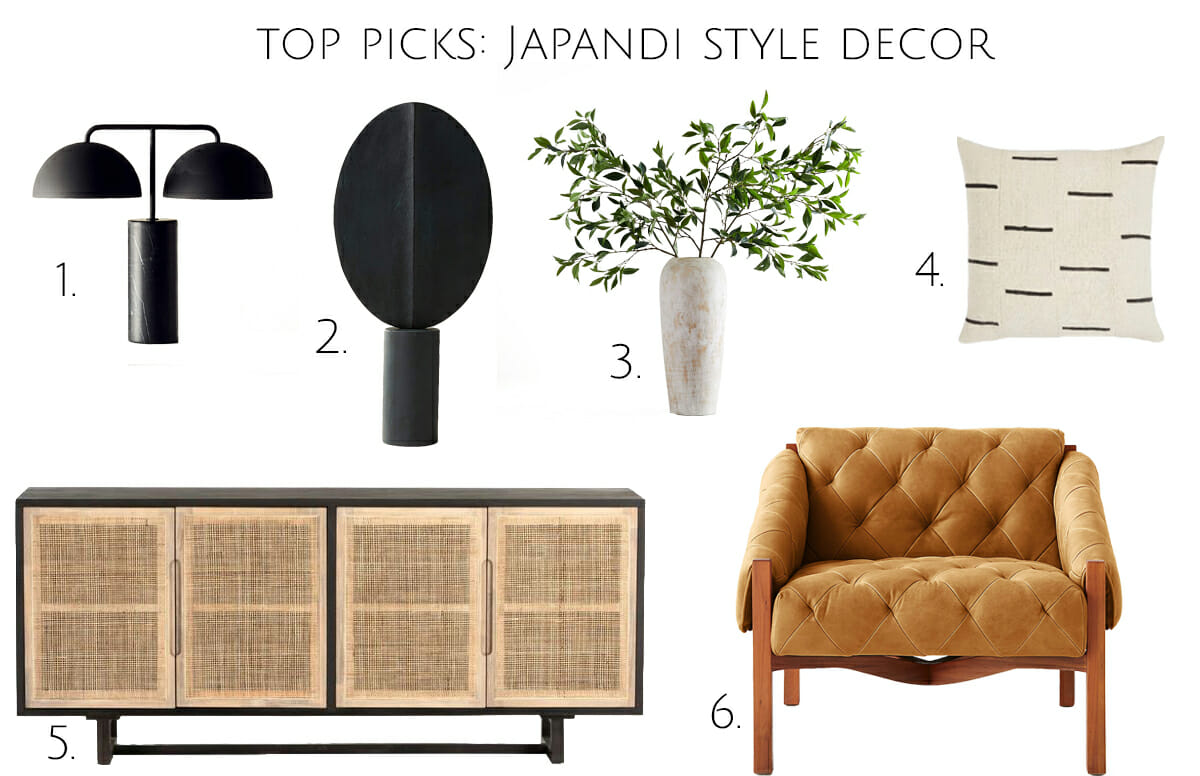 Want your own Japandi interior design?
Your home can become a Japandi haven too! Simply Schedule a Free Interior Design Consultation to work with an expert today!

[images: 1, Decorilla project images]