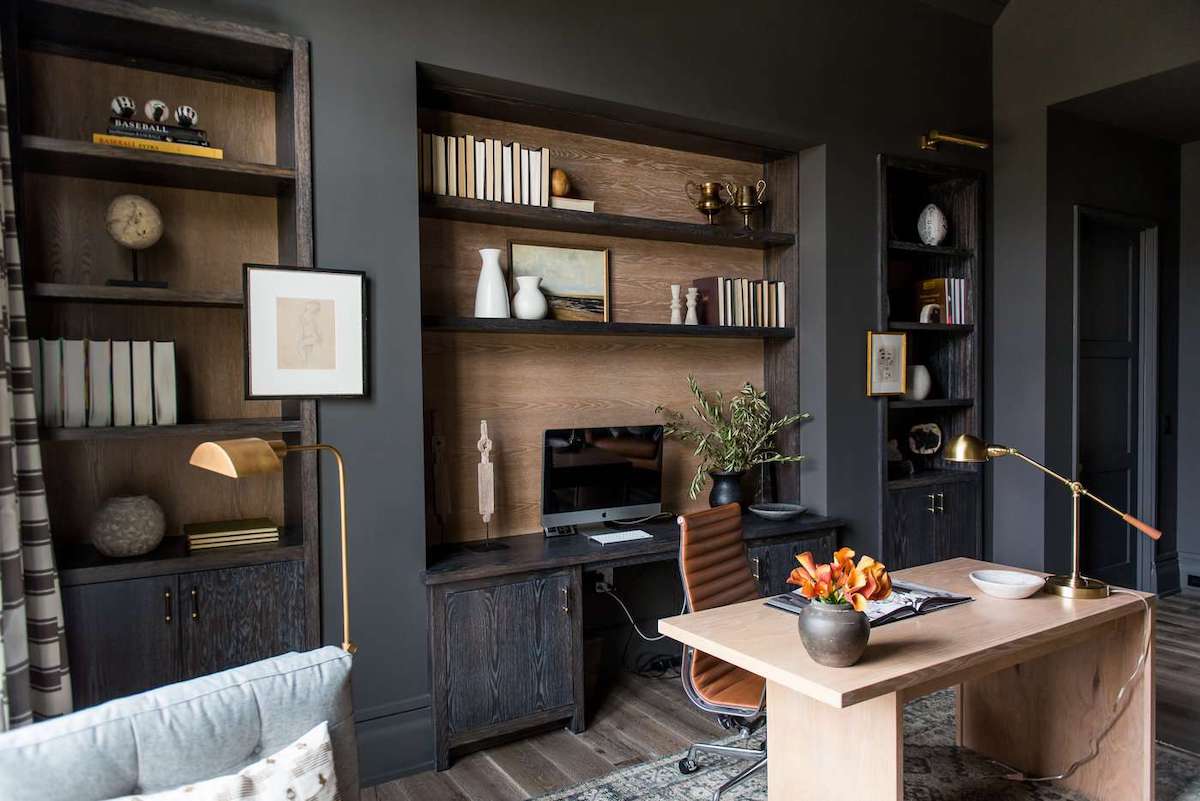 In the era when remote work turned somewhat mainstream, a home office became a necessity for many. Along with that came the struggle of creating a video-worthy home office background. Creating a well put together, clutter free background to your home office will not only improve your energy and efficiency, but will also have you looking professional on screen. Read on for the best home office background ideas your co-workers will swoon over!
Accent Wall Home Office Video Backgrounds
If you are not ready to fully commit, refresh wall decor with peel and stick wall tiles or install a decorative panel. Even the smallest intervention can help to effortlessly transform any dull home office video background into a fresh and exciting one. Choose a color, texture, and style to pump up your conference backdrop with a graceful yet professional appeal.
Need a little extra help getting your home home office "Zoom ready"? Schedule your Free Online Interior Design Consultation to get started with the finest interior designers today!
Best Colors for a Home Office Video Background
White is an obvious choice, but what about something more prominent? Don't be afraid to add a pop of color to your home office design. Consider applying some color psychology to boost your mood and productivity throughout the work day. Consider these colors and their added effects on the mind:
Green: fresh and balancing. Green is also easiest on the eyes.
Blue: brain-friendly and calming, as well as promotes communication and efficiency.
Yellow: brings a burst of positivity, creativity and happiness.
Red: represents courage, strength and excitement. Use this color for a stimulating effect.

Textured "Zoom Ready" Home Office Background Ideas
Sitting in front of anything that is not a bare wall can give more character to your appearance. A curated gallery wall, a mix of prints, or patterns and textiles, even exposed bricks, will serve as an adequate office background. It's good to make it eye-catching, just not overly dominant. Photos and artwork can work to your benefit. A bookshelf is another feature you could use in your home office design.
Fabrics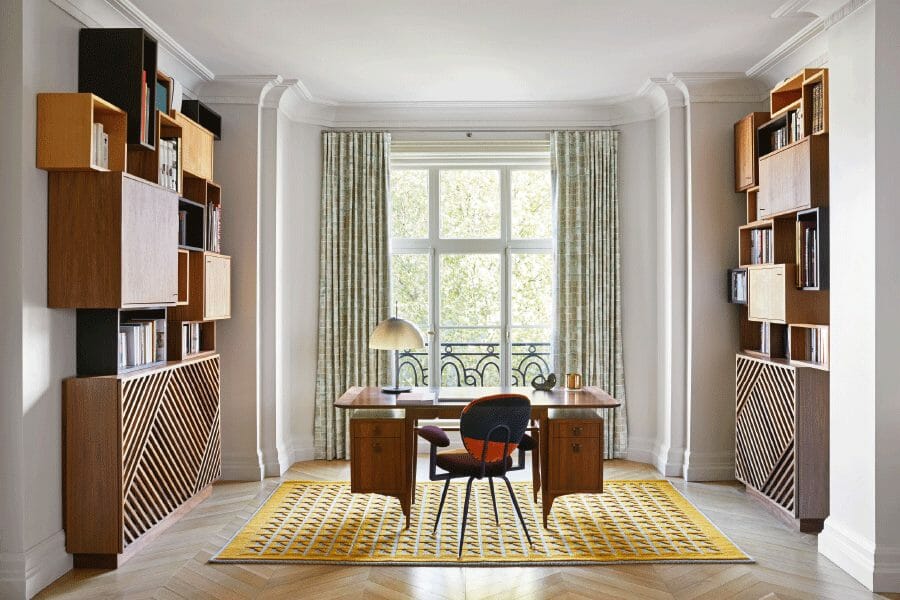 Fabric panels are affordable, lightweight, effortless to set up and remove, and you can customize them in any way you want. All you need is a pole going out from a central hub into the fabric's corners, and a hint of creativity. Alternatively, you can stretch the piece, anchored firmly in two points. Creating a branded banner adds a deep layer to your professional appearance, and you can use it literally anywhere. Depending on your position and the background, you will probably need to do some testing to ensure the fabric banner is big enough to fill the whole setting.
Wallpaper
You can use any existing spot covered in wallpaper, as long as it's not too whimsical or outdated. If your walls are painted, check for the possibility of adapting one area and customizing it as an official home office background with a carefully curated piece of wallpaper. Another solution could be wall decals, either as branded iconography or a designed texture to add interest. Vinyl backdrops are very affordable, and you can get them in almost any design you want, including your brand logo.
Brick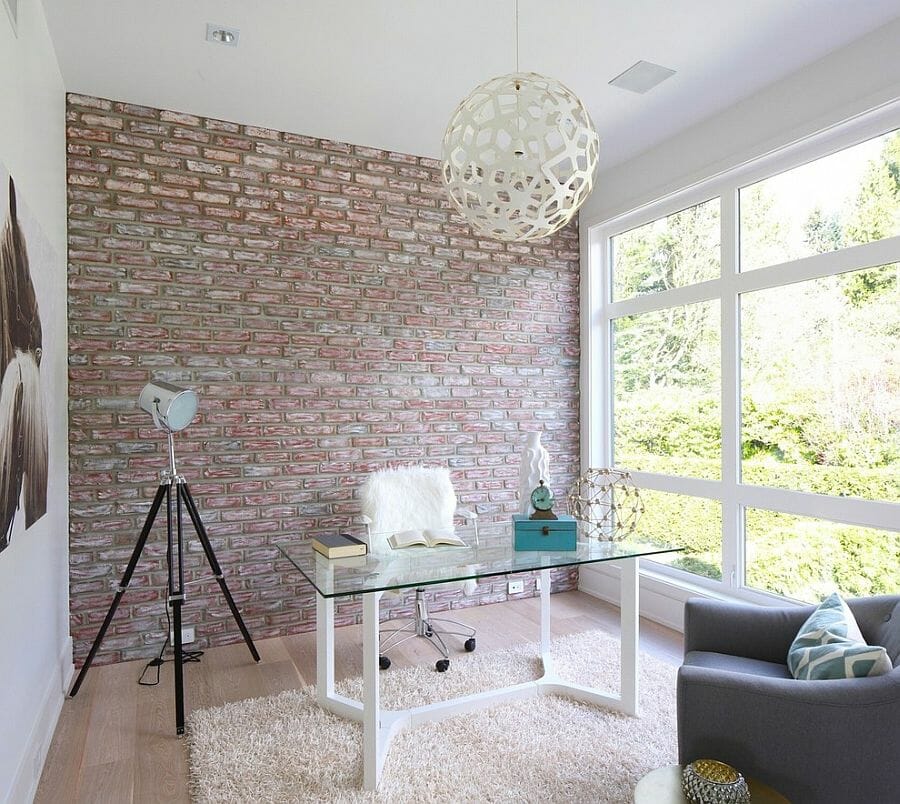 A barren brick wall can be a great home office video background, in the right setting. The industrial-style interior with brick walls communicates productivity and sends a message accordingly. Plus, fitting furniture is mostly inexpensive and easy to set up. If your wall is plain white and you wish your background to be more dynamic, try stick-and-peel white, texturized bricks, and arrange them in an interesting pattern.
Studious Built-in Cabinetry
Space can be precious, especially when every inch counts. Your home has function before and after your work, so if floor space is at a premium, choose built-in cabinets or shelves for your home office background. Built-ins give a studious appeal while offering practical and ample storage where you can keep all your possessions and reach for them anytime without disturbance.
Home Office Background Decor Do's and Don'ts
Do's: Diplomas, Maps, Tasteful Art, Plants
You'll want to display items that have a connection to your work, so diplomas, certificates, and similar items are great to stay in the background. Maps and art also fit the scene, as well as bookshelves. A plant will clean some air, while boosting Feng-Shui vibes with tranquility. Devils' Eve, Dracaena, even a cactus can make a lovely addition to your workspace.
Don't: Family Photos, Sports Memorabilia, Overly Busy Prints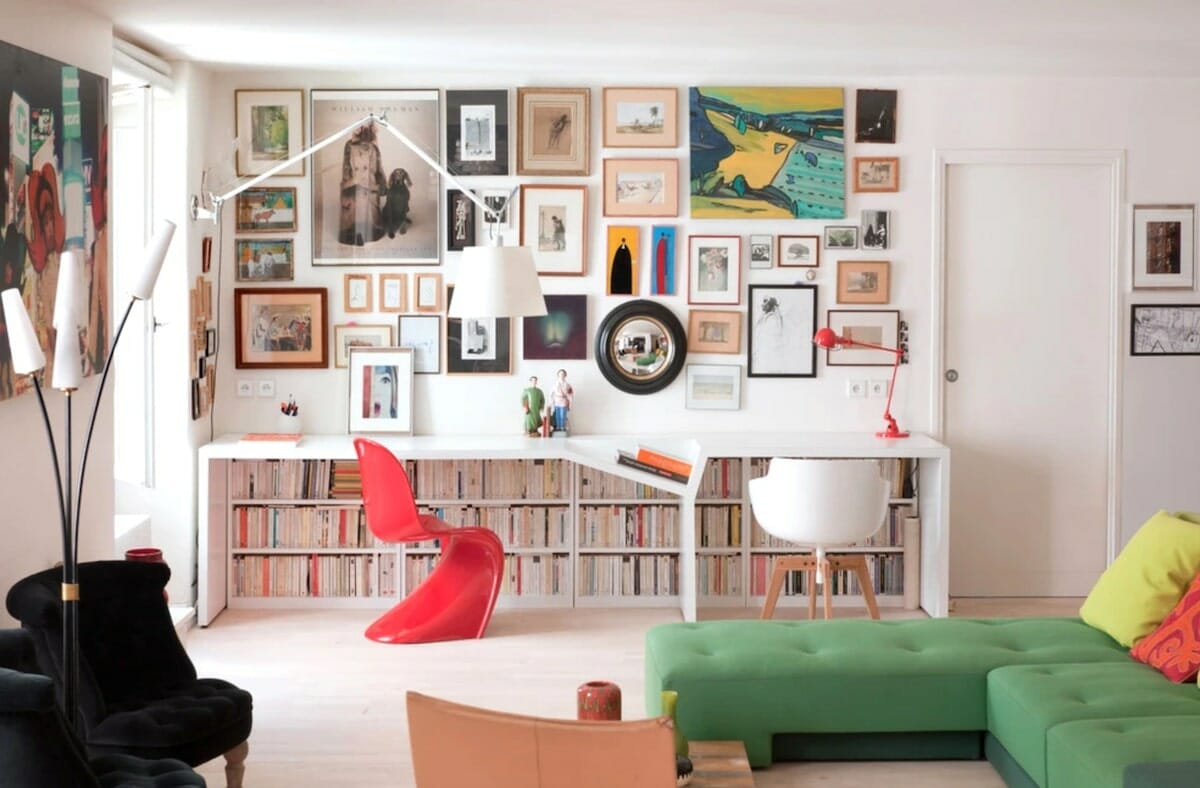 Don't clutter the scene with décor. Photo frames with private family moments, perfume bottles, many small souvenirs and details, might be charming in your personal life, but still are not such a good idea in a home office. Also, excess stuff creates chaos where you need it the least. Think of a purpose and remove anything that doesn't have one.
Clutter-Free Organization
Once you've got the environment right, examine the entire background. It's not unusual to have to work from your kitchen or bedroom. What you don't want to show is too much of your domestic life. Aim to have an uncluttered area with a lot of character but a little or no intimacy. It's not only suitable for a Zoom video conference – it's also going to help you to focus and prioritize.
Avoid Backlight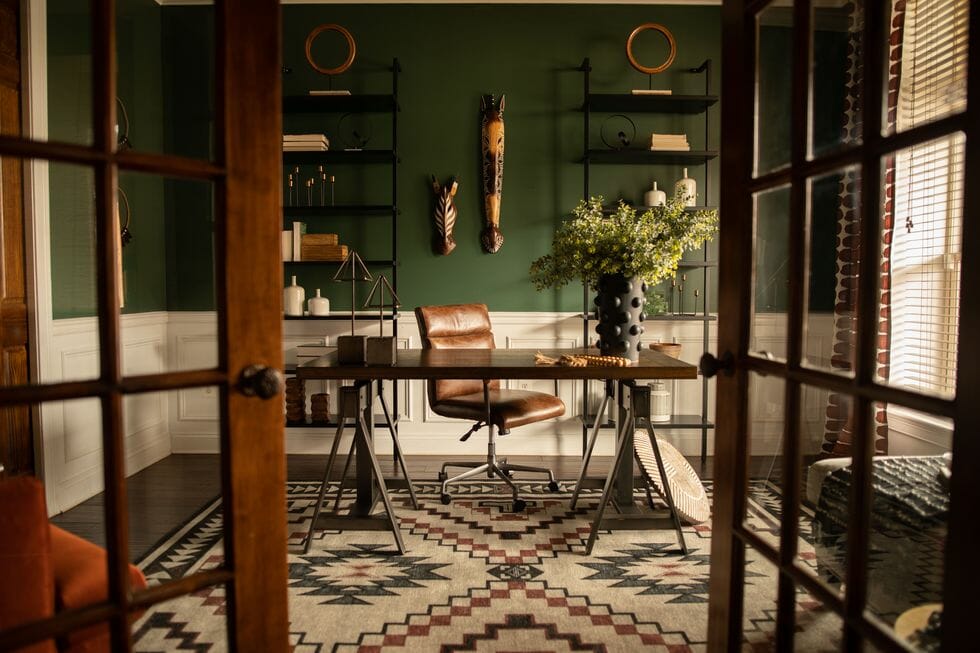 Getting the light right is essential. Firstly, you have to avoid having a prominent backlight, as it will cover your face with dark shadows and disturb your correspondent/audience. On the other hand, if you work outside or facing the window, you also don't need sunrays facing you straight, as the effect would be the same. Facing natural light from a window is great, as long as there is no direct sunlight. If your virtual meeting is at night, set a lamp to face you and determine the best distance.
Are you looking for a way to set up a "Zoom ready" home office background, but need help getting started? Then Schedule a Free Consultation for expert interior design assistance today!