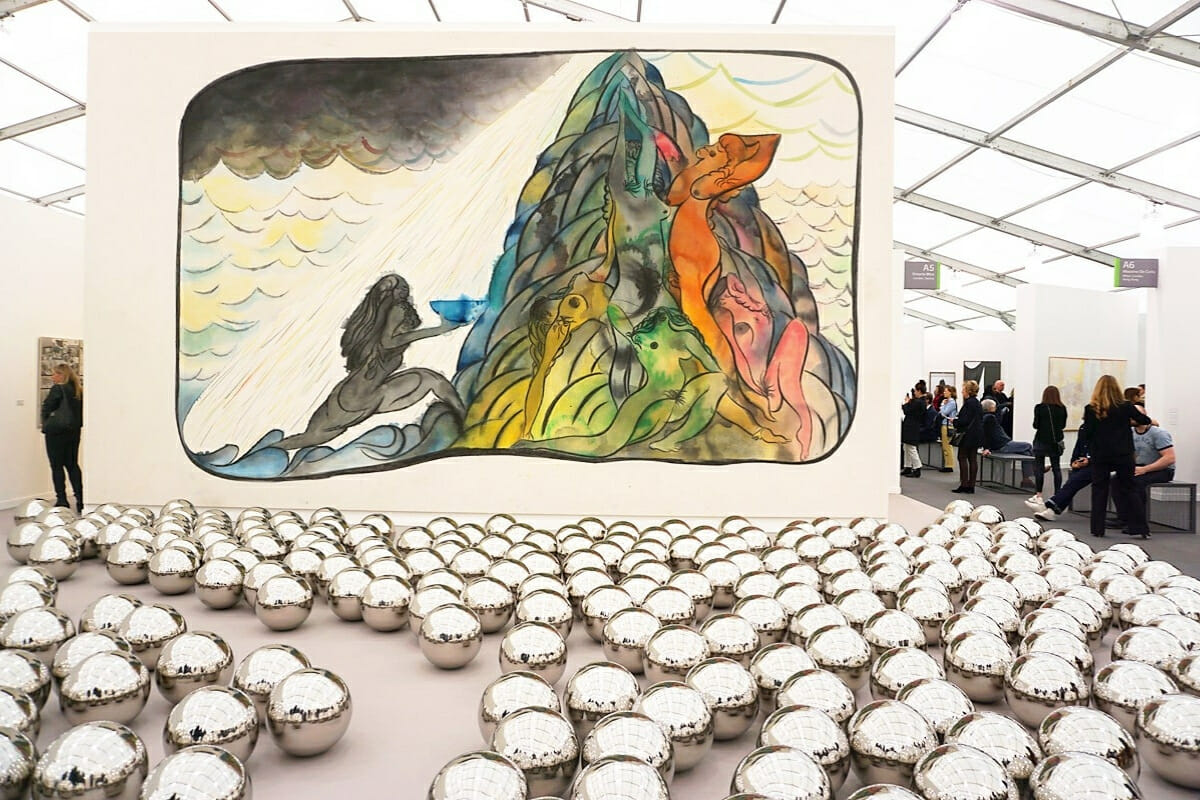 We had the opportunity to delve into the Frieze art fair in New York and think that if you only go to one art fair in your life, it should be Frieze. From wildly colorful to profoundly minimal, the artworks impressed, amazed, and dazzled. With original art for sale and a promise of cultural entertainment, Decorilla interior designers set out to find out more.
What is the Frieze art fair?
Borne from the industry-leading art magazine, Frieze, the Frieze art fair boasts the latest from top contemporary artists around the world. Initially, founders Amanda Sharpe and Matthew Slotover, created the fair to help artists get recognition and increase their art sales. Not only did the Frieze art fair achieve its goal, but it has also become one of the most acclaimed cultural entertainment events in the world.
Since its commencement in 2003, the Frieze art fair has grown into a must-see destination for art and entertainment-lovers alike. Now, the event is held in New York, Los Angeles, and London, with this year nearing a total of 200 booths with thousands of original art for sale.
As an extension of the fair, organizers have launched Frieze sculpture 2019 at the Rockefeller center. Here curated sculptures from 14 distinguished artists are scattered around the Rockefeller campus. Thus, contemporary art is accessible even after the event is over. Plus, there is an online map to help guide the public to find each sculpture on campus.
How to get to the Frieze in New York is an adventure because you can hop on a ferry to get to Randall's Island Park. It is somewhat fitting that the discovery of new art starts with a voyage, albeit a quick 20 minute one.
If you missed it then you could head to Frieze art fair in London, 3-6 October. Now, let's look at some of the most awe-inspiring exhibitions in New York.
Welcome to Frieze New York
Narcissus Garden, Yayoi Kusama's assembly of mirrored spheres fittingly welcomed fairgoers to Frieze New York 2019. Having debuted the installation in Venice, 1966, Kusama used her photogenic kinetic carpet as a critique of the commodification of art. Framing Chris Olifi's colorful work to take and to give (seen in the feature image) and reflecting the industry of the fair, this silvery set-up guarantees a breath-taking entrance.
Controversy and color are ever present in Jonathan Lyndon Chase's body of work. Chase's fresh and upfront depiction of queer bodies is layered to create an almost x-ray quality in each piece. The coveted Frame stand showcases original art for sale from Galleries younger than ten years, which makes Eldridge Street Company and Chase a perfect match.
The Color of Contemporary
Known for her whimsical installations at the Perrotin gallery in New York, Paola Pivi's colorful creations graced this year's Frieze art fair. Her handmade feather bears show the playful side of contemporary art.
Bright and with a kaleidoscope of color, Matthew Ronay's artwork for the 2019 Frieze sculptures, is a departure from his previous installation Between the Worlds, that had an anthropological theme. This year his wood sculptures are surreal but familiar with their subtle resemblances to human organs giving the pieces at times a grotesque or erotic aesthetic.
Galerie Lelong chose to line their entire booth with artwork by Sarah Cain. To create an even more impressive nook, Cain painted a rainbow on the whole floor.
Danish minimalist artist, Jeppe Hein, successfully bends minds as his glass, plastic, and chrome lacquer balloons seemingly float in mid-air.
Another minimalist artist, Harold Ancart created matchstick themed artwork for the Frieze art fair and chose to focus on a subject many might consider banal. Considering scale alone, Ancart's matchsticks on immense canvas demand attention.
Frieze Rockefeller Center
This year marks the inauguration of Frieze sculptures 2019, where 14 selected sculptors' work is on exhibit in the Rockefeller center. The curator, Brett Littman, from the Noguchi Museum chose works from Nick Cave, Aaron Curry, Jose Dávila, Jaume Plensa, and ten others to form part of the display.
The public exhibit will run from 25 April to 28 June, and art-lovers can wander through campus grounds on their own or follow a guided tour Saturday, 11 May at noon.
Each sculpture has an embedded message, much like Jaume Plensa's Behind the Wall depicts how we cause our blindness and insensitivity towards our environment.
Familiar with a Twist
Japanese gallery, Kaikai Kiki, created an impressive presentation that featured cute ceramics on one end and almost confrontational specters on the other. The dynamic composition of the booth shows an intriguing slither of what the East has to offer.
Also forming part of the Kaikai Kiki booth was Madasaki's artwork that features anime and child-like references. The rustic padding of the nook made a grungy backdrop that was perfect for Madasaki's, sometimes screaming, figures.
Diverging from her usual oeuvre on paper, Nigerian-born Toyin Ojih Odutola used linen, charcoal, and pastel to create a mesmerized figured. Also part of the Jack Shainman Gallery's booth was Nick Cave's strangely ominous, yet colorful creation that stood on top of a booth wall.
Olivia Erlanger aims to fracture the mundane, and her mermaid tails do just that. Humorous in its absurdity, Erlanger's installation art has graced a local laundromat in 2016, much to the surprise of the patrons hoping to do their washing.
Digital Art
Video artist and producer, Brian Bress, presented his layered digital creation at the Josh Lilley Gallery's booth. Three high definition monitors, each containing a figure, evolve as each character starts to draw a part of the artwork, blurring the lines between performing, painting and sculpture.
Bress's other digital art begins with a final artwork and transforms into a different image. The shift in visual happens bit-by-bit, with the action mimicking slicing canvas to reveal another artwork underneath.
More Original Art for Sale at Frieze New York
In case you're interested in seeing great original artwork in person for yourself, Frieze London 2019 is happening on 3-6 October! Alternatively, catch the next Frieze New York in May 2020 or Los Angeles in February 2020. The tickets are only $57 and well worth it! Don't forget to get lost in the many local art galleries, museums and exhibition too. There are too many to list here so we'll save that for another blog post:)
It's easy to love art but really challenging to choose the right art for your home. Luckily, you don't have to worry about getting your collection wrong with an online interior designer at a click of a button.
Schedule a free consultation with one of our interior designers for advice on where to find original art for sale and learn how to choose for your home today!
[Decorilla images and other sources: 1, 2 7, 8, 9, 10, 11, 12, 13, 17, 18, 19, 20, 21, 22, 23, 24]