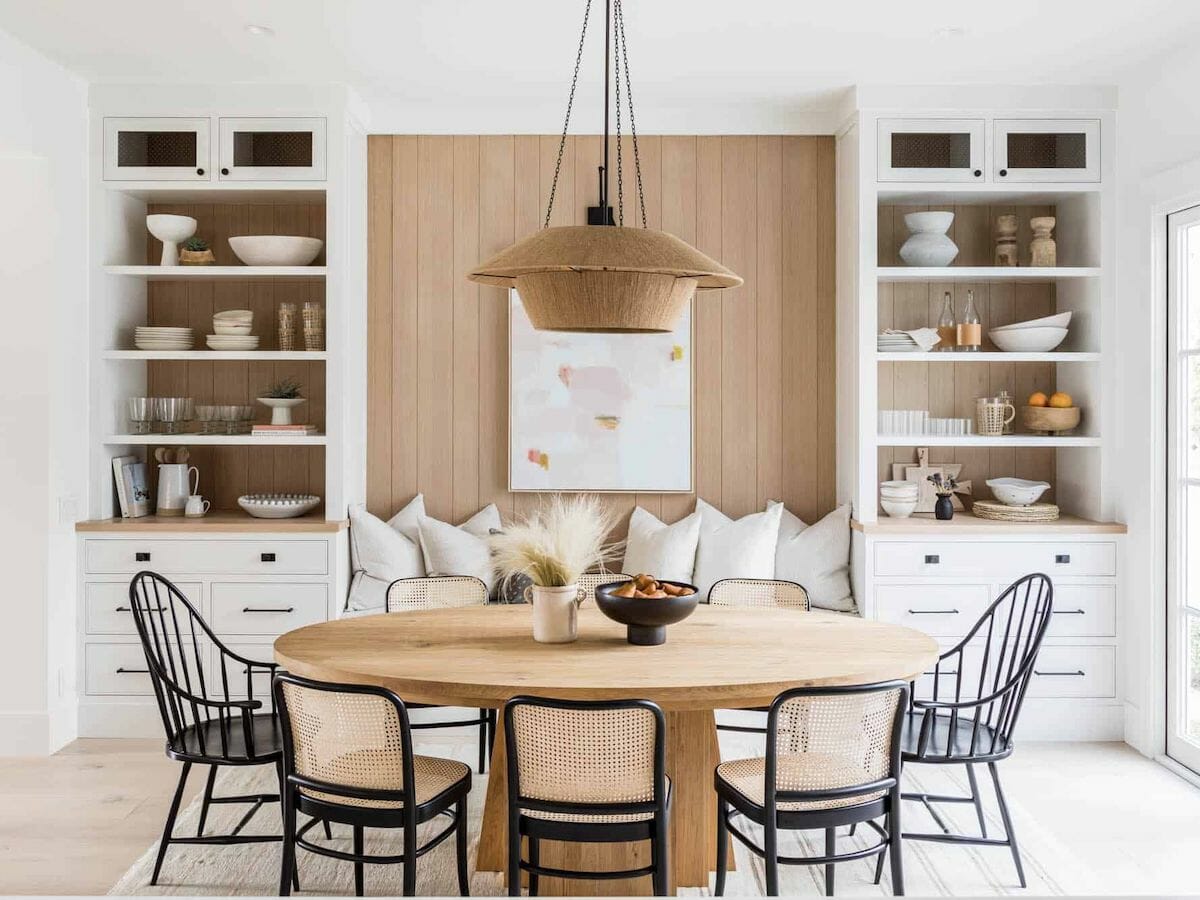 Whether your dining room is multi-functional for work, studying, and eating or solely a gathering place for family and friends, strategic dining room interior design can certainly make or break the space. From the basics of table selection to the finishing touches such as decor, rugs, and more, we've asked our design experts to weigh in on what makes a functionally beautiful dining room. So, read on for the best dining room ideas that'll have you hosting in style!
Dining Room Interior Design Ideas
When it comes to dining room interior design a table, chairs, and perhaps some storage and art can easily complete the space. However, getting a cohesive, well-styled look between the elements can become challenging. So, start with inspiration photos narrowed down to your favorite look and begin shopping for similar elements.
Need some help deciding on dining room ideas to fit your taste? Then, schedule your

Free Interior Design Consultation

for expert assistance getting started today!
1. Think Multifunctional
For many, a formal dining room is a place to use several times a year, while others use it at least once a day. Either way, why not put it to more use? A clever dining room interior design can greatly enhance its functionality, making it also a home office, a place for family game time, and much more. Just be sure to add a sideboard or other storage option to keep unsightly items out of site for when you want to host a formal dinner.
2. Add Some Glam
For those of you who enjoy formal dining and hosting, increase the glam factor to make your at home meals feel like a night out.  Modern dining room ideas effortlessly combine minimalist, simplified features with a comfortable, luxurious atmosphere. Muted color schemes, sumptuous fabrics, and strategic lighting can work together to convey the right feel.
Dining Room Wall Decor
If you're not a fan of the table as the main focal point, the walls are the next best thing. Murals, laser-cut patterns, or statement art – anything goes. Just make sure that the rest of the accessories are arranged in a non-competitive manner.
3. Art Gallery
One single, large statement piece of art, or a gallery wall – the decision is yours. Whatever you choose, remember that the key to good design lies in balance. A combination of strong, busy patterns will make the most impact in a toned-down, clean-lined environment.
4. Go for Bold 
Dining room wall decor doesn't have to stick to tried-and-true pieces. Venture out and opt for something bold, such as a dramatic starburst frame or artwork depicting an unusual subject. Even these daring pieces can fit nicely into an overall refined look while giving a healthy dose of character.

Dining Room Table Ideas
Of course there are all types of dining room table ideas – big or small, round or rectangle, metal or wood – the options are endless. However, it is most important to keep in mind your intended use and the size of your room. You want to have enough seating for your guests while still allowing ample room to move about.
5. Add Some Texture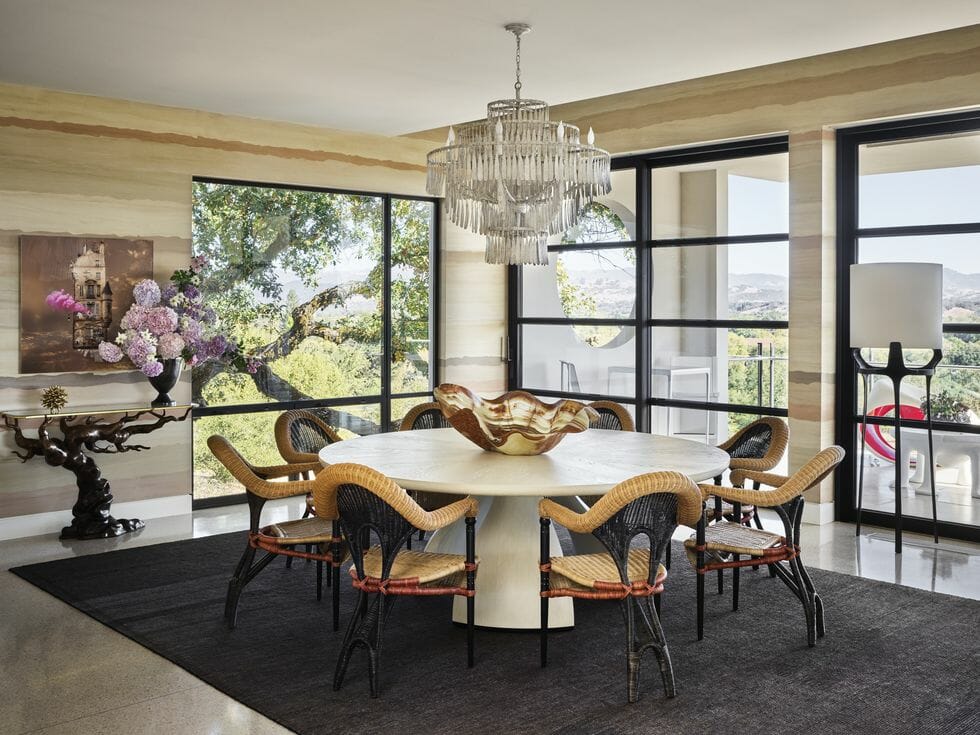 Playing with texture is the way to add more dimension to even the most simplified decor schemes. Think of a dining table with a highlighted natural pattern, or perhaps a sandstone or marble tabletop. Alternatively, if your dining table is minimalistic, you can try matching it with highly textured wicker on chairs.
6. Hide-A-Table
Small dining rooms can really pose a challenge when it comes to having a table large enough to seat more than a couple of people. Get creative with table options that can be stowed away or expanded with additions when needed. This way you can easily adjust your seating for the number of guests.
Dining Room Lighting Ideas
Modern trends are leaning towards abstract shapes and colorful highlights. A single lighting fixture can become a focal point or a conversation starter. At the same time, it defines the atmosphere and sets the tone of the whole room.
7. Statement Chandeliers
When placing a statement lighting fixture, you should have in mind its both real and visual weight. Next, it needs to stand in the right proportion with the rest of the room. With such pieces, appearance is everything – rather than solely providing light, they create atmosphere when switched off, too.
8. Alternating Height Pendants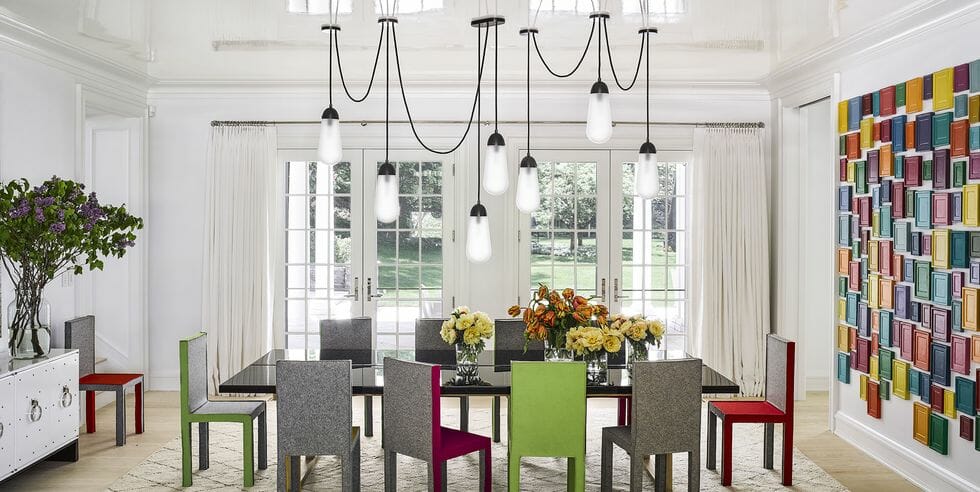 A trendy and attractive lighting solution is to hang a chain of pendants, or pair several independent ones. The choice of fixtures may vary, from thin LED strips, to colorful bulbs. Besides being flexible enough to fit almost all dining room interior design styles, this method also allows a lot of creative freedom. As a result, the space receives a designed, personalized touch with a strong character.
Dining Room Curtain Ideas
Curtains can put the room together, but they do more than just that. When choosing the material for dining room curtains, have in mind their functionality. They should provide control over daylight levels, keep some heat out in the summer, and ensure some privacy when the sun is down.
9. Play with Prints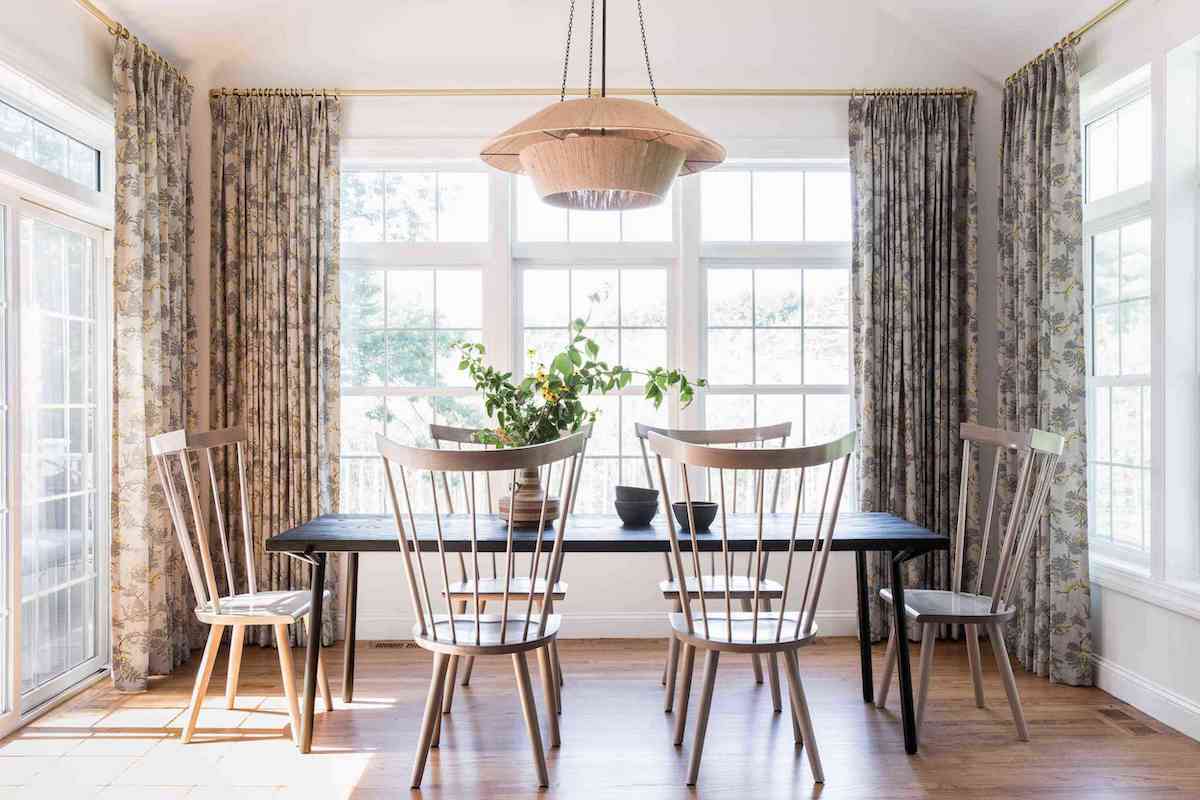 When the rest of your dining room design is kept simple you're able to go for more daring curtain options. Choose a print that speaks to you and let it be the feature of your dining room.
10. Sumptuous Curtain Materials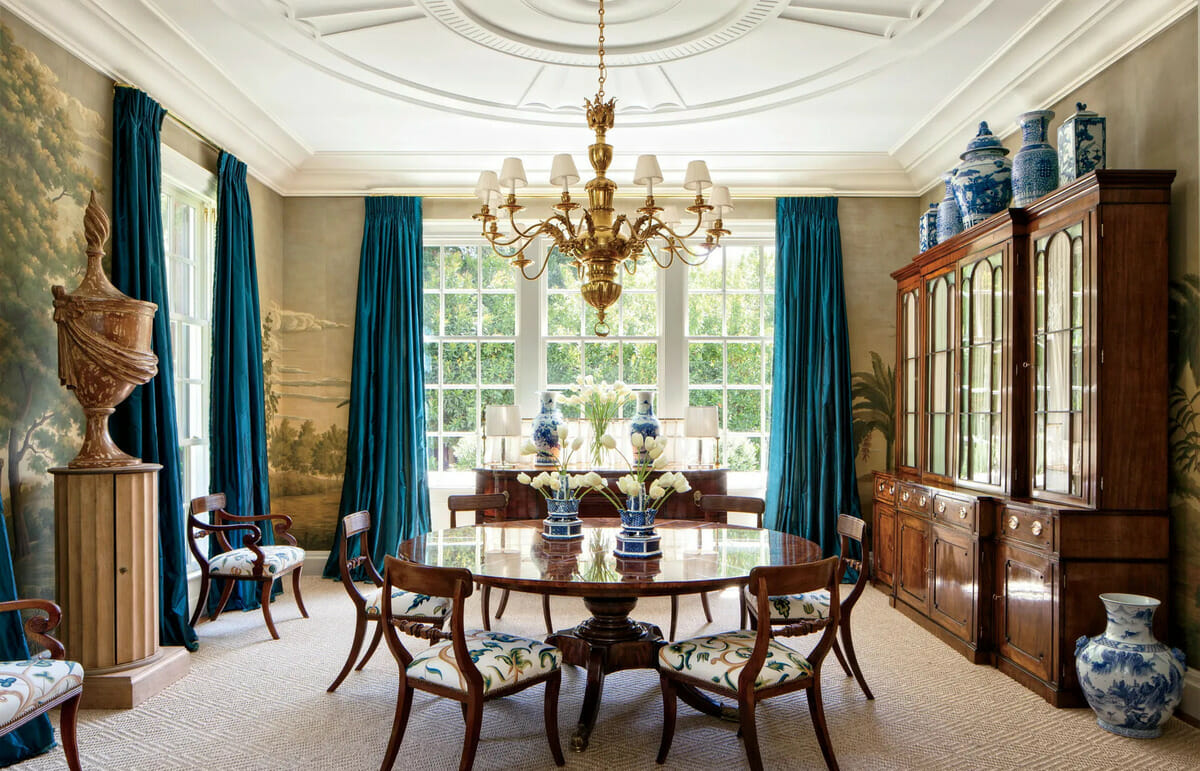 Heavy velvet is the epitome of glamorous luxury. It's an ideal material for blackout curtains that remain open most of the time; however, it also tends to absorb light and can sometimes feel heavy. Silk, on the other hand, offers a rich texture with a luminous sheen, and a lightweight, elegant appearance.
Dining Room Rug Ideas
When it comes to picking a dining room rug, scaling is the key, in dimensions as well as in the tone. It can enhance or mute down the whole style.  On average, monochromatic schemes work great in smaller spaces, while spacious areas allow playing with patterns and designs.
11. Natural Materials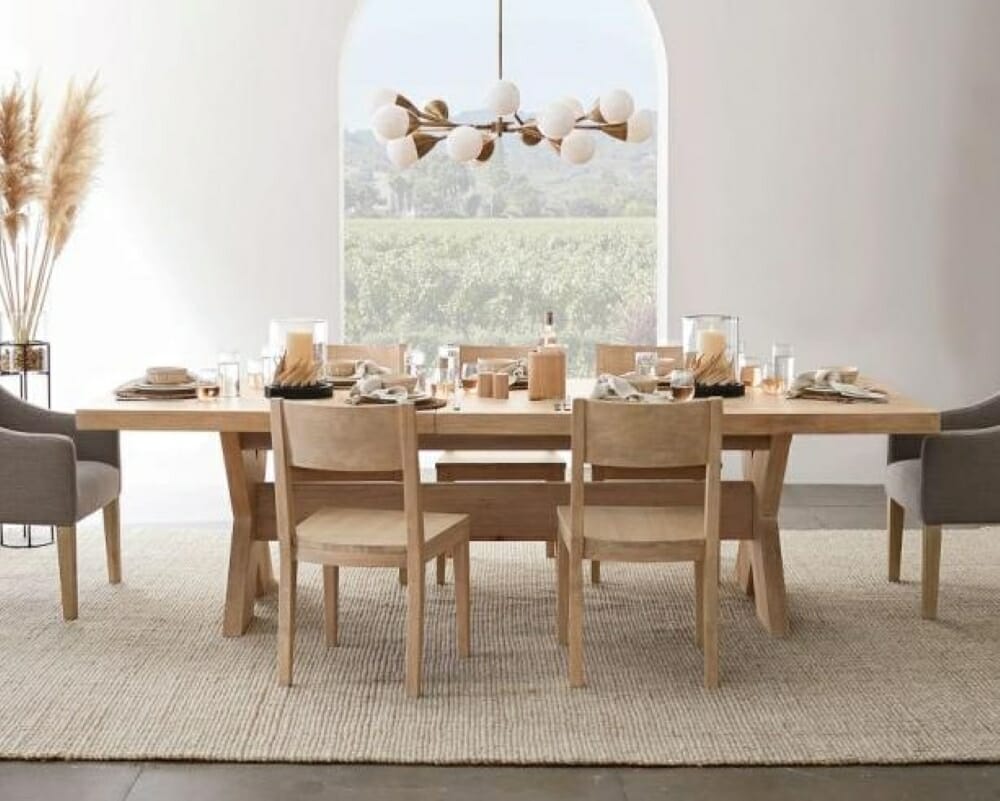 Trendy dining room rug ideas remain on the side of sustainable, natural, authentic design, that brings warmth and creates a sense of coziness. Earthy hues and natural materials like jute, wool, and sisal work well with most styles and color schemes while also looking fresh and comfortable. Moreover, they can also sustain a lot of traffic.
12. Modern and Vibrant Dining Room Rug Ideas
Dynamic, artsy designs and lively colors are becoming increasingly popular, and the reasons are apparent.  Not only that bold and vivid rug patterns boast a lot of character, but they also have the power to spark joy, promote creativity, and improve the mood.
Dining Room Color Ideas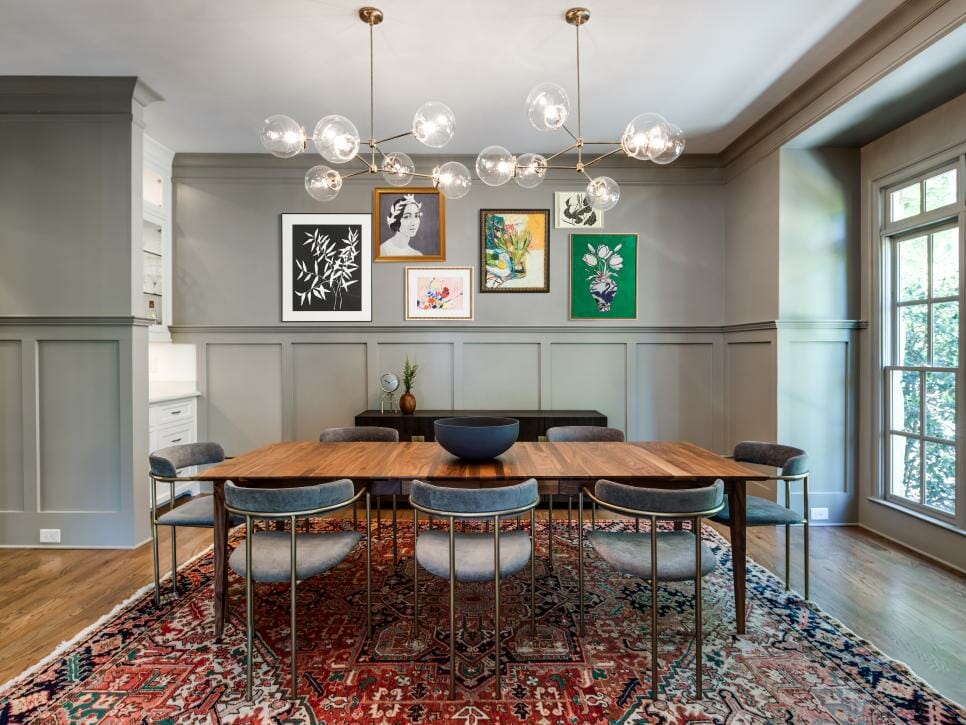 The dining room color palette should complement the rest of the decor style. However, that's not all. When choosing the colors for your dining room, think of the feeling you wish to convey there. Ask yourself where the scheme should go, whether it would lean more towards the luxurious or cozy, relaxed side and choose colors that fit that mood.
13. Watercolor Accent Wall
If you don't want to overdue it with color in your dining room then an accent wall makes for a great compromise. While a solid color is always a safe bet, gradient designs like watercolor or ombré will give a unique touch to your room.
14. Colors Off the Walls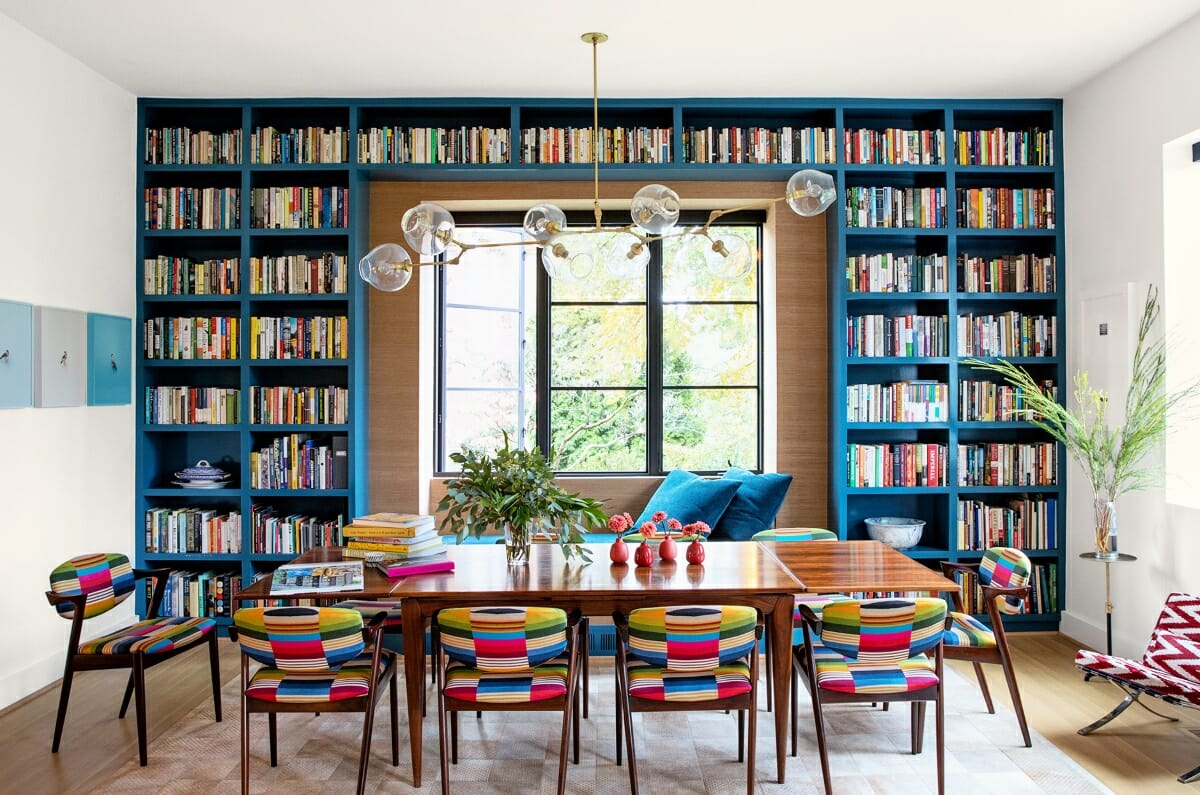 Colors don't have to be just for the walls. Feel free to incorporate them in chairs, rugs, or other decor. Rich color schemes and strong patterns are the signatures of many dining room ideas hard to forget. Paired with clean lines and uniform shapes, they work as a successful composition that doesn't overwhelm the senses.
Work with an Expert Dining Room Designer
Do you feel inspired by these dining room ideas, but need help pulling off the look? Then, schedule a Free Interior Design Consultation for assistance from the finest interior designers today!

Sources: [1, 2, 3, 4, 5, 6, 7, 8, 9, 10, 11, 12, 13, 14, 15, 16, 17, 18, 19, 20, 21, 22]