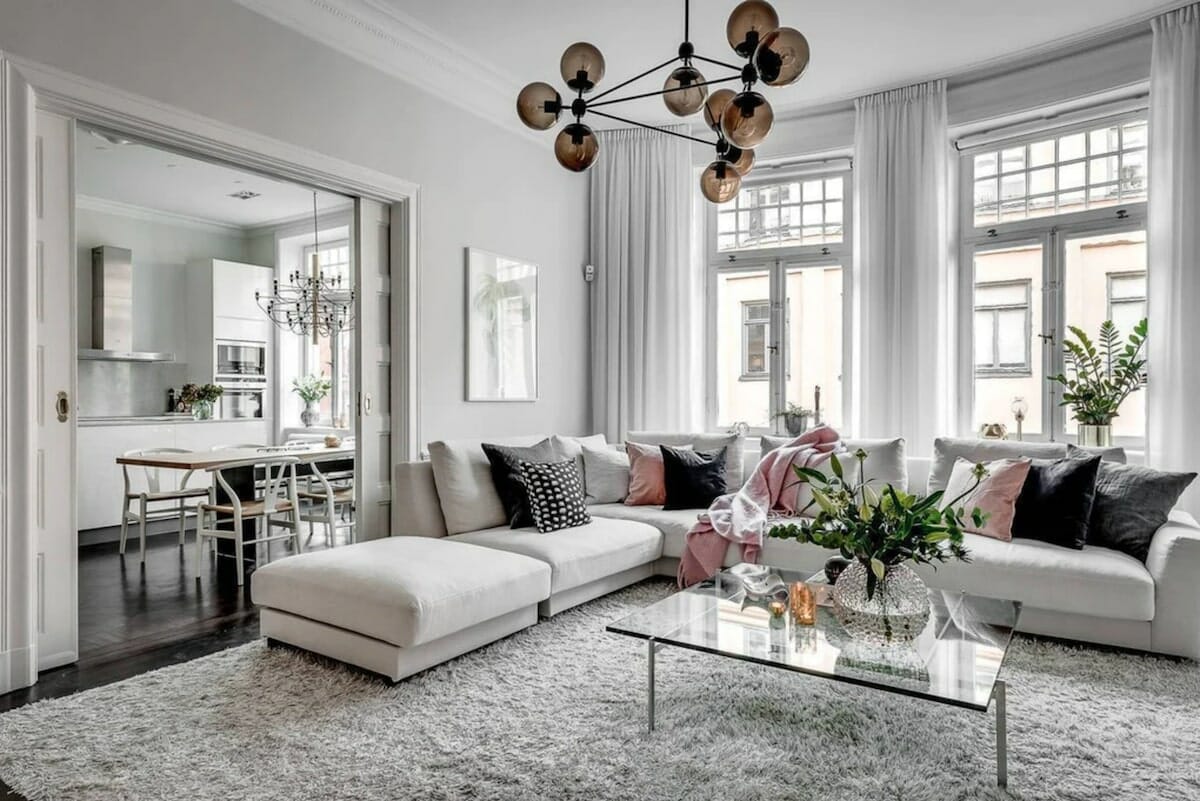 As the hub of a home, the family room needs to exude the perfect blend of comfort, practicality, and style. But getting there can be more difficult that it seems. So we invite you to explore this contemporary family room design transformation for the ultimate know-how and inspiration. Read on to see how our designer elevated this space with functional style!
The Challenge: Contemporary Family Room
The client was looking to revamp her family room. Considering the large open space, she sought professional design help to accomplish the following: 
Use cohesive interior design ideas to create a functional yet inviting family room

Include a built-in kitchenette, TV unit, book cabinets, and some storage space

Make the layout, furniture and decor child-friendly

Secure plenty of comfortable seating for both family and visitors

Keep the style cozy but fairly minimal
Unsure if contemporary design is right for your family room? Then see which style matches your interior – take our

Free Interior Design Style Quiz

to find out!
Contemporary Family Room Inspiration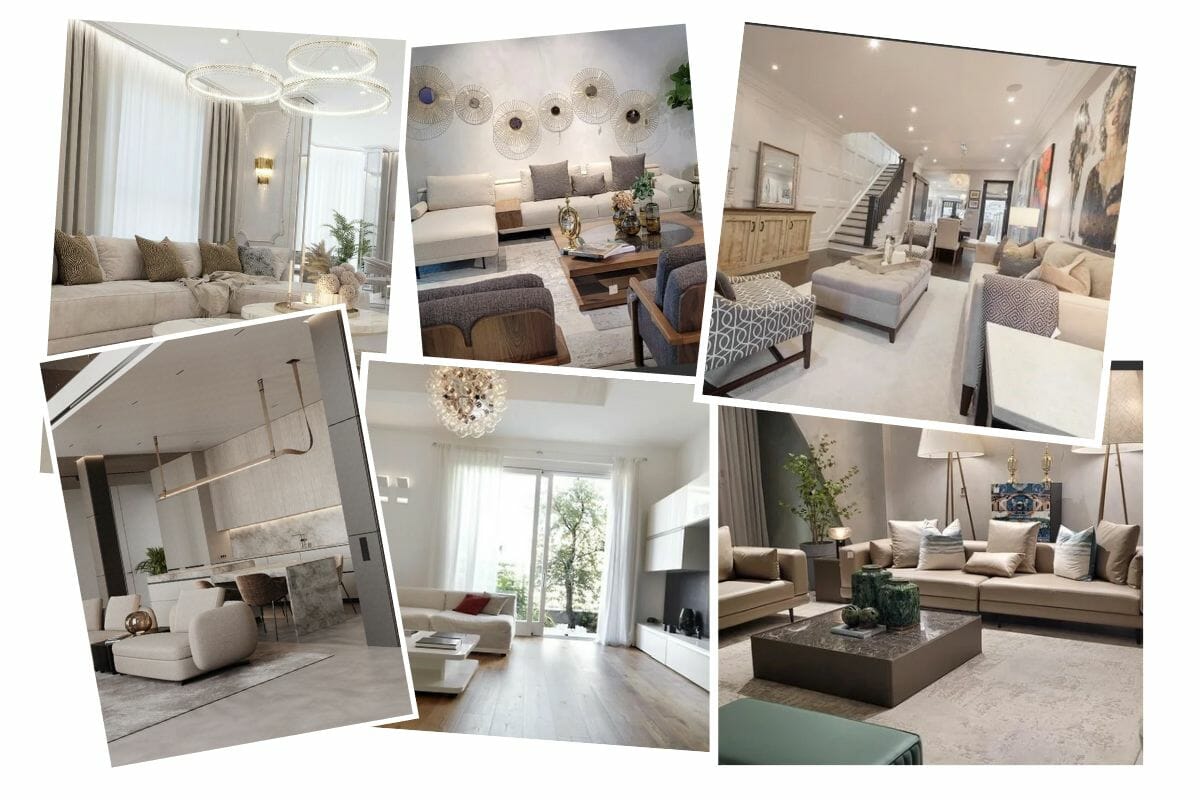 The client composed a gallery of inspirational images that focused on contemporary design ideas. The spaces featured clean lines, modern amenities, and relaxing neutral color palettes. Depending on the elements, some rooms felt more function-oriented, but all of them were inviting and stylish.
Contemporary Family Room Ideas & Moodboard
With a single click, the client initiated a journey toward their new contemporary family room. It started with Decorilla's fun and easy design questionnaire, followed by an in-depth discussion about all the important details.
With all information at bay, the team identified two talented designers whose styles made an ideal match for the job. Both proposed functional and appealing solutions. However, it was the design by Fereshteh H. that most closely matched what the client desired!
Fereshteh's contemporary family room ideas stemmed from blending the latest style trends with solid, timeless functionality. Her moodboard comprised streamlined furniture in a neutral palette, with some bold accents noticeable through lighting and decor choices. Having the client's desire for captivating practicality in mind, she sourced comfortable & durable elements with an aesthetically pleasing design. Lighting was a particular part of the focus, aimed to provide adequate illumination while adding to the overall ambiance. 

Contemporary Family Room Design
The new contemporary family room furniture layout effortlessly accommodates a large family, providing an inviting and unobtrusive space for everyone (including children) to enjoy. An intuitive, functional arrangement allows for cozy gatherings in well-defined zones. In the center of the room, an ample lounging zone comprises a sectional, an armchair, and a bench for meaningful face-to-face conversations. It is surrounded by a dining area on one side and a small home office space on the other. 
One of the specific project challenges was incorporating a small workspace in the contemporary family room. The designer's solution was to tactically place a contemporary desk on the edge of the lounge area, allowing plenty of legroom and daylight to filter in while still maintaining a moderate sense of seclusion. The nook is devised to serve different family members per need, from doing homework to doubling as a home office. Sleek storage solutions, warmly hued accents, and the proximity of a potted plant promote productivity and comfort without compromising on style.  
Across the family room, the small home media center exudes a "luxury meets practicality" kind of flair. The background wall boasts a rich fusion of wooden slats' rigid geometrically juxtaposed with an organically veined stone slab. Apart from effortlessly enhancing elegance, such a combination also minimizes morning glare for an optimal TV viewing experience.
Meanwhile, the kitchenette and dining space attract the eye with an enchanting blend of calming creamy tones and bold black accents. It offers yet another comfortable gathering spot for the whole family with an ample, 8-person dining table set. Clean black lines connect this zone with the rest of the family room, adding a layer of lightweight yet slightly masculine depth. At the same time, the combo harmonizes seamlessly with the surroundings to create a space where sophistication and coziness collide.
Contemporary Family Room Furniture Shopping List
Decorilla offers a multidimensional approach to the world of interior design. Their streamlined, custom process simplifies the journey to make it fully accessible – meaning no experience is necessary for the client. Supported by a team of professionals, each customer receives 3D visualizations tailored to their desires, along with specific inputs and advice. Moreover, a budget-friendly shopping list caters to all their design needs, ensuring complete satisfaction.
Top Picks for Contemporary Family Room 
If you are not ready to commit to a full makeover, no worries. You can also style up your relaxation with just a few key pieces and accessories adding extra comfort and charm. We hand-picked a few for you to check out: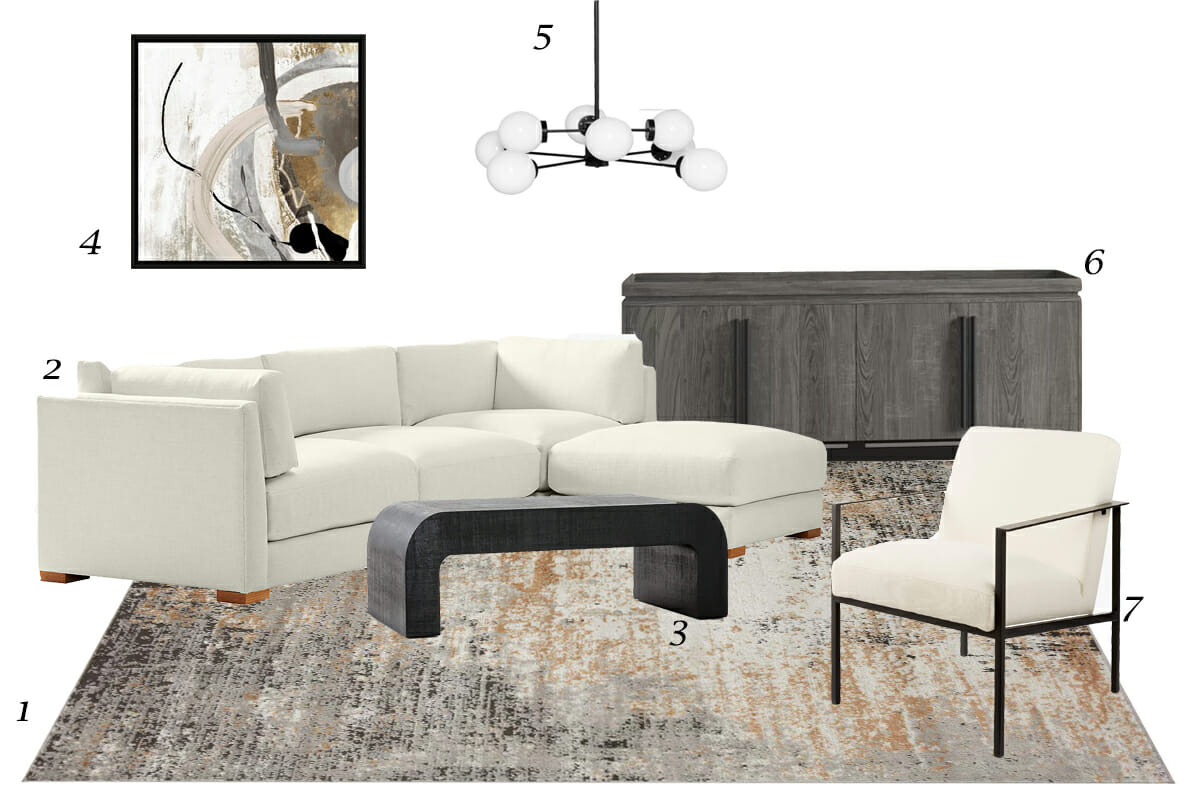 Looking for unique contemporary family room design solutions?
Our talented designers can help you transform your vision into a dream space. So schedule a Free Interior Design Consultation to get started today!

Featured Image: [1]