Embracing the raw beauty of nature, this living room, dining room, and bedroom underwent a transformation to capture the essence of earthy interior design. With the infusion of organic textures, warm tones, and natural elements the home is now a tranquil oasis. Join us as as we showcase the allure of of a natural-inspired contemporary interior!
The Challenge: Earthy Interior Design
Moving into a new house is such an exciting time, but sometimes it can feel overwhelming. Especially while trying to figure out how to decorate your space. Finding herself in a similar situation, one Decorilla client embarked on a hunt for something cozy, warm, modern, and organic–and the team delivered! The chosen designer successfully ticked all boxes, including:
Natural home decor ideas

for an open-concept living room and bedroom

Functional layouts and coherent aesthetic 

Organic flow and a contemporary earthy interior design scheme for a living room

A moody color palette in a bedroom, ideally dark grey or dark green

Comfortable king-size bed with accent headboard
Pro Tip: Start your home transformation by defining your personal decor style. Not sure what that is? Then take our

Free Interior Design Style Quiz

to find out today!
Earthy Living Room Inspiration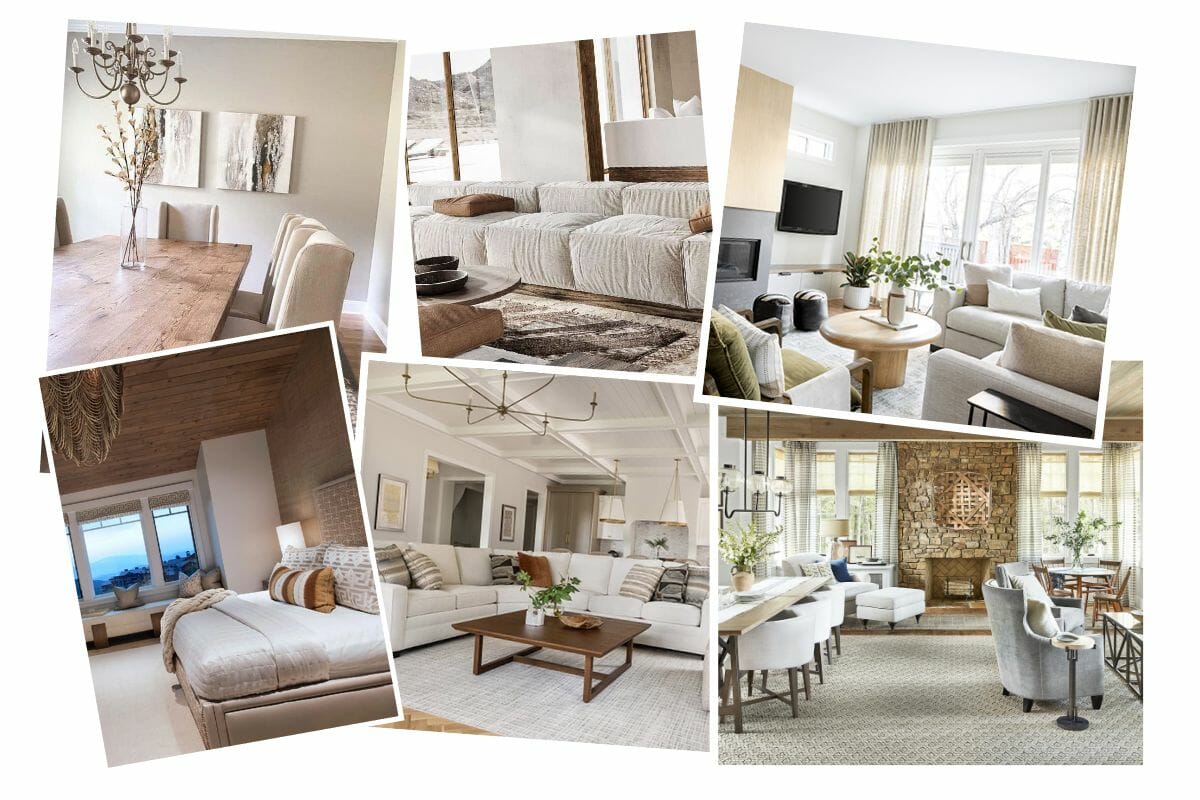 The client's inspirational gallery of contemporary earthy interior design samples was bursting with beige, cream, and warm brown hues. Pastel color accents could also be found throughout. Those earthy-tone living rooms and bedrooms, along with a few pops of biophilic interior design, clearly communicated the client's wish to embrace nature inside their space. Expectedly, such earthy interiors also comprised almost exclusively natural materials like wood, stone, and woven fabrics.  
Concepts for an Earthy Living Room & Bedroom Interior Design 
The client also took an online quiz and filled out Decorilla's design questionnaire to further determine their preferences and ideas. That helped the team to narrow down the options and identify the best interior designers for the task. After a round of consultations, two experienced design professionals with a flair for contemporary earthy interior design created their moodboards.
Both designers delivered exceptional concepts. However, Jessica S.'s earthy room décor aesthetic ideas completely impressed the client.
The client's house boasts an open-concept space with lots of natural light, dark brown hardwood floors, and white walls. Jessica correctly identified its potential as a perfect blank canvas for her earth-tone decorating ideas. Her moodboard exhibited light neutral shades of beige, ivory, and light gray to enhance those bright and airy vibes. In addition, she aligned the furnishing choices with the client's affection for Japandi, Scandinavian, and California coastal looks.

Earth Tone Living Room Design 
Jessica's earthy living room ideas put together a curated collection of elements elevating not just functionality but also the distinctive room's character. Each detail conjures a feeling of simplicity, comfort, and serenity, making it a testament to the unique aesthetic of earthy interior design. The eclectic layout scheme also seamlessly integrates biophilic decor details, blurring the borders between the inside and the outside.   
A cozy sofa, a wide bench, and an inviting armchair are all upholstered and streamlined for a touch of modernity. A curvy coffee table complements and softens those clean silhouettes while boosting the setup's organic flair with its wholesome surface. Meanwhile, two juxtaposing side tables enhance comfort and functionality, as well as visual dynamics.         
The focal point of the room is the fireplace boldly clad in rustic stone bricks to emphasize the room's character. The wall hosts a large, modern fireplace and a mounted TV. A patterned rug also contributes to the synergy, infusing a touch of global style into the earthy room décor aesthetic.
Earthy Interior Design In a Dining Area
The kitchen boasts white countertops and cabinets, making the foundation for a clean and minimalistic look. Hence the dining room area rendered a perfect opportunity for a creative fusion of Scandinavian decor principles and contemporary earthy interior design.
The layout is simple, stemming from the solid, organic wood pattern of the dining set that connects it with the elements of the living room. Four sleek chairs balance the layout's visual weight while offering comfortable, ergonomic seating. At the same time, the brass chandelier pairs with the amorphic mirror to elevate the earthy room décor aesthetic with an elegant statement. 
Contemporary Earthy Bedroom Interior Design 
The perfect mood for a bedroom is paramount; therefore, the designer paid special attention to interpreting the client's specific wishes. In return, she succeeded in conveying an atmosphere that is dark and earthy at the same time. The raw, edgy touch of dim grey reeded panels on one wall stands in deep contrast with the crisp white molding. The LED-illuminated ceiling further accentuates such contrast while also enhancing the room's ambiance. 
Such a background produces an opaque canvas that greatly accentuates every earthy interior design element placed against it. As a result, the amber leather bench becomes the room's centerpiece, visually paired with wooden drum nightstands for harmonious flow. Together, they render a decorative frame around the white upholstered king-size bed, topped off with pastel wall art adding a touch of whimsy. 
The lounger's focal point is an elegant vignette consisting of a carved sideboard and a few earth-tone bedroom accessories, finished with a round white mirror. An eclectic rug completes the look of the room, juxtaposing textures and tones to create a unique, vibrant atmosphere.  
Earthy Room Décor Shopping List
With Decorilla's unmatched expertise, photorealistic 3D visuals, and straightforward implimentation instructions, anyone can elevate their living space with ease. Moreover, the thoughtfully curated shopping lists take the stress out of finding the perfect pieces, while exclusive trade discounts make your dream room more accessible than ever. And finally, the complimentary white glove concierge service offers its expertise to complete a truly seamless experience.
Top Picks for Contemporary Earthy Interior Design
Check out some of our favorite pieces and embrace the earthy-tone bedroom and living room aesthetic. Bring the great outdoors inside with warm-toned accents, natural textures, and organic shapes.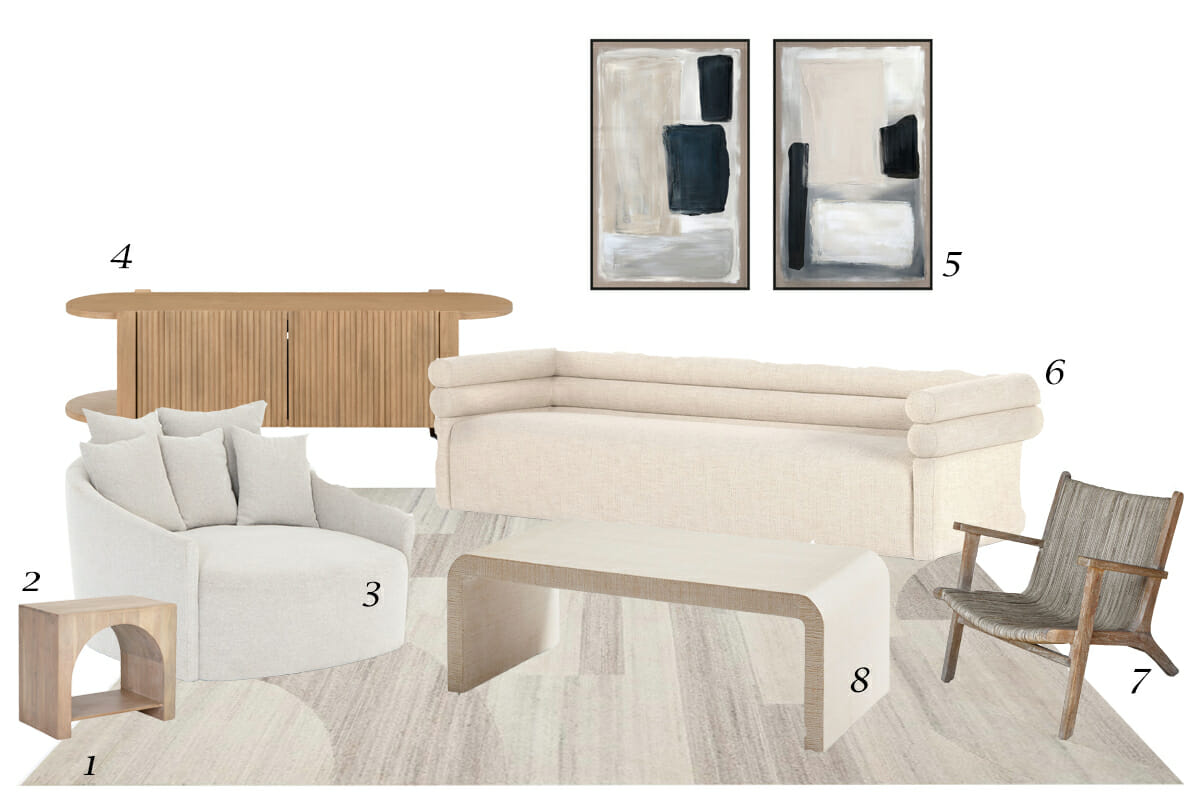 Want to give your interior a relaxing earthy touch?
Work with our talented design team to bring your vision to life. Schedule a Free Interior Design Consultation to learn more today!