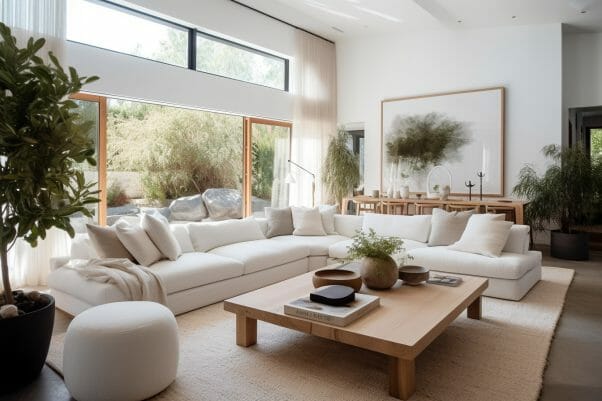 Are you longing to escape to the great outdoors? Research has shown that being in a natural setting can reduce stress, increase mental capacity, and improve well-being. So, perhaps it's time to bring the outdoors in! By doing so, your natural decor will help you unwind throughout the year. Let's look at some natural decor ideas you can incorporate into your home.
How to Find & Pick Natural Home Decor 
Most people spend the majority of their time indoors. Therefore, choosing the right interior design ideas for our spaces is essential. Selecting sustainable decor is the first step to a home makeover. With this in mind, consider the tips for green designs below.
Wondering which style matches your love for natural decor? Then try our

 Free Interior Design Style Quiz

to discover your true decorating style today!
Select Durable Materials
When looking at nature decor for a home, consider its material performance and environmental impact. These materials will not compromise future use, deplete themselves or harm our environment. Consequently, it's important to select ones that are from renewable sources and have a low environmental impact. 
Recycle or Reuse Your Pieces
An interior design trend is to reduce, recycle and responsibly source the decor you use. While you don't have to go minimalistic, you can find ways to cut down on the items you own. Alternatively, find new purposes for existing nature décor for the home. 
Buy Your Nature Room Décor Locally
Reduce your carbon footprint by shopping locally and handmade. This reduces carbon emissions from global transportation and stimulates your local economy. If you're after decor you'll love, check out vintage stores. A bohemian interior design is certain to come to life from a thrift shop visit. 
Use Non-Toxic Products
When including natural décor, be sure to utilize toxin-free products. Select from the ever-growing range of safe and chemical-free alternatives. For instance, organic paint and wood that have not been exposed to pesticides. 
Nurturing Natural Decor Ideas
Using earthy natural home decor creates a tranquil ambiance and an authentic vibe that is difficult to match. Continue reading to discover effortless ways to add to the concept of biophilic interior design in your home. 
1. Raw Materials
Incorporating raw materials into interior design, such as natural wood decor, has become trendy in recent years. For example, stone, wood, and metal all add texture and create a connection to the outside world. In addition, these materials bring authenticity and timelessness to any interior design style. 

2. Indoor Plants
There is no easier way to bring the outdoors in than by incorporating actual plants! A simple design tip is to create an inviting space with greenery. For instance, it can be a large plant in the living room corner or a centerpiece on the coffee table. Both add life, softness, and color to a space. And if you don't have green fingers, faux plants are easy to look after!
3. Nature-Inspired Wallpaper
Natural wall decorations don't necessarily have to be three-dimensional. A subtle nod to nature can be portrayed through a floor-to-ceiling wallpaper of a striking landscape or natural pattern. Your guests will be lost in thought, staring at this captivating take on nature-inspired home decor. 
4.
Nature-Inspired Artwork
Outdoor-inspired artwork as natural wall decorations is a great way to add a serene and soothing atmosphere to a room. Nature living room ideas can be about something other than greenery or raw materials. A reference to nature through an appealing artwork creates visual interest, especially when adding a pop of color. 
5. Rattan or Wicker Nature Decor for a Cozy Home
Woven items made from wicker or rattan can create an aesthetic appeal to any room in your home. Its natural interior design forms a bold statement with a substantial woven light fixture or furniture piece. Furthermore, understated natural woven accents, like baskets or bowls, on tables or shelves are charming too. 
6. Earthy Colors
You can foster a nature room aesthetic with natural colors that evoke a sense of calm. For example, consider using warm earthy hues, such as browns, greens, and gentle blues. In addition, natural shades such as white, beige, and gray can create a soothing neutral color palette. Overall, these shades also complement a nature-inspired interior design. 
7. Textures of Stone
Embrace the natural beauty of your stone wall! You can create an urban oasis with nature decor anywhere, even in your bedroom. Instead of hanging natural wall decorations, utilize a stone-clad or textured accent wall. First, select a color palette that complements the tone of the rock. Then, choose bedding with natural materials like linen. Lastly, bring in some textures through a woven rug or blanket to enhance the natural feel. In the end, your accent wall will add warmth and character. 
8. Harmonious Natural Living Room Decor
Textures, colors, and materials all play a role in the items that make a living room unique. This is particularly relevant when looking at nature-inspired natural decor. A peaceful atmosphere comes about when including modern natural decor. In addition, the textures create visual depth and dimension. 
9. A Living Wall
How about creating a living wall in your home? These vertical gardens are unique and visually striking. By combining plants and organic materials, you can create a vibrant work of art alive with nature. Plus, it provides health benefits too! For instance, a living wall improves air quality and reduces stress by creating a relaxing environment. 
Want designer-approved nature decor for your home?
By working with our leading industry experts, you can have your dream home in no time. So, schedule a Free Interior Design Consultation to get started today!

[Image Credits: 2, 3, 4, 5, 6, 7, 8, 9, 10, 11, 12, 13, 14, 15, 16]