Are you ready for a lavish transformation that will leave you in awe? With sleek lines, sophisticated color palettes, and innovative technology, the world of luxury modern home décor has never been more exciting. Read on as we explore a combined modern luxury living and dining room interior design story – it's sure to inspire your makeover too! 
The Challenge: Luxury Modern Home Décor in an Open Plan
The client had just purchased a beautiful new house in one of Boca's luxury communities. Its environment and architecture perfectly aligned with their taste, which was all about neutral ultra-modern luxury with a pop of color. Beyond upgrading the flooring, stairs, railing, and kitchen countertops, the modern luxury living and dining room design was the main niggle. That's why the client scheduled a consultation with Decorilla and asked for a designer to:
Curate a one-of-a-kind

luxury modern home

 decor

scheme that reflects the client's love for fashion and design

Conceive an elegant, luxurious, modern dining room design that complements the sleek white laminate kitchen cabinets and quartzite countertops

Customize a TV wall "full of drama and with plenty of intricate details and layers"

Install a wet bar inspired by Dubai and Russian design styles

Add extra flair with an eye-catching chandelier in the combined living and dining room area

Design a luxury modern black bathroom to match the rest of the modern home décor and the client's unique taste
Pro Tip: Start your modern luxury design by defining your personal decor style. Not sure what that is? Then take our

Free Interior Design Style Quiz

to find out today!
Combined Living and Dining Room Inspiration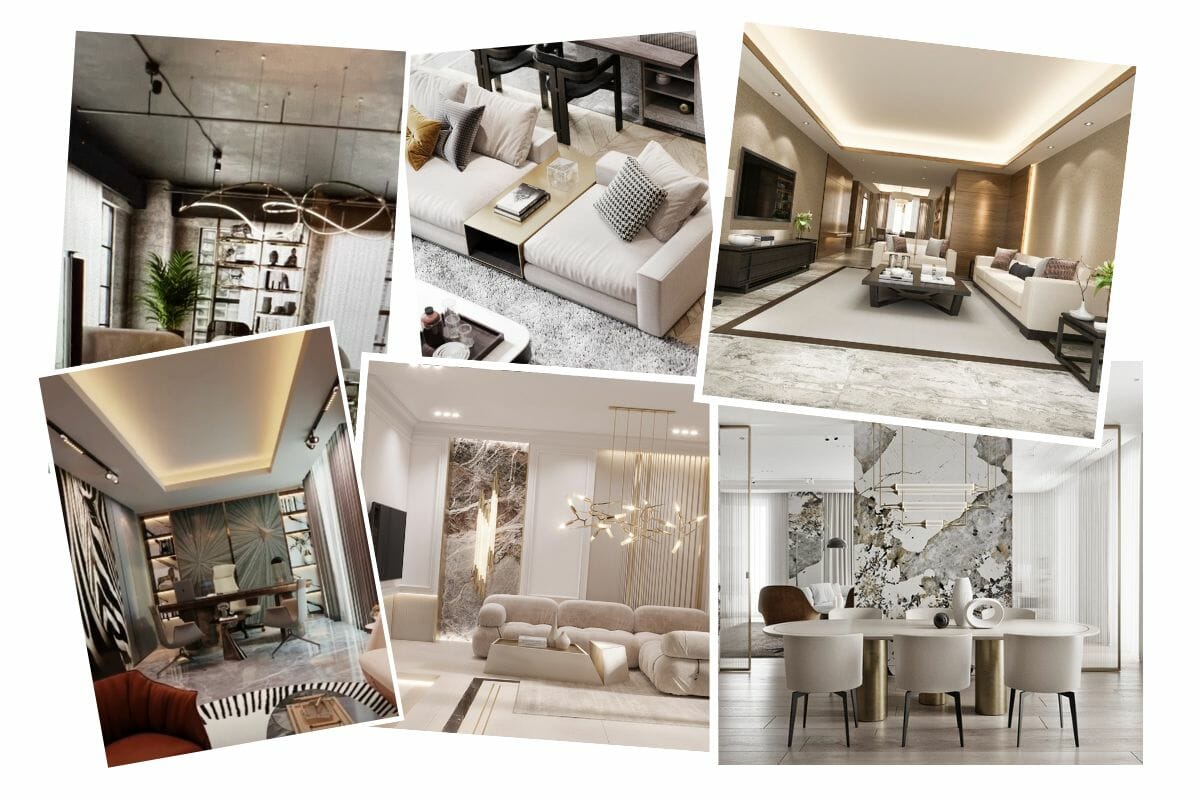 The client provided a comprehensive collection of mesmerizing ideas for the designer's inspiration. The stunning gallery of modern luxury living and dining room designs showcased various style combinations, each creating an open, inviting space perfect for entertaining. Color schemes were predominantly white and gold, which exuded opulence and elegance. In addition, elaborate decor and statement accents added an extra layer of grandeur to these edgy, contemporary interiors making them feel even more exclusive.  
Moodboard & Design: Modern Luxury Living and Dining Room
The client's gallery served as an invaluable visual guide for designers, providing precise insights into their ideal look. Moreover, Decorilla's interactive questionnaire promoted effective communication between the client and the team, where all significant details about their lifestyle, habits, and preferences were clearly emphasized. Equipped with this information, the Decorilla team handpicked two exceptional designers to present their concepts for the luxury interior design.
After thoroughly reviewing two luxury modern home décor proposals, the client faced the challenge of selecting just one creator. Ultimately, Mladen C. and his impeccable sense of style checked all the boxes, leaving the client absolutely thrilled.
Mladen's modern and classy luxury living and dining room concept stemmed from the idea of indulging in highly stylized comfort. His moodboard showcased a thoughtful composition aiming to leave the clients feeling pampered and their visitors in awe. Expertly combined living and dining room elements came together seamlessly in this dreamy space, which boasts an abundance of white and gold accents.

Luxe Combined Living and Dining Room Results
Mladen's vision epitomizes high-end, luxury living and dining room design. This open-concept space revolves around a modern apartment living room layout blending equal portions of functionality, comfort, sophistication, and beauty. From plush seating to chic fixtures, every element contributes to achieving a cohesive look and feel. And in addition to common features, a luxurious wet bar elevates the space further, making it perfect for entertaining guests. 
Modern Luxury Living Room Design Results
The star of the show is the lavish conversation area. A large white sofa sectional commands attention with its visual beauty, accented further by discretely layered patterns of decorative pillows and the area rug. A pair of curvy swivel chairs nod to current trends, while a stunning organic-shaped golden coffee table puts a stamp on the setup's character as a grand centerpiece. 
Nevertheless, the key highlight of this elaborate design is the bespoke media wall, accented with hidden LED lights. Intricate reeded panels provide a perfect background for its most prominent feature: a magnificent marble slab. Two carefully placed built-in bookshelves establish a dynamic visual balance, adding to the overall elegance and functionality of the space. In addition, completing the client's wish, a stunning contemporary chandelier rounds up the seamless luxury modern home décor.
Elegant Luxury Modern Dining Room Design
Contemporary in every segment, the elegant, luxurious, modern dining room design boasts defined brightness. Layered, textured shades of creamy white provide a flawless backdrop for streamlined furnishing and golden, luxury, modern home décor. The dominating asset is the sculptural quality notable in every detail, from the dining set, over the console table, to wall art and the stunning pendant chandelier. 
Moody & Modern Luxury Bathroom Design
In contrast to the luminous combined living and dining room, the modern luxury bathroom design renders a stunning black-themed oasis. Its highly textured, sandy walls set the perfect moody backdrop for the main attraction: two luxurious, gold-veined marble slabs. And while the overall scheme feels inherently dramatic, the simple, modern white toilet provides the immaculate juxtaposition to tone the atmosphere down. 
Apart from providing a strong visual statement, the marble elements also clearly zone this luxury modern black bathroom. In perfectly scaled balance, one side of the room accommodates a thrilling walk-in shower cabin. Meanwhile, the other slab is expertly combined with a reeded wooden panel, a floating wooden vanity, and a large, round LED mirror. The setup is finished with a stunning set of pendant lights accentuating a chic ambiance.
Online Shopping List
Decorilla's innovative creation process was a game-changer for the client. It started with stunning 3D renderings that helped the client visualize their space, polish their ideas, and make confident decisions. With an expertly curated selection of furniture and decor, the designer turned imagination into reality. Next, a personalized shopping list with exclusive trade discounts made the deal even better, while a dedicated white-glove shopping concierge handled all the ordering, tracking, and delivery details, making the entire procedure a breeze.  
Top Picks for a Modern Apartment's Living Room
Luxury modern home décor can efficiently transform your combined living and dining room, turning it into a lavish yet inviting sanctuary. Melding neutral, soothing hues with elegant furniture, for instance, conveys a delightful blend of chic elegance and functional comfort. Here are a few curated picks to get you inspired: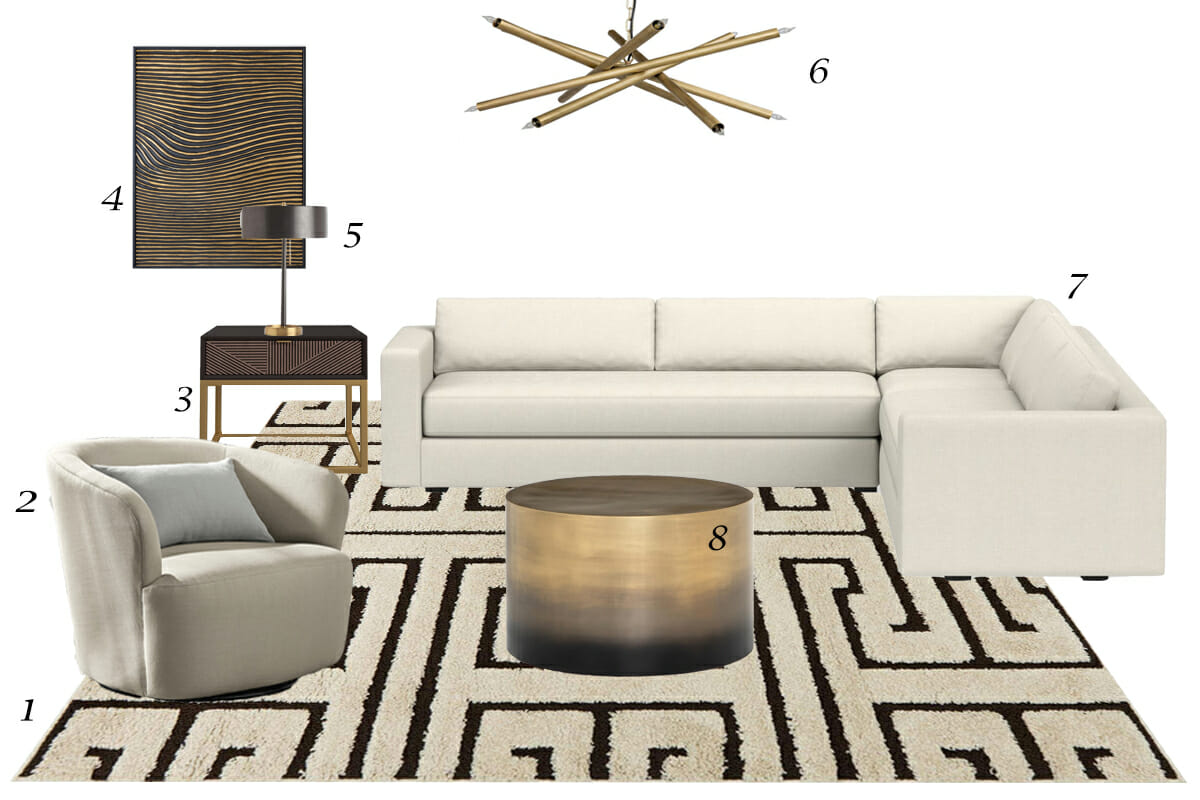 Looking for a unique, modern luxury living room makeover?
Let us guide you on that exciting journey. Schedule a Free Interior Design Consultation to start your project today!