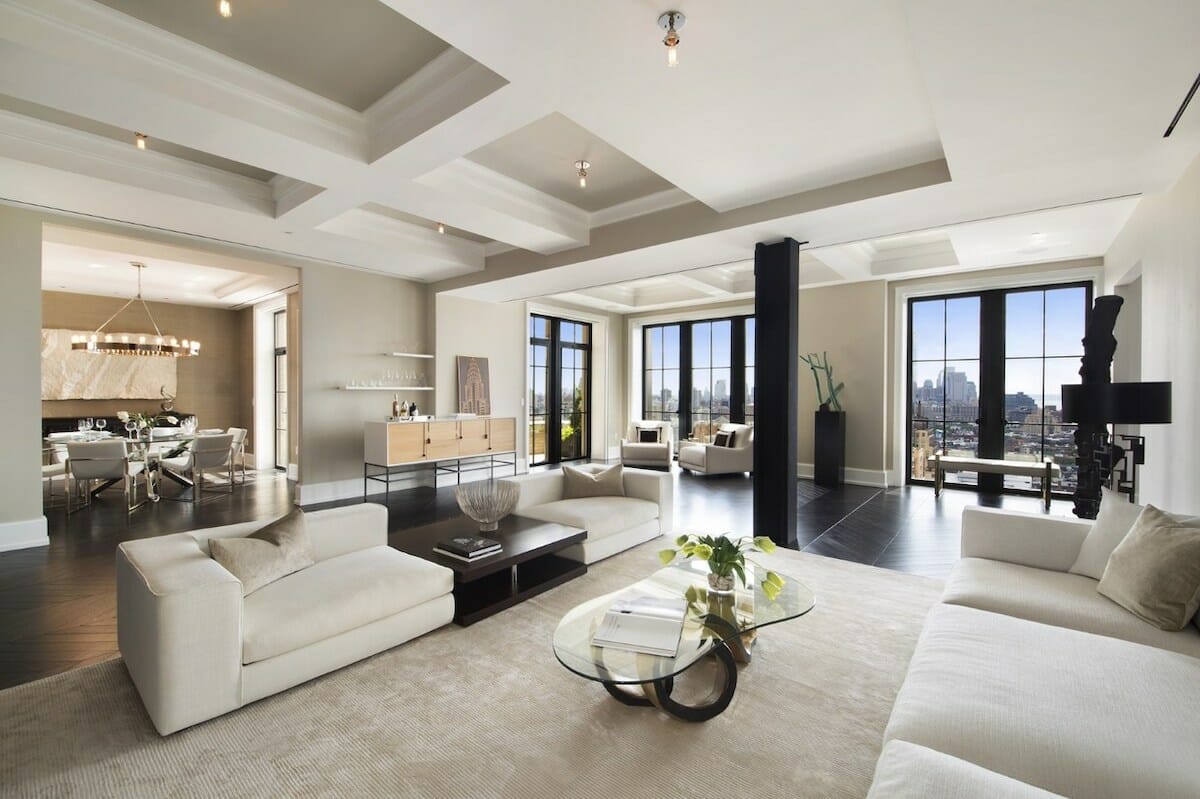 Pinpointing exactly what is luxury interior design certainly varies based on personal preference. However, all high-end interiors focus on curating elements that deliver big on comfort, quality, detail, and sophistication. It is this refined appearance that makes luxe design so desirable. Read on as we unveil the top 10 insider tips to complete your own luxury interior design.
1. Define Your Luxury Interior Design Style
Luxury is not a matter of property. It's actually more of a state of mind, a philosophy of living the best life available. The size doesn't matter, but the sense of style does. Even the tiniest studios can dazzle with luxury when high-end interior design is executed well. A high-end interior design must be well-executed and emphasized on the quality. At the same time, it shouldn't stray far from the user's authentic personality.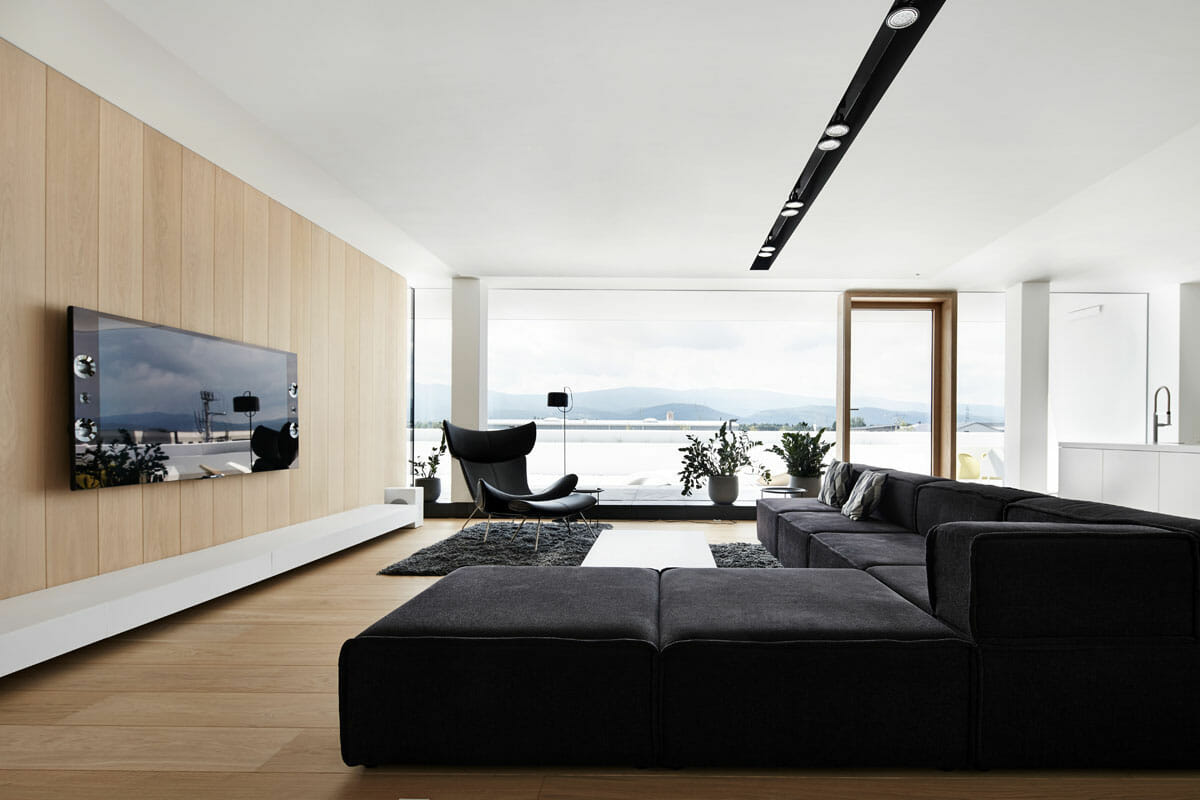 So, what defines luxury in interior design? All classy homes have in common that particular aura which you can feel straight from the entrance. It's the sophistication, elegance, detail, sense of proportion, and some distinctive feeling that living is easy. Since luxury interior design appears across all design styles the components are far-ranging. The beauty is really in the eye of the beholder, so choose which style suits you best.
Luxury interior designers are the masterminds behind the magnificence of an upscaled space. They hold the education and experience to seamlessly curate a luxury design of any style. Working with one will be the most guaranteed way to transform your space into a high-end interior from start to finish. Or, you can utilize luxury interior designers' completed works as inspiration to emulate in your own home.
Want a high-end interior look to your home but not sure where to start? Schedule your free interior design consultation
to get started with a luxury interior designer
today!
3. Find What Inspires You 
Luxury is hedonistic and springs from creativity, inspiration, and a journey to achieve. It marks the ultimate comfort, the art of pampering yourself, the indulgence. When you are aware of things that spark your life force, high-end interior design is one of the ways to keep it going. Perhaps your inner artist is a hidden Michelin-star chef trapped in an outdated kitchen? In that case, a high-end kitchen makeover makes sense.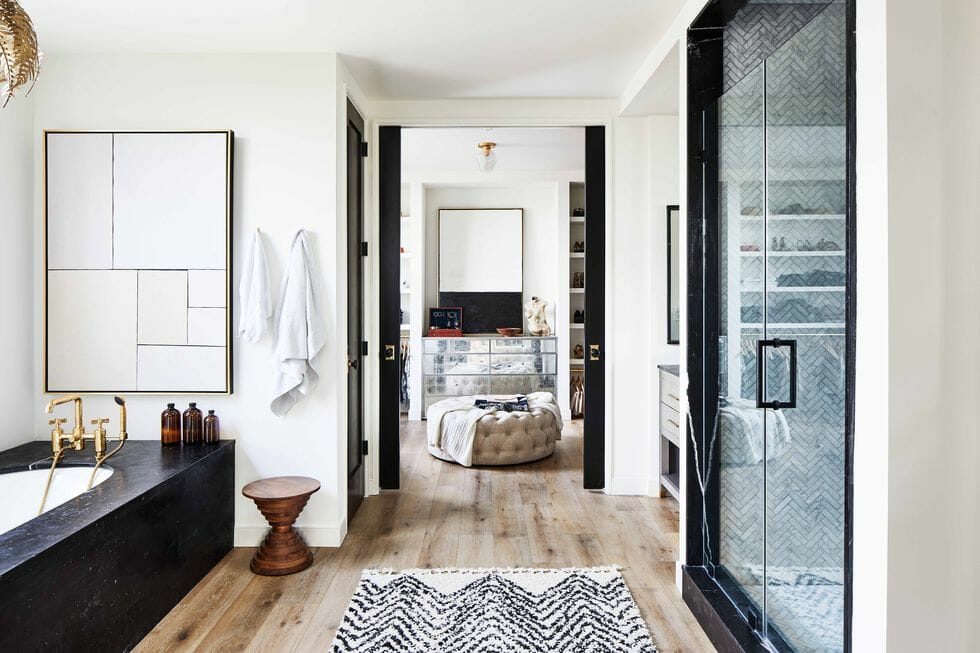 Or perhaps you are craving some special time for yourself, a chance to relax and rejuvenate in peace? Then turning your bathroom into a lavish spa oasis would certainly make the difference. Use your heart's desires as a guide to design your spaces.
4. Plan Your Space Strategically
Every stage of the design process is important and every great luxury interior design transformation starts with a well thought out plan. Here are our expert pointers for two of the most popular rooms in the home.
Luxury Living Room Design
The devil is in details, and each element has to be curated with care, starting with a layout that is functional as much as aesthetical. For a luxury living room design, begin with choosing larger pieces that proportionately fill the space. Finally, the right selection of finishing materials and refined decor should further enhance the composition.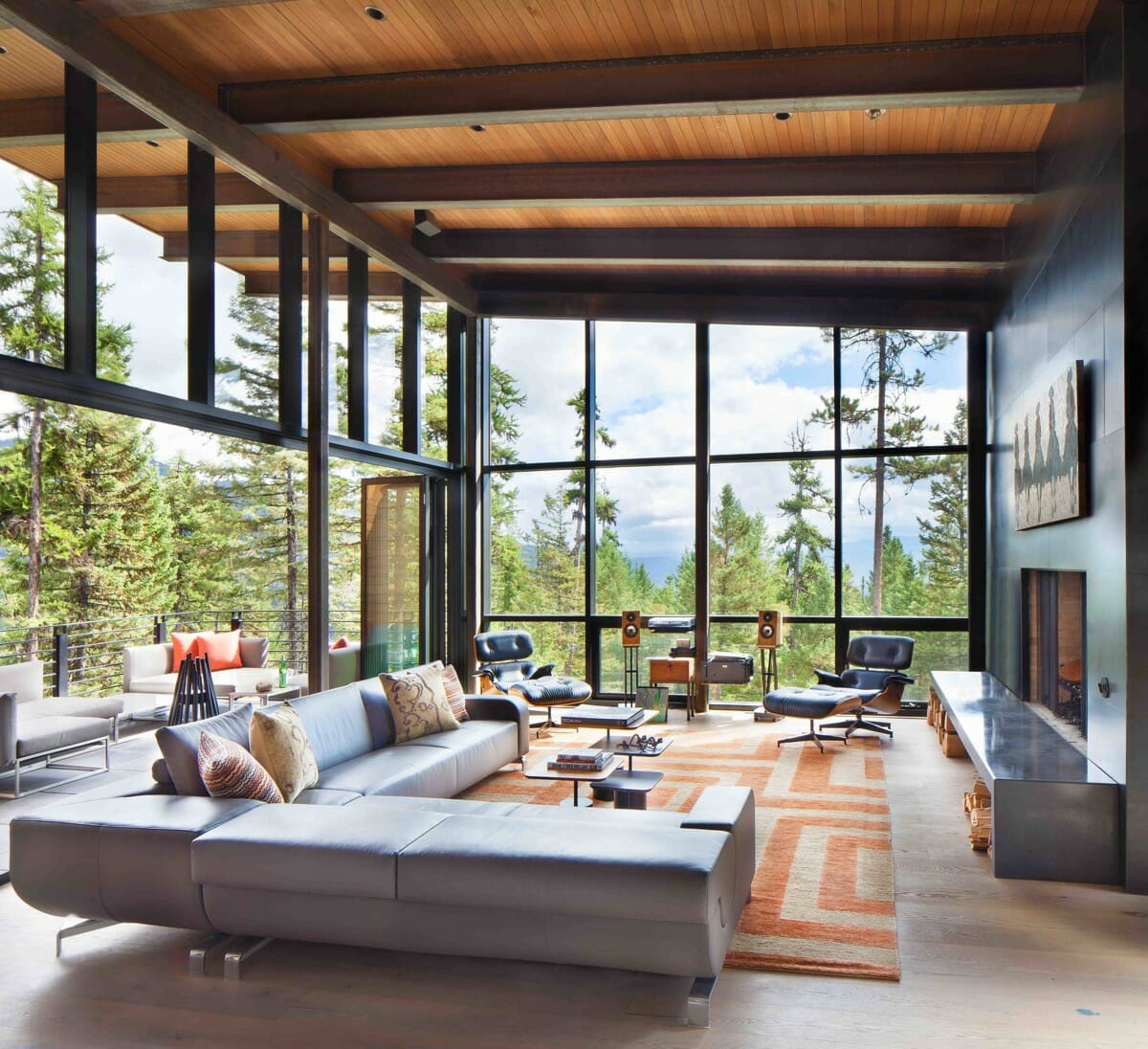 Build an effective focal point around something unique. For instance, if you have a fireplace, spice it up. Leaving windows that boast a view without treatments is a surefire way to allow them to capture the attention. Alternatively, an accent wall or a gallery wall is an excellent solution, too.

Luxury Bedroom Interior Design
Use texture to add warmth and elegance to your bedroom, even if not fully renovating. Think of a chic rug, a pile of silk or velvet pillows, and a delicate, soft throw blanket. Mirrors that frame your bed add some glam factor and lamps placed in front can bring that further. If your bedroom floor space is limiting, then utilize the verticals, and add an eye-catching headboard.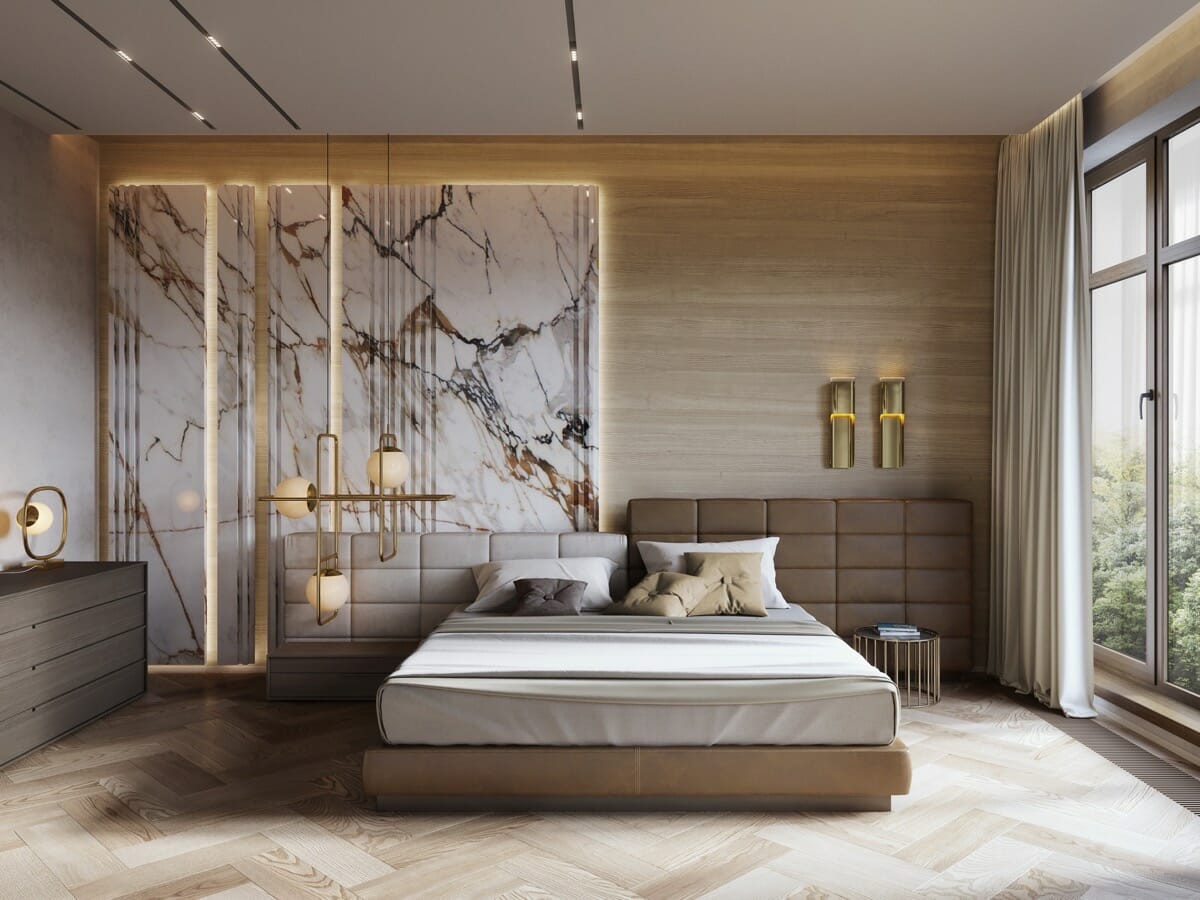 Dressers and nightstands can be simple but good-quality, with signature details or hardware. Focus on a few statement pieces to avoid overstuffing and pointless expenses. Luxury bedroom interior design also means a breathable, well-organized space free of clutter—therefore, no electrical cords, chargers, or small daily necessities should stand in the way.
5. Include Touches of Glam
Luxury interior design style requires bringing out some glitz. Shiny metal accents emphasize the room's appeal and fit well with every style. Gold, silver, brass, or copper work great in combination with soft and full fabrics like velvet and silk. Mirror or shagreen can jazz up the room dynamics, but be careful and use them sparingly.
Natural marble and onyx are luxurious by nature, and add lasting value to your home. By playing with lights and textures, you can create unique features and stunning focal points. In minimalist spaces, one or two such statement pieces can do magic.
6. Layer with Luxe Textures
Textures add sophistication and warmth to your home. Think silk, velvet, wool, and faux fur, for example. A sumptuous, smooth, stylish rug, a soft throw, and plush cushions in different fabrics are a perfect way to introduce a cluster of textures. They also help to add coziness and eliminate the risk of too cold and dull home design.
7. Explore Luxury Colors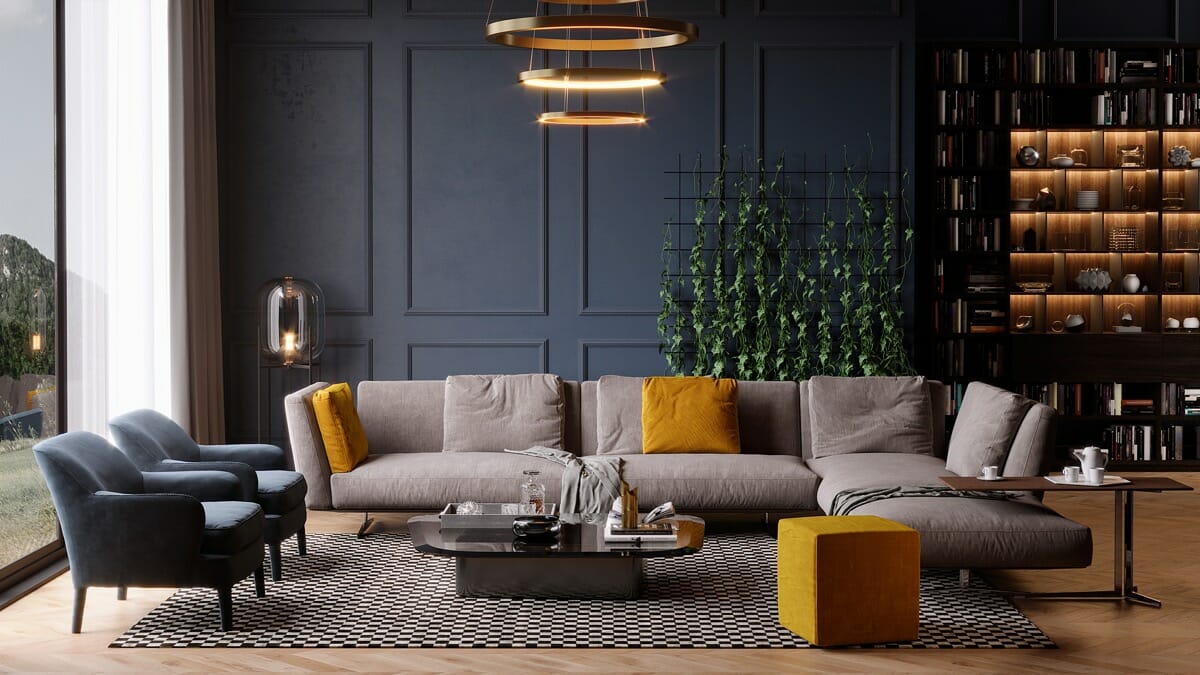 A neutral palette is sophisticated, while deep red, royal blue, black, purple, and gold are established through history as the colors of luxury. Purple is traditionally associated with royalty and nobility, which is why many considered it an ultimate hue of extravagance. However, while it's true that some traditional colors of the rich are easier to work with, great interior design can make any hue appear luxurious.
8. Lighting Defines the Mood
A bold chandelier is a classical feature over a dining table or in the entrance hall. While well-purposed accent lighting will highlight the features of your home, be it architectural or art pieces. Meanwhile, modern luxury interiors are refreshing the game by utilizing lighting of all purposes, shapes, and sizes.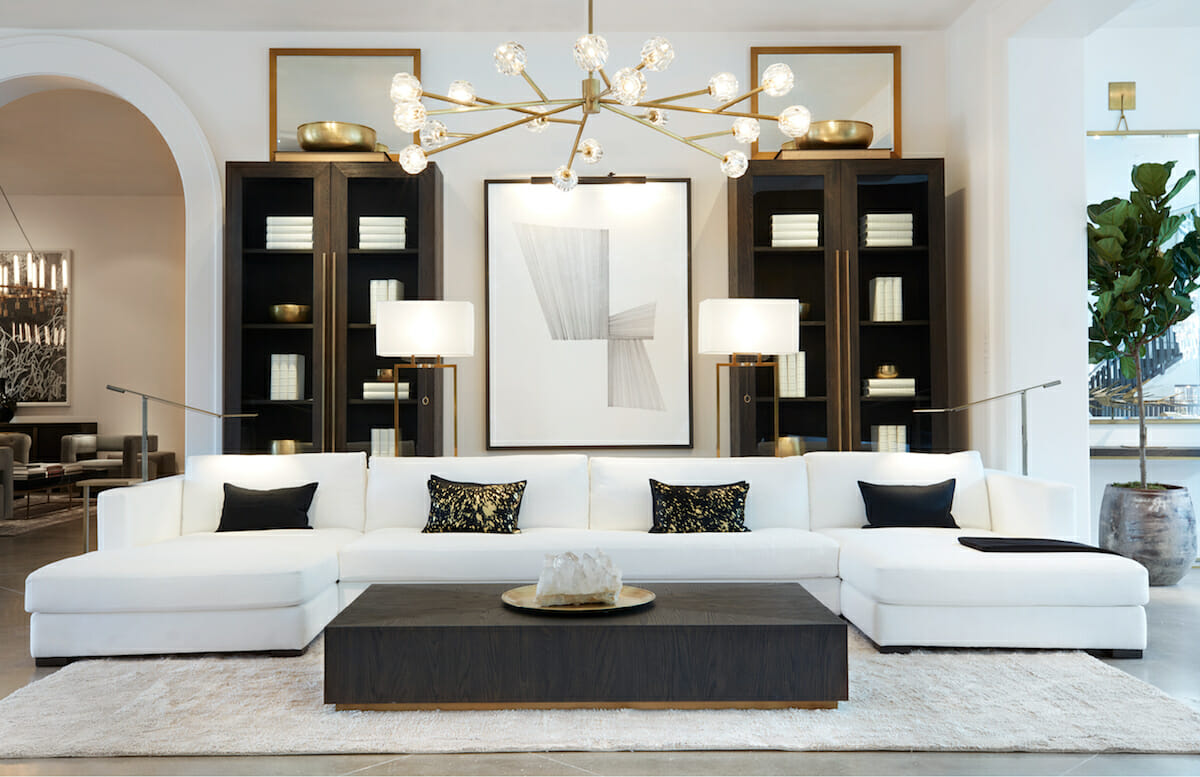 The right illumination adds depth and a luxurious sense of comfort to your house. Multiple layered lighting at differing heights and zones significantly affects the overall atmosphere. Use it to accentuate special features and allow each statement piece its own moment in the spotlight. If you like a dance of light and shadows, use different shading, and incorporate laser-cut barriers to create a sensation of surrealism.
9. Statement Art Pieces
Statement art ads a final touch to luxurious interior design, so be careful not to spoil the vibe. Investing in one great piece is a smarter choice than cluttering all surfaces with mediocre artwork. Alternatively, consider creating a gallery wall of carefully curated pieces that communicate with you and reflect your style.
10. Invest in High-End Furniture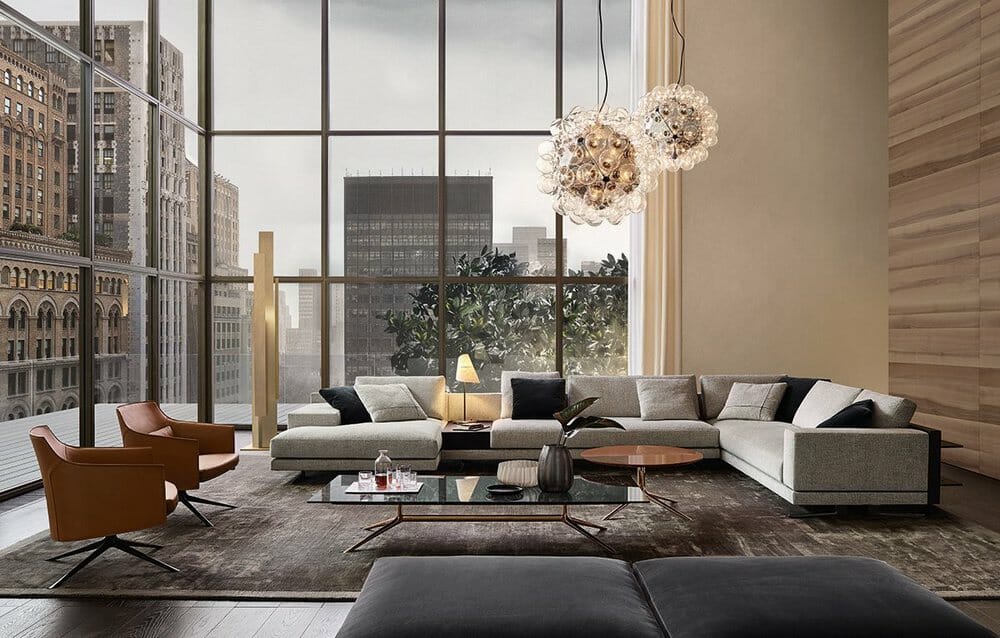 Luxury interior design style should imply comfort rather than sharp coldness; therefore, an intimate furniture arrangement will work well. Gorgeous sofas and stylish chairs should be organized to inspire social interaction. Give the advantage to quality, larger pieces over a batch of small, cheaper items. Distinctive items certainly have lasting value, bear more elegance, and fill the space appropriately.
Looking to indulge in luxury interior design for your home but not sure where to start? Then schedule a Free Interior Design Consultation for expert assistance in beginning your home's transformation!

[images 1, 2, 3, 4, 5, 6, 7, 8, 9, 10, 11, 12, 13, 14, 15, 16, 17]