The right breakfast nook ideas can not only enhance the utility of your kitchen but also provide a cozy place to ease into your day. And besides providing additional – and also more convenient – eating space, custom dining nooks can also serve other purposes, from office and study areas, to more counter space for large meal prep. Read on for the best kitchen nook ideas to make the most of your space!
Stylish Breakfast Nook Ideas
A few simple updates can create a cozy corner for you and your family to share meals, game nights, and more. Whether you bring in some glam chairs, a statement light, or nice artwork, you can make your space pop.
1. Not-A-Nook Breakfast Nook Ideas
Even if you don't have a dedicated corner, it's still possible to incorporate breakfast nook ideas into your living space. Simply fill a little area with a small bistro table and chairs. You can also define the area with art pieces and lighting to help separate the space from an open living floorplan. 
2. Use Symmetry to Enhance Your Breakfast Nook Decor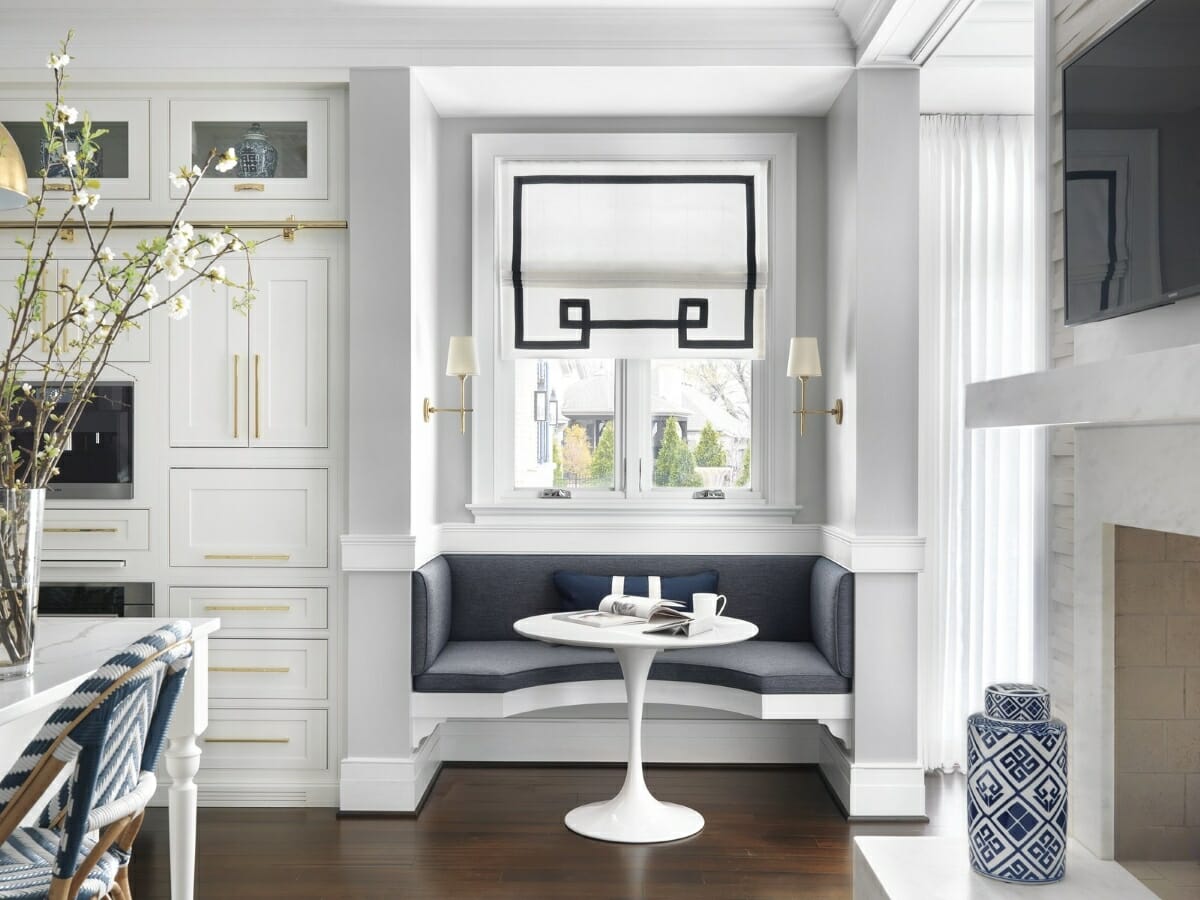 Even the simplest and whitest compositions can be strongly accentuated with a couple of curated details. Think geometric patterns, window treatments, and decorative elements. Symmetry will make your kitchen design look well-organized, tidy, and put together – even when everyday things are not in perfect order.
3. Inviting Farmhouse Breakfast Nook Ideas
Farmhouse decor creates some of the most welcoming spaces to start your day. Custom built-ins with window seating allow you to entertain more guests or to stretch out with your coffee and a good book, so be sure to include a variety of throw pillows for comfort.
Loving today's breakfast nook ideas, but need help selecting the right look for your home? Then, schedule a

Free Interior Design Consultation

for professional assistance getting started today!
Trendy Kitchen Nook Ideas
Today, eat in kitchens are popular among kitchen trends 2022. And to keep these spaces en vogue we have a few of our favorite kitchen nook ideas for timeless style.
4. Keep It Simple
When it comes to small kitchen nook ideas, less is more. Keep the space fuss-free with minimal decor and optimize any natural light to allow the space to feel bigger. A glass top table will also provide the illusion the area is larger than it may be.
5. Vintage and Artisanal Flair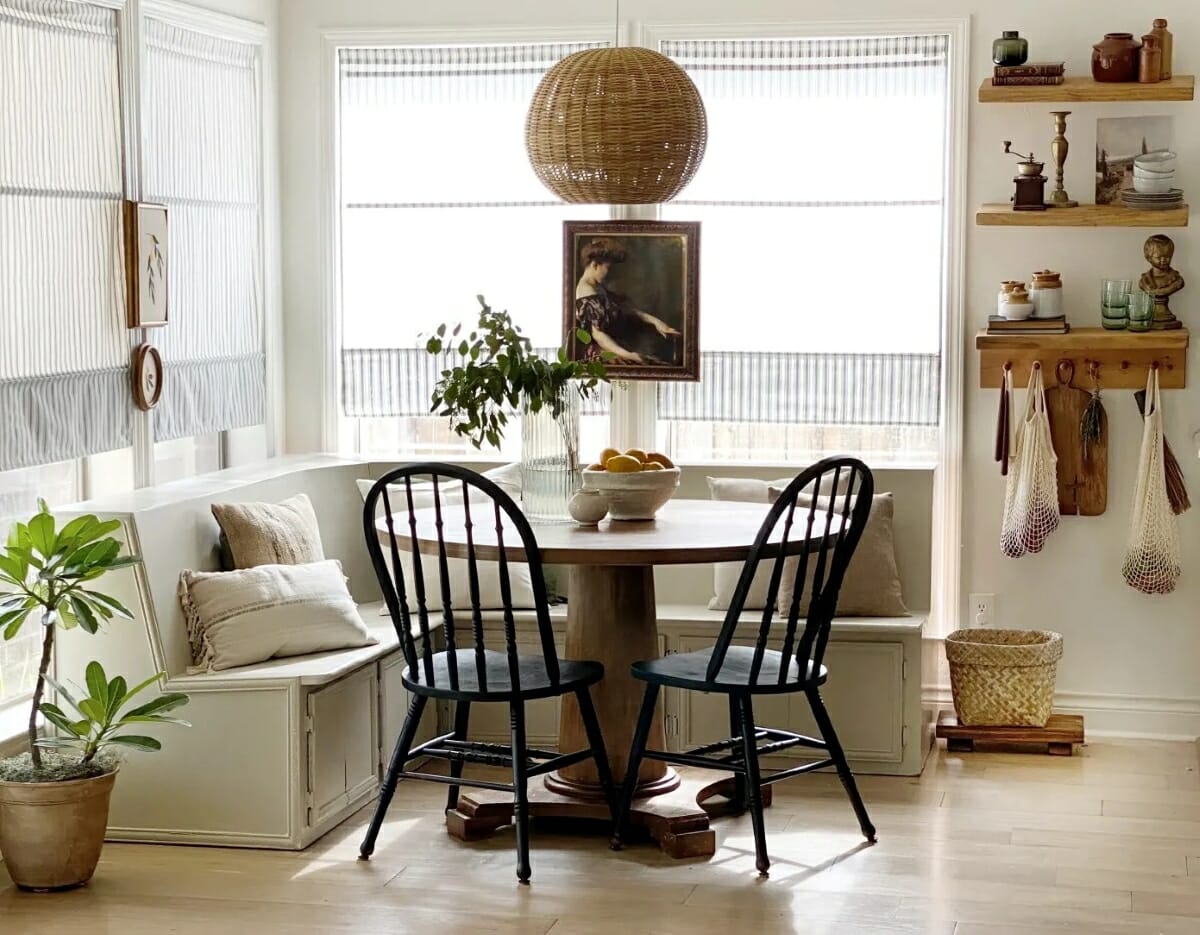 Artisanal interior vibes are also a trend on the rise. Think antiques, DIY, vintage pieces, and repurposed items. Don't hesitate to experiment – in fact, mixing old and new in your breakfast nook ideas will result in a unique, highly personalized decor character that can't be bought.
6. Sustainability in Dining Nook Ideas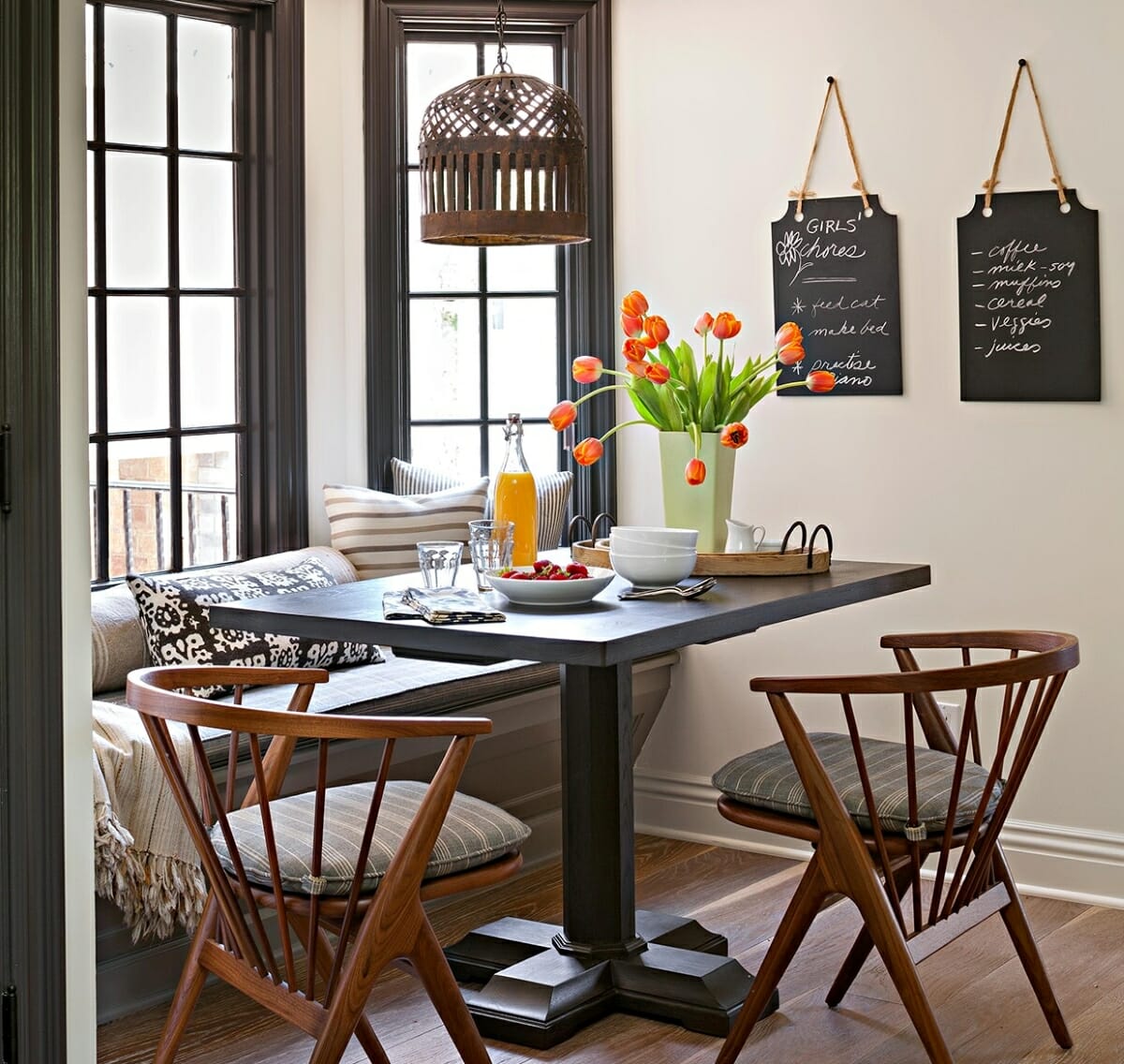 Stick to eco-friendly, organic materials such as wood, linen, cotton, leather, stone, and similar. Sustainability trends brought an increased selection of reclaimed wood, recycled compounds, and better-for-your-health fabrics. Moreover, making conscious choices can have a positive effect on both you and the items around your home.

Breakfast Table Ideas
Who says that you must have a conventional dining table as a part of your breakfast nook decor? That's right – no one. So why not be creative?
7. Small Kitchen Nook Ideas
When the floor space is at a premium, every corner should be used thoughtfully and meaningfully. So, optimize your breakfast nook design with a fold down table that can be stowed away when not needed.
8. Mixed-Media Breakfast Nook Table Ideas
For a bit of a statement choose a table with one material for the top and another for the bottom. For example, a currently popular trend is marble topped tables with wooden or metallic legs.
9.

Bay Window Nook With A Custom Table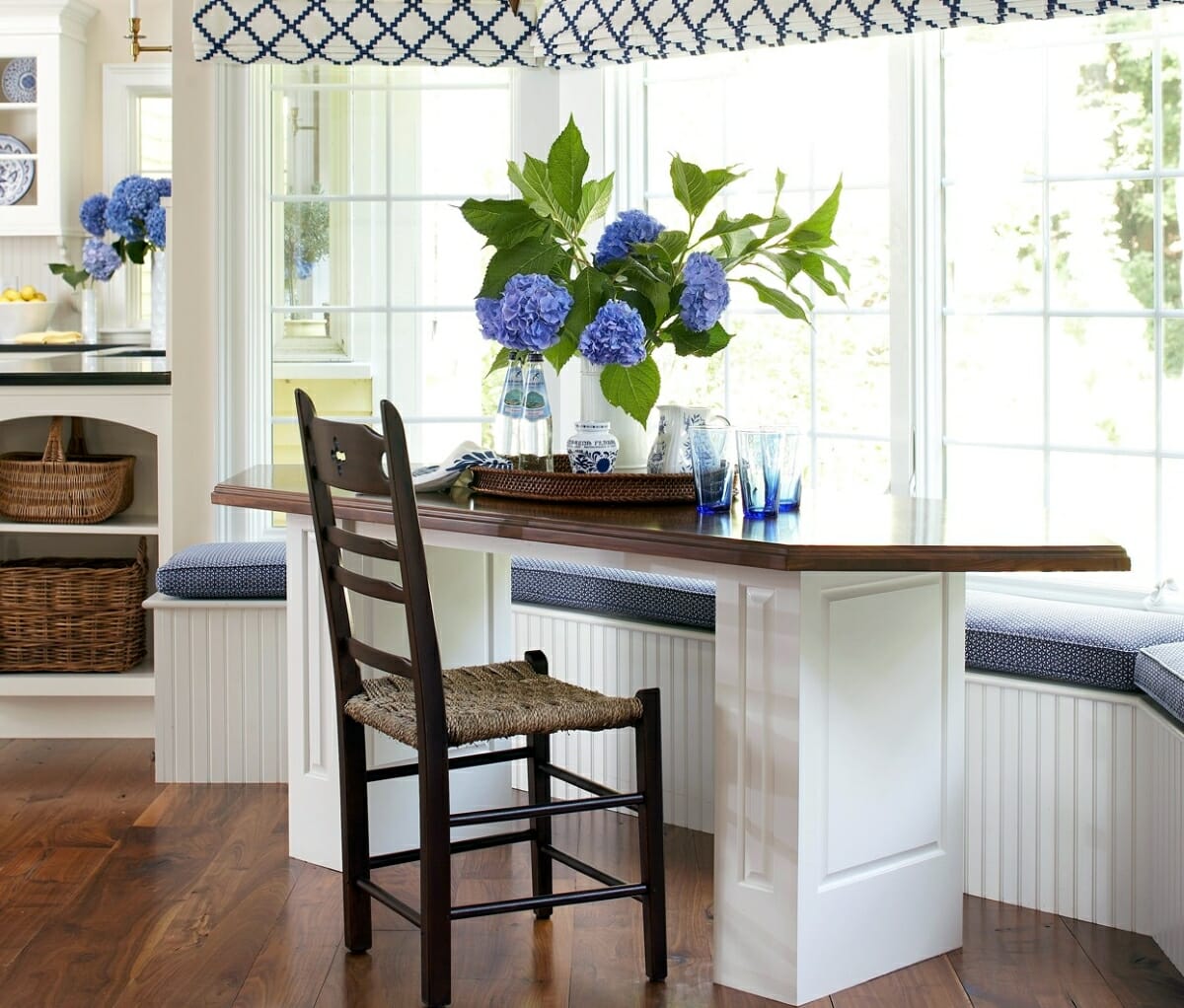 Another way to put the space into use is to enhance an existing feature. If you have a nice bay window with a bench that's often neglected, turn it into a breakfast nook. Then, shape the tabletop to maximize the available seating and top it off with a chair or two.
Breakfast Nook Decor
Dining nook ideas are not only a matter of function. On the contrary, proper decor can elevate the visual quality of the whole area. Since the spaces are usually small a little decor goes a long way. And if your nook is open to other areas, you'll want a cohesive design between them. 
10. Contemporary Breakfast Nook Decor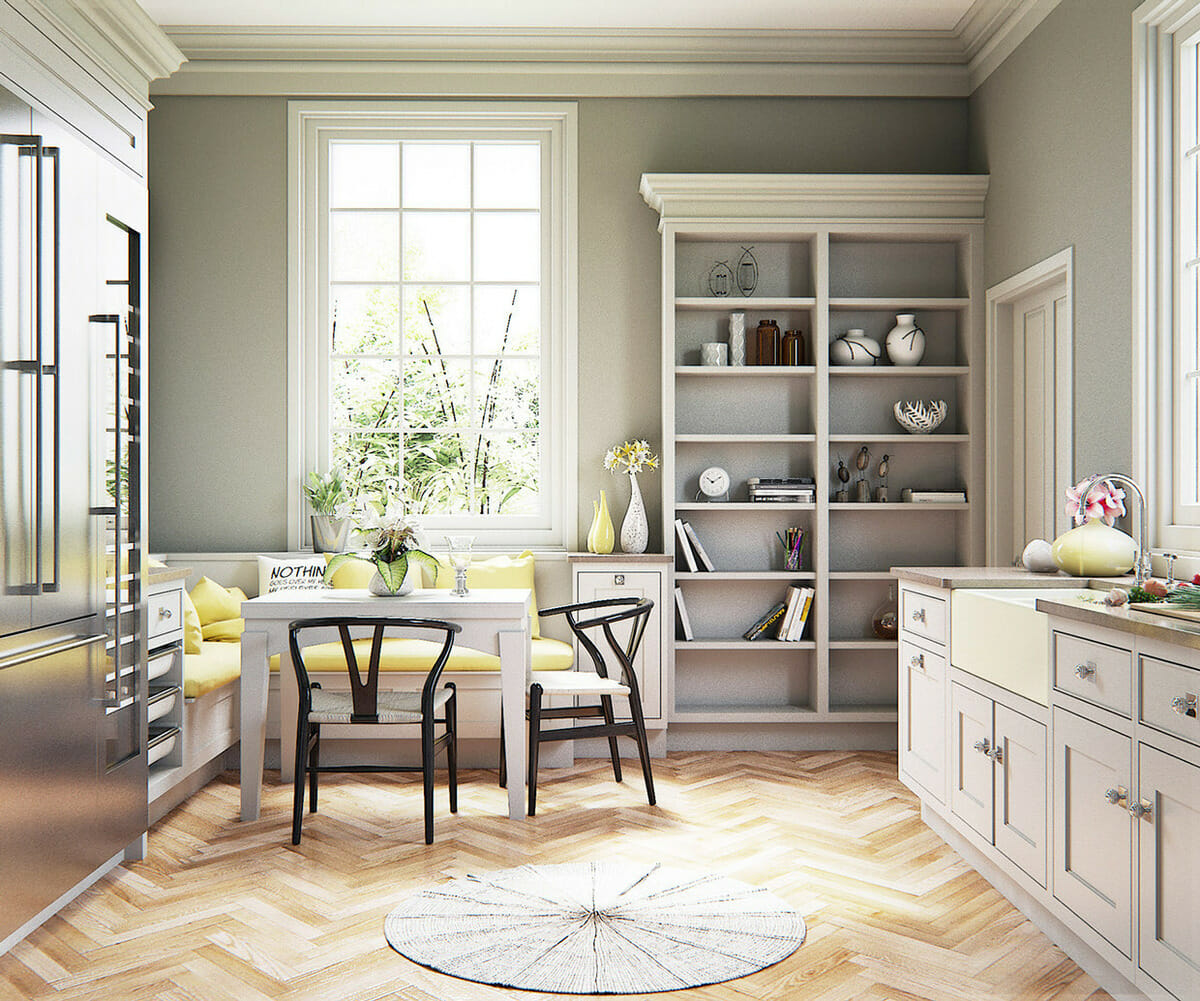 A custom breakfast nook design will make the area of any size appear open and inviting rather than constrained. Clean lines, a neutral color palette, and lightweight shapes can help bring that feeling further. Also, use accents sparingly and go for quality over quantity. 
11. Minimalism Matters
Minimal breakfast nook decor can make an impact on its own without embellishments. A strong, architectural table can anchor the space and carry the design. Similarly, a feature wall can create enough visual interest to make it ok to limit other decor.
12. Artistic and Charming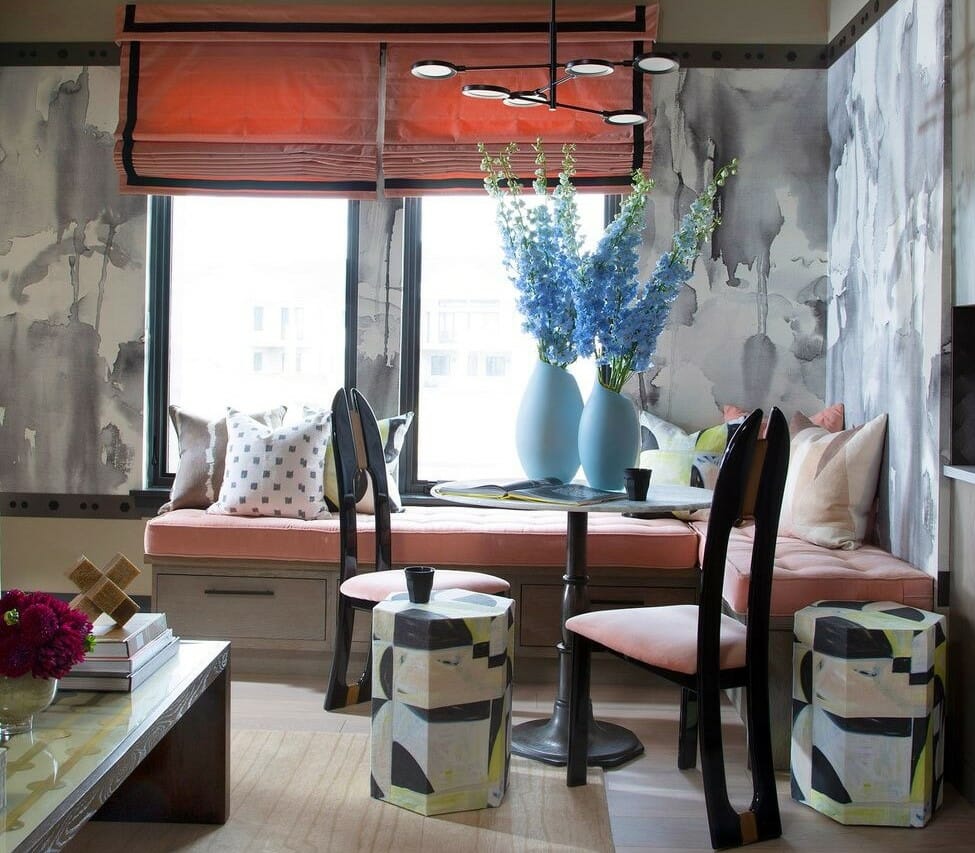 Add some artistic Japanese vogue to your interior with your breakfast nook design. Lots of wood, short seating, watercolors on walls, and thin blinds will polish the style without dominating the decor scheme. Go for calming pastels, or follow yet another 2022 interior design trend with an abundance of green shades. 
Breakfast Nook Lighting Ideas
Lighting design can make or break a space. And since breakfast nooks are such functional areas you want to make sure you get it right so the ambiance, utility, and style of the space are all on point.
13. Maximize Natural Light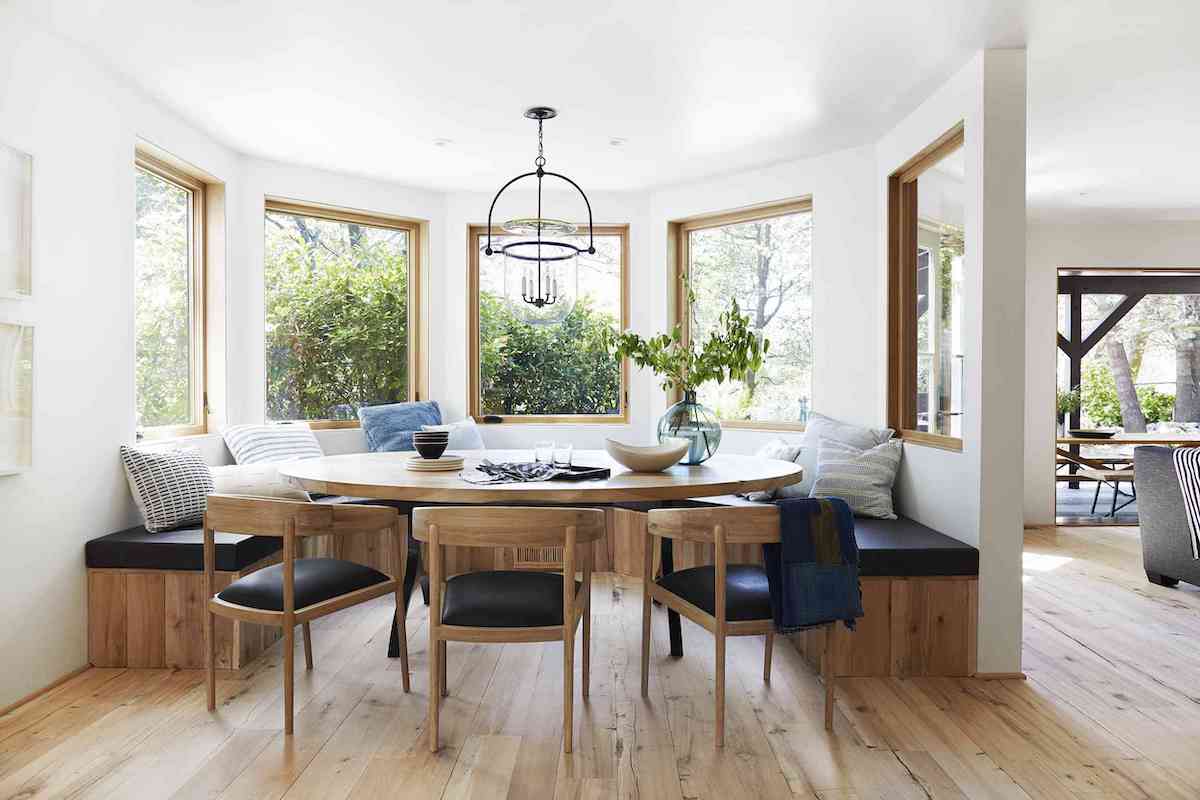 If you're gifted with ample natural light in your breakfast nook then take advantage. One of the best ways to do this is to leave windows unadorned to allow for a natural flow of daylight. If you prefer window coverings, choose light and airy fabrics that won't block out the sunlight.
14. Classic Wagon Wheel Lighting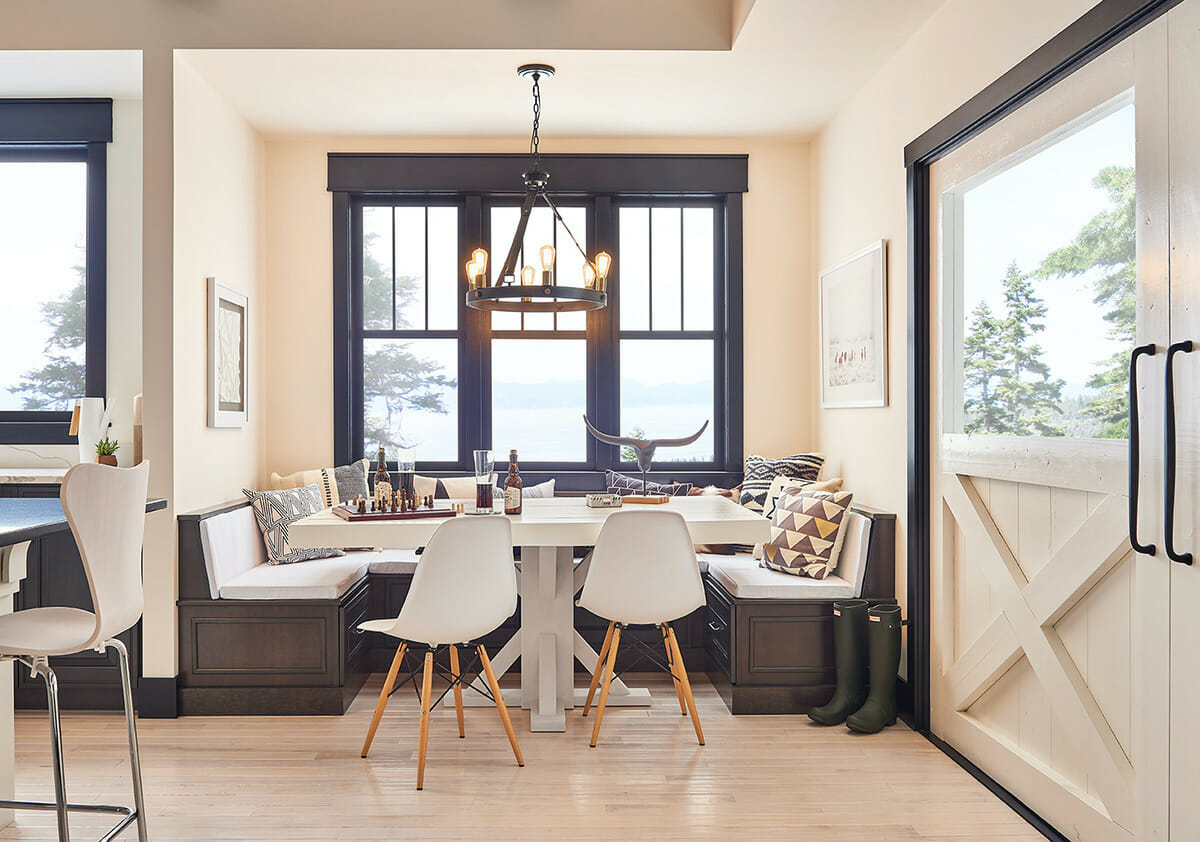 For a farmhouse feel to your breakfast nook design consider a wagon wheel chandelier. Choose a light with a circumference that fits the size of the space. And then top off the look with stylish Edison bulbs.
15. DIY Breakfast Nook Lighting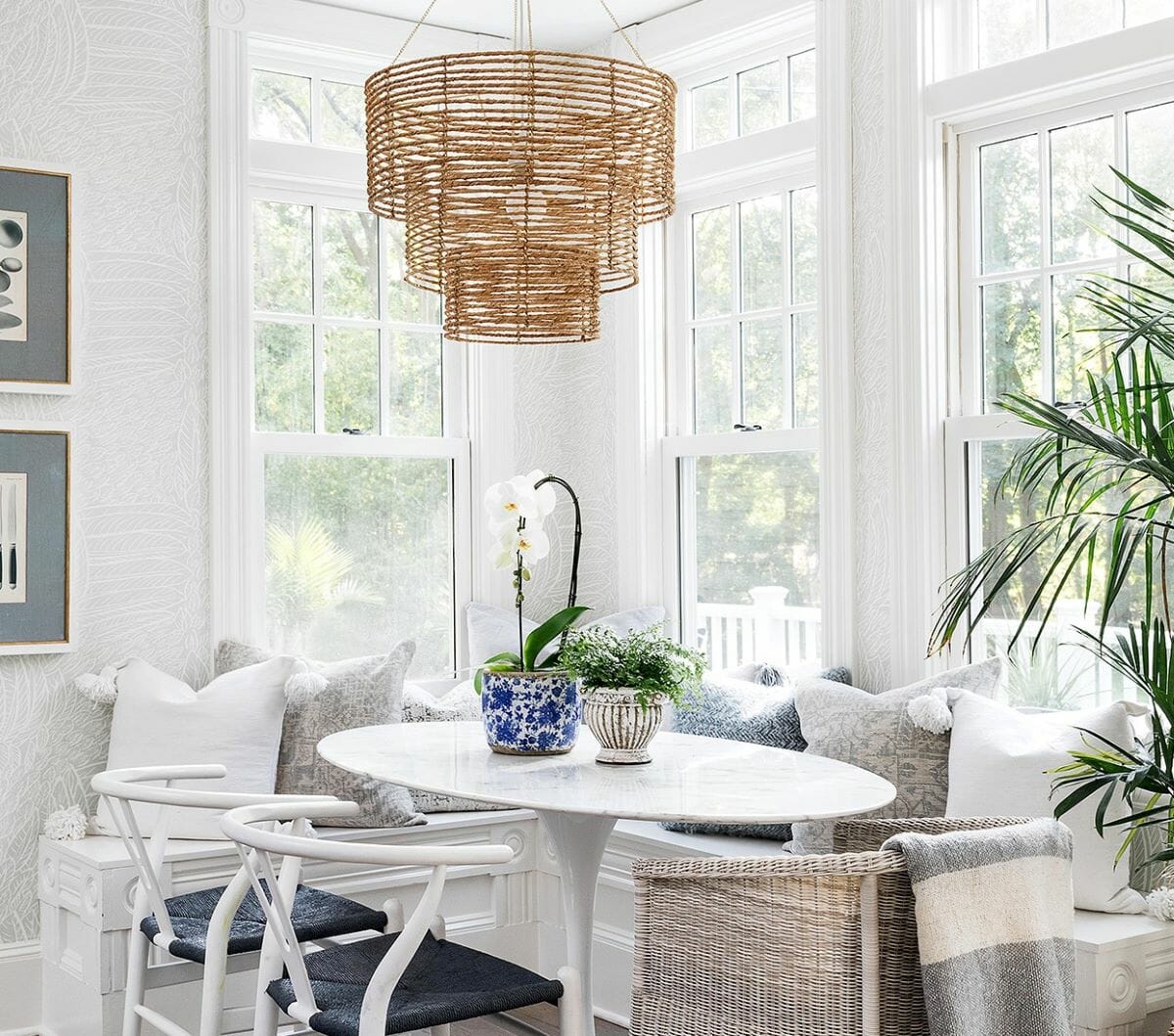 DIY, reuse, and repurpose are the staples of a sustainable design approach. At the same time, kitchen nook lighting ideas are an ideal field for putting them into practice. Think old baskets, barrels, fabric pendants, and similar features. If the coastal design is what you are looking for, driftwood might be a perfect material for your DIY lighting project.
Feelings inspired to try some breakfast nook ideas in your home?
If you're ready to update your breakfast nook, but aren't sure where to start, simply schedule a Free Interior Design Consultation to work with the finest interior designers today!

Sources: [1, 2, 3, 4, 5, 6, 7, 8, 9, 10, 11, 12, 13, 14, 15, 16, 17, 18, 19, 20, 21]