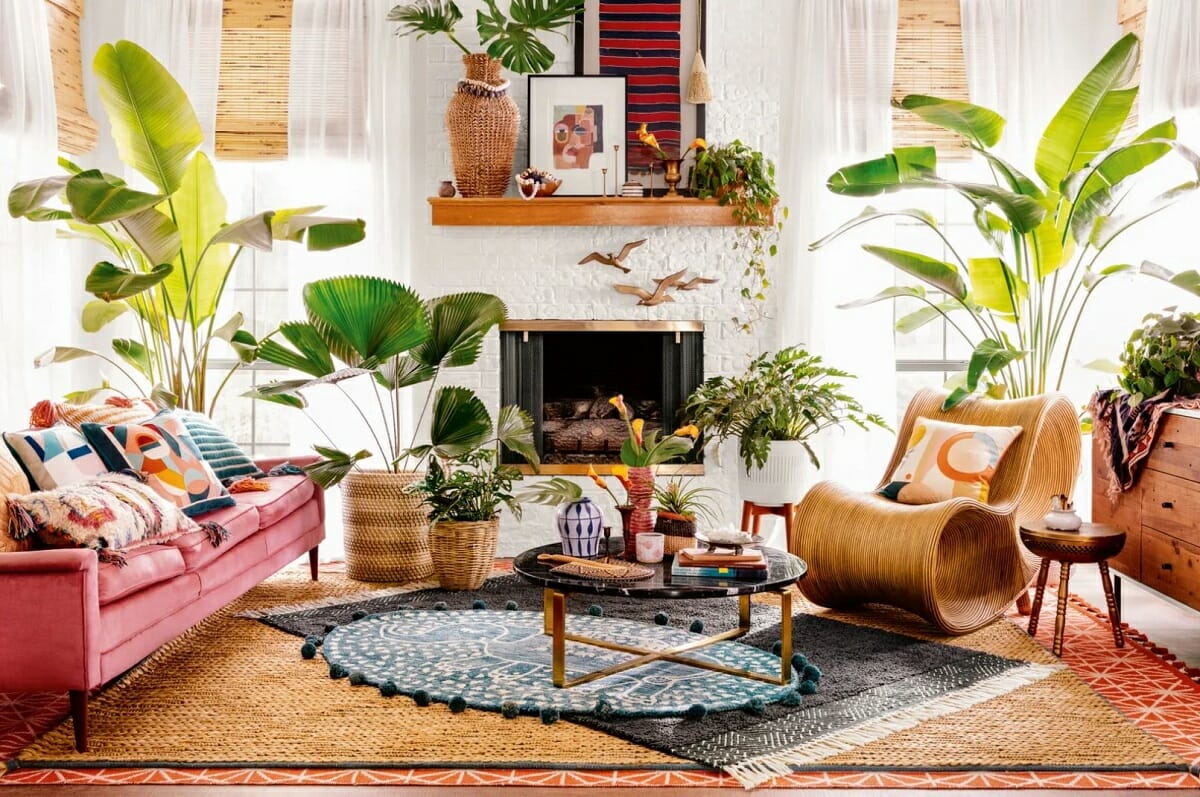 The whimsical life of travel is forever embodied in bohemian interiors. Not only do these spaces ooze the wonder of globetrotting, but they are oh-so-comfy too. It's certainly among the few everlasting interior design styles we adore. Luckily for any boho-lover, bohemian style decor is easy to incorporate – read on to find out how!
What is a bohemian style?
Bohemian is a term rooted in history. It comes from the French word for travelers in the Bohemia region of the Czech Republic. Fast forward centuries later, and the collected aesthetic of those travelers is one of the most enduring styles. As they found their furniture throughout Europe, their bohemian interiors became a mix of textures, designs, and colors.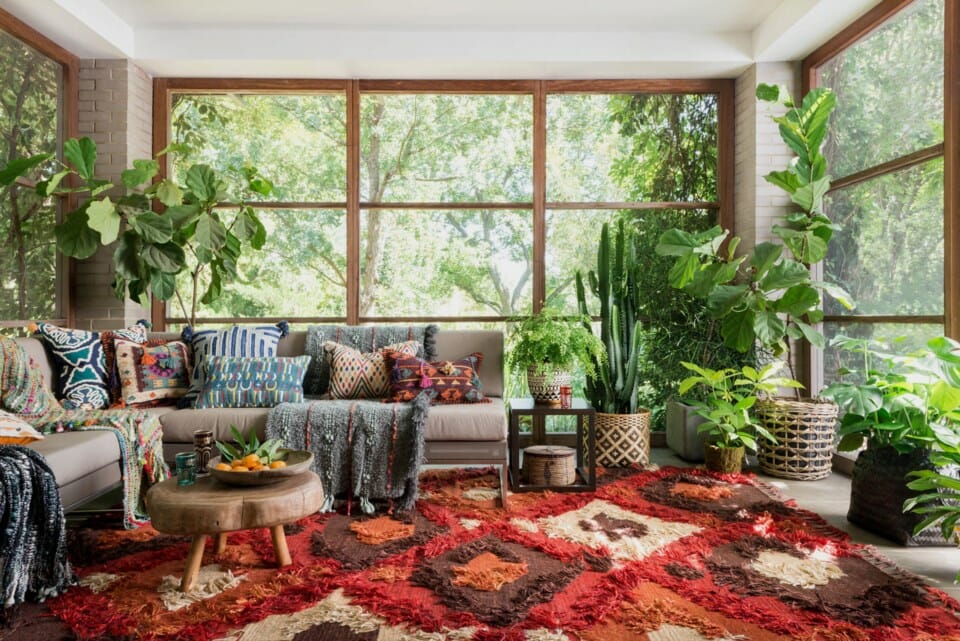 The fascination with boho interiors and decor has grown ever since the 1960s – so much so that hybrid trends and ideas are everywhere. They may differ aesthetically, but these boho-inspired spaces have physical similarities. But beyond the visual, they hold an unconventional, carefree, natural, and well-traveled air. As for tangible aspects, these interiors share a layered look, rich texture, vintage, and organic finishes.
The fun and forgiving design style promises to be ever relevant in interior design styles and trends. And it's for this reason boho home decor is always popular and alluring. Fortunately, whatever your interior, you can add bohemian charm to your space with a little help. 
Want to add some trendy boho style to your home but not sure where to start

? Then, schedule a

Free Interior Design Consultation

for pro design help today!
Lively Bohemian Style Living Room Decor 
Bohemian living rooms are dynamic and versatile. These spaces often feature loads of comfy seating, plush pillows, and boho-style decor. With some inspiration, you'll be able to pull off your own boho interior design renovation.
1. Bohemian-Style Furniture
Start with the main elements first: bohemian living room furniture. A one-of-a-kind sofa, pouf, or coffee table is sure to set the tone. Keep an eye out for upholstery with a print, deep saturated hues, or something that says "artisan" or shows unique and quality craftsmanship. Whatever the piece, it must bring character as well as comfort to your boho living room.
2. Layered Rugs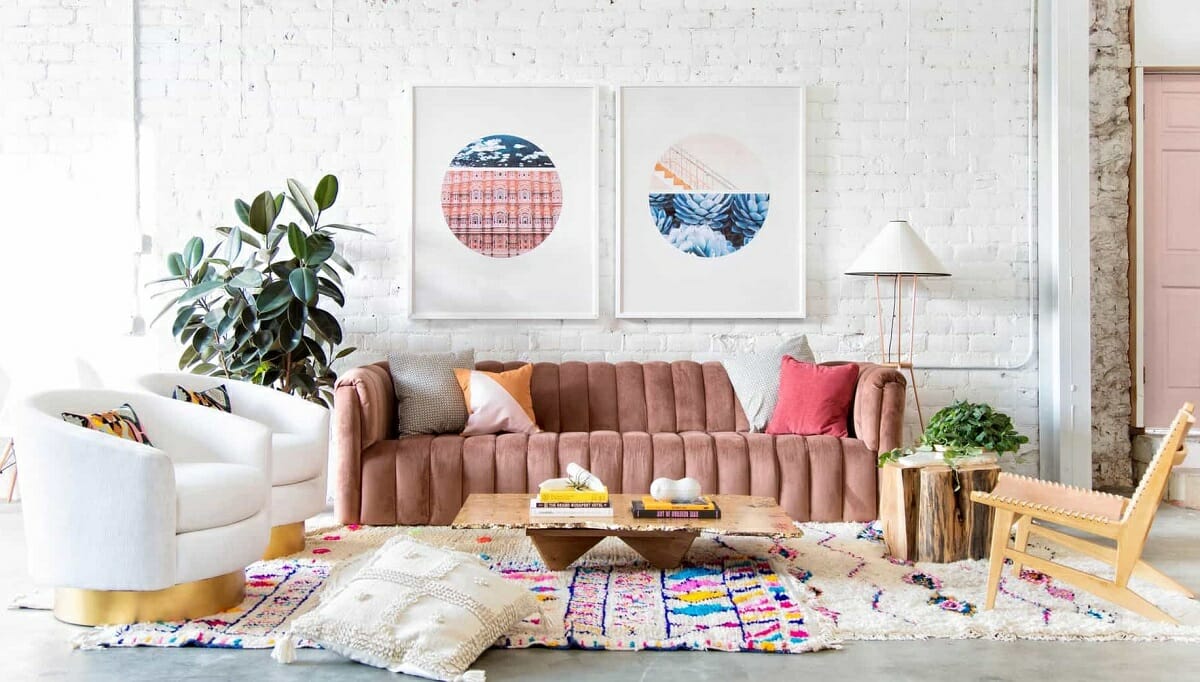 A boho interior is full of character, from floor to ceiling. But it's not only beautiful. These spaces are the ultimate in casual, livable design. A layering of patterned and fluffy rugs gives these spaces their comfy yet striking base. Be mindful that layered rugs are best in the bedroom and living room, but they also make lovely boho wall decor ideas in any space.
3. Plants Abound
These interiors are full of life, which means living greenery is a must. Thriving plants are not only beautiful, but they also purify the air of harmful chemicals. The latter is especially true if you have a few palm and fig trees in your home. Also, be sure to add artisan and handmade pots as bohemian-style living room decor.

4. Alternative Seating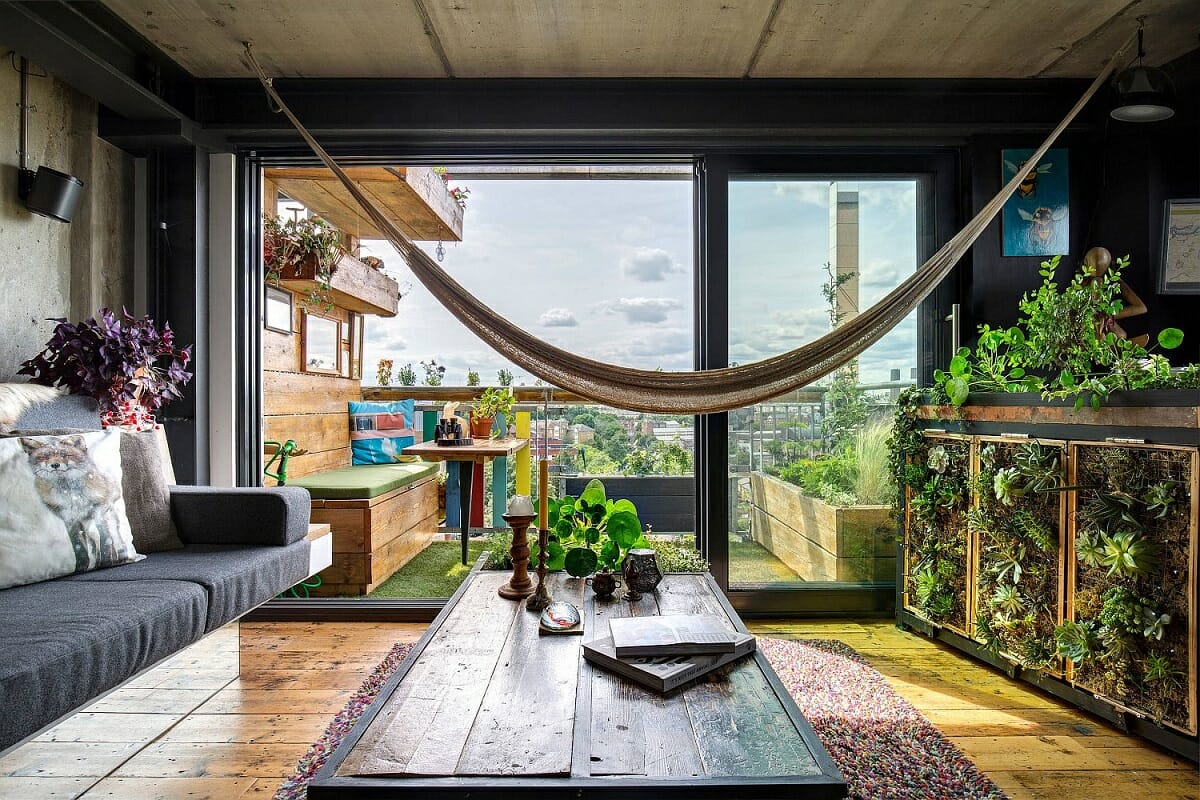 A boho-style home needs an element of fun in the shape of decor or furniture. A hammock, hanging chair, or floor cushions can add just the right amount of cheerfulness a room needs. What's more, any seating fixed to the ceiling will open up more floor space!
Whimsical Bohemian Style Bedroom Decor 
Even more than a living room, a bedroom is made for boho home decor. Here, intricate, textural, and organic elements make the ultimate cozy sanctuary.
5. Pattern-Rich Bohemian Bedroom Design
A bohemian-inspired interior is a perfect place to explore and experiment with design. So, be confident and try different patterns to find a mix that works best for you. A rug, curtains, scatter pillows, and throw can all boast stunning motifs. However, if you prefer a safe approach, keep the bed linen a timeless white. You can always add solid color and boho-style patterns in changeable home decor.
6. Boho-Style Fringe
Macrame and fringe have become synonymous with the bohemian style. Thankfully, they're sleeker and more intricate than before. Designer boho macramé wall decor can certainly give any bedroom a special touch.  
7. Mementos & Unique Items on Display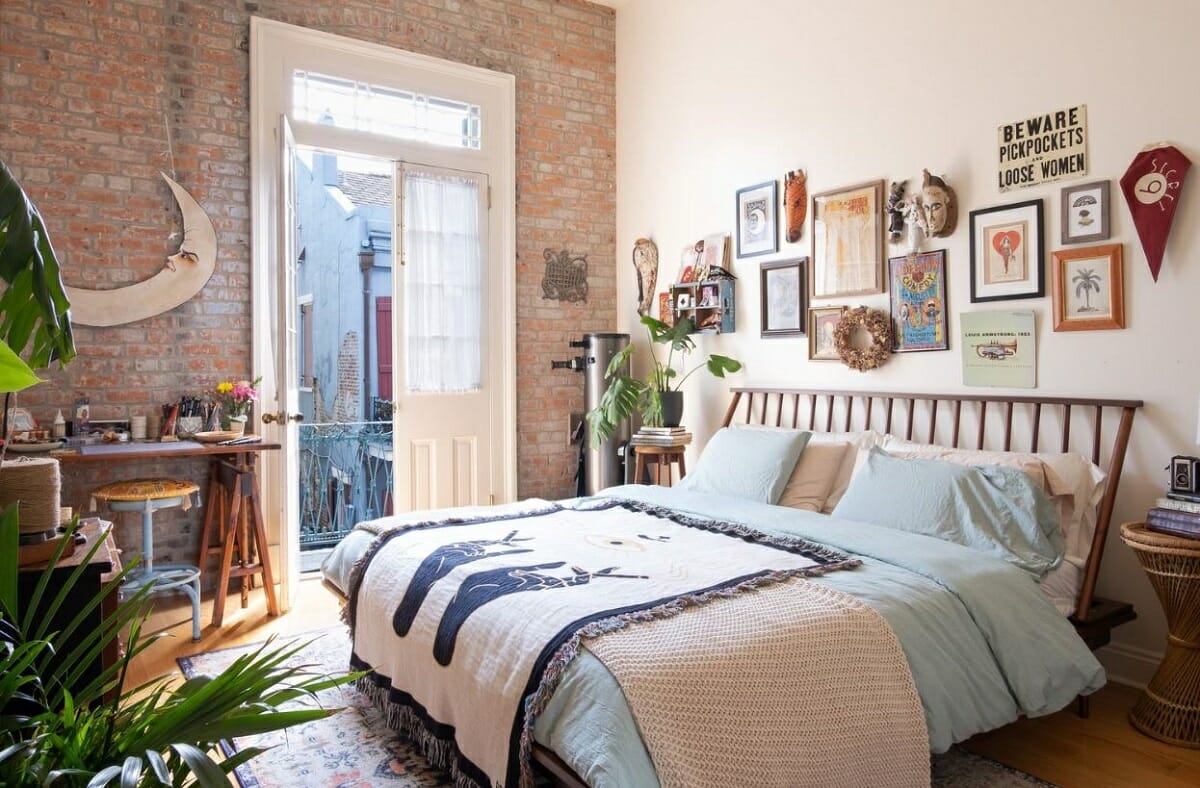 Use a gallery wall to showcase unique trinkets and traveler's souvenirs. Your boho bedroom decor can tell your life's story – in any format. Not only standard frames, but odd shapes and sculptures are also welcome and fit a bohemian interior. But first, use templates of whatever you want to install to find the best layout before hammering nails.
8. Bohemian Bedroom Canopy Furniture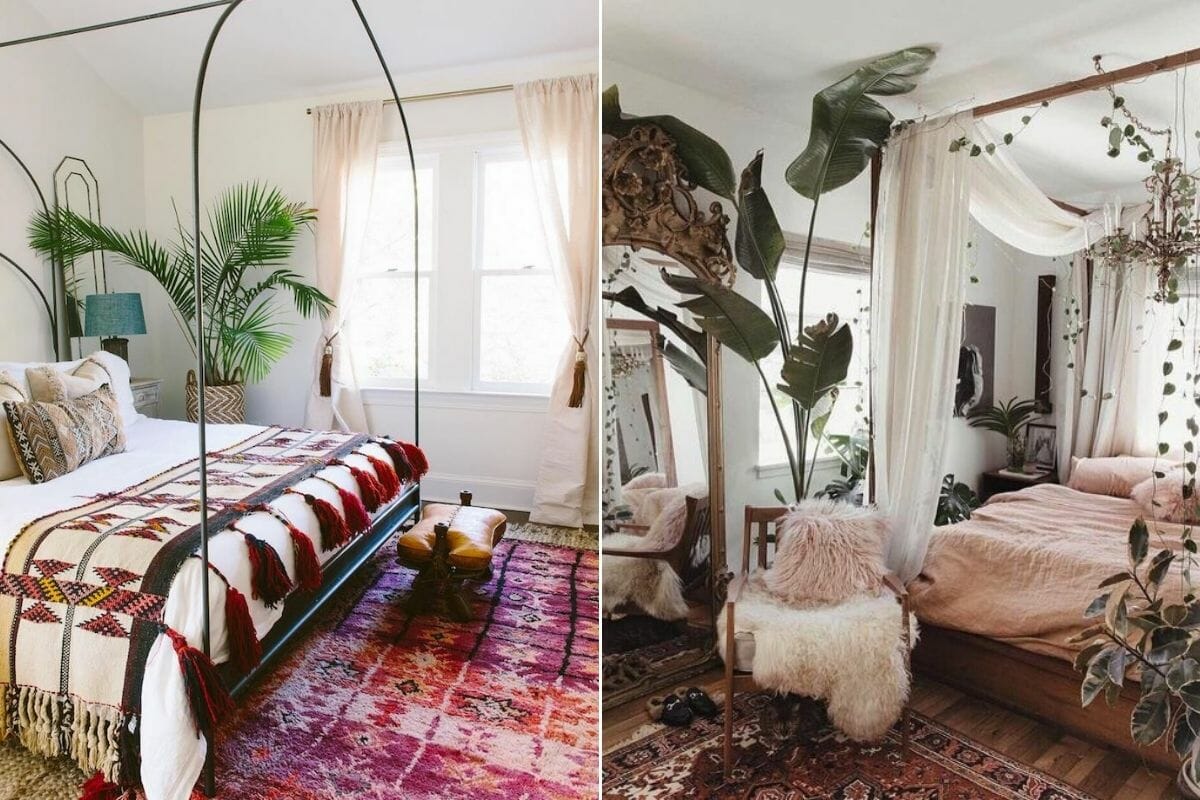 The dreamy and romantic look of a canopy bed is inseparable from boho bedroom ideas. You can opt for a traditional rectangular frame with soft drapery, a curved one for a Moroccan twist, or a Bedouin-tent style look. Make the space even more magical by wrapping delicate fairy lights around the frame or fabric.  
Vibrant Boho-Style Bathroom Decor 
No room in a boho space is left out. Color and coziness continue in a boho bathroom thanks to unique decor and pampering essentials.
9. All-Natural Feel
A boho bathroom boasts a natural sense because of plenty of wood, plants, and stone elements. Create a similar look with organic bohemian decorations, like a wood towel ladder, woven baskets, and knotted artwork.
10. Patterned Tiles
Thousands of creative and colorful tileworks open a world of striking bathroom design. So, be bold with various patterns. Think of a hexagon tile for the floor, a floral motif as an accent, and a grounding metro tile to make it all work together. Alternatively, include boho home decor in bursts. A small feature wall is enough to make an impact.
11. Soft & Textural Bohemian Decorating Ideas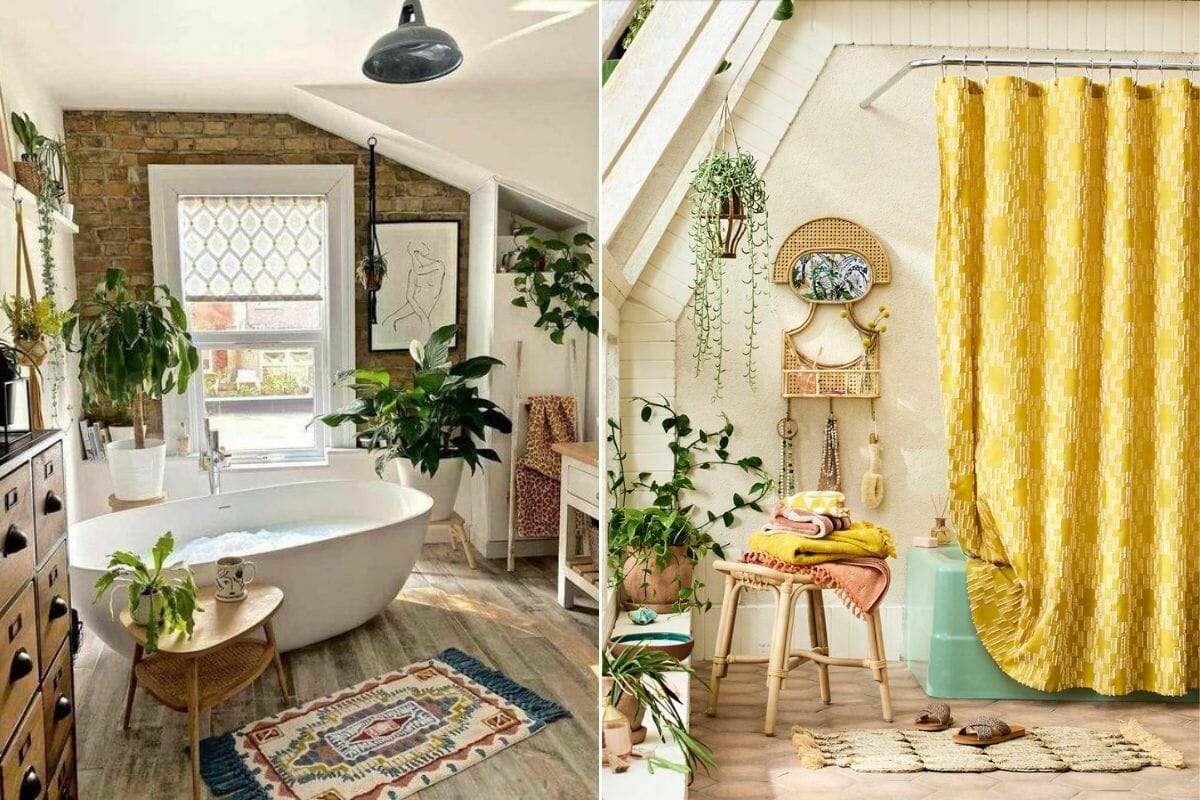 Bohemian-style decor often brings softness to interiors. Similarly, rugs, a shower curtain, and vivid-colored towels can make a bathroom feel so welcoming and warm. Be sure to pick materials that do well in a damp environment, like bathrooms. Light-weight and quick-drying fibers are best.
12. A Statement Chair & Comfy Pillows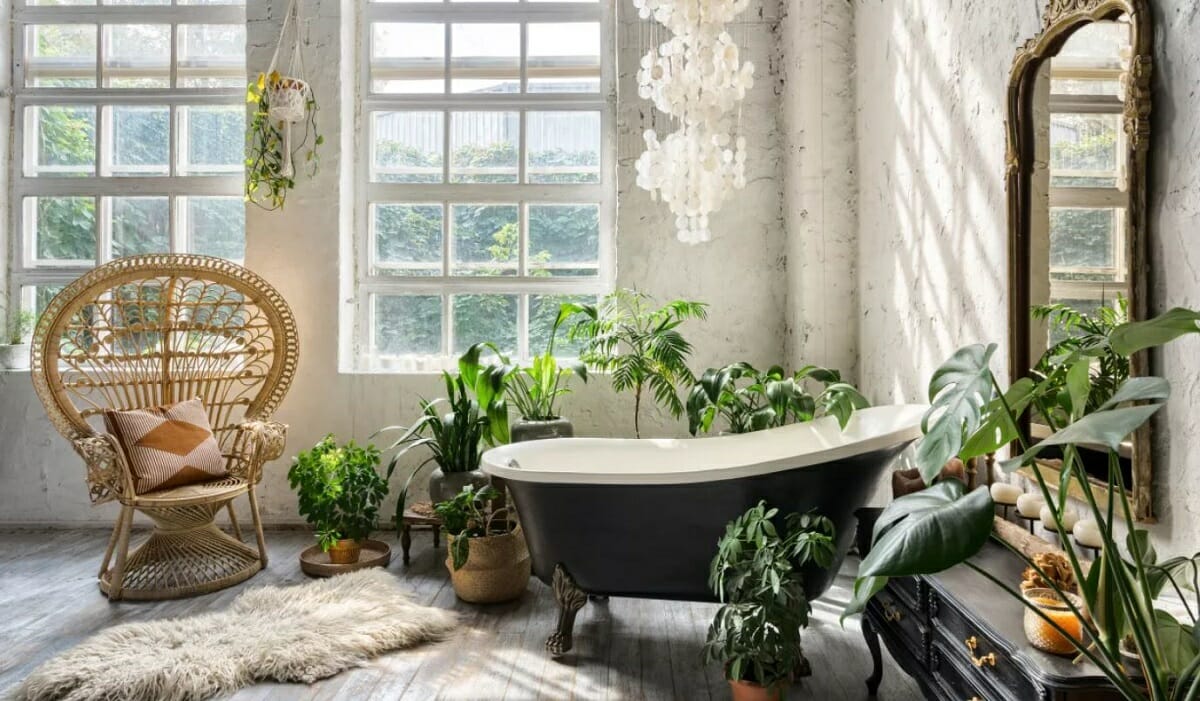 Boho spaces are very casual, yet they can feel very luxurious. A spacious bathroom, for instance, will feel extra special with an accent wicker or rattan chair and a plush pillow. Something like a Peacock chair will instantly make the room more attractive. For a more lavish look, hang a unique chandelier above a bathtub, and add plenty of plants, candles, and a fluffy mat.
Inviting Boho-Style Kitchen Decor
At the heart of the home, it's easy to create a welcoming air with some boho kitchen decor. In fact, a few small changes can have a big impact!
13. A Colorful Runner Rug
First off, the easiest way to include boho room decor ideas is with a runner rug. Whether it's patchwork, ikat, kilim, or floral, the pattern just needs a color kick. Also, add a non-slip rug underlay underneath the rug to ensure the runner is secure and safe for all foot traffic.
14. Boho Chic Lanterns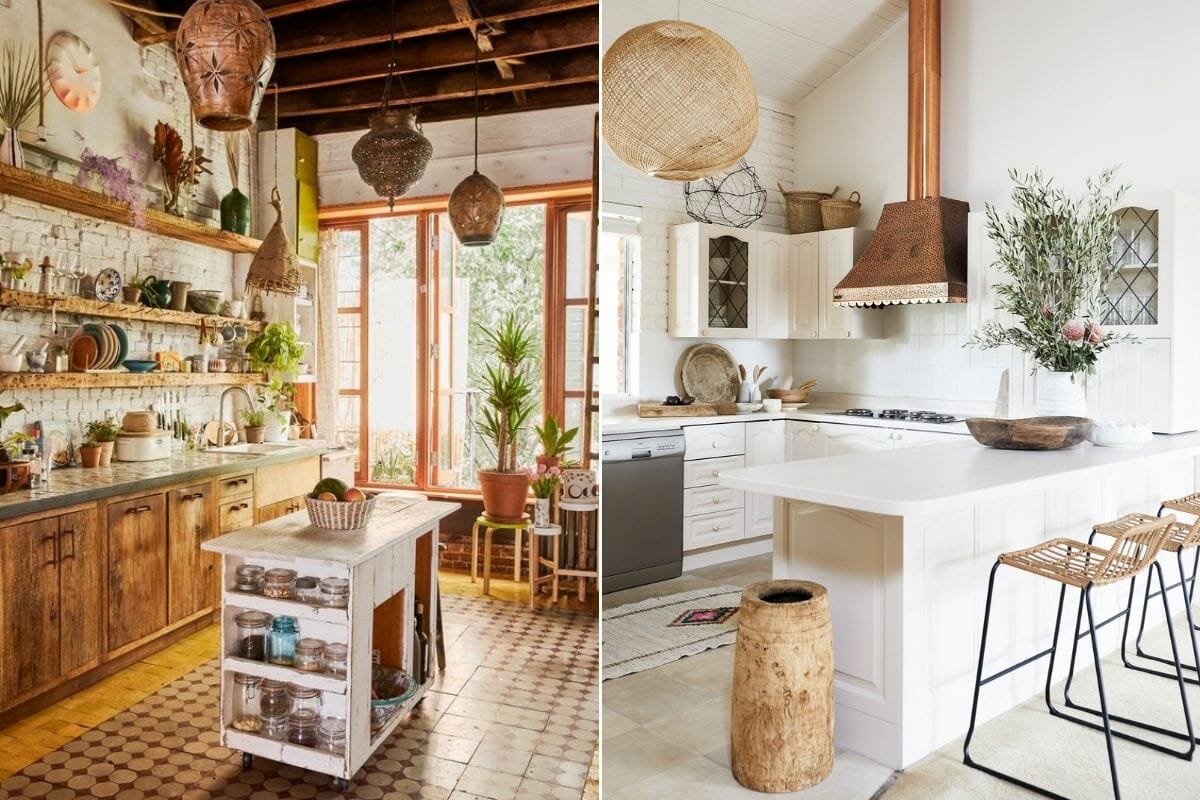 A must for a worldly vibe is one, two, or three striking pendants. Ideally, the statement piece will hang above the kitchen island. However, lantern sconces will make a beautiful alternative. But, whatever the placement, opt for something with a natural boho or creative look.
15. Wild Wallpaper or Boho-Style Backsplash
Often overlooked for creativity, the kitchen can show inspiring ideas and boho-style decor. A backsplash or even an entire wall, in fact, can make a fantastic focal point. All it needs is bold tiles or kitchen-friendly wallpaper. 
16. Rustic Elements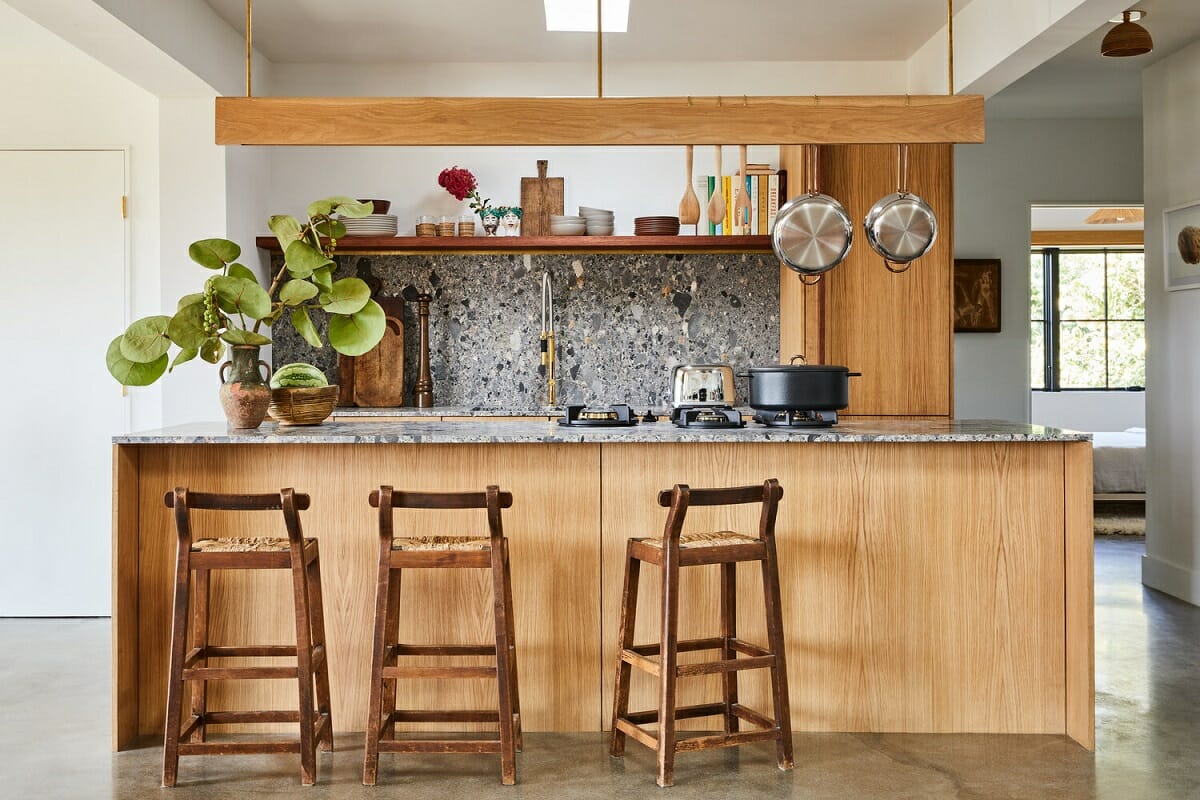 Last but not least, final touches with a rough texture will round off the boho design. Pick chairs with a slightly weathered look, and add clay pots, vases, and more plants! Of course, balance is key. So ensure you pair weathered or vintage elements with a few sleek modern items too.
Give your home bohemian style style refresh!
Love bohemian style deocr, but not sure how to incorporate it into your home? Then, schedule a Free Interior Design Consultation to get started with a top bohemian interior designer today!

[images: 1, 2, 3, 4, 5, 6, 7, 8, 9, 10, 11, 12, 13, 14, 15, 16, 17, 18, 19, 20, 21, 22, 23, 24, 25, 26, 27, 28, 29, 30, 31]