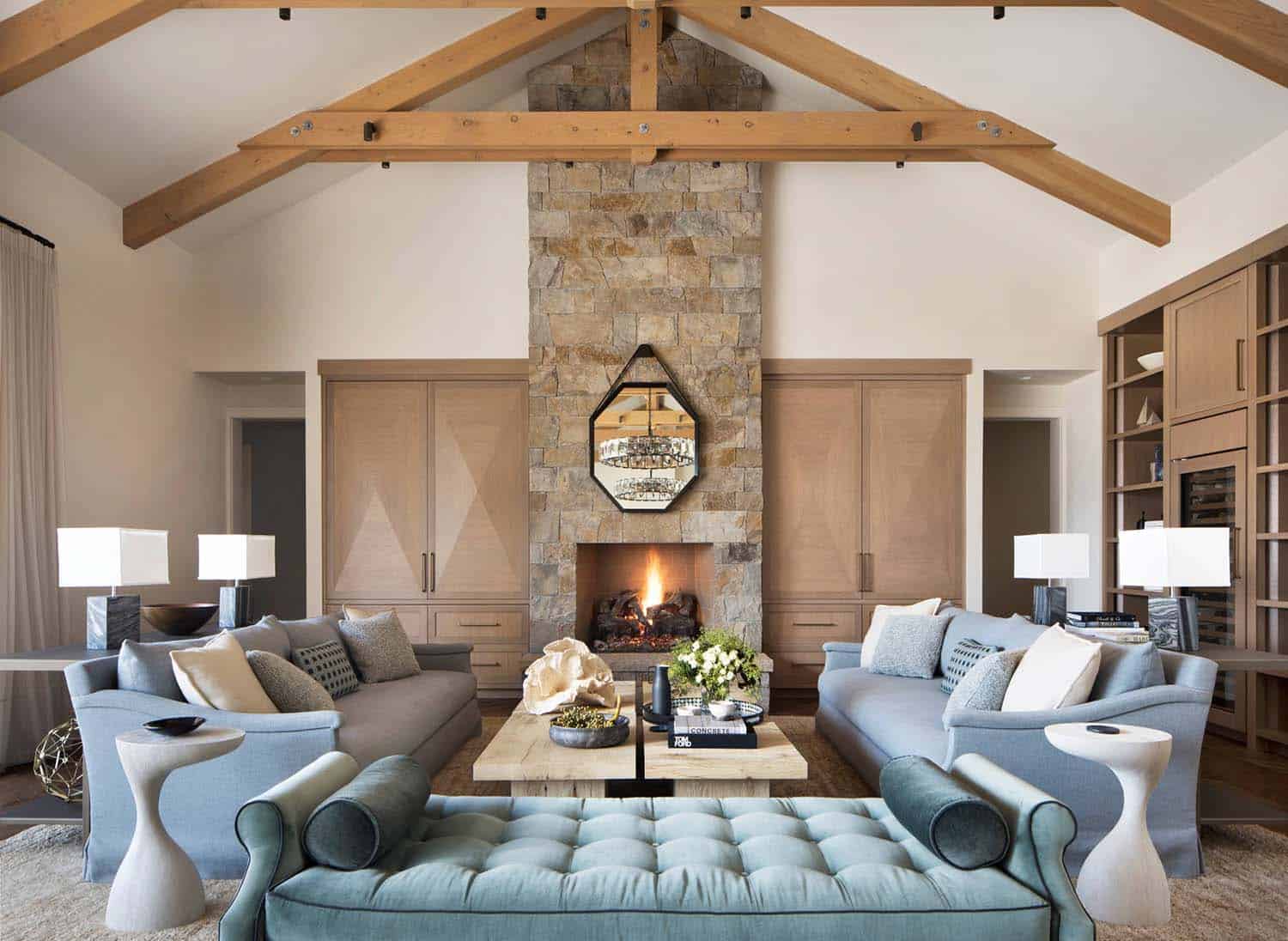 Sometimes the roughness of rustic interior design needs a little softening and nothing accomplishes that better than adding a few touches of glam! A rustic glam living room is the perfect space to welcome guests with a combination of cozy natural pieces and refined accents. It was exactly this look that recent Decorilla clients wanted to achieve in their new home. And the results were more than they ever dreamed of. Read on to discover the final look for this rustic glam transformation!
The Challenge: Rustic Glam Living Room
Just like all design projects, this home came with its challenges too. However, being leading interior designers in the industry, the Decorilla team was prepared to transform every nook of this space. Here are some of the challenges that the designers had to address to create a modern rustic interior design style:
Maximize the natural light in the interiors
Design a cozy family space where the homeowners can relax and rejuvenate
Keep minimal decor but with a touch of glamour
Incorporate ample storage units and bookshelves
Curate designer looks for the space as per the client's desires
Not sure where to start with your own rustic glam design transformation? Then, schedule your Free Online Interior Design Consultation for help getting started today!
The Inspiration: Rustic Glam Decor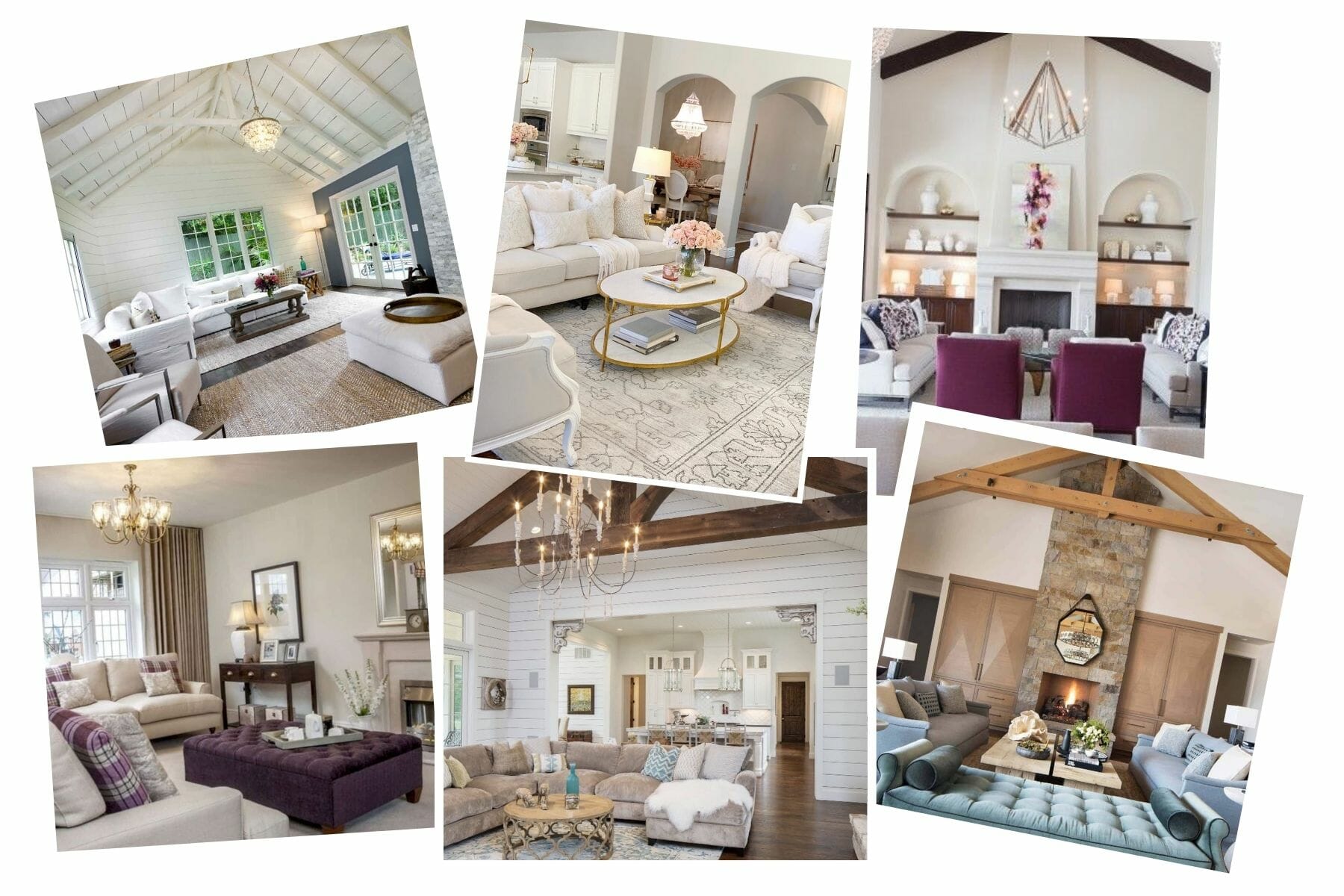 During the design brief session, the client came forward with some amazing rustic glam living room decor ideas that they wanted to implement. These helped the designers in understanding the kind of result they were after. The clients were sure they wanted a country feeling but with hints of luxury. Firstly, the room is adorned by a beautiful wooden ceiling with trusses and therefore, they wanted to integrate it into the design. Secondly, their design references included a clean and cozy family-size sofa in neutral shades. Lastly, all the images had metallic accents and rich accessories to bring up the glam element. Therefore, it was pretty clear that they were drawn towards rustic glam decor.
The Concept: Rustic Glam Living Room Decor Ideas
The rustic glam home transformation started with two brilliant designers pitching their best creations to the client. Both the designers had their way of providing design solutions while creating an elegantly rustic space. However, the clients instantly fell in love with Tijana's design moodboard that best captured their inspiration. With glam decor details and a charmingly contemporary look, it is like a dreamscape for every homeowner. She used a neutral color palette to make the room look bigger and more luminous. In the end, they decided to go forward with her to bring to life their dreamy rustic glam living room design.

The Results: Rustic Glam Living Room
The final look of rustic glam home decor was nothing less than enchanting. As a result, Tijana completely changed the look and feel of the living room. As a leading interior designer, she had a few awesome rustic glam living room design ideas in her hat to spruce up their space. For the layout, the designer kept it simple with a sectional sofa paired with a set of ottomans to increase the seating. This straightforward approach with the layout helped in achieving a functional and optimal living room.
To begin, Tijana took inspiration from the client's design references and incorporated a comfortable sofa. The clean form of the sofa is reminiscent of the old-time charm with soft upholstery that makes it look extremely luxurious. To increase the seating space in the living room, there are two ottomans that complement the sofa perfectly. Furthermore, the cocktail table and side tables have a shiny metallic finish that give an edgy look to the living room. Lastly, to pull all this together, there is a Turkish rug in calm tones which bring the rustic vibes. As a result, the subtle color tones make the room appear more airy and fresh.
One of the most beautiful features of the living room is the fireplace. Just repainting the exposed bricks in a shade of taupe helped in making the living room look more sophisticated. In addition, the white bookcase is perfect for storage and can also be styled in many ways using vintage decor. Since much sunlight doesn't come into the room, the window treatment is very minimal to allow in as much light as possible.
Shopping List: Rustic Glam Living Room Decor
Accessorizing can be the trickiest part of interior design projects. However, Tijana accessorized this living room like a queen. The mix of anthracite grey, creamy beige and violet cushions glam up space even more. In addition, the glass and gold side tables and crystal chandelier in the dining room bring opulence to the rustic glam living room decor. To add visual appeal to the walls, she added black framed wall art.
Every interior design project by Decorilla comes with stunning designs and a practical implementation guide on how to execute them. In addition, the designers curate a shopping list with exclusive discounts that can more than pay for the design service. Moreover, every project includes a white glove shopping concierge to handle everything from ordering, to tracking, and delivery.
Shop the Look: Rustic Glam Decor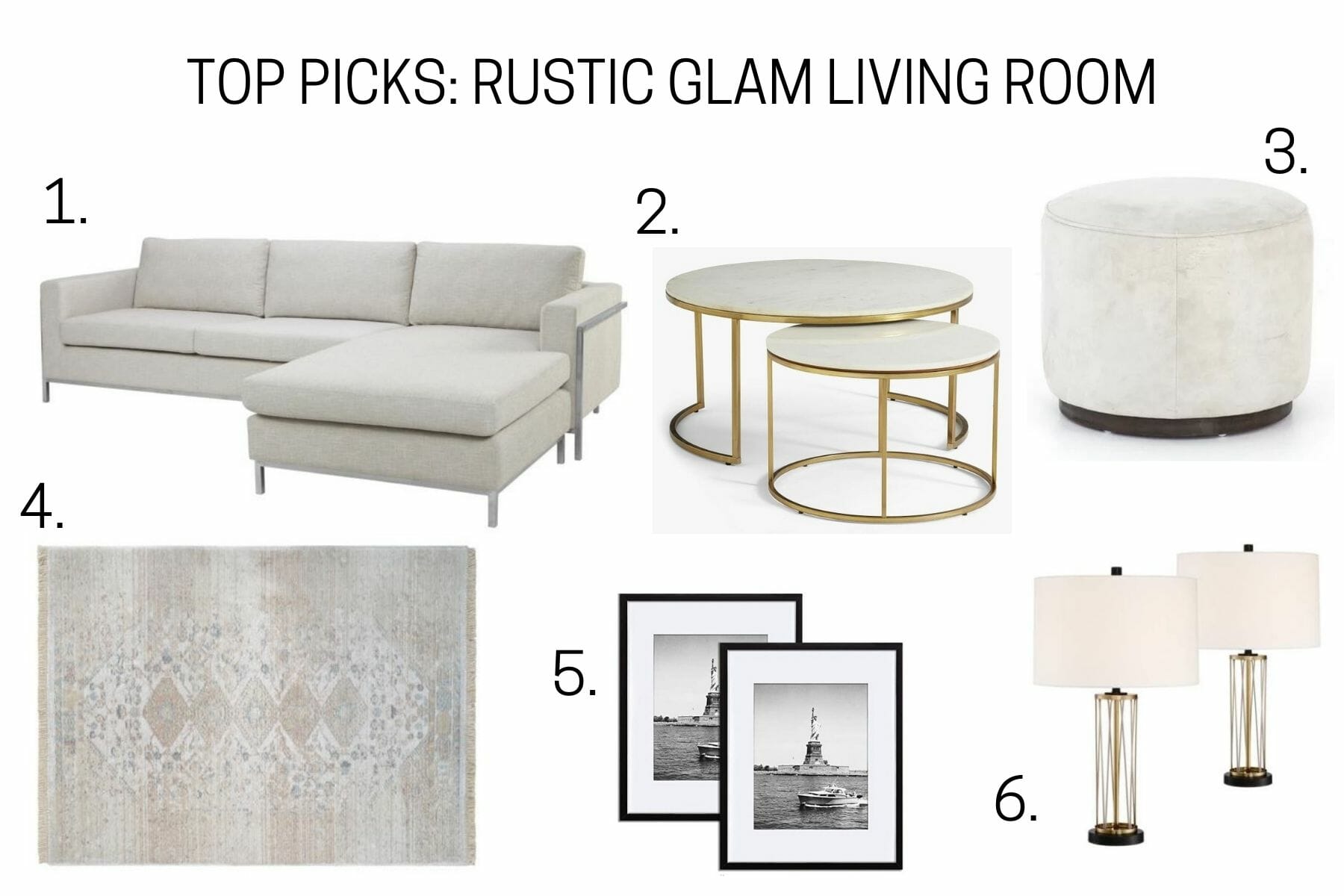 Are you looking for some brilliant ideas to give your home a quick update? Well, here are out top picks of all the timeless pieces to help you in designing your own rustic glam living room. Checkout these chic home furnishings!
Get Your Own Rustic Glam Home Design!
Feeling inspired to give your home that much needed rustic glam makeover? Then schedule your Free Online Interior Design Consultation to learn more about your design options today!

[Images: 1, Decorilla designer ]