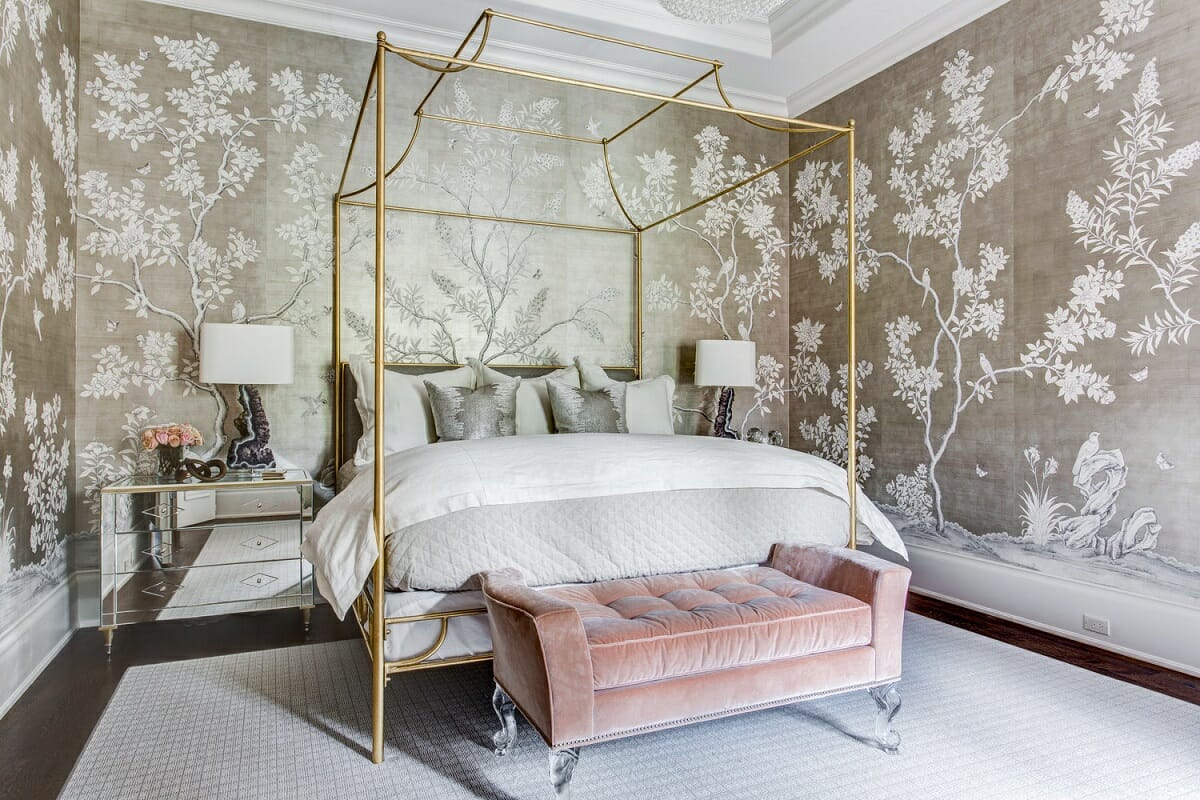 Architecture drenched in history has a way of inspiring awe without fail. Old buildings not only evoke a sense of romanticism but also provide a striking backdrop for contemporary interiors. With this in mind, one recent client wanted to honor their neoclassical home with an update. Read on to see what skilled interior remodeling could do! 
The Challenge: Interior Design & Remodeling
As the project required a multi-room design, it came with loads of challenges. In fact, each room was like a puzzle in need of solving. Fortunately, these are the things that make a design unique and interesting. And for this home to be a success, the designer needed to:
Include multiple 

online bathroom designs

 suiting the neoclassical theme and contemporary convenience 

Create three guest bedrooms with distinct character, as well as a cozy lounge

Make the most of small rooms and include enough storage 

Focus on the interior remodeling of the home office/study area

Design a gym and sauna room
Not sure which style is right for your interior remodeling project

? Take our

Free Interior Design Style Quiz

to discover your unique decorating style today!
Inspiration for a Breathtaking Makeover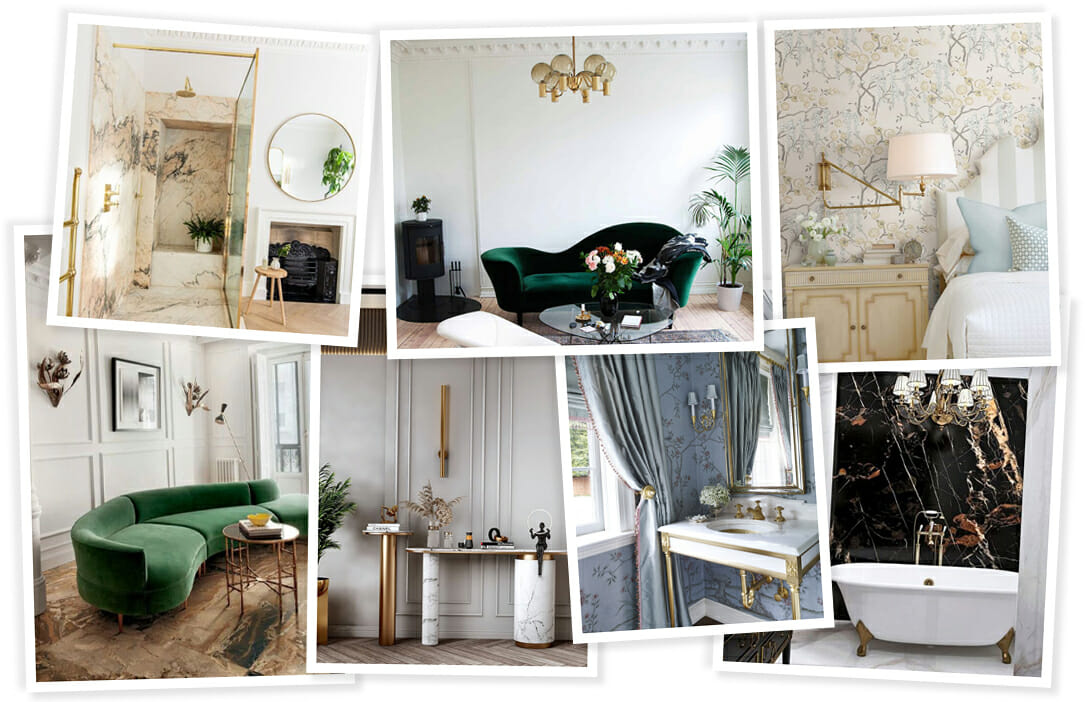 All things neoclassical design inspired the client. However, they were also looking for a contemporary touch in their interior design renovation. Their favorite interiors are rich in luxurious materials and finishes. Marble and gold topped the must-haves, with pattern and velvet following in close second. They also show a love for beautiful lighting and ornate details. The latter is particularly visible in the bathroom designs they liked. 
Moodboard & Design for Interior Remodeling
As part of the first steps, clients complete an interior design style quiz and brief to help Decorilla find their match. Thereafter, the team selects two designers who align with the project scope and look. Then the professionals created a distinct concept each. This is where clients get to pick their favorite. And the classy interior design and remodeling proposal by Laura A. is what they loved most. 
Laura made a moodboard for every room to give clients a better idea of the look she wanted to create. As a top interior remodel designer, Laura knows how to make the best of the existing elements as well as what would enhance the space. She shows furniture, fixtures, décor, and layout updates on every moodboard. Each has both classic and contemporary aspects to make it feel cozy and modern.  

The Unforgettable Home Interior Renovation Result
On the whole, the home interior renovation result is an elegant update of a classic style. Timeless elements feature throughout the space, creating a nostalgic air. Contemporary tech and lighting design, on the other hand, brings the design into the present era. They also add the utmost convenience. 
Lounge and Movie Room
First, the interior remodeling project opens with a cozy but sophisticated living room. It features a media lounge sofa that holds more than the eye can see. In addition to being oh-so-comfy, the u-shaped couch comes with a matching ottoman that fits snuggly to create a bed-like lounger. This piece of furniture's dual-tone nail heads highlights its contours. As a result, it makes a bold statement in a snug room. 
The media room is at the center of the remodel. As such, it encourages guests to sit back and enjoy a film or casual chats. The room may have a relaxed air, but it is undeniably high-end too. Gold finishes feature throughout, while a chandelier and sconces illuminate the design. A mostly neutral palette coats the room, with pops of green not only from the sofa but also in the plush rug and large floor vase. 
Cozy Library & Home Office
Off the lounge is a sleek and organized home library and office. This room serves as a workspace for adults, a study for teens, and a reading room for all. Its wood and off-white hues form a serene base for concentration and stillness. The light scheme also ensures the space is brilliantly bright. Moreover, layers of lighting also makes the space usable day and night.  
The blonde wood floor is a beautiful feature found in most of this home interior renovation, apart from bathrooms. It ties in with the furniture selection in the library, specifically the bookcase and retro-style swivel chairs. Their warm tones work well with the oatmeal armchairs and white cupboards. 
Guest Bedroom Interior Renovation Trio
A Contemporary Snuggle Nest
The first of the three guest bedrooms has a distinctly modern look. Since it's the most compact of all the rooms undergoing an interior renovation, it comes with a refreshing light color scheme. The space also features twin mirrors behind table lamps to amplify the room's lightness. Additionally, these items make the area seem larger than it is. 
An ash wood headboard and woven rug anchor the bed and create depth. Moreover, the headboard, artwork, and mirrors increase the perception of height as it visually elongates the walls. Décor is minimal to form a neat and calming atmosphere. 
A Neoclassical-Transitional Gem 
The second guest bedroom has a truly traditional feel. Yet, its old-world aesthetic certainly works well in a modern setting. This is due to its balance in accents and pattern use. Its cohesive look comes from the repetition of powder blue. The soothing hue features in the pinstripe wallpaper, vintage-inspired rug, and accent pillows. White and deep brown, on the other hand, balances the design with their solid colors. 
The pinstripes also make the walls seem taller than they are. Glam additions, like the upholstered bench and chandelier, give the room a stylish touch. And, lastly, the antique wardrobe provides storage and more surface space for guests. It also anchors the dark monitor on the wall.  
A Romantic's Getaway
The final bedroom is a romantic spin on a contemporary-meets-Victorian design. After the interior design renovation, the space has a fairy-tale-like air because of its dove gray floral wallpaper. The motifs also gently contrast the mostly off-white interior. 
As for the more glamorous aspects, the canopy bed, chandelier, and curved settee steal the show. These elements create a high-fashion look, yet it still feels tranquil. Each room has so much personality guests are sure to be blown away by whichever they pick. 
Classic Bathroom Interior Design & Remodeling 
Among the many interior design renovations is an elegant and neutral bathroom. It is mostly white but gets its definition from marble detail and a simple floral wallpaper. A beautiful wood and gold chest, round mirror, and cane chair add warmth to the cooler palette. It ties in with the romantic guest room. 
Tying in with the classic powder-blue guest room is a neoclassical design. It has deep navy hues in the vanity as well as a scalloped shower feature wall. A stunning tulip-shaped chandelier and slat back armchair give a retro feel. The flowy curtains also add a touch of plushness to the interior. 
A contemporary bathroom in blue decorates a small but functional area. Its fun floor and subway shower tiles go beautifully in the space. Moreover, gold accents in the sconce and mirror tie the look in with the rest of the home's design. 
After the interior renovation, a small nook turned into a glamorous bathroom. Its soaking bathtub certainly gives it a spa-like appeal, while gold finishes and dramatic lighting make it feel exclusive. 
The final set of the main bathrooms is a bold green and checkered design. Though small, the space boasts grandeur. Gold finishes throughout, including the shower fixtures, complement the dark green hue so well. This space is certainly a fashion statement.   
Home Gym & Steam Room 
Last but not least, the fully equipped home gym and sauna rooms conclude the interior renovation. The home gym is a refreshing space. It features everything you'd need for a workout. Despite being a mostly utilitarian room, it's aesthetically pleasing too. This is because of its neat layout, equipment organization, and décor. Mirrors also bounce extra light into the room, making it almost luminous.
A sauna room fits the interior remodeling design of the gym to a tee. A warming palette and unfussy contours create a space made for wellness. Here, a shower and a sauna allow guests to relax after a hard workout. 
Online Shopping List 
Each Decorilla design comes with an online shopping list. These provide the products clients need to purchase to complete the look at home. It has handy links to review products, as well as a complimentary white glove ordering service – making shopping a breeze. Plus, items often feature trade-exclusive discounts too! All in all, Decorilla makes renovating and creating your dream space so easy. 
Top Picks for a Classic Interior Remodeling
Any remodel needs a few good ideas and some guidance. If you want to take on your own bathroom reno, use our top picks from the project to help form your design.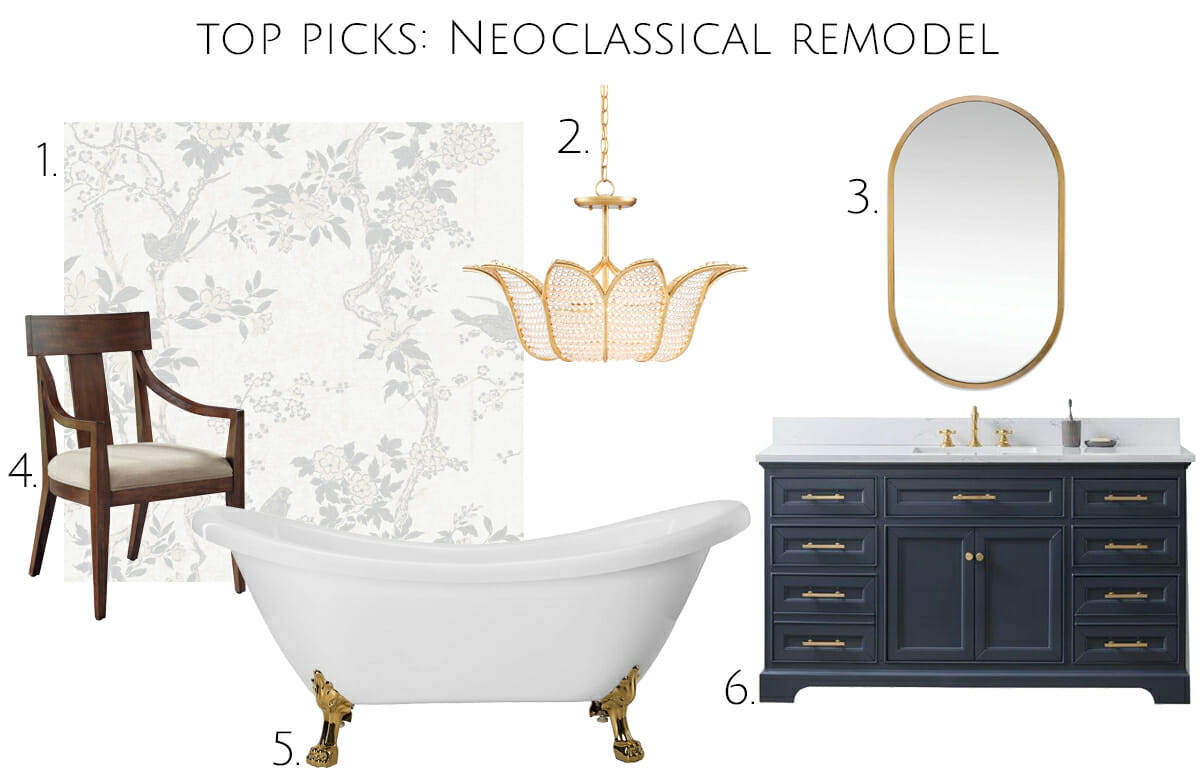 Work with an Interior Remodel Designer
An interior renovation can be rather complex. Interior design professionals simplify the process and help homemakers avoid costly mistakes. So, schedule a Free Interior Design Consultation to learn more about your design options today!

[images: 1, Decorilla project images]