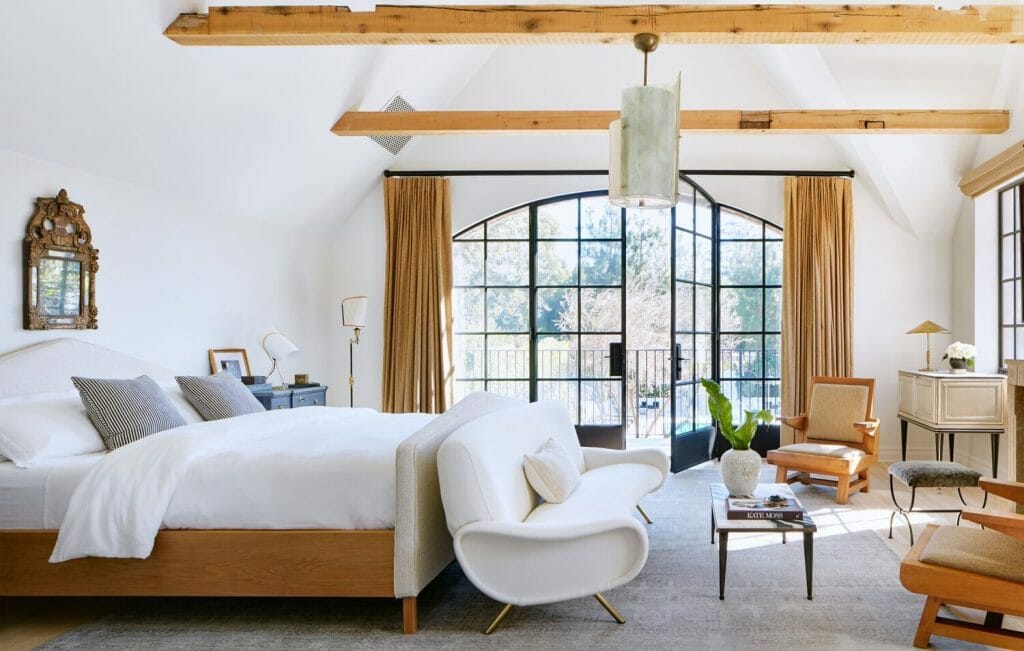 A bedroom is the ultimate common place for many couples. That, however, also requires some level of necessary compromising in order to properly share the experience. It is a relatively easy thing to achieve when no one has powerful feelings about the decor style – but what to do when the tastes clash? That's exactly why we've had our design experts share their favorite creative bedroom ideas for couples! Read on for the perfect design compromises.
Creative Bedroom Ideas for Couples
When you aim for a gender-neutral look but still want to give the space a specific character, it's time to think creatively. An accent wall is always a good idea. In addition, it's easy to execute and merge with the existing decor while changing the room vibes. Tropical paradise, for instance, might be far – but a printed wallpaper and a few complementing details can teleport you right there from the moment you open your eyes.
Need some help deciding on bedroom ideas for couples to fit your taste? Then, schedule your

Free Interior Design Consultation

for expert assistance getting started today!
Small Bedroom Ideas for Couples
Tiny spaces do not allow a lot of creative extent in terms of decorating – or so it seems. In fact, with a few bedroom design essentials, any room can become astonishing. Minimum furniture provides a chance to dress the walls and try some chic ideas such as 3D wallpapers or paneling. Complementing art and an accent central lighting fixture, and small becomes stunning in a blink of an eye.
Romantic Bedroom Ideas for Couples
Talking about couples' bedroom decor, we also need to consider the sensual side. While there is no ultimate answer to what creates a romantic feel, some features do possess a certain psychological effect that works in its favor. Coziness and warmth are among them. Also, the textures – think soft, thick, and fluffy. Fireplaces are traditionally perceived as ultimately romantic, even those based on technological advancement. Create your ultimate bedroom design around the things both of you find inspiring in terms of romance, and don't forget the lighting.
Cute Bedroom Ideas for Couples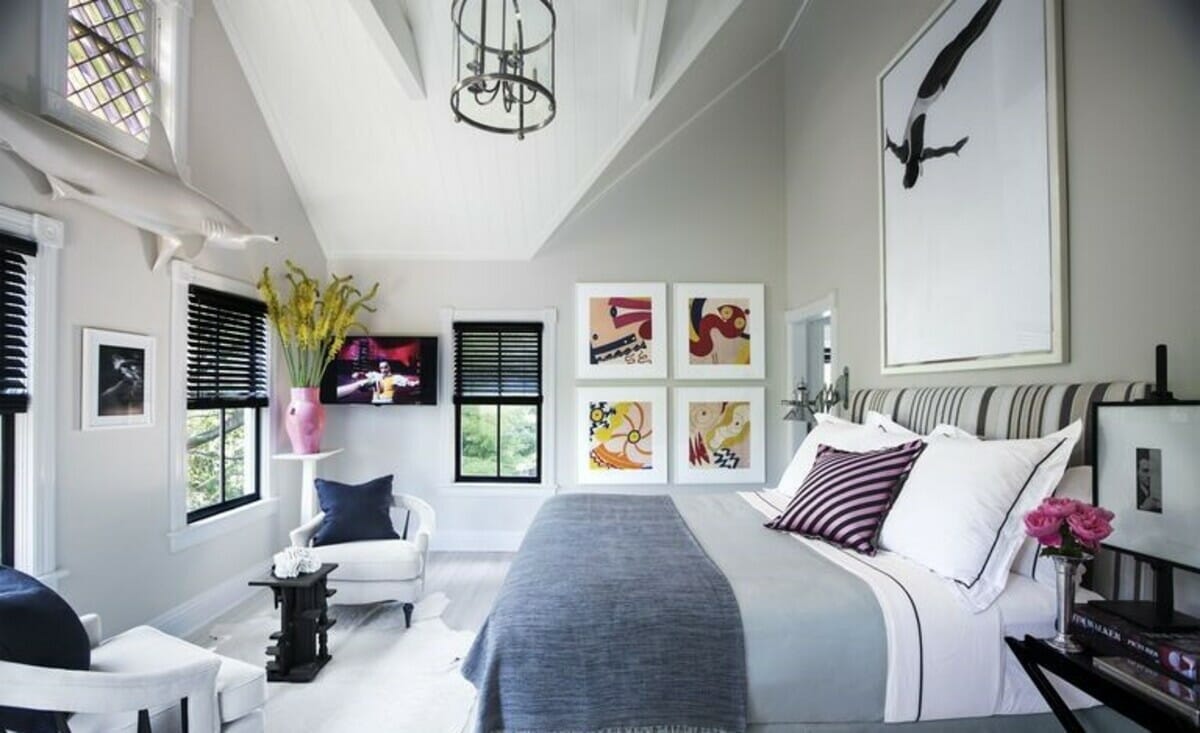 Waking up in a cute and cheerful atmosphere is one of the best ways to start a day. When you go for a monochrome couple's bedroom decor, you also get a chance to liven it up with vibrant paintings, prints, and other details that boost your mood. Whimsical cushions, curtains, or sheets are also a part of that game. Remember, many established interior designers agree that if it makes you happy – it's stylish enough.
Bedroom Ideas for Couples on a Budget
It's not necessary to splurge to get the best bedroom decorating ideas for couples. Just plan ahead and focus on the priorities. The bedroom is a place to rest, above all, so you'll want a mattress that will make it happen. Find a bed frame that is solid, dependable, and suits the taste of you and your partner at the same time. And then enhance the look with a few accent details. Also, consider the option of a bold statement color that will give a strong character to the space in an effortless and affordable way.
Stylish Couples Bedroom Decor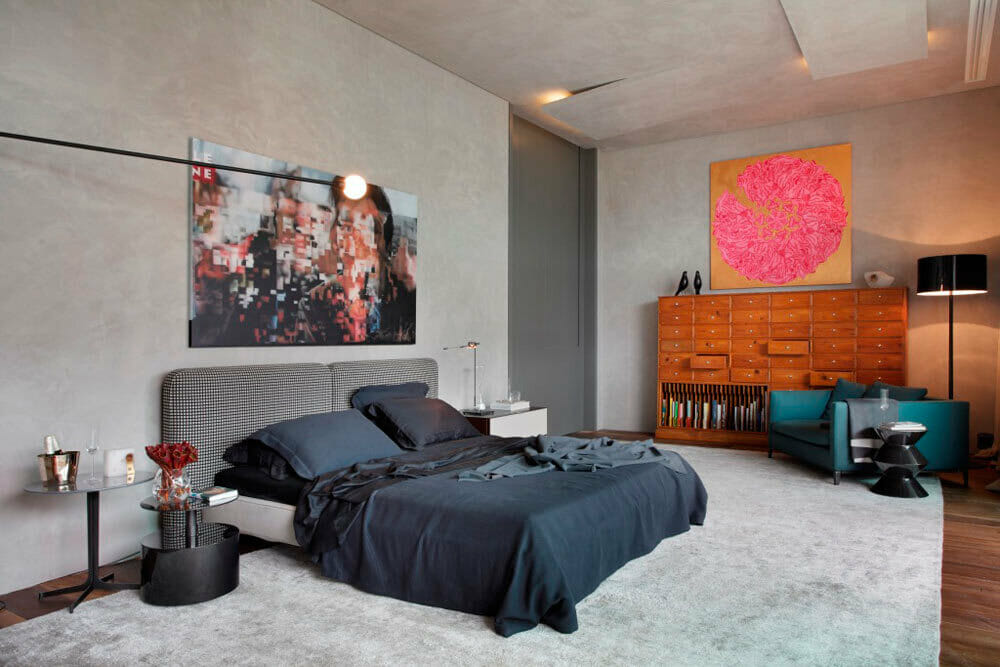 Stylish design can range from traditional to boho and from minimalism to maximalism. However, regardless of the design differences, the best bedrooms typically share four essential qualities. They feel good, have no clutter, feature some eye-catching pieces, and boast a personalized flair.
Bedroom Decorating Ideas for Couples
Sometimes there's no need to keep a dresser in a room because everything is already placed in a walk-in closet. It doesn't mean that you should also omit all the beloved decor details such as photo frames, candles, and small accessories. In fact, they can look much better when arranged inside a nook, even behind the bed. Replacing a headboard with a long,  attractive wall alcove also lets you keep other necessities or books at the reach of hand – but without cluttering the night table.
Wall Decor for Couples Bedroom
In a bedroom, tactile matters as much as visual, so don't be afraid to dress as many surfaces as you want. Have you ever thought of having a smooth, velvety wall behind your bed? Apart from the multi-sensory effect, it also provides additional soundproofing, which can be vital for a proper night's rest. In addition, unless you are both big fans of perfect symmetry,  consider decentralizing the focus by moving the art away from its traditional over-the-bed position.

Best Colors for Couples' Bedroom Decor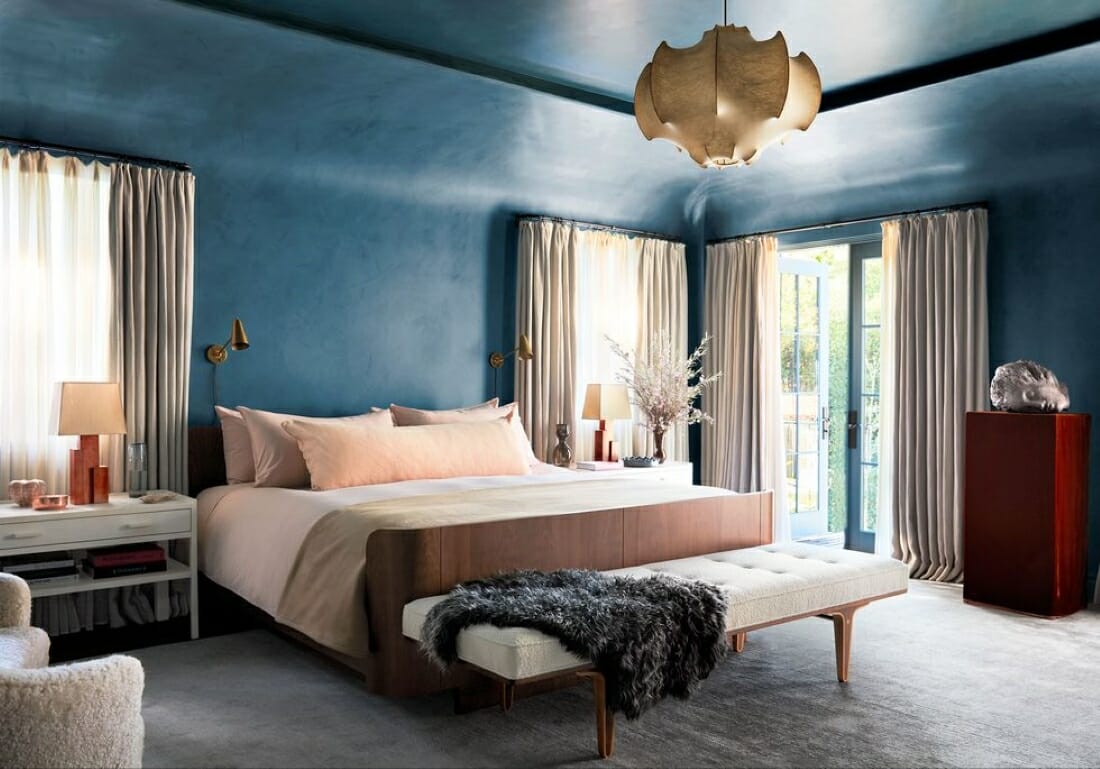 This one is simple – the best color for your bedroom is the one you both love. Tranquil neutrals feel light and create a convenient background for vibrant details. Furthermore, blue and green have an unbeatable calm, zen-like vibe. Pastels are also a traditional choice. However, don't hesitate to include bold shades such as Pantone Illuminating yellow, especially if you need an energy boost in the morning. You can also consider the possibility of painting all walls and the ceiling too. It will convey the feeling of a private cave just for the two of you.
Fresh and Airy Couples Bedroom Decor
Many consider that for healthy rest, a bedroom should be as light and breezy as possible. White walls and a plethora of natural materials are always a good choice. Scandinavian, coastal, and French farmhouse decor styles offer many design possibilities to compose a stylish room based on white and beige with some pastel accents. You can play with textures and patterns to add dynamics and enhance visual interest. Just don't forget to choose adequate window treatments that will help you control the levels of daylight/sunlight your room will receive.
Mixing Room Design Ideas for Couples
When one style can't be agreed upon, consider combining them. There are plenty of decor mixes that still remain stylish. Consider a contemporary look, neutral and free of excessive details for a refined look. Modern minimalistic or boho-Scandinavian bedroom ideas for couples appeal to many with the simple, clean elegance. And if both of you have a favorite piece that just has to be included, think eclectic style and lay the groundwork around them.
Get an Expert's Assistance with Bedroom Ideas for Couples
You are ready to compose your private nest, but can't seem to come to a compromise?  Then schedule a Free Interior Design Consultation to work with a professional designer today!