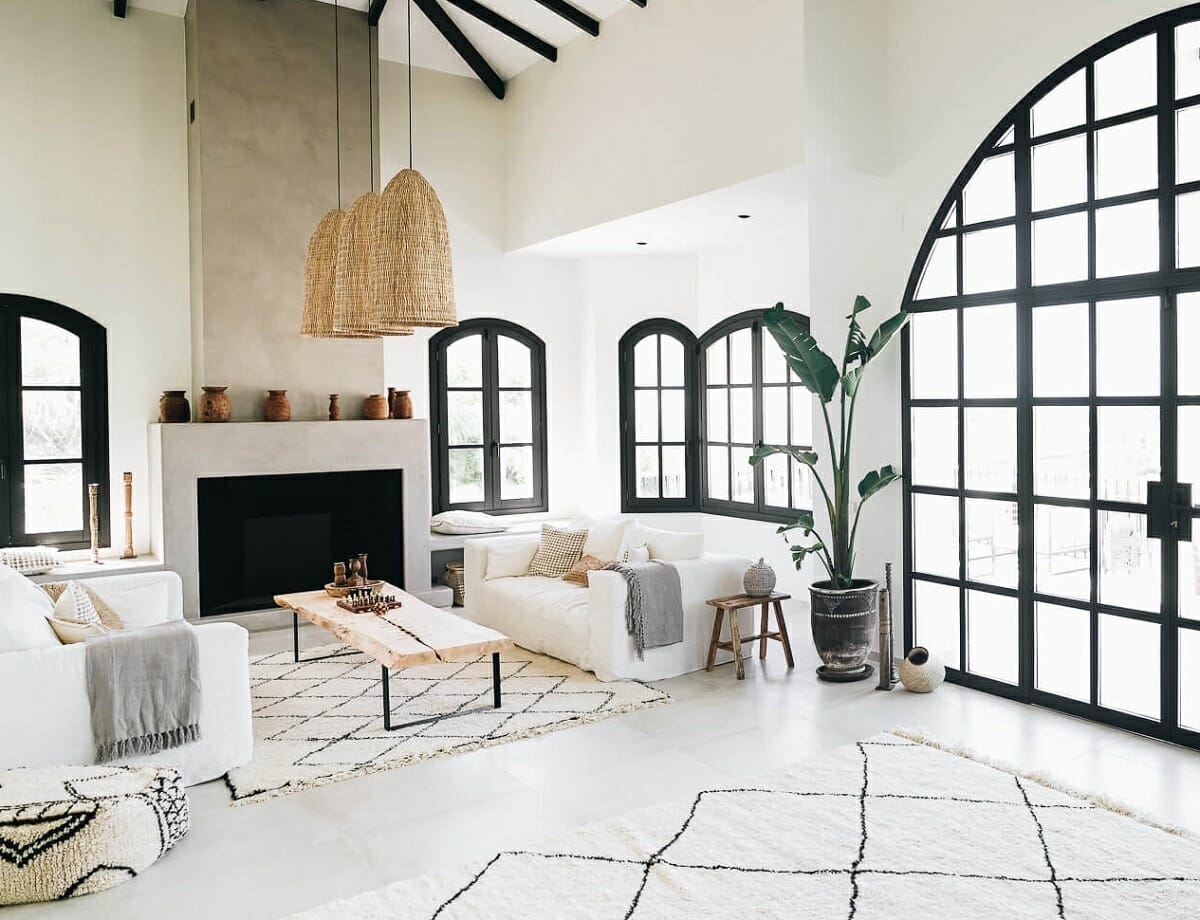 Airy and spacious interiors are so much more attractive than those that are characterless and empty. Moreover, a beautifully designed home can uplift your mood. That's why one recent client turned to Decorilla for help. She needed a peaceful space full of life, perfect for bonding with her hubby and adult children. And the result is a swoon-worthy Scandi boho living room – read on to see the reveal!
The Challenge: Combined Scandi Boho Living Room
The client's combined lounge, kitchen, and dining room was expansive. Such a big room has great potential, but as it was, it lacked refinement and purpose. Moreover, the light walls and tiles clashed with the stark contrasting brown furniture. To remedy this and other issues, interior designers needed to address certain challenges. To create a stunning Scandi bohemian interior design, the designers had to:
Create a cohesive interior using Scandinavian boho décor

Update the fireplace including the mantel and hearth

Include a fireplace surround in quartz that matches the new marble kitchen countertops

Give the window dressing a facelift to a airy but light-blocking fabric to keep out evening sun

Place the TV in an aesthetically pleasing space while keeping an easy-to-watch atmosphere
Love scandi boho interior design, but not sure how to pull off the look? Then, schedule a Free Interior Design Consultation to learn more about your design options today!
Scandi Boho Style Inspiration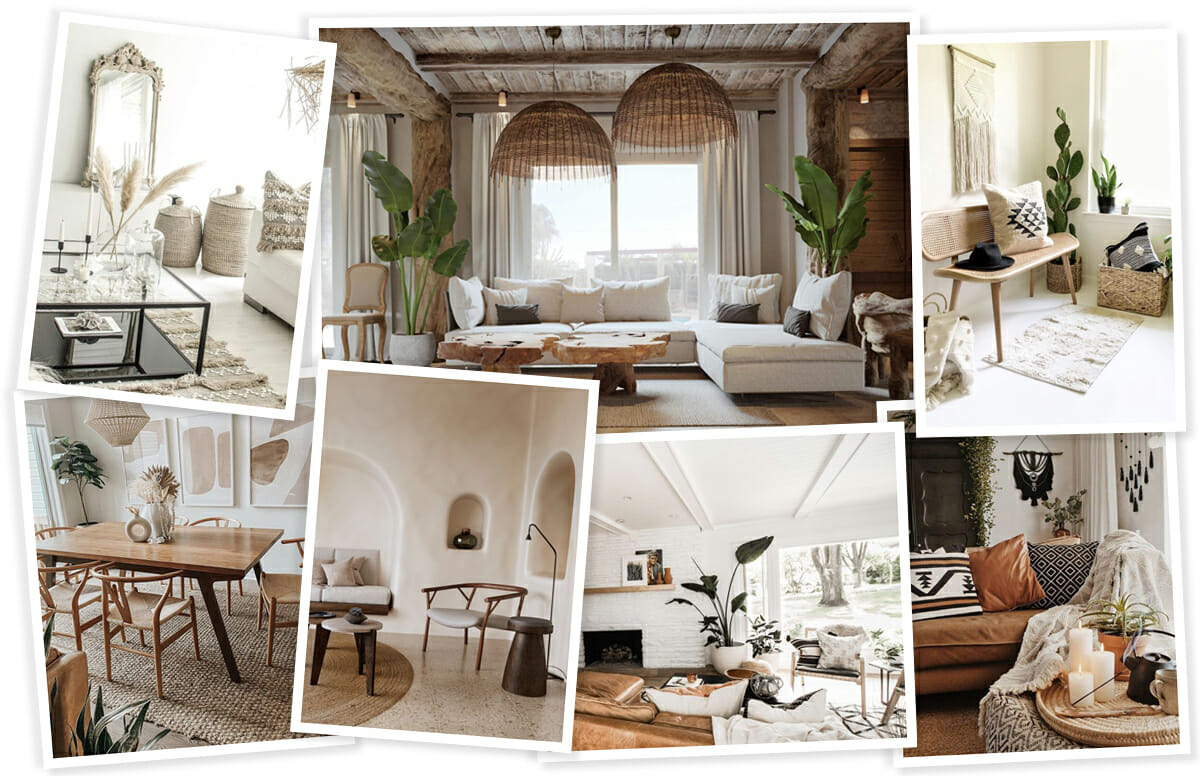 To start her project, the client gathered a collection of images that inspired her. The interiors she chose are full of light and roomy. Although she has a spacious room too, it seemed far from these bright and airy spaces. The living rooms feature a mix of Scandinavian and bohemian designs – perfect for encouraging serenity. And her choices make such a great mix. An interior filled with peaceful and precise Scandinavian décor is sure to be soothing. 
Mood Board & Scandinavian Bohemian Design 
Before creating a stunning interior, two designers use the client's inspiration to form unique concepts. From here, the client can choose the one they like best. And after consideration, it was Casey H's mature Scandinavian boho style that caught the client's eye. Her mood board presented an easy-going lifestyle that's both refined and relaxed. 
For her mood board, Casey used an earthy color scheme as the base for furniture and décor. She also included natural materials with textures that are visually distinctive. More specifically, these consisted of wool, rattan, jute, linen, leather, and wood. By keeping patterns minimal, Casey encourages visual depth from other avenues such as form and texture. After minimal tweaks, she could finalize the online interior design with ease. 

Scandi Boho Design Result
Smitten with the result, the client couldn't wait to share photographs of their updated Scandi boho living room with the designer. It's no wonder, as the final renderings tick all the client's boxes. It's comfy, peaceful and full of character – ideal for those big family gatherings.
Open Concept Scandi Boho Living Room 
An open-plan layout is great for integrating living spaces. The front door opens to the combined dining, kitchen, and living room and the space is bright and inviting. White coffered ceilings and off-white walls provide a clean backdrop for a Scandinavian boho style to flourish. A combination of light wood, white soft furnishings, and earthy textures fill the space, giving it a warm organic character. 
As the furniture plan is open, zoning is necessary to define different areas. Here a sideboard and large planter flank the sectional sofa to create a clear line between living and dining spaces. A rug and artwork also unify the lounge further while creating a coherent look. 
Scandi Boho Living Room Details
The Scandi boho living room has ample seating with great variety. The space has individual occasional chairs great for casual chats as well as a generous L-shaped couch for larger gatherings. Accents and finishes truly highlight the minimalism of Scandinavian design and the coziness of a bohemian style. 
The fireplace, for instance, had a complete transformation. It went from a dark classic style to having an earthy touch that works well with the light room. Additionally, linen curtains add warmth to the interior as well as practicality for blocking the afternoon sun. 
Scandi Bohemian Style Dining & Breakfast Nook
In the dining room simplicity rules. That said, every corner is decorated thoughtfully. The cove-like architecture with surround windows fills the space with warming light. And the furniture and décor reflect that as they are minimal yet complement the setting. Modern Scandi chairs are a stunning design feature and match the woven pendant's arty edge. The table is a practical extender unit, which can cater to small or large dinner parties. 
Scandinavian Boho Décor Shopping List
Each online interior design package comes with a detailed shopping list and implementation guide. With these and the designer's realistic 3D renderings, clients can easily create the fantastic concepts at home. What's more, the online shopping list also comes with exclusive trade discounts. These savings often total the cost of the design itself. So, in other words, online interior design can pay for itself! 
Shop the Scandinavian Bohemian Design 
Making a difference in your interior can be easy. Start with inspiration, ideas, and your favorite Scandinavian boho décor. Here are our top picks from this Scandi boho-style project sure to spruce up a home.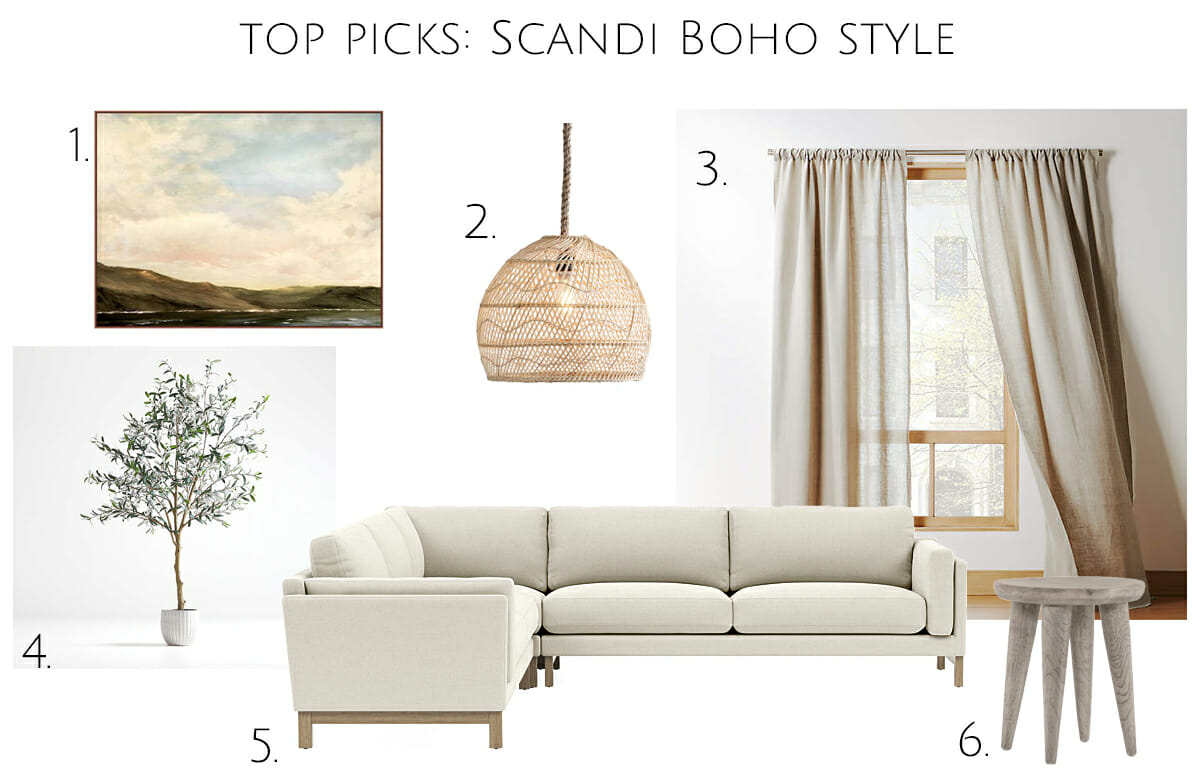 Learn More About Online Interior Design 
You can have your dream interior. It can be the space to inspire and bring joy to your life. But if you're unsure about where to start, schedule your Free Interior Design Consultation to explore your design options today!

[images: 1, Decorilla project images]