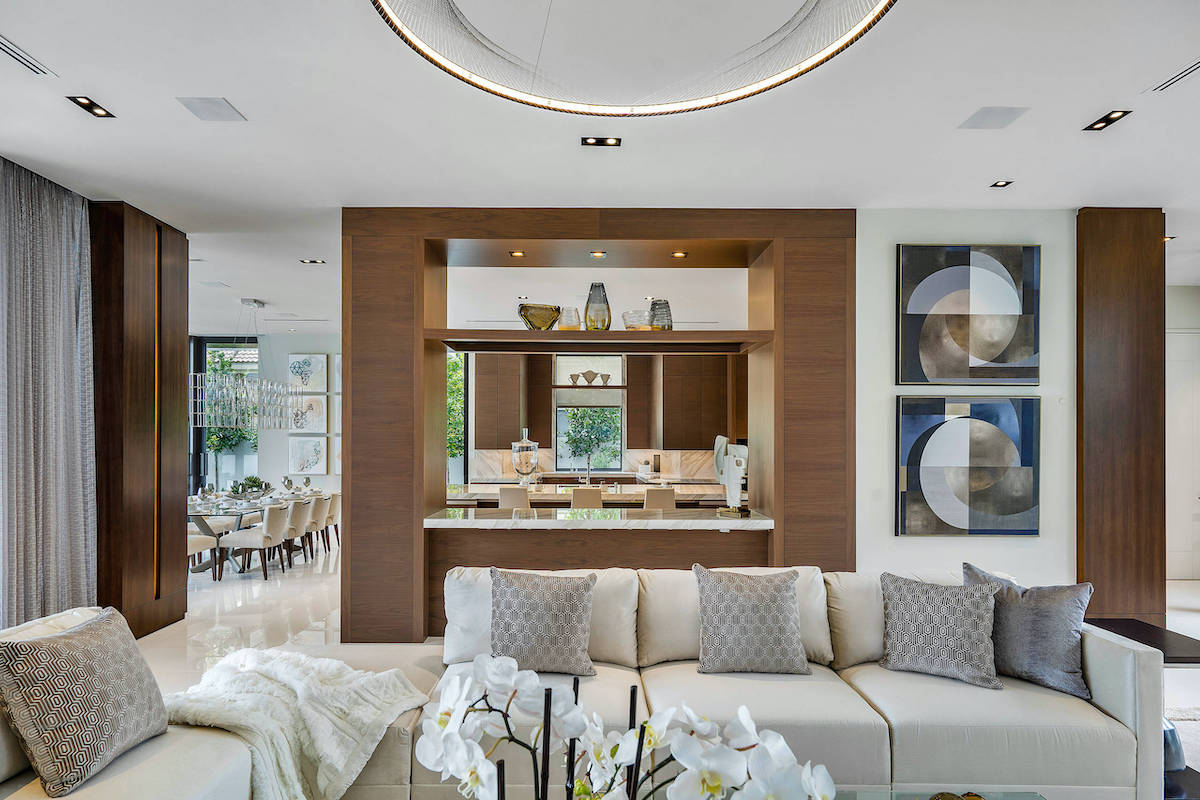 New house? Brilliant! However, the weight of decorating can become overwhelming. Fortunately for one client couple, they turned to Decorilla to make their grand house a home. With high-end decorating and an interior designer's help, they could achieve more than they imagined. Read on for the reveal!
The Challenge: High-End Interior Design
At times, even one room can be challenging. Now the challenge grows exponentially with each added room. But the great thing about a whole-house design is that the designer can ensure a cohesive look throughout. For this mammoth project, the designer needed to:
Include striking high-end wall art

Create a uniform look but stay true to the comfort level of each room

Use high-end kitchen design ideas equally luxe and family-friendly

Ensure the 

luxury interior design

 is comprehensive, including a wine cellar and family lounge
Love the look of high-end decorating, but not sure how to pull it off in your home

? Then, schedule a

Free Interior Design Consultation

to get started with a top designer today!
High-End Decorating Inspiration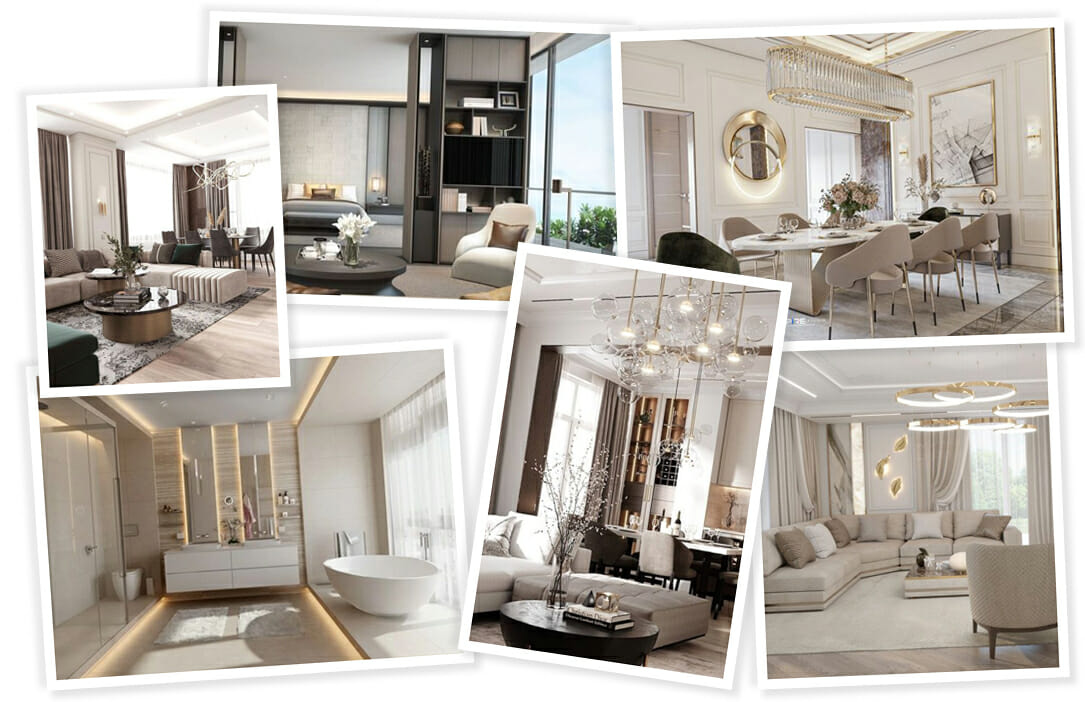 The client appreciated the clean aesthetic of white interiors and loved a touch of splendor in the form of gold or marble. Feature lighting design was also a must-have on their list. In the inspirational images, layers of light accentuate and complement the interiors. It's what brings warmth and depth. Additionally, high-end decorating features in all the clients' interior design ideas.
High-End Home Décor Moodboard & Design
The clients already had a designer in mind for their luxury home. It was Laura A. – one of Decorilla's top designers. Laura's portfolio captured what the clients were looking for: high-end living and curated décor. Given that they picked their interior designer, the clients now only needed to complete a quick interior design style quiz and brief. And with this information, Laura could work on her initial proposal.
Fortunately, Laura is no stranger to big projects. This meant she could dive right in and work systematically. She created a mood board for every room, showing furniture, finishes, and lighting. Together, they formed a cohesive picture of what the home could look like. What's more, it also featured high-end kitchen design ideas the clients wanted.

High-End Interior Design Result: First Floor
At first, the space was a two-story house rife with opportunity. Now the interior boasts refined luxury from one room to the next. The spacious home opens up to a grand foyer and interiors made for intimate and grand entertaining on the ground floor.
Entryway with High-End Wall Art
The entryway is all white with a marble feature wall leading to the main areas of the home. It also gives a glimpse of the upper floor, adding to the airy and luxurious look. A super plush rug, pots, and wood detail give the space an earthy feel to balance the cold textures. Making the foyer feel even taller, wood trim reaches to the ceiling where a clustered of ornate pendants adorn the open space.
Lounge Featuring High-End Living Room Décor
Wood trim and marble accents continue in the grand lounge. Here, high-end living room décor bolsters the room design. Yet, the space feels very comfortable and livable too. A huge U-shape sectional, contemporary chairs and an extended fireplace are to thank for this quality.
Kitchen, Pantry & Wine Cellar
Forming part of the same room as the lounge, the kitchen, breakfast nook, and dining area complete the design. More wood in cabinets, the island base, and the breakfast table give an organic touch. Additionally, exquisite lighting design complements the high-end kitchen design ideas.
With clever divisions, like the hidden pantry and vertical glass wine rack, the open concept features distinct zones. High-end decorating is subtle but effective. It also has ample storage to ensure a neat and organized look.  
Exclusive Dining Room
Behind the vertical wine cellar and next to the lounge sits a formal dining room. A long custom wood table and upholstered dining chairs form the base, while a striking chandelier highlights the space.  
High-End Guest Bedroom & Bathroom Design
In addition to the public spaces on the ground floor, a high-end bedroom design adorns the home. The room is a celebration of delicate contemporary design. It comes with a high back headboard, a complementing rounded bench, and super soft bedding. It also has a romantic air thanks to gentle lighting, soft accent pillows, a round mirror, and fine line art.  
The guest bathroom is equally sleek. It has a massive walk-in shower, showstopper lighting, and more beautiful high-end artwork. A floating counter and illuminated mirror also make the space feel roomy.
Luxe Mudroom & Laundry Room
The ground floor also features a stylish mudroom. Here another striking pendant gives a high-end interior designer look and feel. Again, ample storage ensures the space is tidy and practical. Wood detail also softens the coolness of the white scheme.
Similarly, the laundry room is a prime example of organization and tidiness. Appliances, storage, and baskets form a practical workflow and enhance the look of the design.
A Duo of Powder Rooms
Two powder rooms add convenience for guests and family members. They are also very pleasing to the eye as both feature unique designs and high-end wall art. 
Where the one powder room has a gray stone and white theme, the other has a slightly more organic style channeling the feel of a luxury getaway by the coast.
High-End Interior Design Result: Second Floor
The upper floor is for family. That said, it still ticks all the boxes of luxury interior design. Big rooms make for grand statements as well as the ultimate in comfort.
Loft Lounge & Staircase
Past the foyer, a minimal wood staircase with a glass railing leads to the upper floor. Its clean and neat, giving way to high-end living room décor on the landing.
The cozy family room is the first place you see after climbing the stairs. Like the downstairs lounge, it also features a U-shaped sectional. However, this one has even deeper seats and extensions made for lounging. The high-end luxury design has a bit of a coastal air thanks to dark blue accents in a pouf, rug, and scatter pillows.
The space also features high-end wall art and a coffee bar for early morning coffees or nightcaps before bed. Floating shelves add practical storage for cups, books, and décor.
High-End Master Bedroom Suite Design
The showstopper master bedroom is bright and airy. The super plush bed is certainly the focal point with a contemporary pendant highlighting the space. What's more, the upholstered headboard sits in front of a marble wall and two flanking mirrors. The room also features a great rug, stunning fireplace, and lounge nook.
The master suite wouldn't be complete without a duo of dressing rooms. Here the couple can take their time to get ready in the morning. Built-in open wood closets come with accent lighting, giving them a warming glow. Two comfy benches also add practicality and aesthetic value to the rooms.
As part of the high-end bedroom design, a luxurious bathroom finishes the look. It's grand and opulent. A great chandelier hangs above a stand-alone bath flanked by walk-in showers. The showers, bath, and marble wall make a striking focal.
To complete the bathroom, identical cabinets flank the room with wrap-around mirrors and wood detail. Storage ensures everything is in its place, while comfy seating encourages time to slow down.
Kids' Bedroom & Bathroom
The kids' room is contemporary, fun, and stylish. Twin double beds and two workspaces ensure both are happy and ready to take on the world. The high-end bedroom design features contrasts and light-hearted artwork.
The kids' bathroom continues a higher contrast scheme that feels young and lively. A tub, shower, and twin basins take care of the practicality of a luxury shared bathroom.
Online Shopping List
Each Decorilla project comes with an online shopping list to guide clients through product selections and aid in one-stop shopping. With help, high-end decorating is achievable. Moreover, projects also feature a style guide and trade-exclusive discounts!
Top Picks for High-End Decorating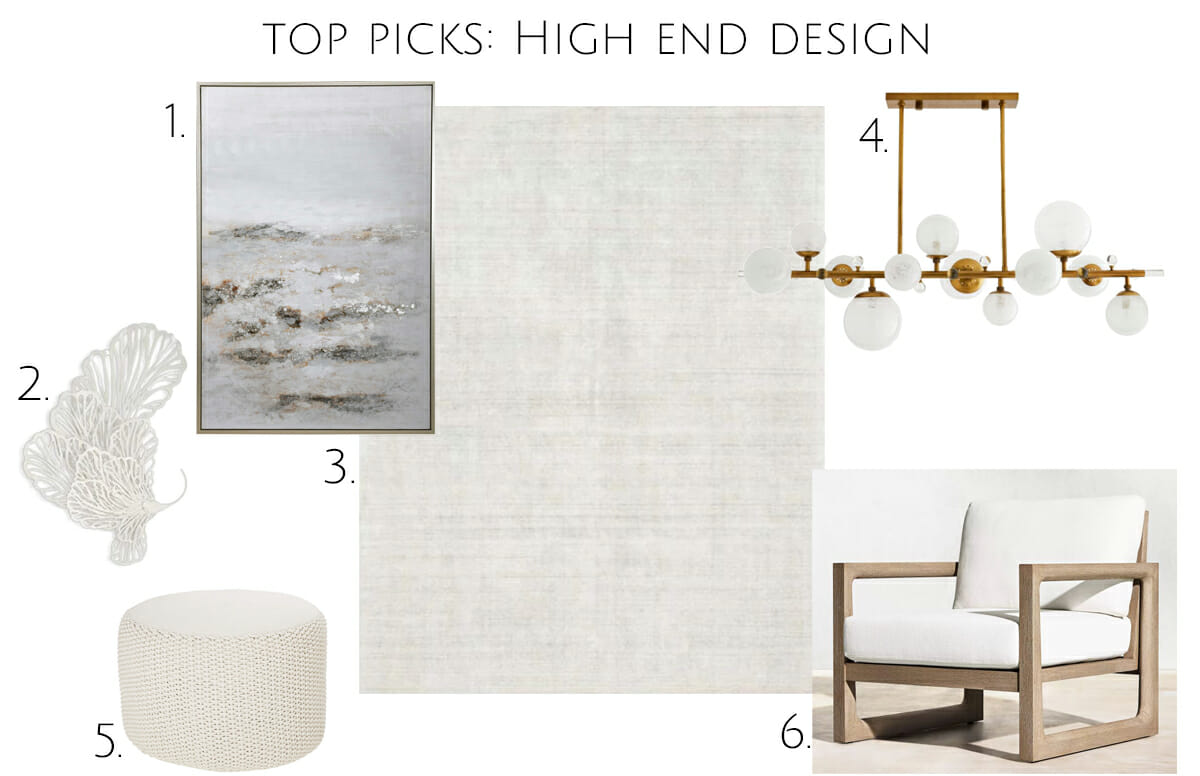 You can create your high-end interior design with a few key items. If this sounds like you, try our top project picks and high-end décor below to spruce up your interior!
Want to work with a high-end interior designer?
Your dream interior can become a reality too! Simply, schedule a Free Interior Design Consultation to get started with an award-winning designer today!

[images: 1, Decorilla project images]