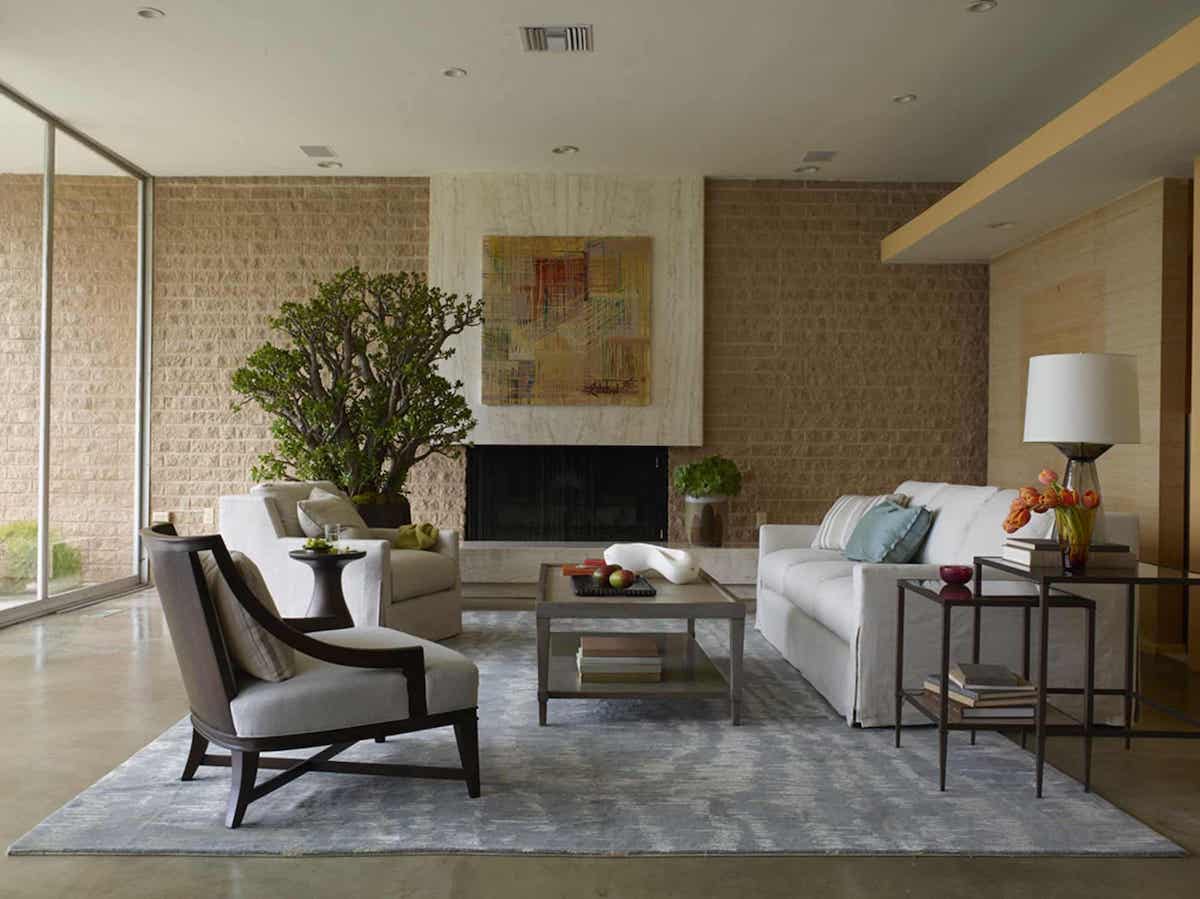 An elegant living and dining room can be the perfect place to host guests or a subdued spot to relax away the day. And recent Decorilla clients were seeking that refined feel for the open living space of their new home purchase. Read on to see how this elegant living room design took the room from drab to fab!
The Challenge: Elegant Living Room  
The client was on a house hunt when she spotted a promising home that called for a light redesigning. The space had good bones, but lacked a cohesive style that matched the her preferences. What she needed from a designer was to:
Keep her style preferences in mind while still letting professional, elegant living room ideas shine through

Create a distinctive interior design with several character-giving accent features

Maintain the neutral color scheme

Ensure that the resulting space feels clean, peaceful, and inviting

Devise an online living and dining room design that brings the two spaces together
Want to see more behind the scenes of amazing before and after transformations? Then,

Sign Up

to have the latest room reveals delivered directly to your inbox!
The Inspiration: Elegant Colors for Living Room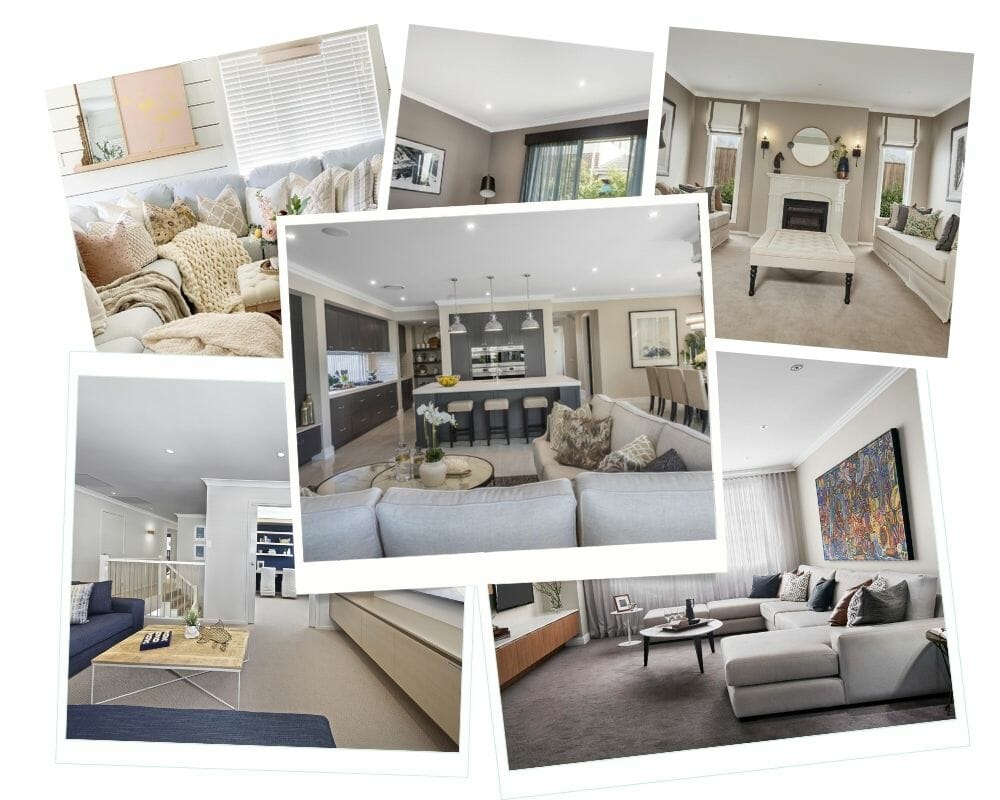 After contacting Decorilla, the client filled out a simple design questionnaire to convey her ideas and preferences. In addition, a carefully assembled set of inspirational images really came in useful. Her selection of images featured relaxing neutral rooms without too much fuss or adornments. It was clear the elegant dining room and living room decor was meant to be kept simple. 
Elegant Living Room Ideas & Moodboard
In short, the client was looking for a classic, luxurious interior design, akin to something you might see at Restoration Hardware or in a Southern European hotel. The key features were long curtains, soft furniture, oversized accent pieces, all embellished with a small pop of color. 
To start the project, two Decorilla designers created unique concepts to fit the clients wishlist. However, the moodboard submitted by Decorilla designer Theresa G. comprised all the desired features the client had in mind. She converted the slightly traditional area into a discreetly formal yet welcoming elegant living room design. Theresa decided to keep the color scheme fairly neutral, blending muted upholstery with wood tones in the gray and taupe family.

Open Floor Plan Design Results
Elegant Living Room Results
Painting the walls with a light, delicate Silver Satin hue from Benjamin Moore made a medium-sized room feel more airy and bright. For the feature color, Theresa chose to use gray due to its neutral but elegant and classy vibe. Moreover, varying shades of the wall color carry throughout the furniture and decor of the open living space, creating a cohesive look.
Gentle use of textures in the neutral shade added warmth and a dash of dynamic to the room. As a result, such a combination made the whole space feel more open and inviting. Supported by Theresa's choice of contemporary seating elements, the arrangement turned out exceptionally comfortable, too. It was easy to envision it as a family gathering hub, the center of a house party, or a perfect spot for peaceful relaxing. 
Per the client's desire, the choice of window treatments selected went to classy floor-to-ceiling double curtains. A sheer base allowed maximum transmission of daylight with a clean and soft appeal, embraced with thick gray drapes. Simultaneously, the new beige stone cladding of the fireplace, together with accents such as horizontal wooden beams add organic elements. As a result, this helps to make the space feel warmer and more natural.
Elegant Dining Room Ideas
Using an eggshell finish with a very light touch of shine enhanced the subtle glam effect in the elegant dining room design. The luxe effect was further accentuated with elegant dining room decor such as metallic chandelier, accessories, and crystal details. The star of the show is certainly a large white plaster top dining table, flanked by taupe chairs with a cutout for added detail. Moreover, potted plants and flower arrangements give the rooms a little pop of color and touches of natural elements. 
Before the Elegant Living Room Design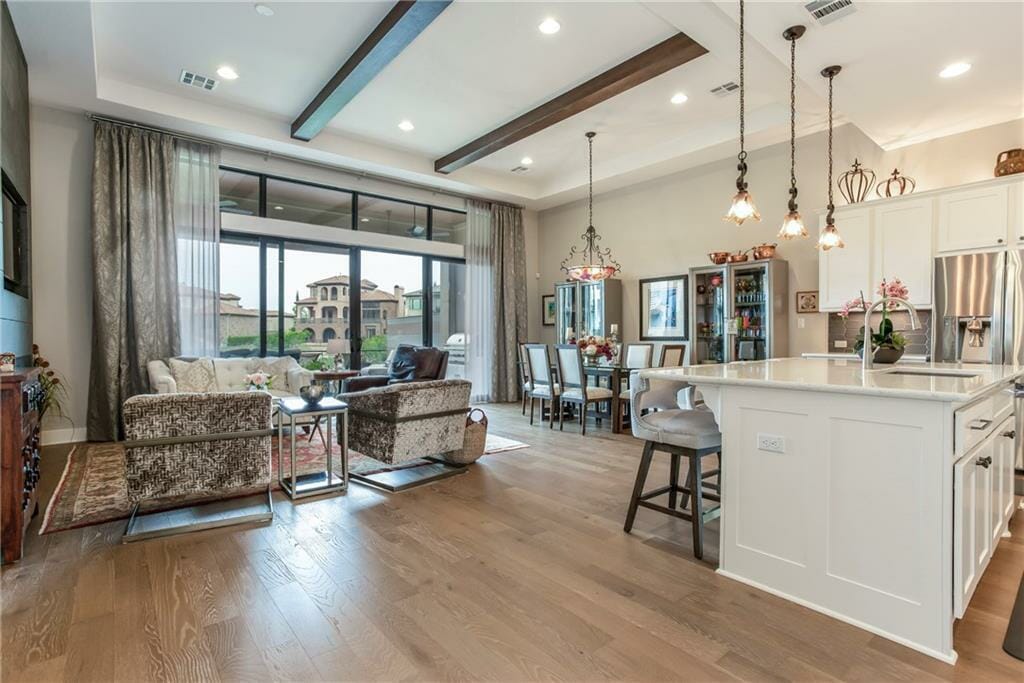 The client was just moving into a newly bought house. What she found there was an interior embellished with traditional elements, layers of strong patterns, and many accessories – including wrought iron chandeliers. Her desire was to eliminate the conventional feminine feel, keeping none of the existing furniture pieces. As a result, Theresa delivered a modern, neutral, and streamlined elegant living and dining room design. 
Living & Dining Room Online Shopping List
Every Decorilla interior design concept includes a curated online shopping list with all the featured design elements. Besides making the room assembly a breeze, they also provide clients with a series of special trade discounts. Finally, a white-glove shopping concierge takes care of all ordering and delivery, allowing the client to relax and enjoy the design.
Elegant Living Room Decor Top Picks
You might be considering using some of the featured elegant dining room or living room decor in your own home. If so, check our top choices for recreating the look at home. All you have to do is start with a few key components based on your preferences. Even a couple of items can make a huge difference until you're ready to renovate the entire space.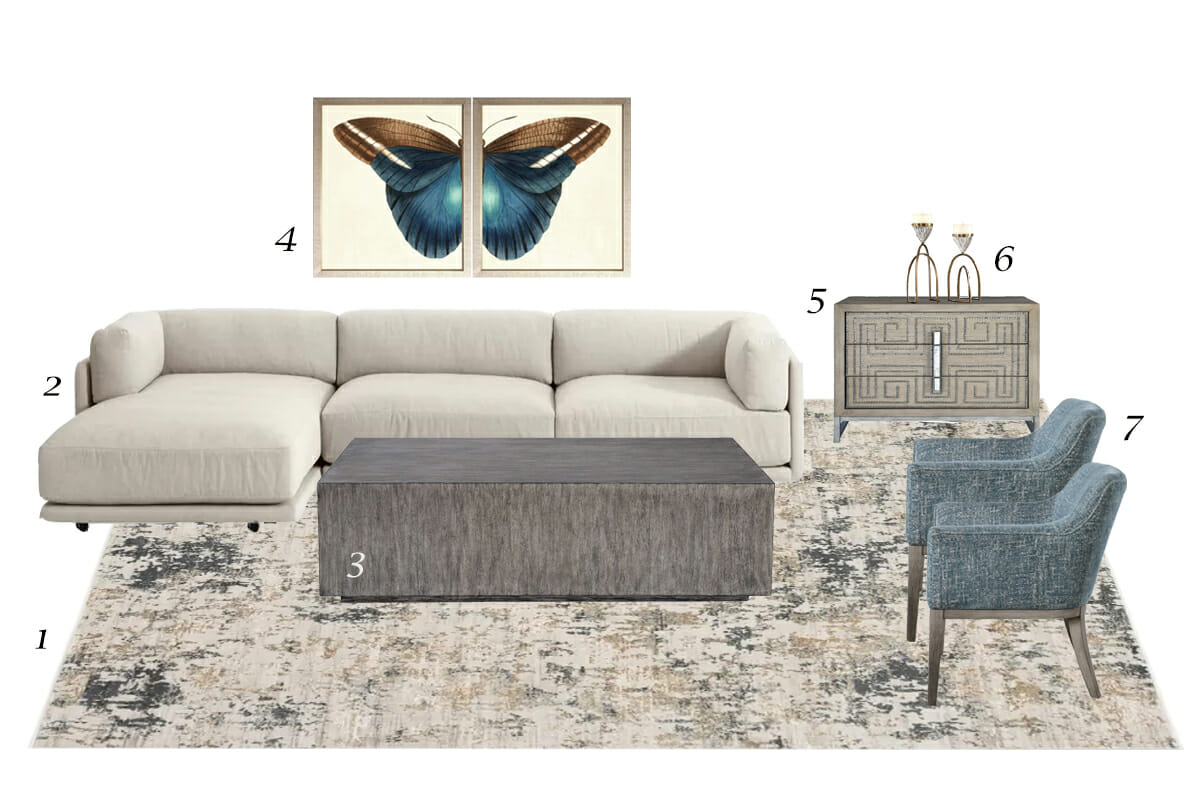 Ready to try online interior design?
If you're feeling inspired to begin a stunning home transformation of your own, we can help! So, schedule a Free Interior Design Consultation to get started today!

Images: [1]