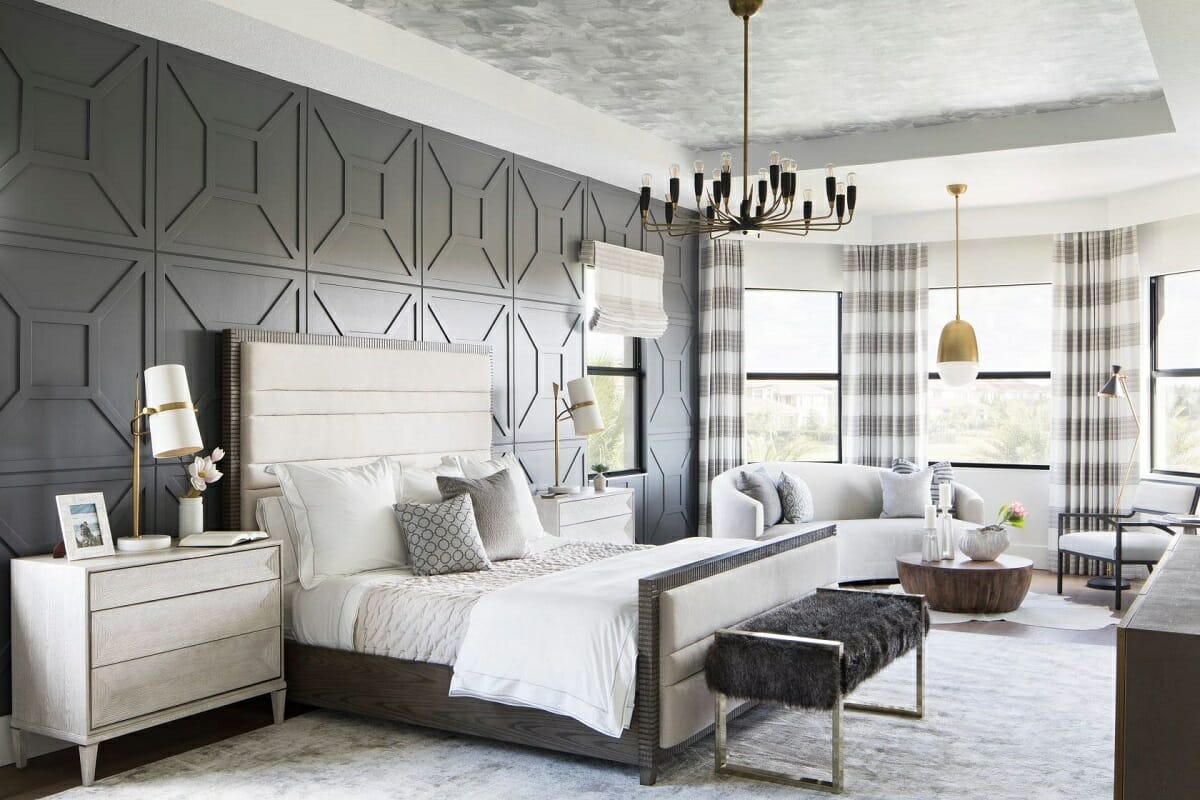 Bold and contemporary master bedroom design showcases minimal glam at its best! And it was this style one recent client couple wanted to achieve while renovating their home – starting with the master suite. Thankfully, after contacting Decorilla, their dreamy interior was within reach. Read on to see the enchanting result!
The Challenge: Contemporary Master Suite Makeover
Often homes in need of renovation have more than a few areas needing attention. Fortunately, this project had great bones. The room was spacious and light and had new hardwood floors and a freshly painted white base. Nevertheless, the interior designer still needed to tick off a few challenges to call this online bedroom design a success. More specifically, they needed to:
Update the master bedroom with contemporary decorating ideas

Incorporate a contrasting wall feature or accent color

Change the dated fireplace to something contemporary and sleek
Not sure if contemporary design is the right look for your master bedroom?

Then, take our

Free Interior Design Style Quiz

to discover your unique decorating style today!
Master Bedroom Inspiration & Contemporary Decorating Ideas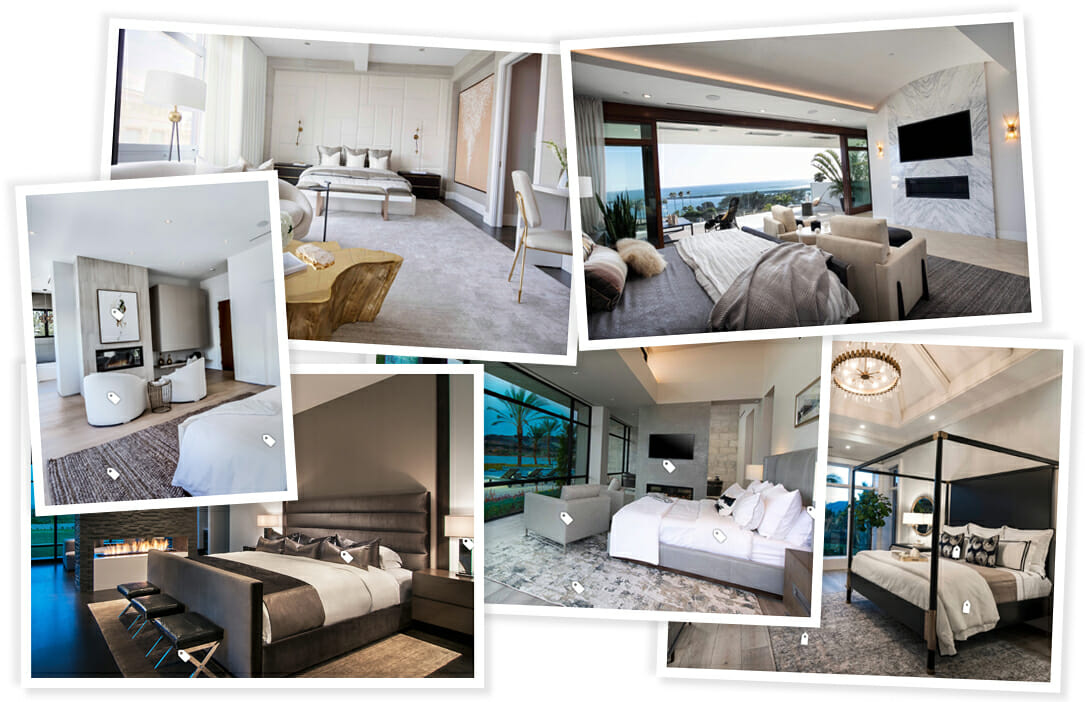 Straight lines, crisp color schemes, and luxe finishes dominate the clients' inspiration gallery. Their contemporary master bedroom ideas echo the air of a high-end boutique hotel. Moreover, marble features and gentle lighting make these spaces look glam too. Although luxurious, these contemporary design ideas are rather minimalist. It's clear that exceptional quality and beautiful finishes make them special.
Moodboard & Contemporary Master Bedroom Design
Now it was on to starting the design process. Luckily, getting the ball rolling is next to effortless. The clients first completed a quick style questionnaire and consultation. Then, Decorilla's team could select two designers best suited to the clients' requirements. And, although both showed beautiful bedroom ideas for couples, the clients loved Selma's proposal the most.  
Selma used the clients' contemporary master bedroom design ideas to inspire her concept. As a result, everything – from the color scheme to the proposed layout – is sleek, high-end contemporary at its most luxurious. Warm neutrals and plush elements set a cozy tone, while metallic and designer touches add sophistication.

Contemporary Master Bedroom Design Result
In the end, the contemporary master suite is at once glam and inviting. Shades of hazelnut, cream, and dark brown set the tone for an elegant interior. The complete makeover sees a trendy statement fireplace warm the interior. Its marble cladding reaches from the floor to the ceiling to lengthen the room.
In addition, the different shades of white complement the deep and comforting browns. The combination is also pleasantly juxtaposed – light and dark form a beautiful base for the elegant design.
A Master Bedroom with Contemporary Decorating Ideas
Although cozy, the bedroom has a distinctly minimalist feel. It emphasizes finishes and textures so much more than an intricate space would do. Super plush bedding wraps around a king-size bed. Its layers of white linen, chocolate-colored cover, and gray pillows make it undeniably enticing. What's more, the upholstered bed frame and padded feature also add softness to the room's structure.
Symmetry and clean lines make a statement in their simplicity. Instead of a single sofa, two modern accent chairs line the foot of the bed. They're perfect for sitting back and appreciating the view. And they strengthen the symmetric layout.    
The classy room is tranquil in its gently layered look. It feels grounding and comforting as a result. The design mimics nature's use of color to balance warm hues through cooler tones. That's why a bright indoor palm invigorates the earthy palette. It also adds height. Similarly, floor-to-ceiling curtains make the walls seem taller and the room bigger. Last, but not least, a light rug centers the setting and binds it together.  
Before & After: How did the designer change the room?
At first, the room was bare and in desperate need of inspiration. It had antique furniture and a dated fireplace. On top of it all, it also felt sparse. Fortunately, this master bedroom would soon be refreshed with contemporary decorating ideas.
Layered Light & Dark Color Scheme
Choosing a cohesive and binding scheme was vital for a successful transformation. The designer picked two primary base colors: white and brown. From here, she could add various shades and tints of each. In doing so, the interior feels layered and has loads of visual interest. Textures bring intrigue, while shape and repetition add depth. Lighting design also helps to create a beautiful space.
Incorporating Visual Aides 
In addition to a refined color scheme, the room also needed definition and structure. The vertical elements are among the most impressive features adding to the contemporary master suite. More specifically, a tubular feature wall, fireplace cover, and curtains create a sense of grandeur.
Although the room was already spacious before, it felt low. In this way, the visual tricks heighten the ceiling to make it feel airy.  
Now the clients have a haven worthy of the cover of an editorial. But most importantly, it evokes serenity and calm – perfect for a good night's rest!
Online Shopping List
The final design comes with an online shopping list. Not only does it show whatever you'll need for the design, but it also comes with exclusive trade discounts! Plus, it has useful information as well as helpful notes to put everything together at home. With the complete design package in hand, the clients could finally put their bedroom ideas into place.
Top Picks for a Contemporary Master Suite
You can bring contemporary chic to your master bedroom with a good selection of décor and furniture design ideas. If you liked the look of this project, try our top picks below for your own update!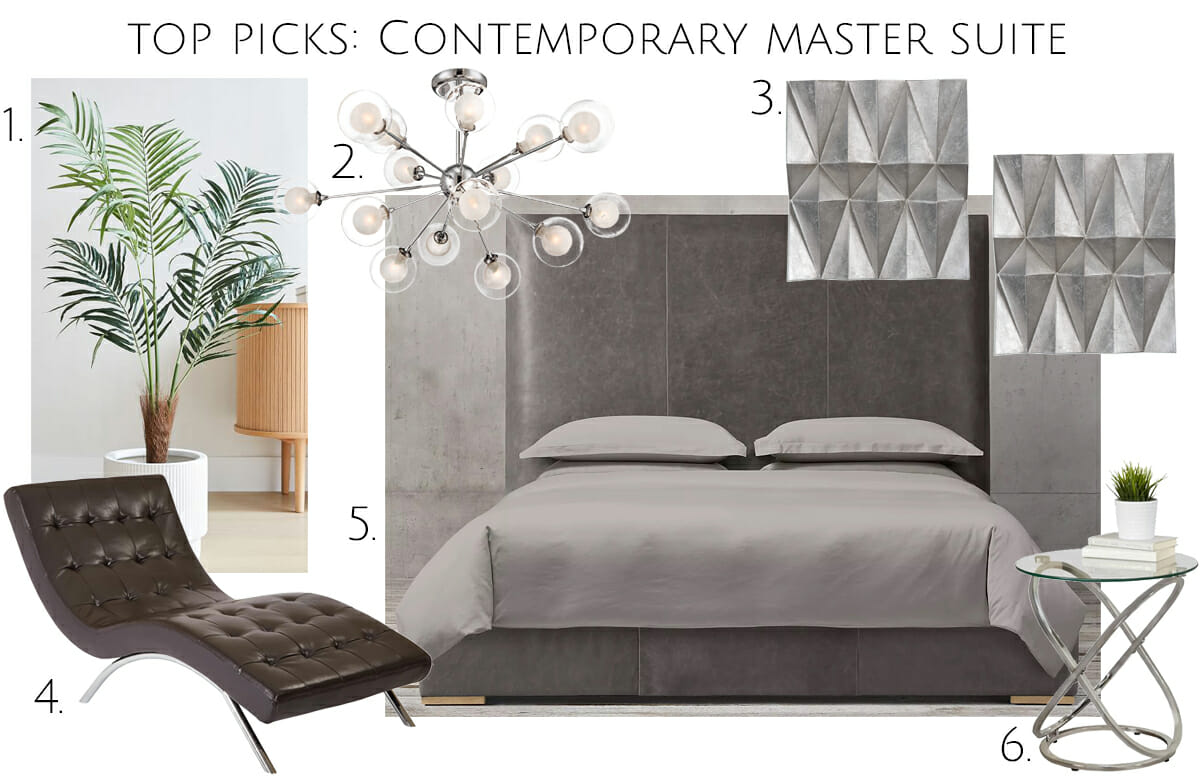 Ready for the master bedroom of your dreams? 
Your space can undergo a stunning transformation too! So, schedule a Free Interior Design Consultation to get started with a professional bedroom designer today!

[images: 1, Decorilla project images]