All-white interior design, when done correctly, is far from boring. The results are often welcoming interiors that exude class and sophistication. And one recent client needed just the helping hand to pull off this look and Decorilla excelled in their task. Read on to see their stunning all-white living room result!
The Challenge: All-White Modern Living Room 
Every room is a unique puzzle in need of solving. These challenges make a design more fun – especially once it is complete! It also makes the result so rewarding. In the same way, the client's ideal space came with obstacles. More specifically, the designer had to:
Use all-white living room decorating ideas to create a classic and formal air

Include a black grand piano

Ensure the 

online living room design

 is welcoming
Love all-white interiors but need help adding the look to your home

? Then, schedule a

Free Interior Design Consultation

to get started with a top designer today!
Monochromatic Inspiration & All-White Living Room Ideas
The client's inspiration showed adoration for elegant spaces and elevated design. Transitional all-white furniture contrasts a few dark finishes in their favorite living rooms. Though not much, the dark hue makes the rooms feel more distinct and defined. Their top white interiors also had luxurious curtains framing colossal windows.
Initial Moodboard & Stunning Design
After choosing Decorilla, the client could get started immediately. First, they completed a quick questionnaire and a fun interior design style quiz to give the team an idea of their style and what they needed. Then Decorilla found their best designer matches. Armed with the requirements, these interior designers could present compelling concepts. But it was Casey's refined take that stole the show. 
Casey considered the interior design color psychology of white to compile a tranquil and tasteful proposal. Her moodboard shows how different textures, woods and metal can warm all-white living room ideas. A neutral palette lets form do the talking. For this reason, Casey chose clear silhouettes and defined structures. They would make a great impression when put together in the client's room.

All-White Modern Living Room Result
In no time the final renderings boasted an exquisite design in photorealistic quality! With all-white furniture, the living room is elegant beyond expectation. Its ample seating and layout make this space excellent for intimate hosting. Moreover, the setting is graceful too – great for slow evenings spent listening to piano playing.
The Ideal Layout
The all-white interior's layout places the fireplace, piano, and socializing at its center. Two L-shaped sectional couches form an intimate setting around a modern low-profile coffee table. It has a warm metallic grey finish and floating base for a light look while adding balance and structure.
Although it has a formal and luxe aesthetic, the design is highly inviting. A great hand-loomed rug connects all elements to create a congenial atmosphere. The floor plan also highlights both the piano and fireplace. This tight-knit, though spacious setting certainly feels cozy as a result.
Beautiful Details
Symmetry and proportion make the space undeniably beautiful. On the ground, the rug sits just shy of the black framing tiles, creating a spotlight on the design. Then comes the sitting area with identical sofas, coffee and accent tables, lounge chair, grand piano, and bench. They make the main focus, yet there are many more striking focal points.
On the one end of the room, two abstract table lamps sit atop a classic side table and frame a stunning hand-painted artwork. It also brings a subtle blue-gray hue to the clean color scheme. Throughout the interior, various metal finishes add warmth as well as structure. Two of the most striking elements are the antique brass chandelier and brushed brass accent chair. Both shine a warming glow into the space.
A single mirror decorates the fireplace wall on the opposite end of the room. It is tall and features brass strip detail, elongating the mirror even more. The resulting reflection makes the space feel roomier and even lighter. It draws the gaze upward so guests can fully appreciate the scale of the interior.
Final Touches
The interior's final defining touches are among the most vital. One of these are pairs of magnificent drapes, cladding the room in opulence. They not only frame the stunning windows and add perceived height, but they also make the space feel pleasant and snug. Their slightly sandy hue is perfect for balancing the color scheme.
Plants are another crucial part of the design's final touches. Their vibrant hue is a welcome addition to the space, plus they echo the beauty of the garden outside. Additionally, their different sizes and shapes bring depth and a vertical structure to the stunning white room.
In the end, the room is a great success. It shows that a formal, luxurious all-white interior can be both comfy and unforgettable.
Online Shopping List
The white living room project comes with an online shopping list – making finding items and shopping a breeze. It also has exclusive discounts, unique to Decorilla clients only! What's more, the online design package includes a helpful guide to simplify implementing the design at home. 
Top Picks of All-White Living Room Décor
If you swoon for all-white living room ideas, why not take your interior up a notch? Use our favorite picks from the project to guide your room update!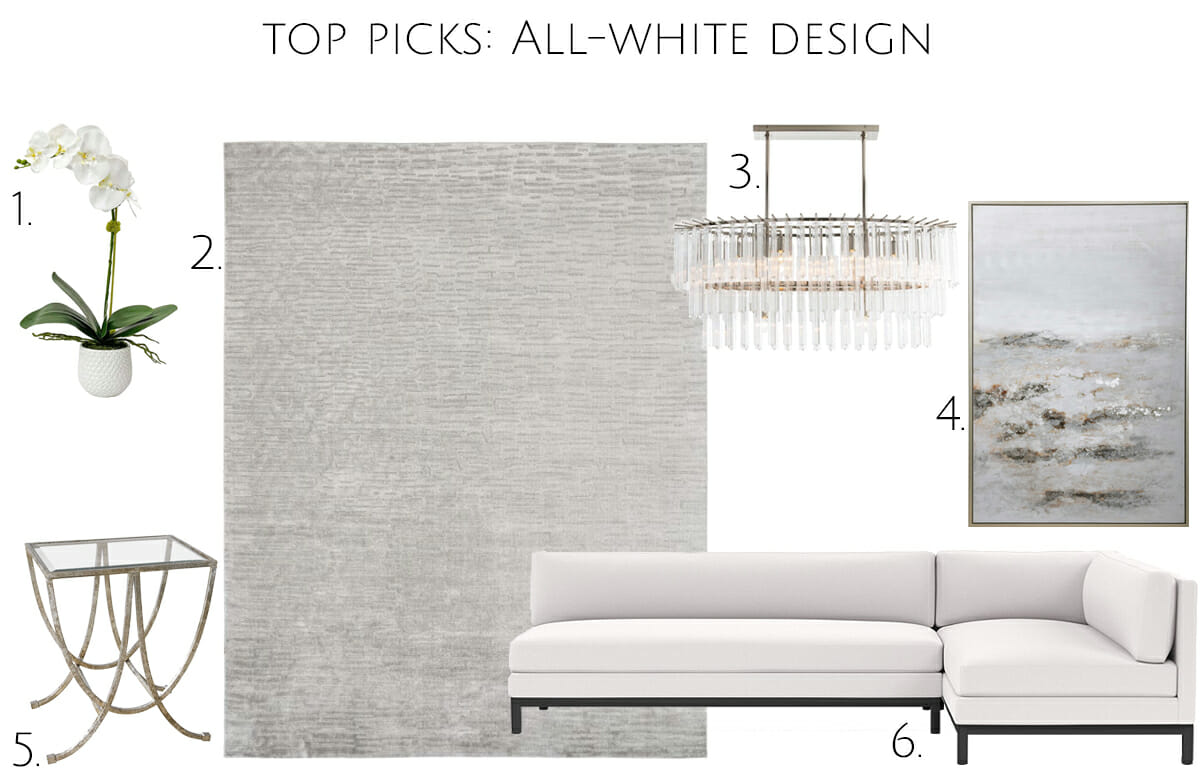 Want to try online interior design?
Virtual interior design can make your interior dream a reality! Schedule a Free Interior Design Consultation to get started today!

[images: 1, Decorilla project images]