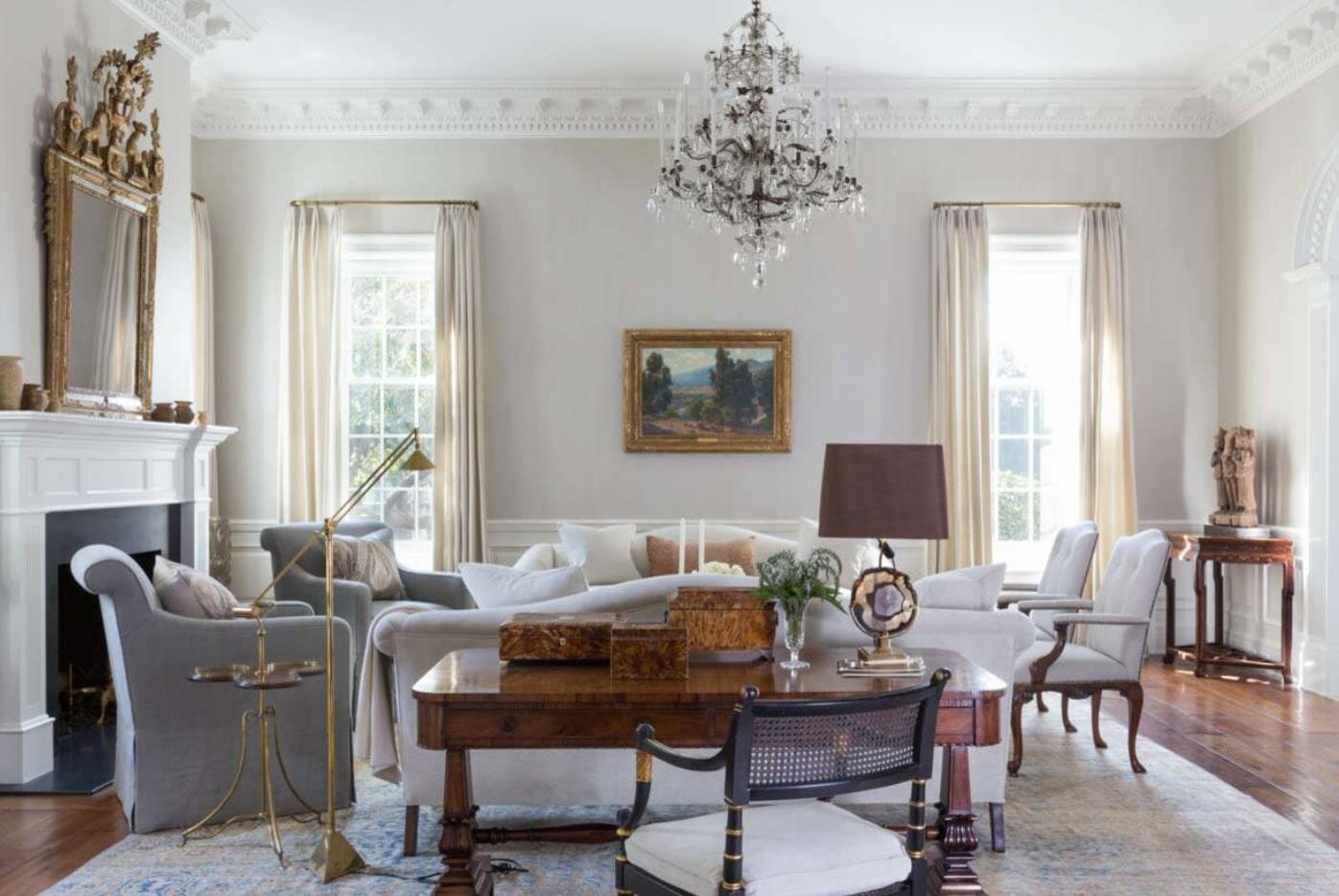 Elegant and classy, traditional interior design is a timeless choice that will never go out of style. Plus, it is able to give elegance to just about any interior. Hence, if antiques and classic designs are something you enjoy, traditional interior design may be just the right choice for your home!
And if you like traditional design but you feel it's kind of too much for your home, transitional interior design may be the solution for you. By pairing elements of a traditional style with more contemporary ones, transitional interiors are the perfect compromise. So, whether you will go pure traditional or transitional, read on to take inspiration from these 7 essentials that make the perfect traditional interior design.
1. Structural Embellishments in Traditional Design
First of all, a traditional interior design begins in the structure of the room itself. Moldings trims and railings are all typical elements in period homes and set the right mood for a traditional style. If your home is more modern though, you still can introduce these details later. For instance, fixing wood profiles on drywall is a very easy way to hack a molding and the result is definitely realistic. In addition, if you're looking for living room ideas, try adding trompe l'oeil wallpapers that will give you the look without taking up any space.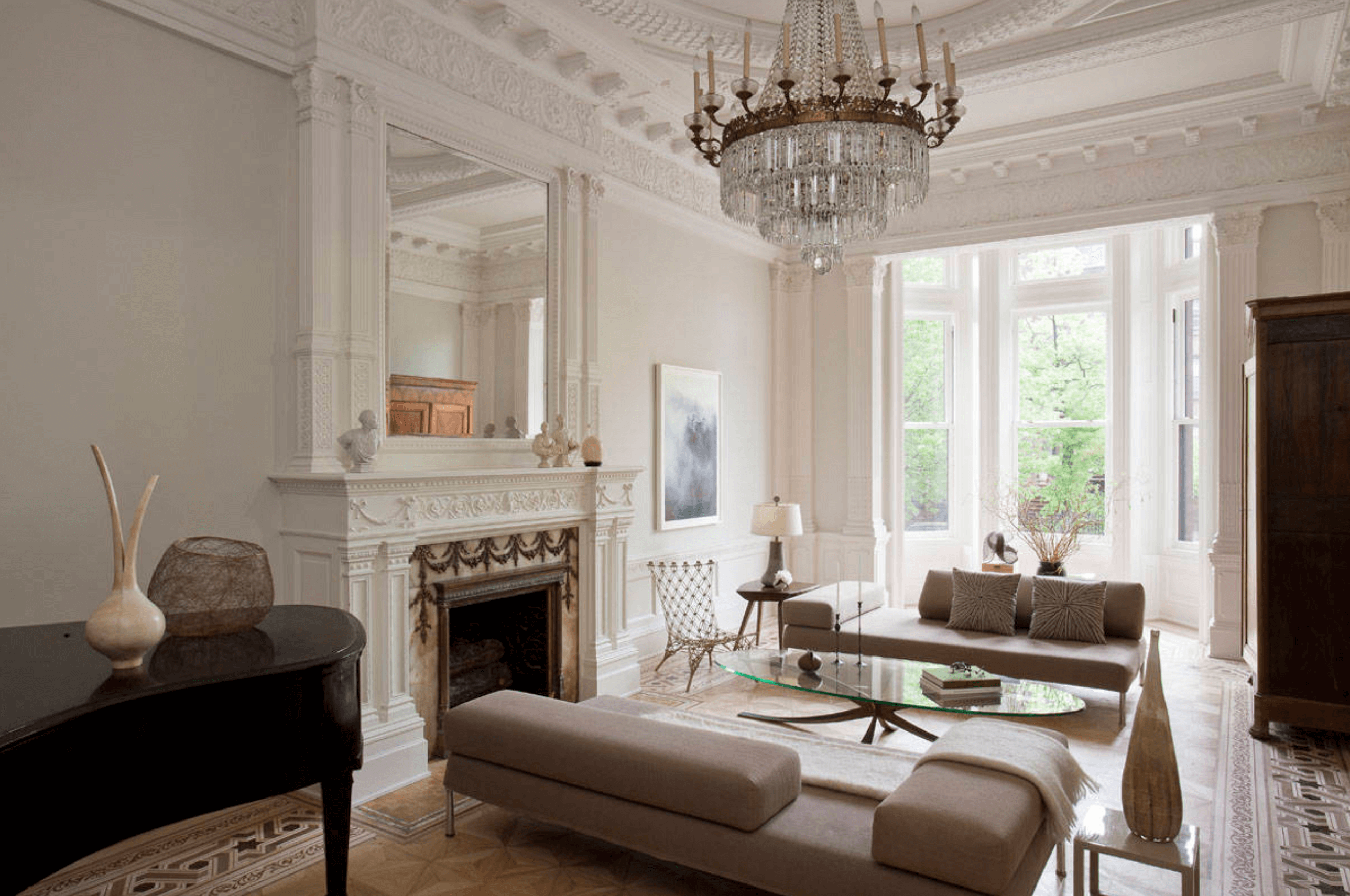 2. Carved Details
Moldings, furniture pieces, accessories…in a traditional interior design intricate carved details are everywhere! By adding a decorative layer to almost every element of the room, they contribute to the elevated look of this style, adding texture and character. To introduce carved details in your space, start with the big pieces. A carved sofa or bed will be enough to make a distinctive traditional statement!
3. Substantial Window Treatments
If anything, heavy lined drapes are a signature of traditional interiors and the look is often completed with matching cornices or valances. Also, you will always see full-length drapes, that make the window treatment even more impactful. Actually, this is a visual trick that applies to any style; a floor-to-ceiling window treatment is a tested pro strategy to make the room look taller and the space airier!
Then – whatever the actual size of your windows is – frame them with full-height drapes in a thick fabric. And if you need privacy, install two layers of curtains: a sheer and a thicker one.
4. Traditional Interior Design Loves Curved Lines
Forget the clean and unfussy lines of modern furniture; traditional pieces are all ornate and curvy! Cabriole furniture legs, fluffy upholsteries, and swirls everywhere give traditional interiors a unique majestic yet inviting feel, that sets them apart from any other interior design style. So when you go shopping, always look for curvy profiles and you'll see the style of your room become more and more traditional at every curve you add!
5. Traditional Style Patterns
Another important element of traditional interior design is that solid colors are never left alone. In fact, you will always find a mix of patterned fabrics. Stripes and florals are definite go-to choices, but not every stripe or floral works. Elegant, rich and ordered are the features to look for when choosing a pattern for traditional design.
Besides being just beautiful, patterns help to introduce an accent color and tie in the color scheme. Damask fabrics are also a great choice to create an interesting tone-on-tone effect without adding too many colors to the design. Because if colors are more than welcome in a traditional design, you will never see too many hues mixed together.
To bring traditional patterns into your room, start small by adding pillows and blankets. Then – if you like the result – you will continue with bigger jobs like new curtains and upholsteries!
6. Symmetry
In addition, If you ever have a doubt on furniture placement or accessorizing, go in pairs. Indeed, symmetry is the one feature that every traditional interior has. Two armchairs on the sides of a fireplace, a pair of lamps on a buffet cabinet or two matching artworks on the wall are just some examples that come back in every traditional interior design. In fact, symmetry is naturally soothing to our eyes and immediately makes the space feel balanced and calm; and who wouldn't want their home to be balanced and calm?!
7. More is More in Traditional Interiors
You will have understood it so far; a traditional interior is all but minimalist. So feel free to layer textures and decorations to give your home that cozy and full appearance that is typical of  traditional interior.
Light fixtures are no exception to this rule. Huge crystal chandeliers, highly decorated sconces, and sculptural table lamps are always an essential element in a traditional interior and are chosen to stand out in the space. So make sure your light fixtures make a statement too!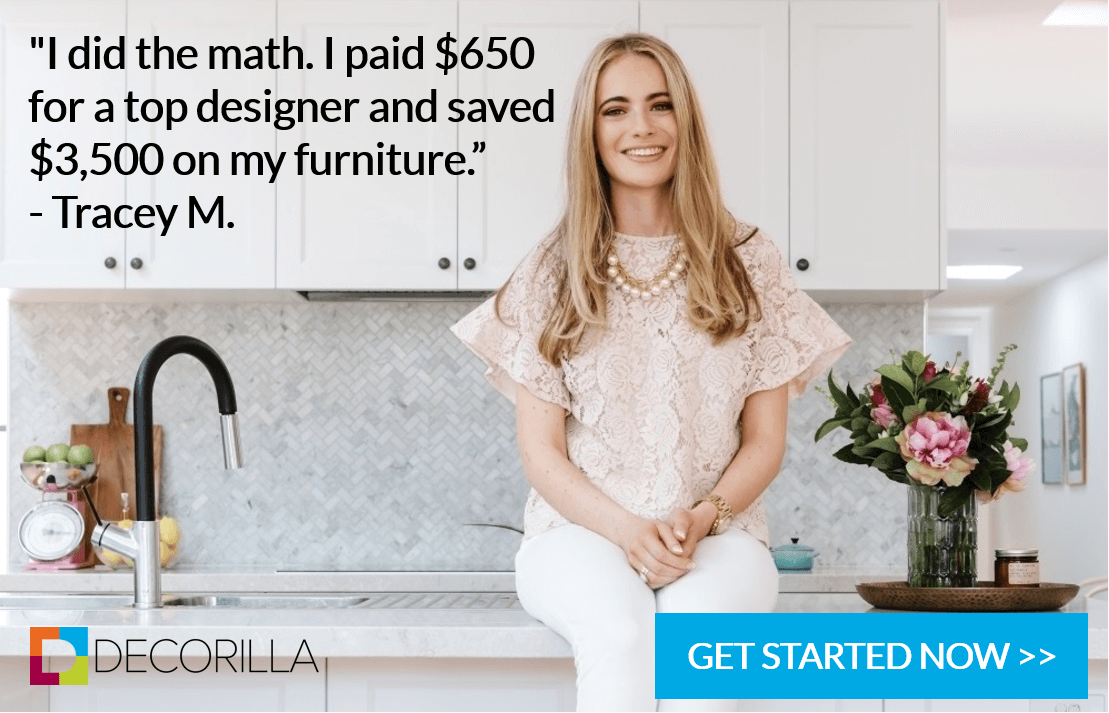 Get a consultation for your dream traditional interior design
With these 7 essentials, you are now fully equipped to start transforming your home into a beautiful traditional interior. Use this as a guide to transforming your home into the traditional oasis you've been dreaming of. To get that designer look, Schedule A Free Interior Design Consultation with a Decorilla interior designer today and see your home become the perfect traditional interior!
Written by Decorilla designer, Silvia C.