Transitional with Neutral Colors Master Bedroom


Details
Project Title
Transitional with Neutral Colors Master Bedroom
Project Description
I'm looking for design guidance on wall color, adding a rug, black out window coverings, bedding and any other décor advice to liven up the room. I would like to keep the bed, dresser and nightstands as they're all fairly new. I'm open to swapping out other items. We need to keep the ceiling fan as well. To get a better sense of my style, please take a look at the pinterest board I linked and the other Decorilla projects I've had done over the past few years. My living room, dining room and home office look exactly as pictured in the final designs as I bought everything recommended.
Location
Oak Park, IL , USA
What's your favorite decor style?
Transitional
Which colors do you dislike?
colors
Dimensions
18' by 17'








Details
Room Label
Master Bedroom
I want this room to feel more masculine/feminine/neutral
Neutral
What type of sunlight does this room receive?
Morning light
What do you currently dislike about the room?
We would like to add blackout window treatments/curtains, new paint color and something that will add interest to the walls, decor accessories and possibly a rug to give more interest to the floor. Interested in new bedding suggestions to bring everything together.
What pieces of existing furniture, lighting, art or accessories do you want to keep in the design?
We need to keep the bed, dresser, and nightstands. We also need to keep the ceiling fan.
Here are the links for the furniture pieces from Pottery Barn (headboard, dresser, and nightstands) that are currently in the room that we'd like to keep. Please note it's a king-sized bed:
Are you open to changing your wall colors?
Yes
Do you have a preference for either paint or wall covering, or are you open to both?
Open to both
Are you open to changing your floor covering?
Maybe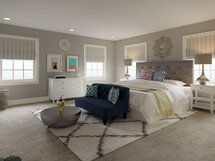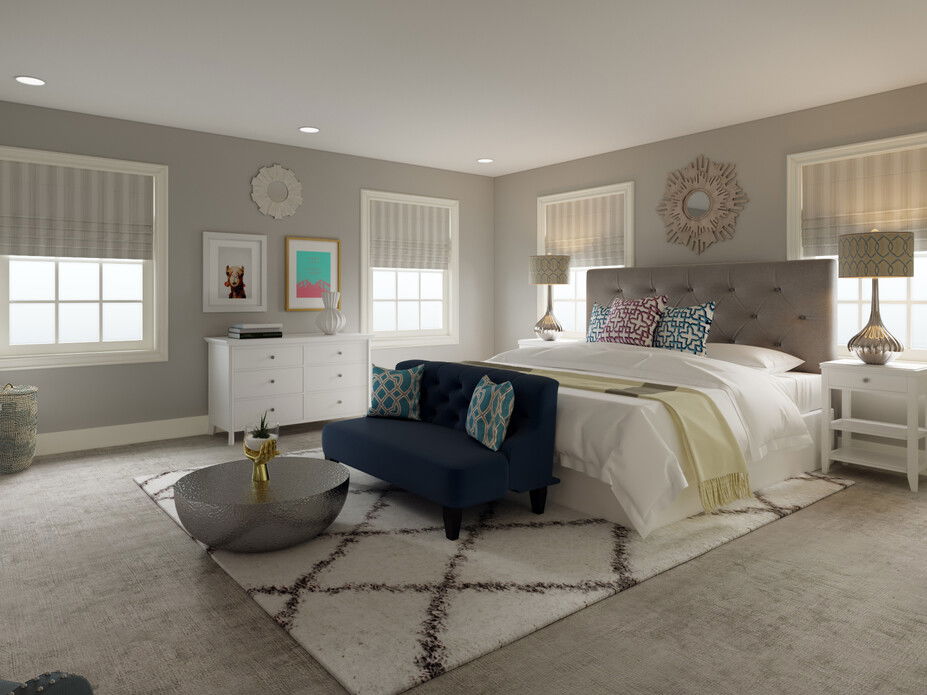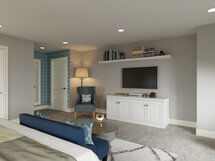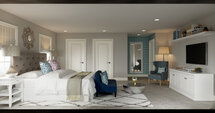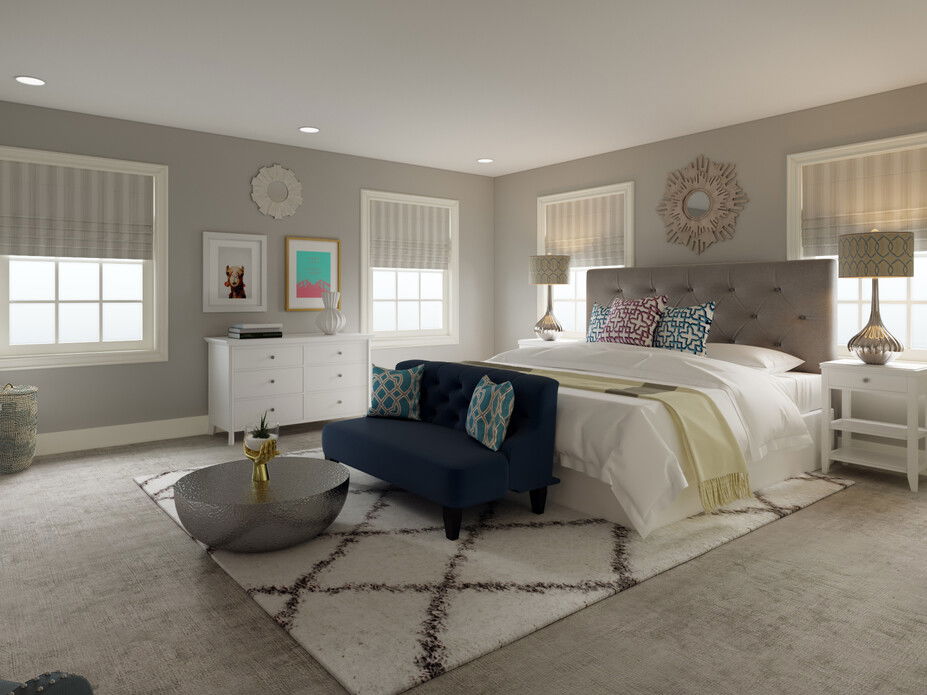 1
Roman Shades
2
PILLOW SHAMS
3
LAMP SHADES
4
Area Rug
5
ANDERS MIRROR
6
THROW PILLOWS
7
COFFEE TABLE
8
MIRROR
9
WING CHAIR
10
WALL MIRROR
11
BASKET HAMPER
12
ART PRINT
13
ART PRINT
14
FLOATING SHELF
15
WALL COVERING
16
THROW BLANKET
17
BEDDING
18
THROW PILLOW
19
COLLECTION OF VASES
20
TRAY
21
TERRARIUM
22
Loveseat
23
Floor Lamp
24
TV Cabinet
25
Euro Pillow Sham (insert)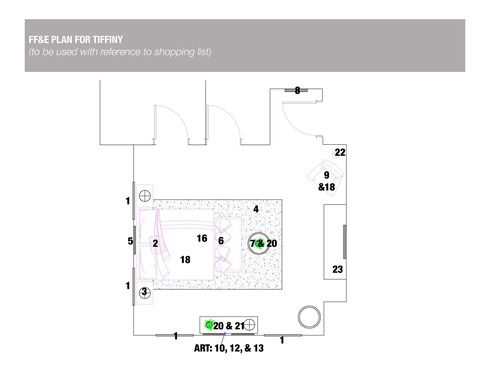 Bedroom:
Keeping your your bright and fresh with a pop of blue at the entry.

Since your room gets plenty of sunlight you could play with a few different shades but still keep to light colors to make your room feel bright. I have given you a light blue gray shade as well as a more true light grey-beige option to see hwat you prefer. I would definitely keep your trim white, but if it needs to be repainted I have also give you white that I think is very true and bright that I always use.

My rule is to use Flat paint on the ceiling, eggshell paint on walls, and semi gloss on trim/base. Use an eggshell finish paint which has a very light touch of shine (similar texture to an eggshell as implied by its name). This finish is very often used for walls and is more durable and easier to clean than matte finish
Bedroom Colors:
Shopping List:
Decorilla Discount
Photo
Name
Description
Link
Dimensions
Decorilla Discount
Pottery Barn


Roman Shades


Quantity: 4
Window Shades Size TBD until window dims are confirmed
Order & Save
TBD
Surya Collection


PILLOW SHAMS


Quantity: 3
RECOMMENDS 1 PINK AND 2 BLUE PILLOW SHAMS FOR LAYERS
Order & Save
26" SQUARE
Shades of Light


LAMP SHADES


Quantity: 2
TRELLIS PATTERNED SPECIAL IVORY TEXTURED LAMP SHADES IN SKY BLUE GRAY
Order & Save
16" D x 10.5H
Kravet


Area Rug

Ivory/Gray
Order & Save
8' x 10'
Made Goods Collection


ANDERS MIRROR

CERAMIX LAYERED STARBURST MIRROR
Order & Save
37" L
Surya Collection


THROW PILLOWS


Quantity: 2
blue and grey patterned throw pillows for sofa
Order & Save
18" x18"
Arteriors Collection


COFFEE TABLE

HAMMERED METAL RD TABLE
Order & Save
31"D
CB2


MIRROR

HIGH GLOSS WHITE FLOOR MIRROR
Order & Save
32" x 76"h
Uttermost Collection


WING CHAIR

GRAY UPHOLSTERED CHAIR WITH SILVER NAILHEADS
Order & Save
N/A
Uttermost Collection


WALL MIRROR

White Grain Wood
Order & Save
20"D
Crate and Barrel


BASKET HAMPER

Order & Save
14" D x 20"H
Society6


ART PRINT

White Scoop Frame
Order & Save
15" x 21"H
Society6


ART PRINT

CONSERVATION NATURAL FRAME
Order & Save
15" x 21"h
AllModern


FLOATING SHELF

White FLoating Shelves
Order & Save
2"h x 43" W x 10.25"D
Chandra Collection


WALL COVERING


Quantity: 10
Blue trellis paper wall covering for entry IF YOU WANT TO ELIMINATE THIS WE COULD CHOOSE A BRIGHTER PAINT COLOR
Order & Save
20.5" WIDE ROLLS
Anthropologie


THROW BLANKET

GREY OR LIGHT BLUE COLORWAYS WORK
Order & Save
67" x 51"
Pottery Barn


BEDDING

WHITE DUVET COVER AND PILLOW COVERS BASED ON KING SIZE
Order & Save
KING SIZE
Surya Collection


THROW PILLOW

THROW PILLOW LAYER FOR WING CHAIR
Order & Save
18" x 18"
Jonathan Adler


COLLECTION OF VASES

WHITE CERAMIC
Order & Save
VARIOUS
Horchow


TRAY

SILVER AND PLEXI GLAM TRAY
Order & Save
18" x 12"
West Elm


TERRARIUM

BRASS HANDS TERRARIUM
Order & Save
6.5" x 5" x 8"h
DwellStudio


Loveseat

Fabric Sette Loveseat in Deep Blue
Order & Save
44" L x 29"D x 30"H
Modway Furniture Collection


Floor Lamp

stainless with linen shade
Order & Save
19" D x 65"H
Pottery Barn


TV Cabinet

White 4 Door Media Cabinet
Order & Save
72" L x 20" W x 30" H
Surya Collection


Euro Pillow Sham (insert)


Quantity: 2
To be used in Pottery Barn Sham Pillow cases
Order & Save
26" x 26"
Get Our Free Inside Scoop!
Contains our handpicked top five posts on latest decor trends & advice delivered to you monthly!


Ready to get started?
Get a designer room you'll
love, guaranteed!
Start Now