Modern Farmhouse Bathroom


Details
Project Title
Modern Farmhouse Bathroom
Project Description
Remodel of a builders grade master bathroom, approximately 10' x 8'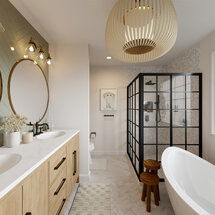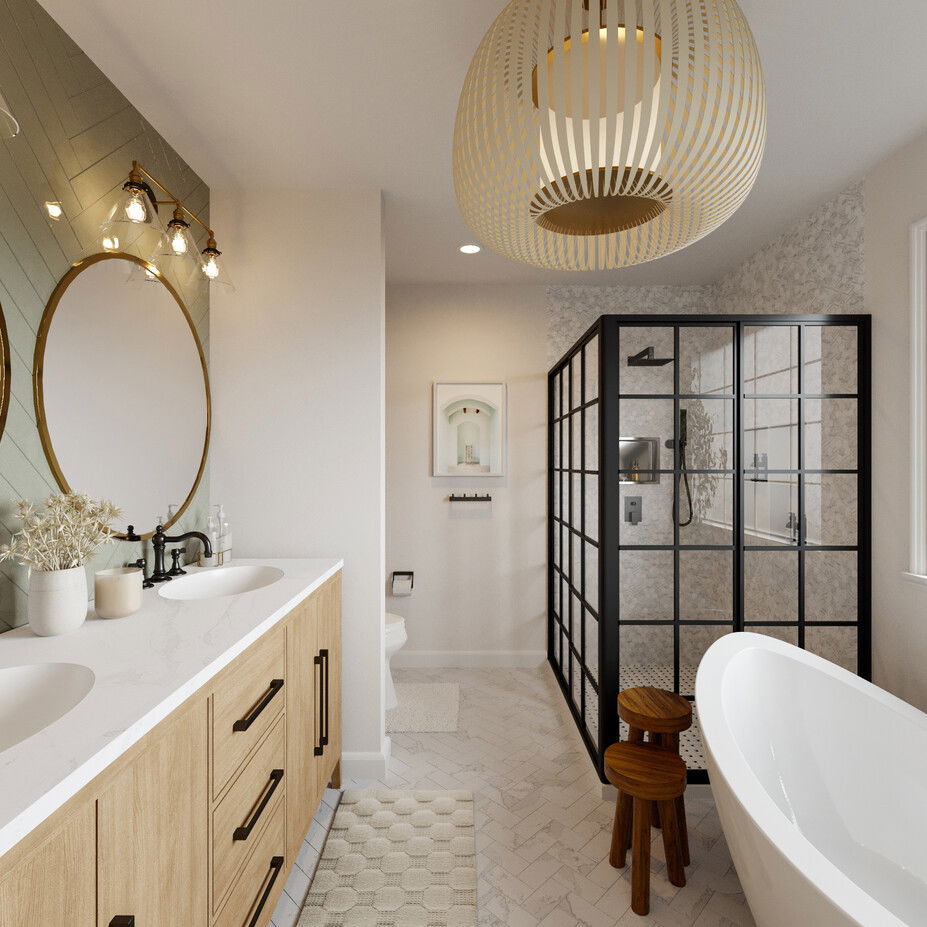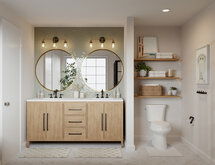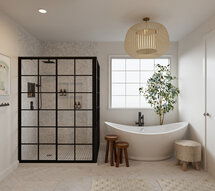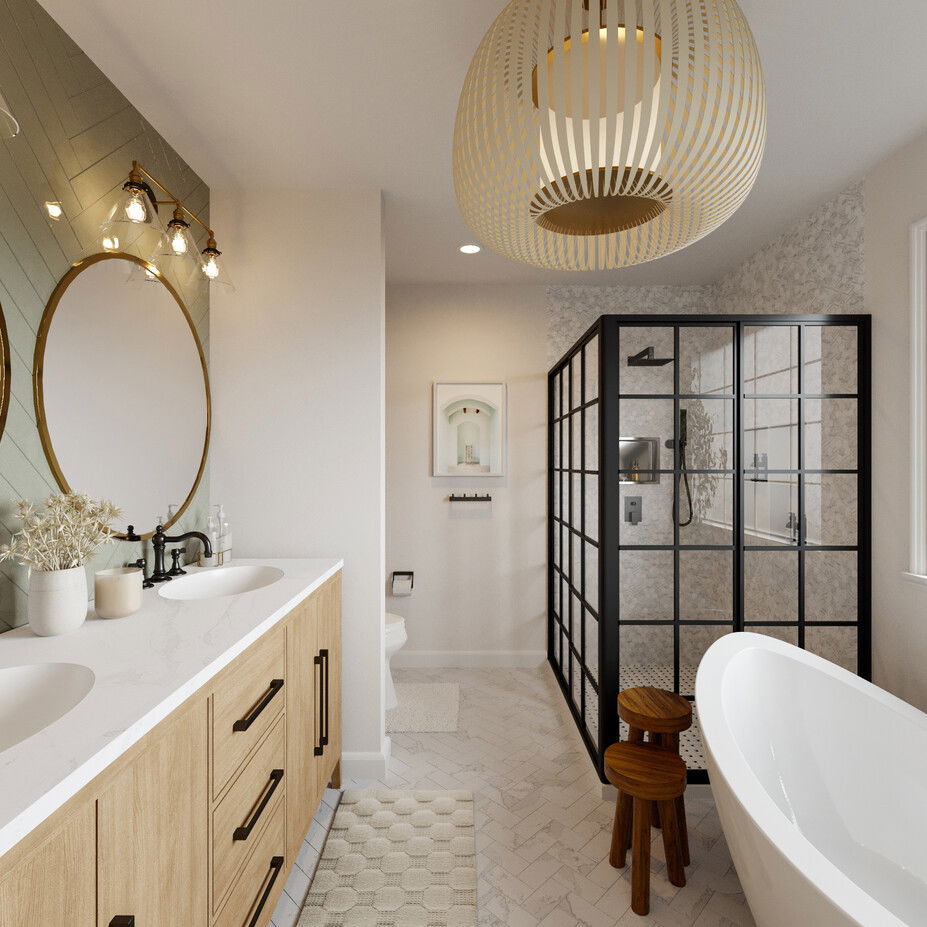 1
Alsup 72" Double Bathroom Vanity
2
Faux Silver Dollar Eucalyptus Tree 6'
3
Dried Thistle Arrangement in Ceramic Vase
4
MIA PENDANT
5
Williams Sonoma Lavender Cedarwood Hand Lotion and Dish Soap 3-Piece Kitchen Set
6
Graccioza Bath Linens Aura Bath Rug
7
White Glass Candles - Marine Moss - West Elm
8
RAINFALL SHOWER SET WITH HANDSHOWER RANDOLPH MORRIS
9
Pottery Barn - Layne 36" Round Wall Mirror
10
Petit Trou Stool
11
Teak Stool
12
FRENCH CORNER 40-1/2 INCH FRAMED SLIDING SHOWER DOOR ENCLOSURE - CLEAR GLASS DREAMLINE
13
NS-02-WHT 12.6" W x 24.4" H Shower Niche By Badeloft
14
WHITE OAK SHELF
15
Seated In Greece Framed Wall Art by Minted for West Elm
16
cablelock wool basket
17
Art in the Forest
18
Pastel Nostalgia Framed Wall Art by Minted for West Elm
19
Paint Verde Aqua 3x16 Glossy Porcelain Subway Tile for Wall
20
Basketweave Matte White with Black Porcelain Mosaic Wall and Floor Tile
21
Carrara 10 in. x 12 in. x 6.35 mm Ceramic Hexagon Mosaic Floor and Wall Tile (0.81 sq. ft./Each)
22
Calacutta Bianco Gloss Ceramic Wall Tile
23
Line Towel Hook Rail
24
Bathroom Lighting - Three Light Vanity - Mirror Light - Bathroom Fixture - Brass Light - Mirror Light - Vanity Light - Model No. 5219
25
WFN6MB 14 In. W X 12 In. H X 4 In. D 18-Gauge Stainless Steel Shower Niche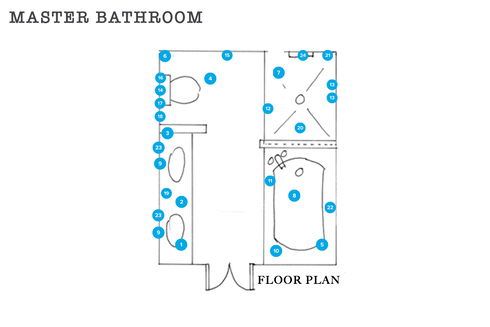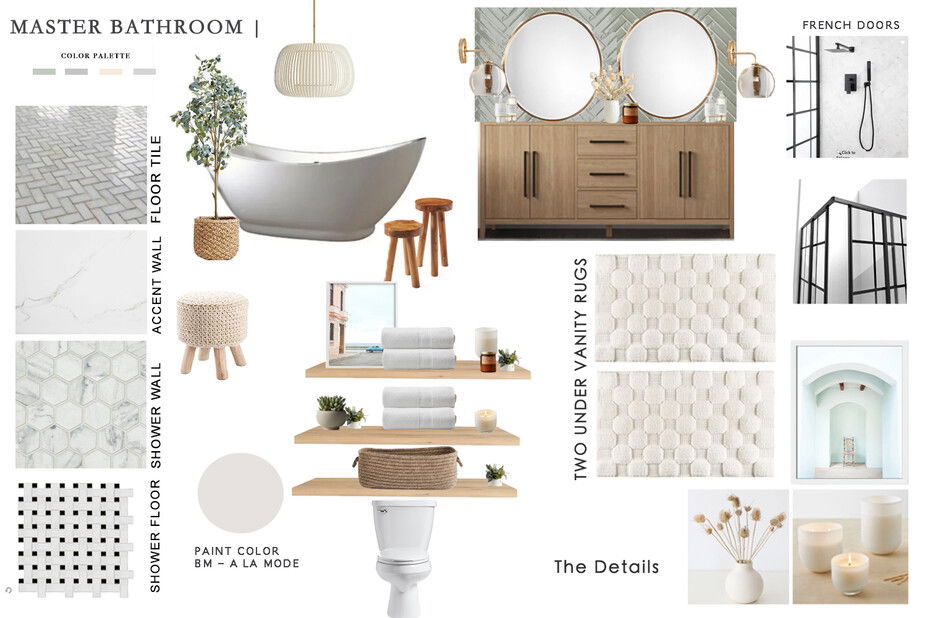 Bathroom:
Since your room is smaller using a light and pale color will enhance the light and the space in your room

For your main color, we chose to use white/off-white as it offers a fresh, clean, feel to the space. White and off-white colors are often a favorite for walls because they are light, neutral, and match most color schemes. They are known to make rooms feel more airy and spacious.

Use an eggshell finish paint which has a very light touch of shine (similar texture to an eggshell as implied by its name). This finish is very often used for walls and is more durable and easier to clean than matte finish
Bathroom Colors:
Shopping List:
Decorilla Discount
Photo
Name
Description
Link
Dimensions
Decorilla Discount
DTS (Design Trade Service)


Alsup 72" Double Bathroom Vanity

This freestanding double vanity adds a two-tone look, clean lines, and plenty of mid-century modern style to your bathroom. It has a solid wood base with a finish that brings out the wood grain.
Order & Save
36'' H x 72'' W x 22'' D
Uttermost Collection


Faux Silver Dollar Eucalyptus Tree 6'

This faux tree exquisitely recreates the delicate coins and buds of the silver dollar eucalyptus, a burst of playful greenery that lasts indefinitely.
Order & Save
6'
Revelation


Dried Thistle Arrangement in Ceramic Vase

Assembled by hand, this arrangement features remarkably realistic thistles artfully placed within a ceramic bud vase.
Order & Save
11x7
Global Views


MIA PENDANT

LIKE A MAGNETIC FIELD SURROUNDING THE CENTRAL LANTERN, ALMOST 100 STRIPS OF UPHOLSTERED BANDING ARE MADE TO CREATE EACH OF THESE PENDANTS. THE BANDS ARE MADE OF A SUPER PLIABLE MATERIAL AND SIMPLE BEIGE COTTON, THE LANTERN FROM WHITE COTTON AND THE FIXTURE SUSPENDS FROM A STAINLESS STEEL STEM.
Order & Save
HEIGHT: 50.8CM DIAMETER: 68.58CM
Revelation


Williams Sonoma Lavender Cedarwood Hand Lotion and Dish Soap 3-Piece Kitchen Set

Set includes: 16-oz. bottle hand lotion. 20-oz. bottle dish soap. Two-Bottle Wire Caddy: 6 1/4" x 3 1/2" x 2" high. Lotion and soap made in USA
Order & Save
6 1/4" x 3 1/2" x 2"
Surya Collection


Graccioza Bath Linens Aura Bath Rug


Quantity: 2
uperior cotton. Overwoven: both woven and tufting in the construction. Super comfortable. Extreme softness underfoot. Pre-washed for extra absorbency. Made with the highest quality cotton, this bath rug provides wonderful softness and total absorbency. It is extremely comfortable underfoot. Overwoven: woven base matched with the texture of the long tufted pile on the surface creates a level of softness and support unmatched.
Order & Save
20x31
Uttermost Collection


White Glass Candles - Marine Moss - West Elm

Neutrally colored and wonderfully scented. · Look right at home in any room. · The soothing ambience when lit.
Order & Save
n/a
ALT Aqua


RAINFALL SHOWER SET WITH HANDSHOWER RANDOLPH MORRIS

Update your bathroom and enhance your showering experience with a luxurious rainfall shower set. The wall-mounted showerhead is positioned above your head, simulating the feeling of a rainfall cascading down on you. The hand shower boasts a rectangular design that fits comfortably in your hand. When not in use, the hand shower rests in a wall-mounted dock.
Order & Save
Handshower hose length/ 59",Shower Arm Length/ 14", Showerhead Dimensions / 8"
Uttermost Collection


Pottery Barn - Layne 36" Round Wall Mirror

Frame is made of brass with a beveled glass mirror and MDF backing. • Features a bronze, brass, or nickel finish; back has a black finish.
Order & Save
36"
DTS (Design Trade Service)


Petit Trou Stool

This sweet little stool is a darling accent to a cozy space. Add it to an organic and neutral bedroom for soft, comfy appeal.
Order & Save
16"Dia x 16"H
DTS (Design Trade Service)


Teak Stool

One of our favorite little sidekicks, this is hand-shaped from teak with all the beautiful imperfections we love about raw wood. We also like styling a room with multiples to create an elevated plantscape. Because this is handcrafted, each piece is truly one of a kind.
Order & Save
Small: 9.5"DIAM x 15"H Large: 9.5"DIAM x 19"H
ALT Aqua


FRENCH CORNER 40-1/2 INCH FRAMED SLIDING SHOWER DOOR ENCLOSURE - CLEAR GLASS DREAMLINE

The DreamLine French Corner sliding shower enclosure is a perfect complement to a modern industrial bathroom style with a European vibe. The French Corner is designed for a corner installation providing an effective solution to maximize space. The four panel configuration includes two corner-opening sliding doors to create a spacious center walk through. JetGlaze glass pattern offers a unique mullion look without the metal framing for easy maintenance. Update the style in your bathroom with the French Corner sliding shower enclosure.
Order & Save
Overall Dimensions 40-1/2" W x 40-1/2" D x 72" H
Noir Furniture


NS-02-WHT 12.6" W x 24.4" H Shower Niche By Badeloft


Quantity: 2
niche for a bathroom, this thing will work great in a shower, bathtub, or installed near the bathroom countertop. This model has a shelf which allows you to store more sundries. It is made from stainless steel and is powder coated. Installation is easy with just silicon in your wall opening.
Order & Save
24.4'' H x 12.6'' W x 3.9'' D
Uttermost Collection


WHITE OAK SHELF

Crafted from beautiful solid white oak, this simple shelf offers a modern, functional update for any wall. Choose from several sizes to suit your space, and create the perfect display in minutes.
Order & Save
Width 36" Height 1" Depth 10"
DTS (Design Trade Service)


Seated In Greece Framed Wall Art by Minted for West Elm

he photo of a soft-hued, Greek vignette. Supports independent art from around the world. Easy to hang in your choice of frame.
Order & Save
18"x24"
Revelation


cablelock wool basket

tore your items in style with our Cablelock Wool Basket. Made in America of braided wool by a family-owned mill, this attractive storage solution is both fun and fashionable and perfect for any room in the house.
Order & Save
rectangualr 9"x20"
Revelation


Art in the Forest

Inspired by patterns found in traditional South African designs, our Art in the Forest Cachepots are a playful way to display succulents.
Order & Save
6.4"
Arte International


Pastel Nostalgia Framed Wall Art by Minted for West Elm

Why you'll love it A soft-colored and stylish photo of Havana, Cuba.
Order & Save
16"w x 2"d x 20"h.
Tile Bar


Paint Verde Aqua 3x16 Glossy Porcelain Subway Tile for Wall

About The Tile: The Paint Brick Verde Aqua 3" x 16" Polished Porcelain tiles capture the exquisite charm of traditional glazed tiles with a soft sage green colorway. An elongated subway shape with softened beveled edges adds a contemporary flair to the overall look that can work in brick, stacked, or herringbone patterns. The polished, undulating finish of these tiles enhances the architecture of the space with a delicate reflective quality, creating a dynamic and fresh atmosphere. Key Features Made in Italy Polished, Glossy Finish 3x16" Elongated Porcelain Tile Authentic Handmade Look & Feel 8.5 mm Thick Wall Tile Perfect for Kitchen, Backsplash, Bathroom Or Any Wall Tile
Order & Save
3" x 16"
Flor


Basketweave Matte White with Black Porcelain Mosaic Wall and Floor Tile

This basketweave porcelain tile effortlessly achieves a hand-detailed look with individual pieces laid out to form an elegant design. Crafted in a crisp matte white and glossy black accent, this mosaic tile offers a soft look that absorbs light. A classic look and lasting durability make this tile ideal for both floors and walls in high-traffic areas like the bathroom.
Order & Save
12 x 12 in.
Tile Bar


Carrara 10 in. x 12 in. x 6.35 mm Ceramic Hexagon Mosaic Floor and Wall Tile (0.81 sq. ft./Each)

Lifeproof Carrara Hexagon Mosaic creates a refined look Glazed ceramic mosaic floor and wall tile with a matte finish Perfect for kitchen and bathroom floors and walls
Order & Save
10 in. x 12 in. x 6.35
Tile Bar


Calacutta Bianco Gloss Ceramic Wall Tile

Classic and contemporary styles merge in these Calacutta Bianco tiles from Fired Earth Ceramics. A glossy, ivory tile with striations of very light gray creates a luxurious, marble-like look in any room in your home.
Order & Save
8x20 in,
Uttermost Collection


Line Towel Hook Rail

The sleek form of this Zack item makes a statement in any bathroom concept without sacrificing design or functionality. The durable construction and the high-quality 18/10 stainless steel provide years of corrosion-resistant use. With this Zack item, you have the choice of drilling or gluing/ bonding. All Zack products come with the necessary parts for "wall drilling" mountings, such as screws and anchors/studs (you will obviously need a drill and a bit). For gluing, you will need to buy an extra inexpensive item, our special glue item, each glue is adequate for 2 wall fixtures surface mounting, or for 4 wall fixtures surface mountings.
Order & Save
2.2'' H x 10.43'' W x 1.97'' D
Global Views


Bathroom Lighting - Three Light Vanity - Mirror Light - Bathroom Fixture - Brass Light - Mirror Light - Vanity Light - Model No. 5219

Bathroom Lighting - Three Light Vanity - Mirror Light - Bathroom Fixture - Brass Light - Mirror Light - Vanity Light - Model No. 5219 Please wear gloves while installing all fixtures. Touching raw brass with bare hands will tarnish the brass.
Order & Save
Width: 25 inches Height: 9.5 inches Depth: 9 inches
DwellStudio


WFN6MB 14 In. W X 12 In. H X 4 In. D 18-Gauge Stainless Steel Shower Niche

This stainless-steel shower niche is compact and has a practical design that you can conveniently install in your shower or bathroom to keep your shower essentials within your reach. Crafted with high-quality stainless steel, it provides a perfect alternative to traditional shelves. Not only shower essentials, but you can also keep decorative home items such as flowers, plants, showpieces, etc., to give your bathroom an exotic look. It has a sleek design and material, which provides durability for many years to come. It comes in different sizes and shapes, and you can choose a particular design as per your needs. The niche not only provides enough space to keep your bathroom essentials like soap, shampoo, and conditioners, but it is also easy to clean and manage. You can get this modern niche, making your bathroom look classic without spending extra money on labor to get it installed.
Order & Save
14 In. W X 12 In. H X 4 In. D 18-
Get Our Free Inside Scoop!
Contains our handpicked top five posts on latest decor trends & advice delivered to you monthly!


Ready to get started?
Get a designer room you'll
love, guaranteed!
Start Now