Luxury Grey-Gold Stone Bathroom Decor


Budget
5k-10k
Inspiration
Details
Project Title
Luxury Grey-Gold Stone Bathroom Decor
Project Description
I want to renovate a powder room and redo the floor in that area of the house to all be the same (right now there is carpet in the bathroom! ack.) The carpet contiunes into the hall that leads to the laundry room where there is grey linoleum tile. I think my husband's 'music room' should lose the carpet in there too bc that whole section of the house could stand a flooring update.
So it is really a powder room remodel, and a flooring project. Thinking about revamping the laundry area, but not sure on that front...
Robyn
Dimensions
6'w x 5'd x 6.5'h
Photos of your room




Details
I want this room to feel more masculine/feminine/neutral
Neutral
What type of sunlight does this room receive?
Other
What do you currently dislike about the room?
I don't like the rubbery, thick, peeling, red wallpaper. Or the outdated industrial lighting (florescent bulbs covered with dusty plastic grating). There is grey industrial carpet on the floor, that continues out into the hallway-- I want it gone. I don't like the white/red tile vanity, and I'm pretty sure we should replace the toilet too.
I don't mind the bold color, but I want to switch from red to something new. Maybe a turquoise or emerald green. Sometimes I wonder if bold contrasting neutrals might be nice too though-- black and wood with some metallic something.
What pieces of existing furniture, lighting, art or accessories do you want to keep in the design?
None.
I don't want to change the placement of the plumbing though.
Are you open to changing your wall colors?
Yes
Do you have a preference for either paint or wall covering, or are you open to both?
Open to both
Are you open to changing your floor covering?
Yes
Which type of flooring do you prefer?
Tile, Concrete
Additional comments to designers
This powder room gets zero natural light, basically not a window nearby. But I don't want stark lighting. Just pretty soft lighting maybe that you can brighten or soften when you want (like a dimmer, or 2 lighting options).
I need to figure out a solution for the floor that will continue out down the hall and into the laundry room and through my husband's music room. I want to bring that whole area of the house together with some fresh pain and new flooring.
I've considered doing tile throughout, including the powder room (seems expensive though!) or maybe til in the bathroom on the floor (and a wall maybe?) and doing polished cement throughout the hall, laundry music room with rugs? Or maybe even polished cement in the bathroom that continues through those other areas. The floor has stumped me.
I like a moody elegant powder room, not afraid of prints, but I want something dramatic and tasteful. Maybe a gold metallic ceiling (it is white underneath that white grating on the ceiling).
Also you should know, we have a midcentury modern house, built in the late 60s. It have wonderful lines and windows and trees everywhere. This little bathroom is kind of tucked in the middle of the downstairs. But I don't want anything inconsistent with the design of the house (like colonial or french country).
Thanks, excited to hear from you,
Robyn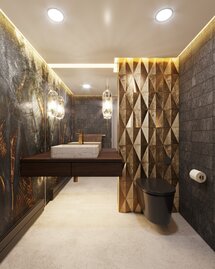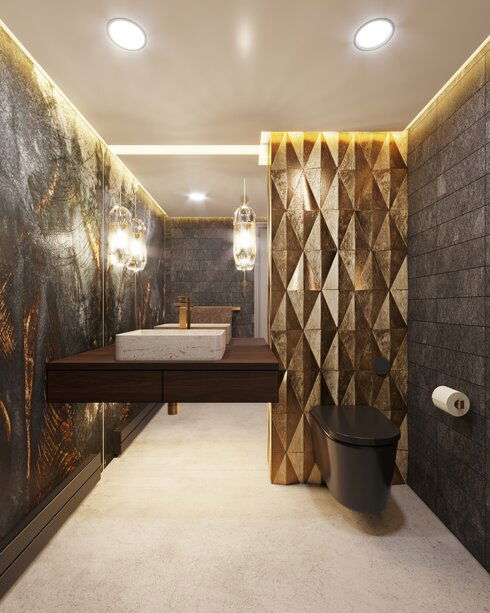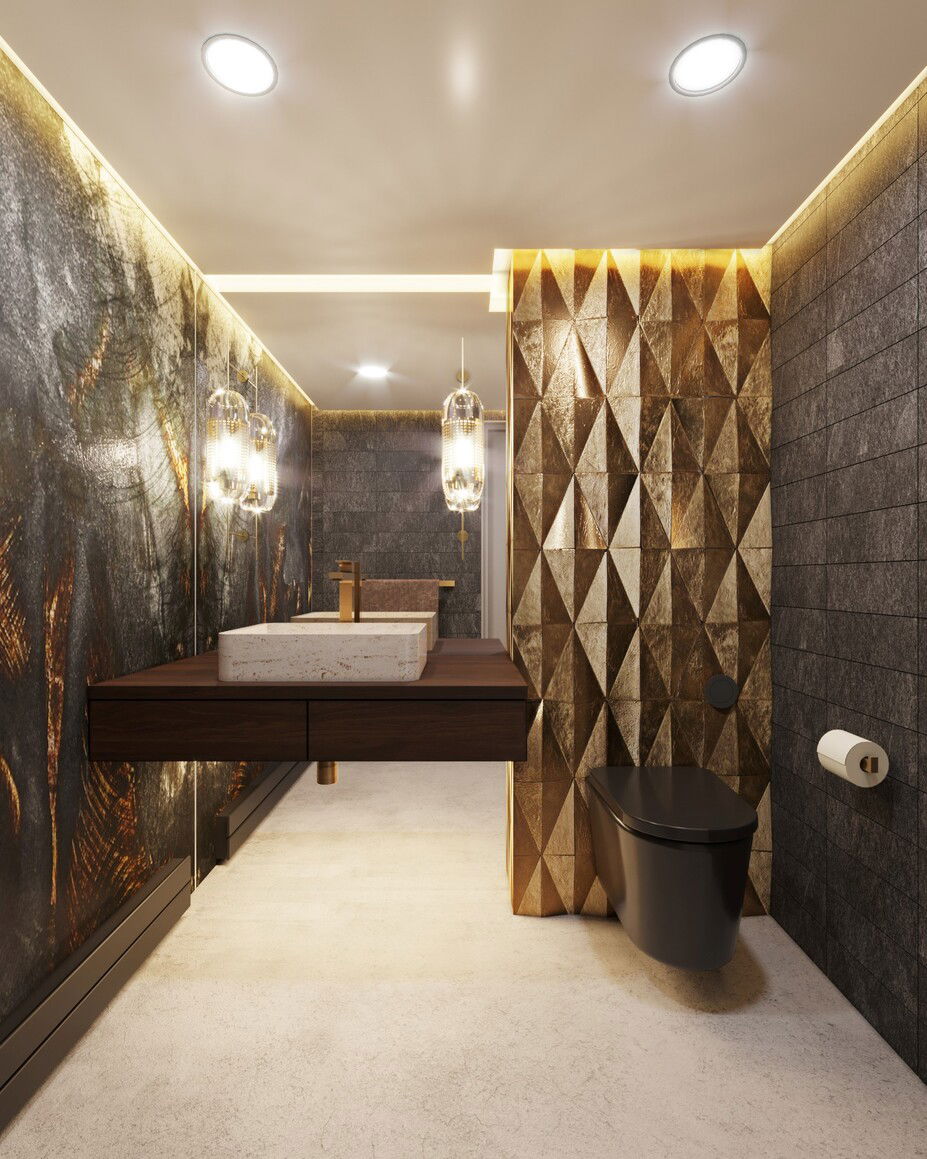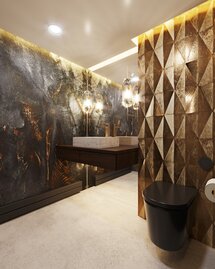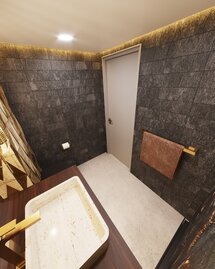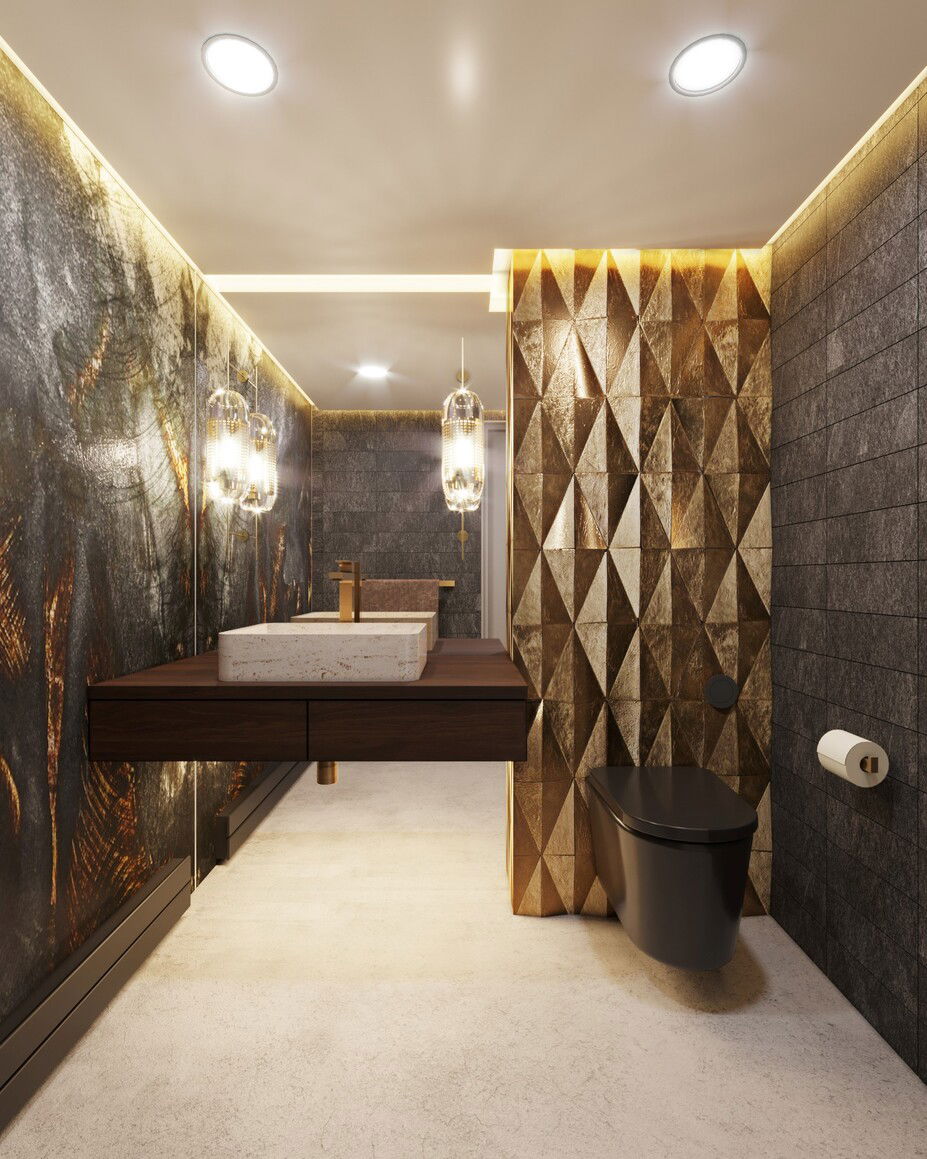 1
WALL TILES
2
WALLPAPER
3
ACCENT WALL TILES
4
WALL LIGHTING
5
BATHROOM SINK
6
BATHROOM FAUCET
7
BOTTTLE TRAP
8
BATHROOM HARDWARE
9
TOILET
10
CONCEALED CISTERN
11
FRAME FOR CISTERN
12
DUAL FLUSH BUTTON
13
BASEBOARD HEATER
14
PENCIL TRIM
15
WALL MIRROR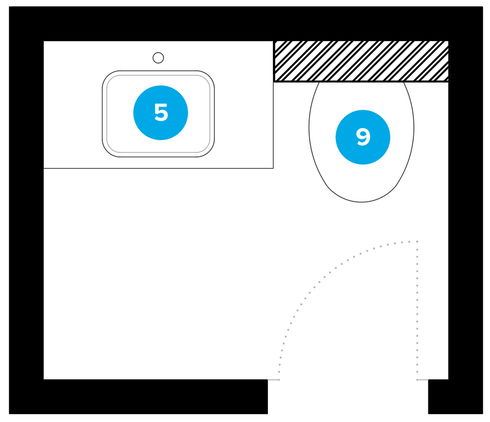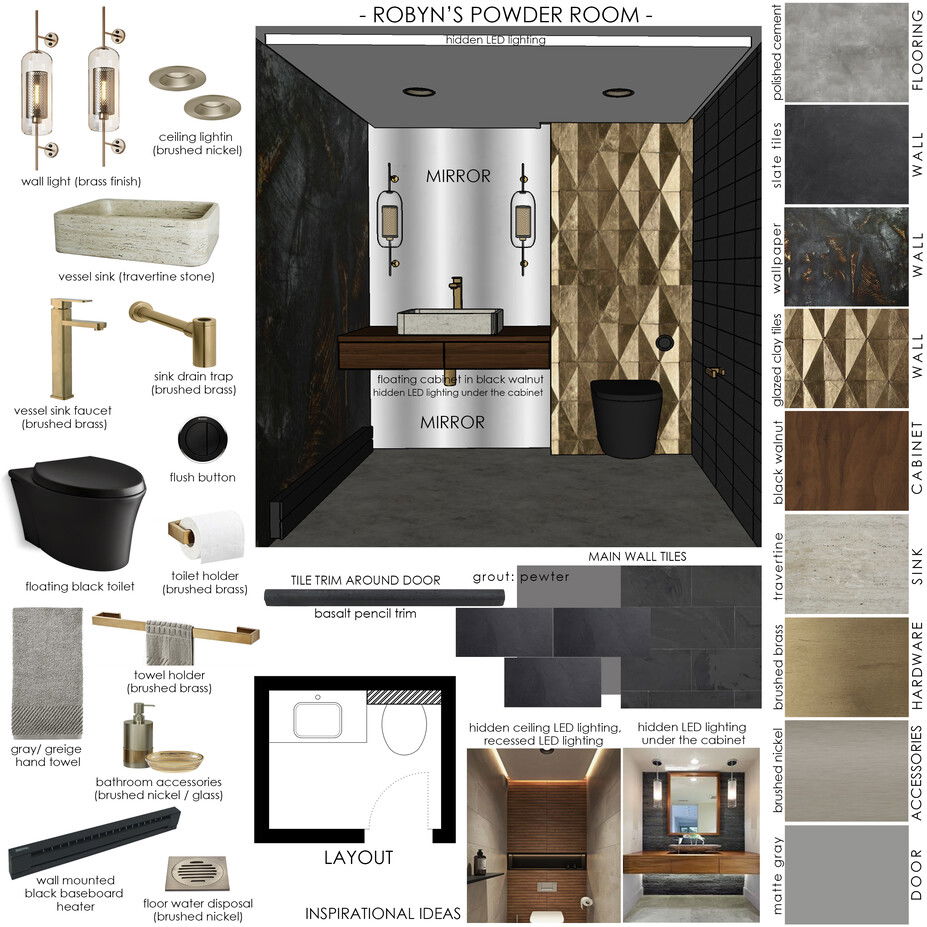 Bathroom:
Since your room is smaller using a dark and rich color will make it feel cozy, warm, and lounge-like

For your main color, we chose to use black because it is authoritative, sophisticated, and powerful. It is a good neutral counterpart to any other color. Black is best used in small doses as an accent and can help to give depth to a room as well as make a dramatic statement.


Bathroom Colors:
Shopping List:
Decorilla Discount
Photo
Name
Description
Link
Dimensions
Decorilla Discount
Tile Bar


WALL TILES

(

MSI Hampshire 4 in. x 12 in. Gauged Slate Floor and Wall Tile

)
Quantity: 14
Hampshire Gauged Slate Tile has a natural finish that will add visual and textural allure to residential or commercial expanses. This 4 in. x 12 in. floor and wall tile from MS International has a modern black tone and a low sheen to create a fashionable statement in bathrooms or any space in need of a refresh. Highly skid-resistant, use it for shower walls, floors, countertops, backsplash, accent walls, foyers or fireplace facade to give your home or office a contemporary vibe. - 5 sq. ft. / case
Order & Save
12'' W x 4'' H
Tile Bar


WALLPAPER

(

Exposure 2

)
Quantity: 48
This product is custom printed. Minimum order quantity of 30 square feet. We suggest adding an additional 20-30% overage to be sure you're covered!
Order & Save
65'' W x 105'' H
Tile Bar


ACCENT WALL TILES

(

Sculptural

)
Quantity: 26
- Sculptural design - Design: Samir Mazer, Delphine Laporte - Production: Atelier Zelij Atelier Zelij creates a mix of influences reinterpreting the art of zellige: the traditional Moroccan handcrafted glazed clay tiles, beautiful in its irregularity.
Order & Save
front: 30.35'' W x 93'' H side: 7'' W x 93'' H
Williams-Sonoma


WALL LIGHTING

(

Chiswick Glass Wall Light

)
Quantity: 2
This light is compatible and is UL certified for use in the US. If you're from the AU/EU/ASIA, this light will be CE certified to be used in 220-240V. Capsule 12cm: 13cm / 5.11in diameter shade 67cm / 26.4in height 20cm / 7.9in protusion from wall
Order & Save
dimensions in cm: 13 W x 20 D x 67 H
Revelation


BATHROOM SINK

- Rectangular modern shape with smooth curved corners and sleek lines. - Three Way Installation: Vessel above counter, Farmhouse apronfront or Undermount. - Reversible Front: Natural Chiseled or Polished Smooth sides, just choose your favorite style.
Order & Save
19.5" W X 15" D X 4.5" H
West Elm


BATHROOM FAUCET

(

Vintage Brushed Brass Bathroom Faucet Bathroom Gold Vessel

)
The brushed brass bathroom faucet is composed of brass material, has vessel installation type, that adds convenience for daily life. Single handle controls cold and hot water for hot water. Spout could filter dirty in the water.
Order & Save
11.8" H
West Elm


BOTTTLE TRAP

(

TRUSTMI Brass Contemporary Round Bottle Trap, Adjustable Height Bathroom Basin Sink Waste P Trap

)
With a contemporary design, this bottle trap fits in the exposed area under the bathroom sink to provide an attractive alternative to traditional pipe options. This trap features solid-brass construction for reliability and durability.
Order & Save
2.75'' W x 5'' D x x 8.5 H
West Elm


BATHROOM HARDWARE

(

WOLIBEER 4pcs Luxury Bathroom Accessory Set

)
- Made of high-quality type 304 premium stainless steel, which is rustproof and anti-corrosion - Stylish brushed gold finished, especially-designed appealing surface
Order & Save
24.2'' W x 7.1'' D x 1.1'' H 5.7'' W x 2.9'' D x 1.5'' H
Crate and Barrel


TOILET

(

Veil Wall-Hung 1-piece 0.8/1.6 GPF Dual Flush Elongated Toilet in Black Black

)
- Includes wall hung bowl with Reveal® Quiet Close™ toilet seat - Dual flush offers 0.8 or 1.6 gallons per flush - Compact Elongated toilet bowl shape saves space
Order & Save
15.12" W x 21" D x 13" H
Arteriors Collection


CONCEALED CISTERN

- For drywall - To install in partially high or room high pre-wall installations - To install in room high Geberit Duofix system walls - For wall-mounted toilets with connection sizes in accordance with DIN EN 33:2011-11 - For wall-mounted toilets with projection up to 62 cm - For single flush, dual flush or start-stop - Fushing systems for 0-20 cm floor constructions
Order & Save
dimensions in cm: 50 W x 12 D x 82 H
Arteriors Collection


FRAME FOR CISTERN

- Geberit Duofix frame for washbasin H: 98/82 cm, for monobloc fitting - For drywall construction for installation in part- or room-height prewall installations - For installation in part- or room-height Geberit Duofix system walls
Order & Save
dimensions in cm: 50 W x 7.5 D x 98 H
Williams-Sonoma


DUAL FLUSH BUTTON

(

Geberit Type 10 remote actuation for dual flush system 116055KM1

)
- For dual flush - For actuation from above or front - For solid and drywall construction - For flush-mounted installation - Pneumatic flush actuation - For concealed installation - For Geberit Delta, Sigma and Omega concealed cisterns 12 cm
Order & Save
3.7'' W x 2.87'' D x 3.7'' H
Williams-Sonoma


BASEBOARD HEATER

(

Heavy Duty Wall Mounted Electric Convection Baseboard Heater

)
The Heavy Duty Electric Baseboard Convection Heater is a fantastic way to add warmth and comfort to any room in your home without spending a fortune. This baseboard convection model features top quality stainless steel heating elements and aluminum fins, and can be permanently mounted to a wall by using the key hole knockouts that are placed 4'' apart on the back of the heater. Please note, this heater requires direct wire installation by an electrician.
Order & Save
48'' W x 2.5'' D x 6'' H
Tile Bar


PENCIL TRIM

(

Basalt Honed Pencil Liner

)
Quantity: 16
This tile liner effectively define and shape your room with simple dimensional lines that work with basic to bold designs. - Color: Basalt - Material: Stone - Finish: Honed - Thickness: 20 mm
Order & Save
12" W x 0.75" H
Mirror Image Home


WALL MIRROR

Order & Save
40.15'' W x 93'' H
Get Our Free Inside Scoop!
Contains our handpicked top five posts on latest decor trends & advice delivered to you monthly!


Ready to get started?
Get a designer room you'll
love, guaranteed!
Start Now