Elegant & Timeless Traditional Living Room


Details
Project Title
Elegant & Timeless Traditional Living Room
Project Description
Just moved into a house, trying to put together our living room.
What's your favorite decor style?
Traditional
What are some of the interior design brands or stores that you like to shop at?
Crate & Barrel, Ethan Allen, West Elm
Budget
5k-10k
Dimensions
19'w x 14'd x 8'h








Items you want to keep





Details
Room Label
My Living Room
I want this room to feel more masculine/feminine/neutral
Other
What type of sunlight does this room receive?
Morning light
What do you currently dislike about the room?
We just moved in. We have a couple formal pieces of furniture (and art) and would like to make this a somewhat more formal/classic space to entertain, differentiating it from the more comfortable family room that can be seen in the distance of the photo that shows the living/dining/family room transition. However we don't want "stuffy" or overcluttered, and we want to be sure it's still a place that's warm and inviting to spend some time in. We like the hard wood floors, but if there's a recommendation for area rugs or some other approach to the flooring that helps pull things together we're open to that. There is no existing overhead lighting in the room, so open as well to thoughts about how to make best use of floor and table lamps (or even other approaches if you have ideas).
What pieces of existing furniture, lighting, art or accessories do you want to keep in the design?
We have a Duncan Phyfe sofa that's been in the family for a while that we'd like to incorporate, as well as a table (photos attached). We also have a couple pieces of art we'd like to hang -- priority would be a seascape (25"w x 30"h) and a woodland scene (25"w x 29.5h). Also have a field scene (20w x 14h) that we could hang there, or altneratively in the adjacent dining room. Apologies for quality of the photos, they're obviously images of images! We're about to pull the trigger on some window treatment -- a classic Roman shade in a fairly neutral, leaf pattern ( https://www.horizonshades.com/swatches/?product-line-id=1358). I don't think that would clash with much, but we're open to ideas if there are strong feelings.
Are you open to changing your wall colors?
Maybe
Are you open to changing your floor covering?
No
Additional comments to designers
I'm tall, so if there's consideration of adding lighting beyond just table and floor lamps, please avoid something that would hang down from the ceiling (track would be fine). Again, no preconceived notions here, so if the thinking is that going with just able & floor lamps works, that's fine.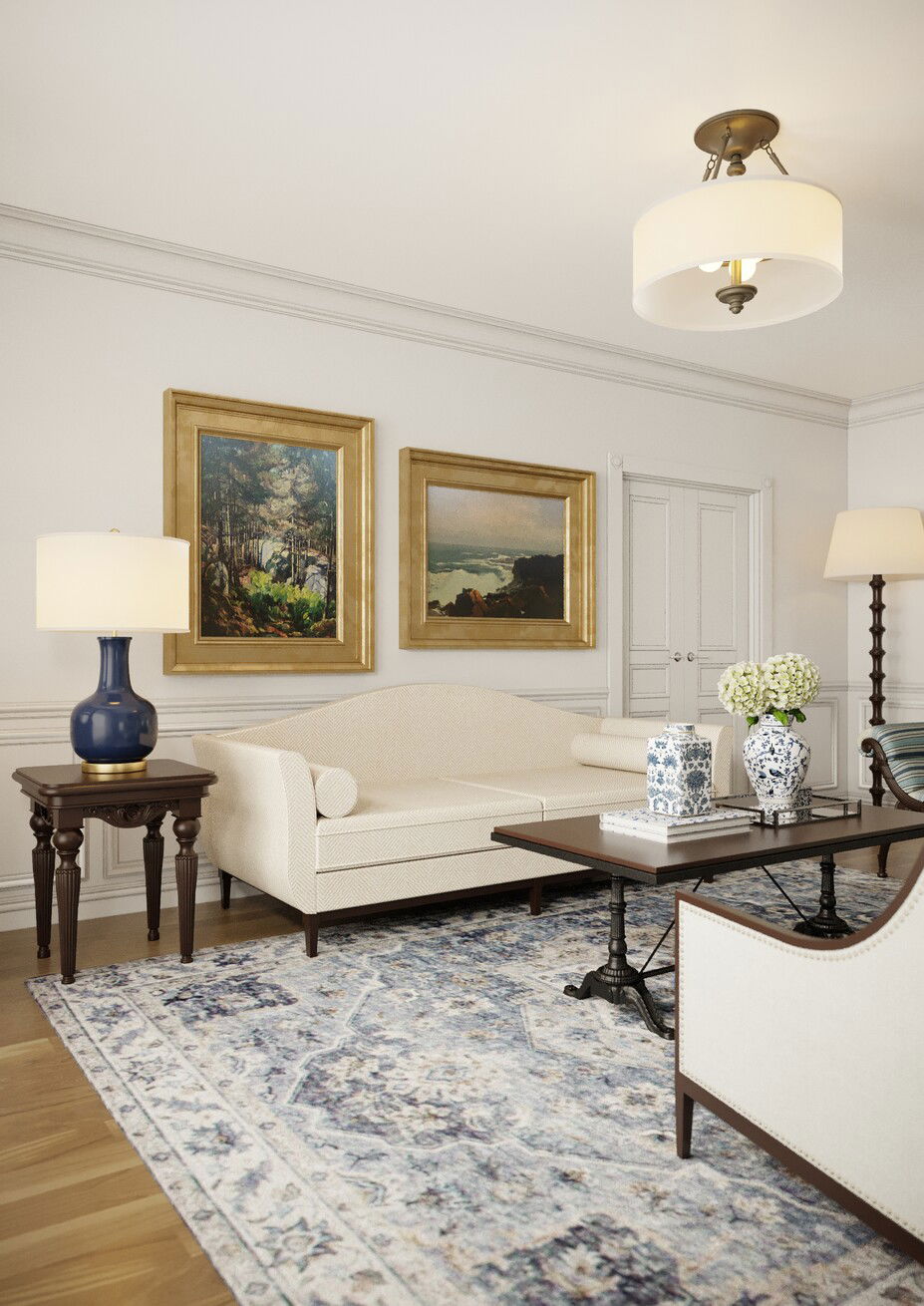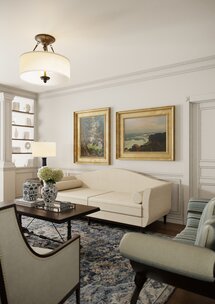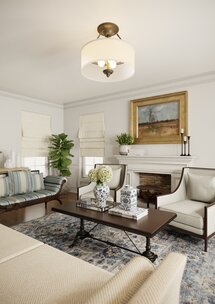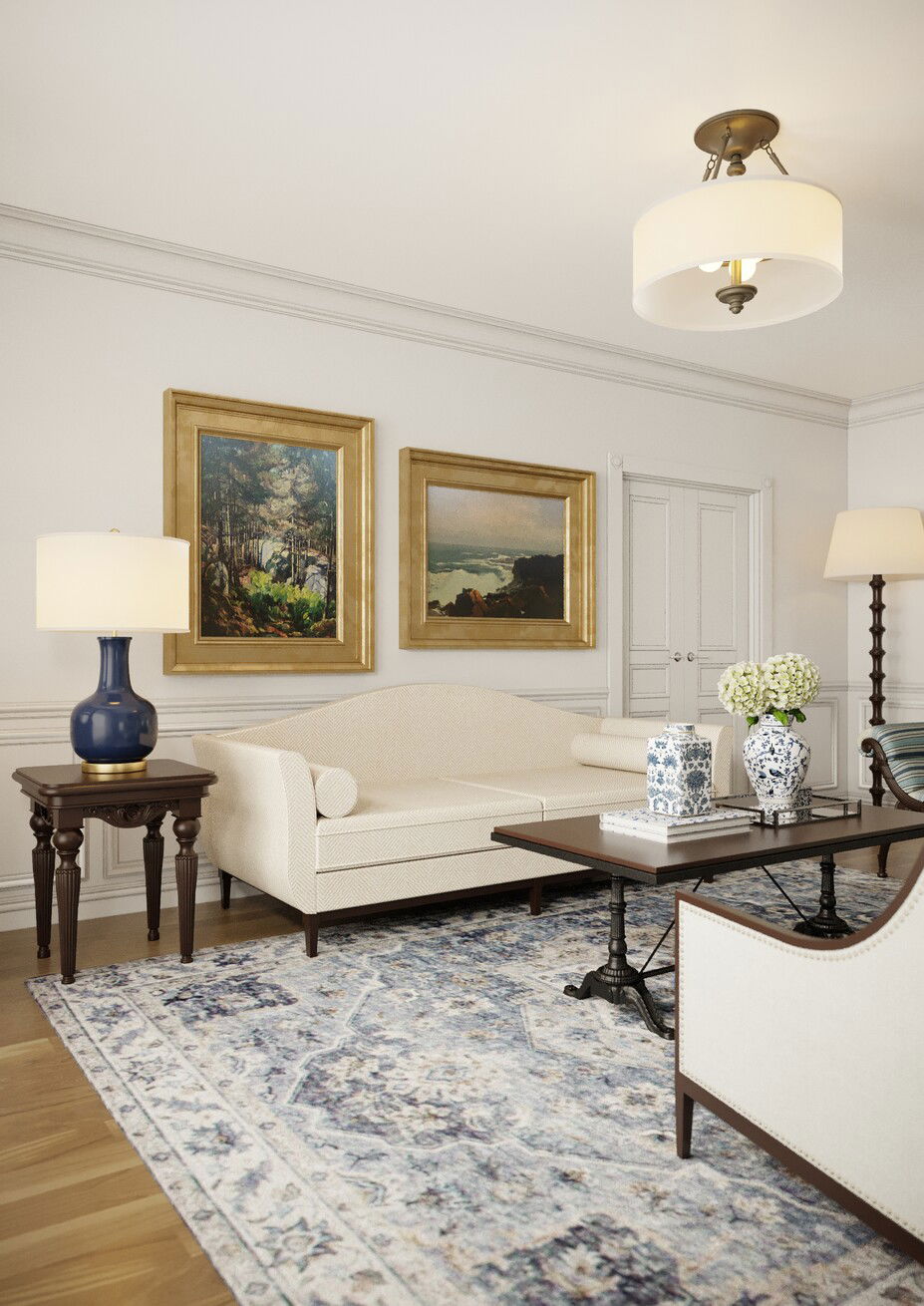 1
1. Sofa
2
2. Caden Wing Chair
3
3. Rae Round Marble End Table, Bronze
4
4. Rae Rectangular Wood Coffee Table
5
5. Existing side table
6
6. Duncan Phyfe sofa
7
7. Reed 40" Console Table, Antique Umber
8
8. Rug
9
9. Studio VC 1 Light Floor Lamp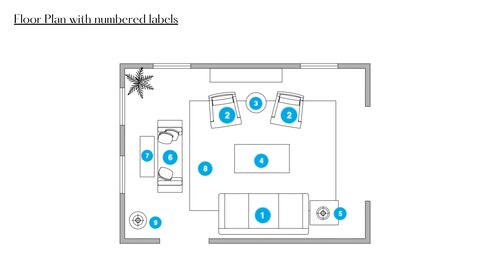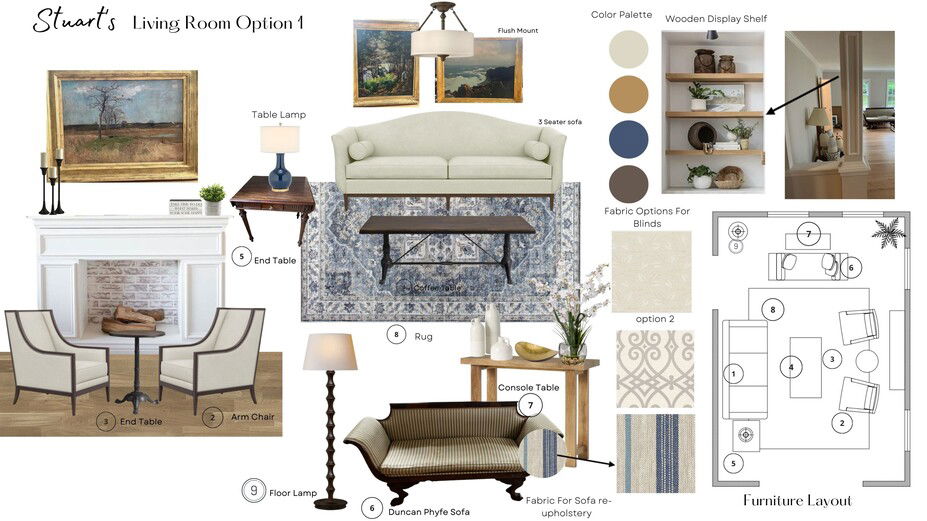 Living Room:
Since your room is smaller using a light and pale color will enhance the light and the space in your room

For your main color, we chose to use white/off-white as it offers a fresh, clean, feel to the space. White and off-white colors are often a favorite for walls because they are light, neutral, and match most color schemes. They are known to make rooms feel more airy and spacious.

Use an eggshell finish paint which has a very light touch of shine (similar texture to an eggshell as implied by its name). This finish is very often used for walls and is more durable and easier to clean than matte finish
Living Room Colors:
Shopping List:
Decorilla Discount
Photo
Name
Description
Link
Dimensions
Decorilla Discount
Visual Comfort


18" Classic Gold Picture Light


Quantity: 2
Height: 3.5" Width: 18" Extension: 8.25" Backplate: 2.75" X 4.5" Rectangle Socket: 2 - E26 Keyless W/ Line Switch Wattage: 2 - 25 T
Order & Save
1'6" L x 3.5" H
Loloi Collection


Claire CLE-06 9'-6" x 13'

Power-loomed of polyester pile in Turkey, the Claire Collection displays a beautiful color palette and a mix of abstract and traditional-inspired motifs. Add this timeless beauty to your decor, with a rich and diverse color palette to fit any design style.
Order & Save
13' L x 9'6" W
Global Views


Endless Summer Nautical Stripe Fabric

This jazzy stripe is woven in a chunky basketweave for a casual look that has the appearance of linen. Its natural look and soft hand are enhanced with high lightfastness durability and stain repellency for use in the most active indoor and outdoor environments. Composed of the same weave and yarns Nautical Stripe makes a perfect accent of color and pattern for Hopsack when layered as cushions bolsters or contrasting upholstery.
Order & Save
Overall 36'' L x 57'' W
Uttermost Collection


Studio VC 1 Light Floor Lamp

.....................

Features:

Clean with a dry soft cloth only. Use no harsh abrasives or chemical agents.
Product Type: Traditional
Dry Damp or Wet Location Listed: Dry
What is Dry Damp or Wet Location Listed: This indicates whether the fixture is safe to use in dry locations damp locations (moist environments) or wet locations (direct exposure to water).
Number of Lights: 1
Voltage: 120
Dimmable: No
Maximum Wattage (per bulb): 150
Integrated LED: No

Integrated LED Wattage:
Integrated LED Brightness (Lumens):
Integrated LED Color Temperature:
Integrated LED Color Rendering Index (CRI):
Integrated LED Rated Lifespan:
Range of Fixture

Order & Save
Overall Dimensions 52.5'' H x 17'' W x 17'' D
Pottery Barn


Rae Round Marble End Table, Bronze

Inspired by those found in Parisian cafes, our Rae Marble End Table features a decorative metal base and polished marble top. It's ideal next to a sofa or armchair, or can be grouped in multiples (each sold separately) at the center of a larger seating area. Table is cast of aluminum with a white Marble top. Features a powder coated, hand-applied matte black finish. Adjustable levelers provide stability on uneven surfaces. Assembly required. Imported.
Order & Save
Dimensions & Weight: 24.25" w x 14" d x 24" h; 40 lbs.
DTS (Design Trade Service)


Reed 40" Console Table, Antique Umber

Crafted using thick cuts of sustainably sourced mango wood and designed with simple lines, our Reed Collection blends a modern aesthetic with the rustic warmth of natural materials. This console table is built for smaller spaces and features a planked-look top, through-tenon construction and a shelf below. Console table features 1 shelf under top for additional storage. Made of solid kiln-dried, sustainable mango wood. Kiln-dried wood helps prevent warping, splitting, cracking and developing mildew. Features a warm black or antique umber finish. Assembly required. Adjustable levelers help with stability on uneven surfaces. Imported.
Order & Save
Dimensions: 40" w x 14" d x 30" h
Noir Furniture


Rae Rectangular Wood Coffee Table

Made of aluminum, iron, wood and MDF. Finished in a Distressed Black. MDF is an engineered wood that lends exceptional strength and ensures the product's structural integrity over time. Kiln-dried wood helps prevent warping, splitting, cracking and developing mildew. Adjustable levelers provide stability on uneven surfaces. Imported. For daily care, wipe with a soft, dry cotton cloth. Wipe spills immediately with a clean, dry cloth. Avoid the use of harsh cleaners and abrasives.
Order & Save
54" w x 28" d x 18" h
Revelation


Demers Oblong Decorative Bowl

Not Included: Stand Decorative Ball(s) Features Fits many décor styles from coastal to industrial A unique item with limited quantities A versatile piece sized to be an eye-catching centerpiece or a welcomed addition to the current décor
Order & Save
3.5'' H x 14'' W x 10.5'' D
DwellStudio


3 Piece Take Time to Do Quote Decorative Book Set

3 Vol decorative books "Take Time to Do" quote. Features Handbound Black covers
Order & Save
3.75'' H x 9.5'' W x 6.5'' D
Revelation


Liquid Illusion Dancing Lady Orchids Floral Arrangement in Vase

Craft a garden-inspired centerpiece with this eye-catching orchid, showcasing a yellow hue and nestled in a round glass vase. Set it on your nightstand to anchor a chic bedside vignette, or add it to the foyer console for a sunny way to welcome guests. Features Short oval-shaped glass container, filled with curvy stalks of dancing lady orchid blooms, artificial water, river rocks, and lush leaves Filled with curvy stalks of dancing lady orchid blooms Artificial water set in a beautiful glass vase Accented with river rocks and lush leaves
Order & Save
19'' H x 15'' W x 12'' D
Uttermost Collection


Modern & Contemporary Accent Mirror

This wall mirror showcases a bit of antique-inspired appeal, giving you the look you want, but delivered right to your door. Its frame is crafted from a blend of engineered wood and resin, with a golden finish and subtly ornate detailing for a feminine look. Plus, this mirror arrives with D-ring hooks on its back, allowing you to get it installed in your desired room in no time. Have it hung vertically but looking to swap it to another spot? Don't worry, it hangs horizontally, too. Hand-curated by Kelly Clarkson.
Order & Save
36.25'' H x 24'' W x 1.5'' D
DwellStudio


Sivanne 3 Piece Metal Tabletop Candlestick Set

Features Recommended to use with battery-powered candles Add a sophisticated element to your home with our set of sleek metal candle stands Purposeful Distressing Distressed Metal (Metal is rusted or paint on metal has been purposely rubbed off.)
Order & Save
4'' W x 4'' D
DwellStudio


Artificial Cherry Blossom Floral Arrangements in Vase

Many wispy stems filled with delicate blooms fan out gracefully with this product. Bring this stunning piece inside your home to welcome in a spring vibe all year long. To complete the look, allow other faux flowering plants to be settled in tall vases and placed upon a few accent tables across any room to create a long-lasting, fresh and bright atmosphere. Features Created from the highest quality material
Order & Save
37'' H x 27'' W x 27'' D
Revelation


White 3 Piece Cabell Ceramic Table Vase Set

This three-jug set is a best seller for a reason - versatile simplicity! The neutral color scheme fits in almost anywhere and although they look great on their own as shelf fillers, try dropping a single stem into each one and making them the center of attention. Features Decorate Your Home with Personality – Showcase your style with this decorative distressed ceramic jug set of 3. Create a space in your home with refined rustic, yet elegant and effortlessly beautiful home décor pieces Multi-Purpose Decorative Ceramic Faux Floral Jug Set – (measuring 3"L x 3"W x 10"H; 2.25"L x 2.25"W x 7.5"H; 3.5"L x 3.5"W x 4"H, ) This decorative jug set can be used in many different ways. The distressed design is so stunning, you can use it on its own for a beautiful statement piece or add in faux florals, stems, bouquets, and greenery for an added pop of color. Perfect for your tabletop, shelf in a family room, mantel, dining room, bathroom or covered patio Long-Lasting Quality – Crafted from 100% ceramic, this neutral set of 3 is sure to set the stage anywhere in your home. This durable, high-quality, trend lasting jug set will keep your décor looking fresh and up-to-date year after year Create a Beautiful Centerpiece – This decorative ceramic jug set will fit in with an abundance of styles; modern farmhouse, rustic, classic charm, country, and elegant yet simplistic. The versatility of this faux floral jug set makes it perfect to use for wedding, bridal, and baby showers. Bring them out for your next gathering for an instant, stunning centerpiece Showcase Your Style with Confidence – Decorating your home brings your personality to life. This stunning ceramic vase set works well with faux florals to take your décor to the next level and wow your guests. The rustic design is so detailed, that you can even set it out on its own. With its elegant, timeless look, this set will look beautiful however you decide to use it Purposeful Distressing Coat/Paint Distressing (Paint is purposely rubbed or scraped off for a distressed look.)
Order & Save
10'' H x 3'' W x 3'' D
DwellStudio


Gold Globe Sculpture

Place this globe on any counter or table to show your love for traveling. Embark on an exciting adventure with this world globe decor. Display as an accent or centerpiece decor on your console, coffee, or office table. This item ships in 1 carton. This world globe measures 6" in diameter. Suitable for indoor use only. Made in India. Traditional theme.
Order & Save
11" H x 6" W x 6" D
DTS (Design Trade Service)


Phoebe Sofa

Phoebe is a camel-back sofa hand-tailored in our North American workshops with a modern twist or two, but it's a direct descendant from that luxurious, clean, and elegant Neoclassical line with its choice of a skirted or leg bottom, arched back, and inviting arm pillows. With its camel-back, loose welted back and seat cushions, Phoebe is both elegant and inviting Choose from our standard high quality foam and fiber cushions or our optional down-filled cushions for an additional charge; two 21" welted pillows included Choose a kick-pleat skirt for a more traditional look or saber legs in Raisin (939), a rich, cool dark brown water-based finish for a transitional look Engineered panel frame for superior strength and long-lasting durability Stain-resistant fabric prevents damage from spills; great choice for homes with families and pets The fabrics and options shown here are our most popular, but if you don't see what you're looking for, visit a Design Center for more options
Order & Save
SIZE 88" sofa 88" w x 43" d x 38" h
DTS (Design Trade Service)


Caden Wing Chair


Quantity: 2
Ooh-la-la-lounge: The classic lounge chair has gone glam, and we're here to tell you about it. Our Caden high-back wing chairs, with their sleek, sloping silhouettes invite you to sit back in style. Its tight back and lush seat are designed for maximum comfort, but don't assume that "comfortable" equals "ordinary." This wingback chair's gleaming finish and glamorous fabric options will make you say "goodbye" to that old, tired recliner (you know, the one you've had since college?) for good. The Caden is a high-back wing chair that features a tight back and loose welted seat cushion Clean, smooth wood trim, alternating in width from front to side, outlines its profile Poly-wrapped foam cushions provide a structured, soft seat Constructed of kiln dried solid hardwood available in several water-based finishes and you choice of nickel or brass nail head trim The fabrics and finishes shown here are our most popular, but if you don't see what you're looking for, visit a Design Center to view additional options
Order & Save
29" w x 37" d x 39" h
Global Views


Fabric for blinds


Quantity: 4
PRODUCT LINE:Soft Treatments COLLECTION:Katherine CATEGORY:Pattern/Print COLOR: Marble
Order & Save
Window width 37"
DTS (Design Trade Service)


Audrey Sofa

With curves in all the right places, the Audrey sofa delivers unparalleled comfort in dramatic style. Its low camelback and shapely arms rest atop a carved beech base for a truly stunning silhouette with a distinctly modern vibe. Low camelback, wood base, and loose welted seat cushions gives Audrey a modern vibe Choose from our standard high quality foam and fiber cushions or our optional-down filled cushions for an additional charge; two bolster pillows included Engineered panel frame for superior strength and long-lasting durability Carved wood base shown in Raisin (939), a rich, cool, dark brown, water-based finish Stain-resistant fabric prevents damage from spills; great choice for homes with families and pets Also available in leather The fabrics and finishes shown here are our most popular, but if you don't see what you're looking for, visit a Design Center
Order & Save
86"w x 35"d x 35"h
Perigold


Hinkley English Bronze Sussex 3 - Light 16" Semi Flush Mount

Sussex offers traditional charm with an edge of modern luxury. The brushed nickel finish, white fabric hardback shade, clear glass columns, and candles add to its sophistication.
Order & Save
Fixture 15'' H x 16'' W x 16'' D Shade 16'' W x 16'' D
Loloi Collection


Washable Rug & Cushioned Rug Pad

Our Rug is lightweight enough to fit in a washing machine and rests on a Cushioned Pad that provides just the right amount of support underfoot. The rug is woven with a soft spillproof material that magically repels liquids. The Pad holds the Rug in place by tucking into corner pockets on the underside of the Rug. The Pad features a cushy foam layer, rubberized (Velcro-free) non-slip surfaces, and a puzzle-piece design that makes cleaning and assembly a breeze.
Order & Save
Size: 8x10'
Get Our Free Inside Scoop!
Contains our handpicked top five posts on latest decor trends & advice delivered to you monthly!


Ready to get started?
Get a designer room you'll
love, guaranteed!
Start Now