Bachelor Pad Living Room/Bedroom Design
2. Winning Proposal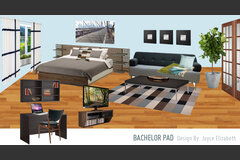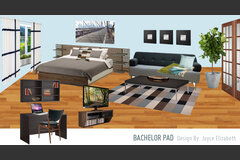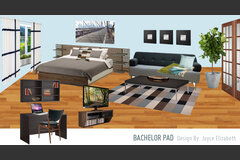 3
initial proposals
were submitted from designers based on the questionnaire, feedback, and comments.
Details
Project Title
Bachelor Pad Living Room/Bedroom Design
Project Description
I'm moving into a large bedroom, which I intend to split into a living/bedroom. I've painted my room light blue and redid all the baseboards/molding as white. From my discussions with Joyce, I'm a contemporary type of guy. I want to create an airy, elevated type of room with not a lot of furniture that are too close to the ground. Joyce mentioned that because my room is light blue (pics included!) I should use a more espresso type of color for furniture. I wouldn't mind throwing in a couple of plants in there as well. Please note, I have a TV stand I recently brought and I want to incorporate that into my design as well. (Pics included)
What's your favorite decor style?
Contemporary
What are some of the interior design brands or stores that you like to shop at?
Ikea, Meijer, Wayfair, Amazon, etc.
Which colors do you dislike?
Red
What are your favorite colors for walls?
Light Blue
Dimensions
18ft 10inches L by 11ft 11inches W by 8ft H




Items you want to keep

Details
Room Label
My Bedroom/Living room
I want this room to feel more masculine/feminine/neutral
Masculine
What type of sunlight does this room receive?
Morning light
What do you currently dislike about the room?
Does not have a room light. I have to get lamp.
What pieces of existing furniture, lighting, art or accessories do you want to keep in the design?
TV Stand, and Mattress (Full size).
Are you open to changing your wall colors?
No
Are you open to changing your floor covering?
No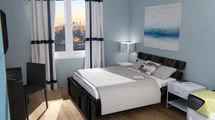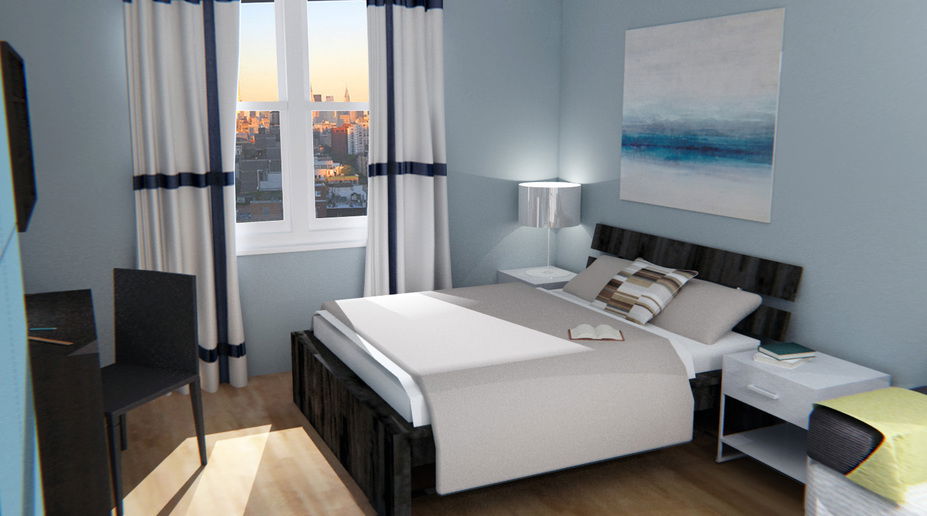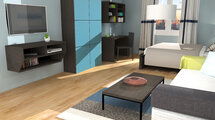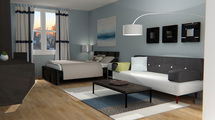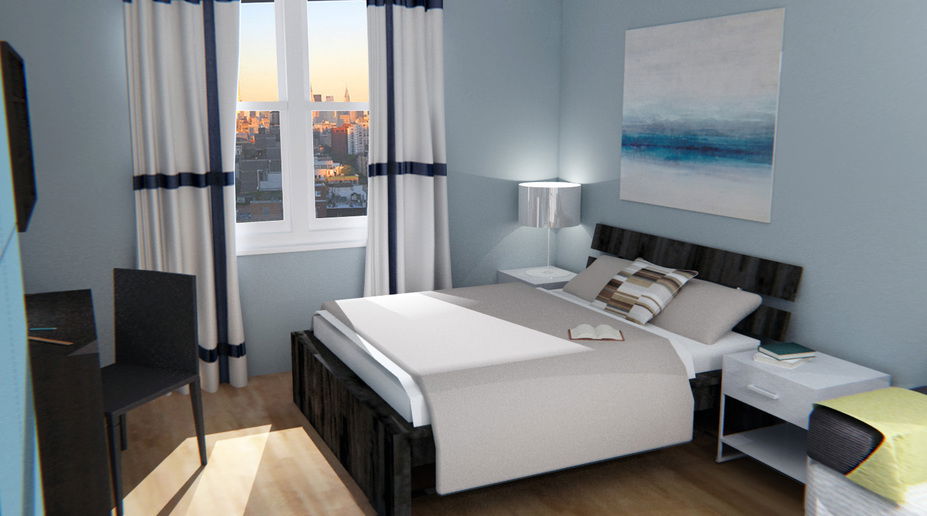 1
Platform Bed
2
Chrome Table Lamp
3
Pillow
4
Metal Nightstands
5
Sofa
6
Square Mirrors
7
Texturas Rug
8
Oblique Square Planter
9
10 in. Ficus Pandurata Bush
10
Altus Media Console
11
Black/Brown Mirror Wardrobe
12
Workstation
13
LED Table Lamp
14
Gray Chair for Desk
15
Coffee Table
16
Brown Gray Bowl
17
Floor Lamp
18
Blue Silk Pillow
19
Lime Blanket
20
Artwork
21
Curtains
22
Small Concrete Bowl Planter.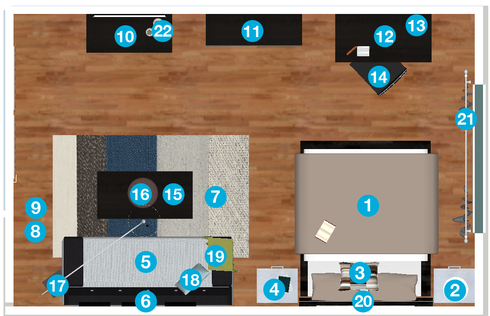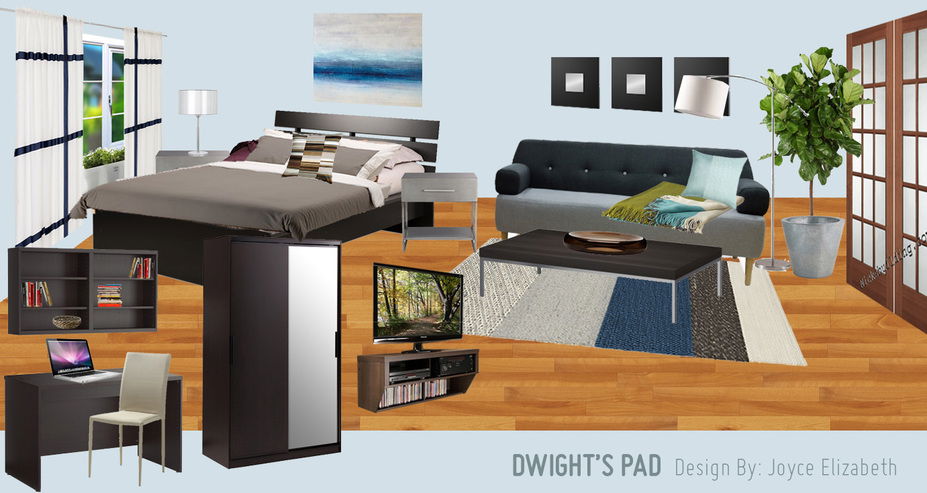 Bedroom:
Since you had already painted your room in a light blue, the design was based off the color.

If in the future you choose to change up the color, I suggest going with a light neutral gray or taupe for warmth. This will give the room a more contemporary, sophisticated feel. It's a rather long room to be provided with light from just one window, so a lighter color would be best.

Use an eggshell finish paint which has a very light touch of shine (similar texture to an eggshell as implied by its name). This finish is very often used for walls and is more durable and easier to clean than a matte finish.
Bedroom Colors:
| Color | Name | Company / Code | Link | Area |
| --- | --- | --- | --- | --- |
| | Pre-chosen light blue | Unknown / unknown | unknown | All Walls Pre-Painted |
Shopping List:
Decorilla Discount
Photo
Name
Description
Link
Dimensions
Decorilla Discount
DwellStudio


Platform Bed

Full size, in black finish
Order & Save
31.5"h x 62.5"w x 78.25"d
Lamps Plus


Chrome Table Lamp

The Armour table lamp features a simple metal design in an ultra-chic chrome finish. The drum shade mimcs the circular metal base on this sleek modern piece.
Order & Save
26" high. Shade is 14 1/2" round, 7 7/8" high.
IKEA


Pillow

Cotton sateen has a soft, smooth finish with a subtle sheen.
Order & Save
20"x20"
CB2


Metal Nightstands

Experiment with metal. Science lab goes bedside. Add metal to the mix with sleek delustered industrial style storage authentic down to the metal clad construction and exposed joint welding. Simple drawer with matching pull opens on wood glides to reveal matching painted interior. Handmade top to bottom in metal over wood composite. It's a steel?make that a steal.
Order & Save
20.25"Wx17"Dx20"H
NYFU


Sofa

This cool design will make a bold statement in your space with light and dark color contrast it presents.
Order & Save
83"w x 32"h x 33.5"d
Crate and Barrel


Square Mirrors

A warm bronze finish puts a beautiful, tonal patina on the deep-beveled iron frame of a small square mirror. Hangs as a square or diamond for a focal point in entryway, hall, powder room or gallery wall.
Order & Save
15.5" sq. x 3"D
CB2


Texturas Rug

Super-soft New Zealand and European-blended wools toe the line in a textural progression of weaves and tones. Pebbled yarns in natural, heathered brown and grey step their way to chunkier twisted weave in tweedy grey/linen. Brilliant band punctuates in nubby swoon blue knots.
Order & Save
5' x 8'
AllModern


Oblique Square Planter

Order & Save
10"w
Home Depot


10 in. Ficus Pandurata Bush

The Delray Plants pandurata bush (fig) have large gorgeous leaves representing a masterpiece of nature. This foliage is a living piece of art unlike any other. It is among the trendiest indoor plants.
Order & Save
Starts at 10" but will grow to around 6'

Altus Media Console

Order & Save
IKEA


Black/Brown Mirror Wardrobe

Sliding doors allow more room for furniture because they don?t take any space to open. A mirrored door saves space, no need to take up room on the wall or floor with a separate mirror.
Order & Save
47 1/4"W x 23 5/8"D X 80 3/4"H
IKEA


Workstation

It?s easy to keep cords and cables out of sight but close at hand with the cable outlet at the back.
Order & Save
47"W x 34"D x 74"H
AllModern


LED Table Lamp

Feel like part of the future with this unique lamp. Round fixture and sleek base make the Focus table lamp fit in with almost any décor.
Order & Save
18" H x 7.25" W x 7.25" D
AllModern


Gray Chair for Desk

High density foam and metal, non-toxic, stainless steel hardware, 6 months warranty
Order & Save
34" H x 16.5" W x 21" D
IKEA


Coffee Table

The veneered surface is durable, stain resistant and easy to keep clean.
Order & Save
46 1/2x23 1/4"
IKEA


Brown Gray Bowl

Fill the bowl with fruit or decorations or use it alone, as a beautiful obejct in its own right.
Order & Save
15"d
Zuo mod


Floor Lamp

The Blazar floor lamp has a classic yet seductive shape. It has an iron finish and features an adjustable arm. It is UL approved. Features: Color: Beige Collection: Blazar Cover: Fabric Finish: Satin & Black Marble
Order & Save
19.7 W x 79.0 D x 75.0 H
West Elm


Blue Silk Pillow

Natural beauty. Handcrafted by Eco Tasar, a sustainable silk-making cooperative in rural India, these pillows come in a range of saturated shades.
Order & Save
20"sq
DwellStudio


Lime Blanket

100% Acrylic
Order & Save
60"w x 50"d
Z Gallerie


Artwork

This charming piece by artist Joshua Schicker uses a cool palette to target the idea of no limitations. With contrasting colors, the artist creates depth and allows the viewer to look beyond. This abstract does not reveal a central idea and does not draw attention at a clear focal point. ??This giclee features a high resolution image printed directly on canvas with an image brush gel finish, producing a beautiful piece of art that draws the viewer into the horizon and invites them to explore what is afar. ??Gallery wrapped giclee canvas with texture
Order & Save
48''W x 40''H
IKEA


Curtains

The curtains let the light through but provide privacy so they are perfect to use in a layered window solution.?
Order & Save
57"x98"
Etsy


Small Concrete Bowl Planter.

Listing for one small concrete planter, perfect size for succulents or air plants! Interior has been painted white.??It looks a bit like a cute little gray egg, and in person, you just want to hold it! Perfect size for your succulent, air plant, little bit of change, or something else.?
Order & Save
2.5 inches in diameter and 2 inches tall.
Get Our Free Inside Scoop!
Contains our handpicked top five posts on latest decor trends & advice delivered to you monthly!


Ready to get started?
Get a designer room you'll
love, guaranteed!
Start Now