Saltanat B.
Saltanat has a Professional Bachelor of Architecture from the Leading Academy of Architecture and Civil Engineering. She has worked as a designer in design and architecture firms and today has her own residential interior design & décor practice. Her formal education in architecture set a strong foundation in both Classical and Modern design, as well as an understanding of form and space that now informs her interiors. Saltanat has designed & managed projects for multiple apartments, condos, hotels, and commercial spaces.
Describe your go-to style:
Trends and styles are changing quickly, but the owner's space is a long-term masterpiece. That is the reason why I passionate about modern style and it creates the most valuable pieces. The pieces are natural light, smart use of every single inch of the space, the creative and elegant combination of materials, reflect surroundings. All together never will be remaining fashionable and stylish for years. I love to embrace it in the client's space. Besides Modern I like to work with timeless Contemporary and relaxed Scandinavian.
We know you love designing, but what about it do you love most?
I love to create an identity to client's place. Each person has own passion. Most importantly, it should be an immediate reflection of its owner and its aspirations.
From where do you draw most of your inspiration?
Inspiration comes from everywhere. Especially when I see interesting furniture or finishes I start to draw some ideas in my head.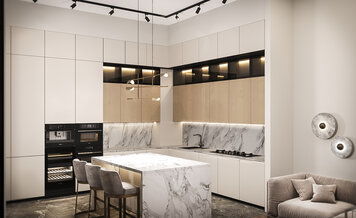 Contemporary dining & kitchen