Sean J.
We know you love designing, but what about it do you love most?
My favorite aspect of the creative process is that while immersed in certain tasks I feel myself slipping into a fluid and constant creative stream, one of latent relaxation, like being the painter as well as the paint. Taking a cluttered home and organizing it in a way that helps create ease and accessibility for others is a rewarding and meditative experience. I think that a lot of our moods and outlooks are affected by our environment and having a calm and clutter-free place can only help to aid in harmonious interactions with ourselves and others.
From where do you draw most of your inspiration?
Most of my creative ideas come from instinct and intuition. When I see the dynamic between objects I am not only 'seeing' visually but also touching base with a feeling deep inside. Certain collaborations invoke feelings of peace, a glow of warmth and comfort, stability.. while others are slightly uncomfortable, awkward, or jarring. In one room two objects look complimentary and complete the atmosphere, in another they detract immensely and compete with each other and everything around them. In such cases my inspiration comes from an impulse to 'right the wrong' and to find the weak spot in a room and strengthen it.
What drives you to design?
When I get this question my immediate thought is "what drives me to wake? what drives me to blink?" For me, design is an instinctual part of my personality. From the time I was a child I would find peace in redecorating our home, being able to tune out everything around me and focus on object placement and relationship, colors, flow, as well as the personality of those who live within the space and what comforts and encourages them. Some people walk into a room and look for friends they know, others (especially in the 'earthquake ready' East Bay) will look for the exits.. I find myself enthralled in the choices made by whomever designed the space and ways in which I agree or would have done things differently. Having dabbled in many types of creative outlets, the consistent pattern that has risen to the top is a drive to take an eclectic assortment of items, whether paint colors, musical notes, or furniture pieces, and to do something with them that others will be able to relate to, be encouraged by, and connect with. Even what may appear to be an organized mess of strange furniture shapes and clashing colors, much like a jazz song, can create the perfect environment for the right people. I feel driven and inspired to meet and connect with others on a deeper level than just learning their favorite colors and styles, in an effort to bring forth creative ideas that will engage the parts of their lives and personalities that invigorate them.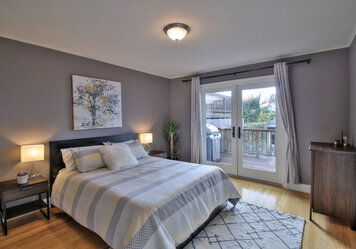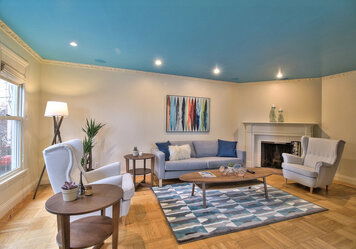 Colorful Modern Living Room