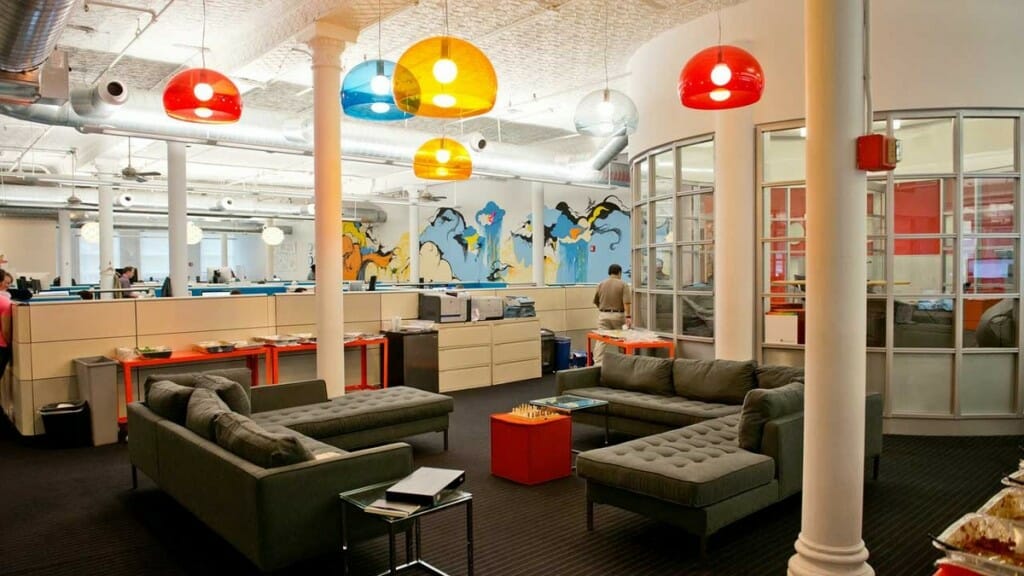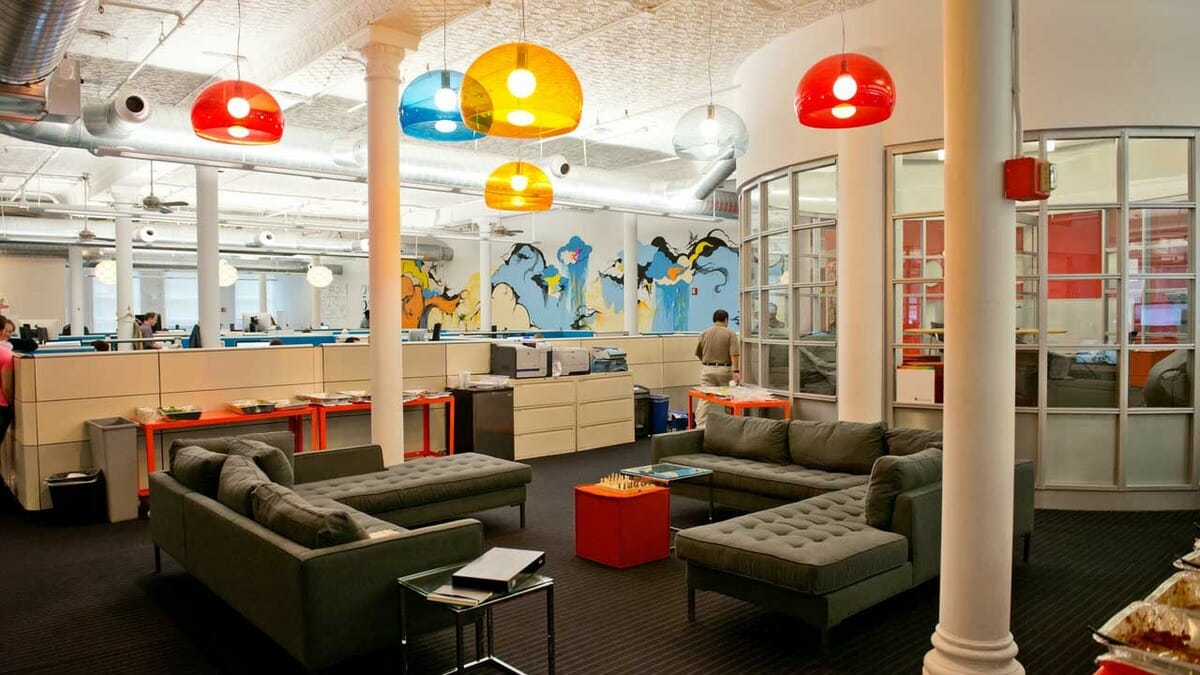 Google, Facebook, Pixar and Etsy all have it. The incredible office layout; the fun work design. With the explosion of new businesses, startup office design is becoming a more serious considered element of business success. Wondering how to create a great office layout? Here are our five top tips.
1. Reflect your startup with style.
Just like with residential design, the soul of commercial space design comes from the style it exudes. Consider the goal and mission of your company and mirror that in your startup office design. The Etsy Dumbo office, for example, translates the eclectic and playful nature of it's site into bright colors and a cozy, hand-crafted feel. Austin's Homeaway Office takes its purpose literally by simulating a vacation while at work!
If pinning down a style is challenging, the expertise of an interior designer can help. In a California startup office project, the client expressed wanting to make the loft style unit "modern looking with the right accents." With exposed ceilings offering an urban feel, he was looking for a "trendy modern look that matches (their) business of Internet Marketing." With this information Decorilla designers did just that.
2. Create comfort.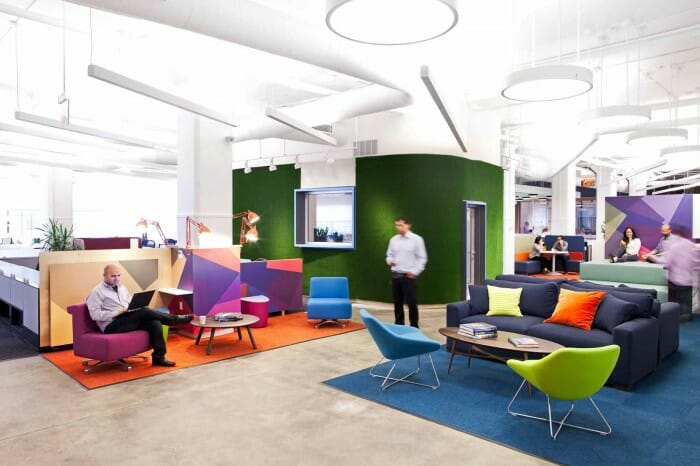 More and more people are working remotely from the comfort of their own homes. With the hours put into startup companies, creating a comfortable environment much like home is something to consider. To start, select the right pieces of furniture that offers varied postures for comfortable work. Whether it is an ergonomic office chair, a plush sofas with ottomans to kick up your feet, giving employees options of where to work makes a difference in work efficiency. CB2, West Elm, and Novi Decor are some furniture vendor favorites with many office decor possibilities.
3. Incorporate inspiration.
The mood of a workspace is highly influential through design choices. Through color psychology we know that different hues have the power to evoke energy, conversation, and happiness. Selecting a cool blue or green for a lounge area encourages relaxation, while a space that has red or yellow is best for meeting rooms where ideas are being generated. Other elements like custom art with inspirational quotes or an homage to the city are other ways to maintain good morale and in turn, happy employees.
4. Offer collaboration opportunities.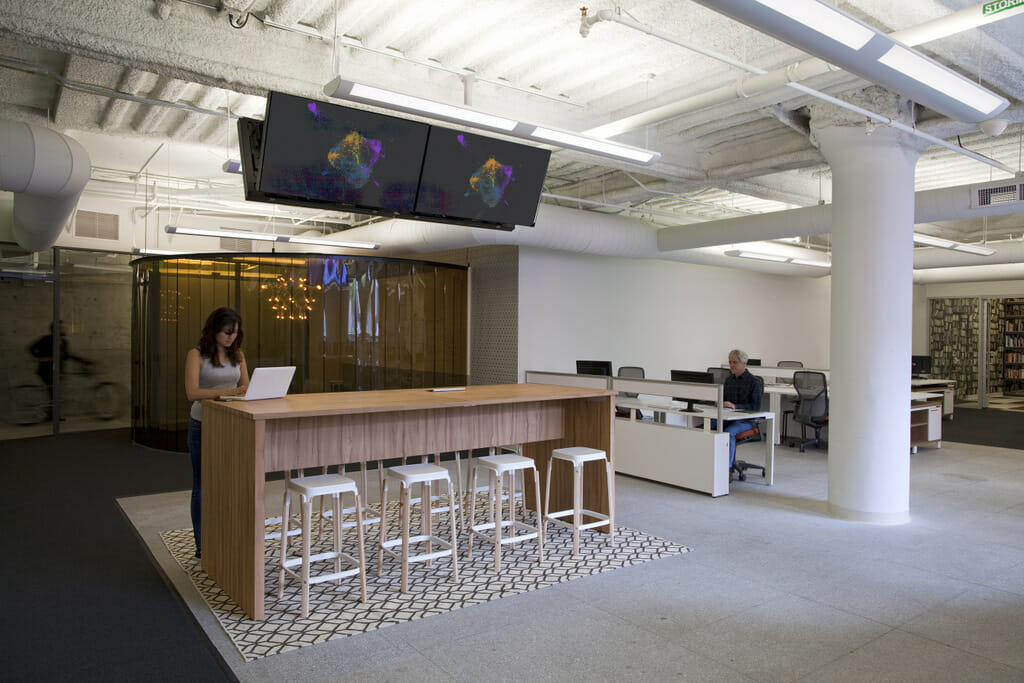 Most startup businesses thrive on opportunities for collaboration and the meeting of ideas. A good office design makes that possible by creating intentional zones where small or large groups can gather. This is where a smart spatial layout is needed. Writable walls, round meeting tables, and cork board panels to pin ideas are some ways to do this.
5. Encourage productivity.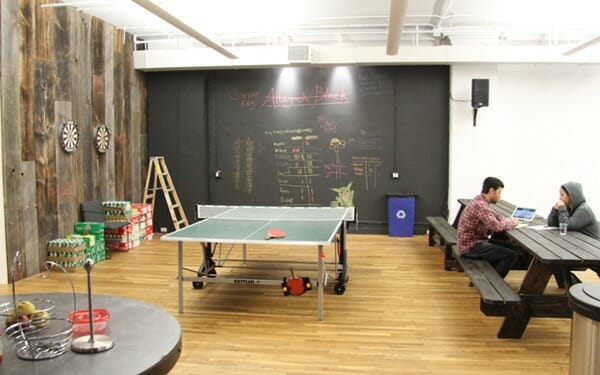 Office layout is possibly the most important part of design in commercial projects. Whether we're talking about a company size of under ten employees or one that is a couple hundred and growing, being mindful of how space best promotes productivity is key.
Recent research has found that  "giving employees input into the design of their workspace can improve productivity by as much as 32 percent. Any positive changes can improve productivity by up to 17 percent," according to Business2Community.com. This offers proof to the theory that creative office spaces lead to positive performance of employees. 
While quiet areas for concentrated work are essential. so is offering engaging areas in the workspace. A ping-pong table, bean bags, even a slide, can be unique forms of stimulating productivity.
There's no doubt that the traditional design of an office space has long evolved from rigidly lined cubicles and cold overhead lighting. The modern design caters to the flexible office schedule and engaging startup business challenges. With these tips to consider, an efficient and pleasing office design can be created.
Have a start-up office that needs designing within budget? Check out these money saving tips to get the stylish and effective business space desired.