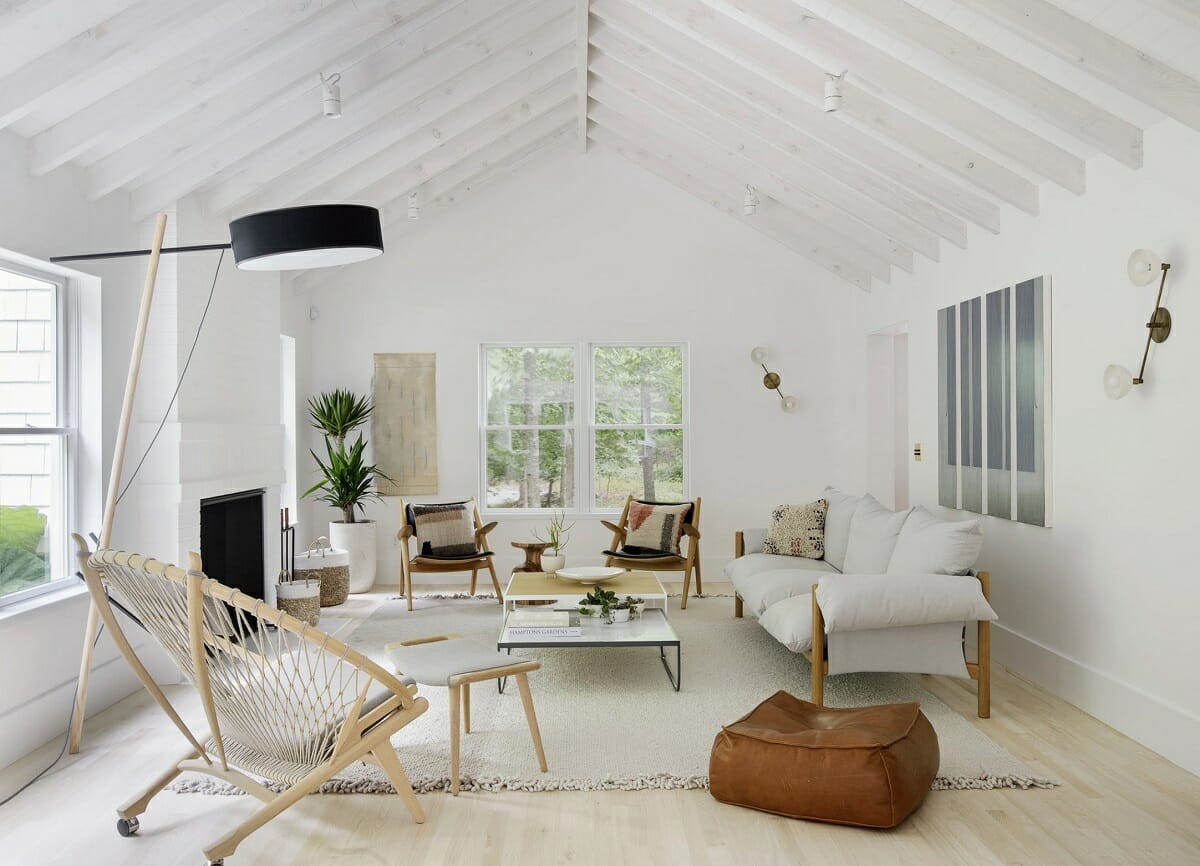 Wholesome Nordic ideas guide Scandinavian interior design. Though they emphasize simplicity, scandi interiors feel super cozy and inviting. They balance all the correct elements to create a happy, healthy vibe. A recent client longed for such a scandi living room, dining room, and patio. So, she turned to Decorilla for help in creating design comfort. Read on to see the striking transformation!
The Challenge: Scandi Interior Design
The client wanted a warm, light easy-to-maintain scandi style home makeover. Therefore, this project required a well-thought-out concept to have a successful transformation. Fortunately, Decorilla could assist. That said, there were a few challenges the designer needed to overcome, namely:
Create a practical design that is child and pet-friendly 

Provide ample seating in each room, including bench and Scandinavian dining room furniture

Ensure a seamless transition from the Scandi-style living and dining room onto the patio

Source modern Japandi furniture and 

scandi décor ideas

 to suit the concept and layout

Stick to a neutral color palette with accents of deeper, earthy hues
Not sure if scandi is what you want for your living room design? Then take our

Free Interior Design Style Quiz

to find your true style!
Scandi Living & Dining Room Ideas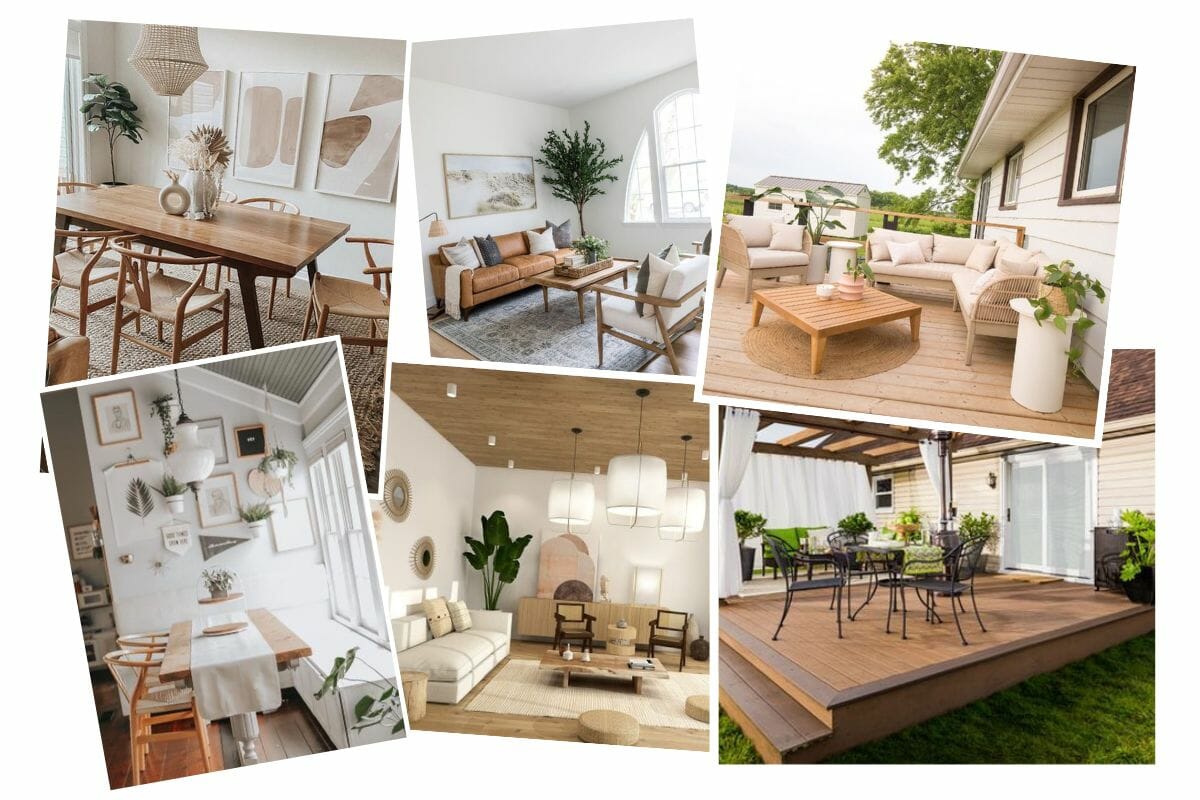 The client certainly adores Japandi and Scandinavian interior designs. Her inspirational images overflow with organic designs with a distinctly warming scandi touch. These neutral rooms feature sleek lines and minimal frills. In addition, a touch of nature appears in wood, greenery, and woven pendants. Overall, it was clear that the client's heart was set on a scandi-style living room, dining room, and patio.
Moodboard & Scandi Living Room Design
A brief quiz and virtual consultation paved the way to finding the client's idea designer. Thanks to the client's must-haves, Decorilla's team could find a designer who excelled in her preferred scandi style. After viewing two concepts from different designers, the client picked Sonia's earthy proposal.
In the end, Sonia checked all the client's boxes with her show of effortless comfort in the moodboard. Her scandi concept combines a living room design with dining room and patio ideas for a seamless look. She's picked muted tones with accents of color. In addition, she also emphasized natural materials like wood, wicker, and organic linen. Sonia's style met the client's needs and provided the free-flow look the client wanted.

Scandi Patio, Living & Dining Room Design Result
Overjoyed by the result, the client couldn't wait to share images of their updated scandi rooms with the designer. And it's little wonder why – as the final renderings check all of the client's wishes. Chic, comfortable, and peaceful, these rooms are ideal for family time and relaxing days at home. Plus, the outdoor patio design brought more space for casual socializing too! 
Comfy Scandi-Style Living Room
In the end, the open-plan layout integrates a continuous flow between areas. The scandi-style living room is bright and inviting, leading seamlessly into the dining room. Furthermore, the white walls provide a clean canvas for the décor and furnishings to stand out. The area is filled with a cozy, natural ambiance as it is infused with creamy textures and raw materials. As a result, this living room has a warm, organic character.
Due to the open plan, defining the living room as a separate area is necessary. Here, an area rug distinguishes the lounge from the dining area. A sectional sofa and two accent chairs surround the coffee table, unifying the room further and creating a cohesive look.
Cohesive Scandi Dining Room
Centered under a woven pendant, the scandi dining room ideas come to life. Simplicity rules in this space, with each corner decorated thoughtfully. The nearby windows fill the area with a warm light.
In addition, the Scandinavian dining room furniture is a feature in itself. Upholstered sears and leather chairs complement the organic color tones in this space. Lastly, the dining table can comfortably cater for larger dinner parties.
Airy Scandi Patio
The scandi patio is as welcoming as it is comfortable. With a lounging area and dining area, you can only want to spend time in this space. The lounge contains sectional sofas surrounding a fire pit. In addition, decorative pillows are scattered on the ample seating. Nothing is forgotten, with a dog bed, greenery, and a barbeque set up.
The scandi patio dining area features a covered pergola. A canopy and festoon lighting hangs from above. In addition, a farm-style table and chairs sit below, with comfortable cushioning as padding for guests. Overall, this patio is perfect for lounging, entertaining, or enjoying the view.
Before & After: How did the designer change the room? 
At first, this home was bare, with minimal furnishings that required structure. Fortunately, with the client's vision and the designer's skill set, the scandi living and dining room ideas came to life! Warm, light, and easy to maintain, this design has ensured the perfect home makeover.
Combined Scandi Living Room & Dining Area
Choosing a structure for the living and dining area was an essential first step. The designer chose a neutral color palette to begin with. From here, she added depth through texture and materials. As a result, the space is visually appealing with a practical feel. In addition, both areas feel cohesive yet separate at the same time.
Relaxing Scandi Patio Area
Moving onto the outdoor patio, the designer created a relaxing space with chic scandi furnishings and decor. Moreover, the lounge and dining areas are separate yet unified. This creates a similar feel to the home's interiors. Overall, the patio is a serene yet practical place for guests and family to gather.  
Online Shopping List 
The clients could implement their design because of their online shopping list. In addition, each client receives a curated list for their home. Plus, they also come with trade-exclusive discounts! Lastly, every project has an implementation guide on how to assemble the new design.
Our Top Picks for a Scandi Design
Your scandi makeover is within reach! You can recreate it with a few key items from our top picks below.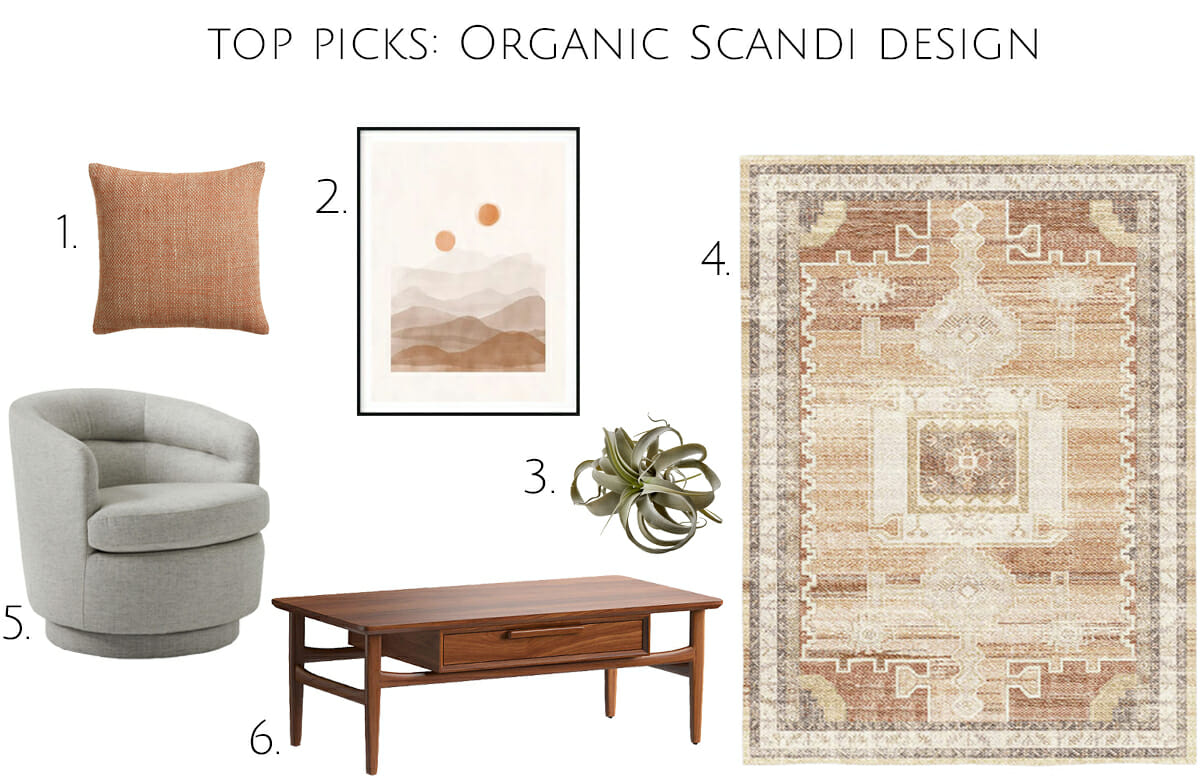 Want your scandi-style interior design?
You can work with leading industry expert designers too! Simply schedule a Free Interior Design Consultation to get started today!

[images: 1, Decorilla project images]