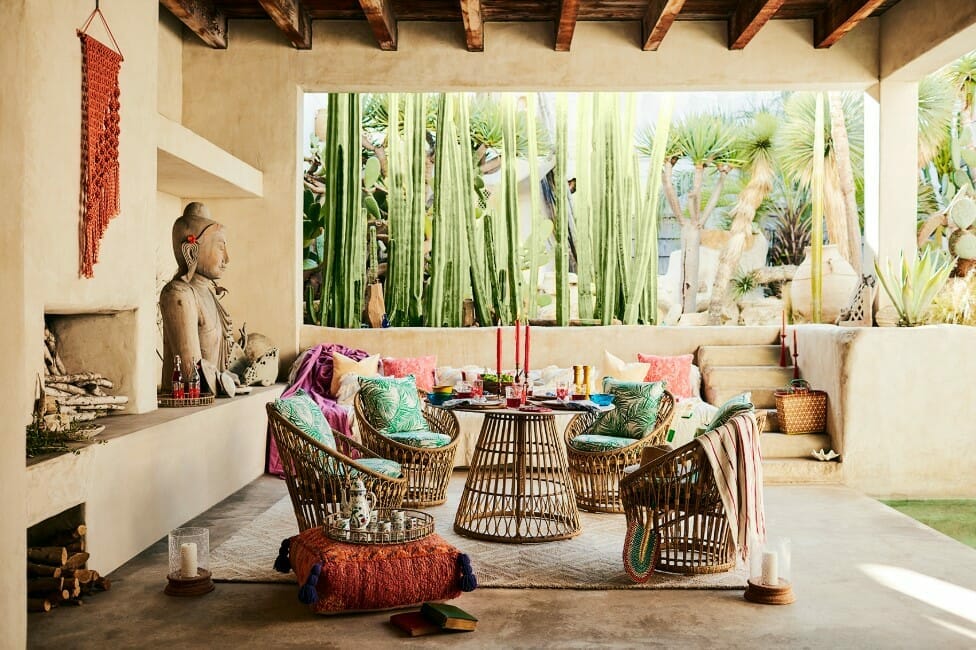 Summer is here, and so is the urge to go out and soak up the sun! Whether you're relaxing on your own or hosting a backyard get together, you can make the most of these easy days at home. Transform your outdoor space by putting clever backyard patio designs and ideas to good use. Read on to find out what could make your yard go from blah to wonderland in no time!
1. Lively & Lush Garden Patio Ideas  
If you're wondering, "how can I make my yard look nice?", you're on the right track. Considering your options, collecting inspirational images, and deciding on outdoor living essentials are among the first steps to sprucing up a backyard. In your hunt for inspiration, you'll notice that most lush garden patio ideas have one thing in common – a flourishing garden.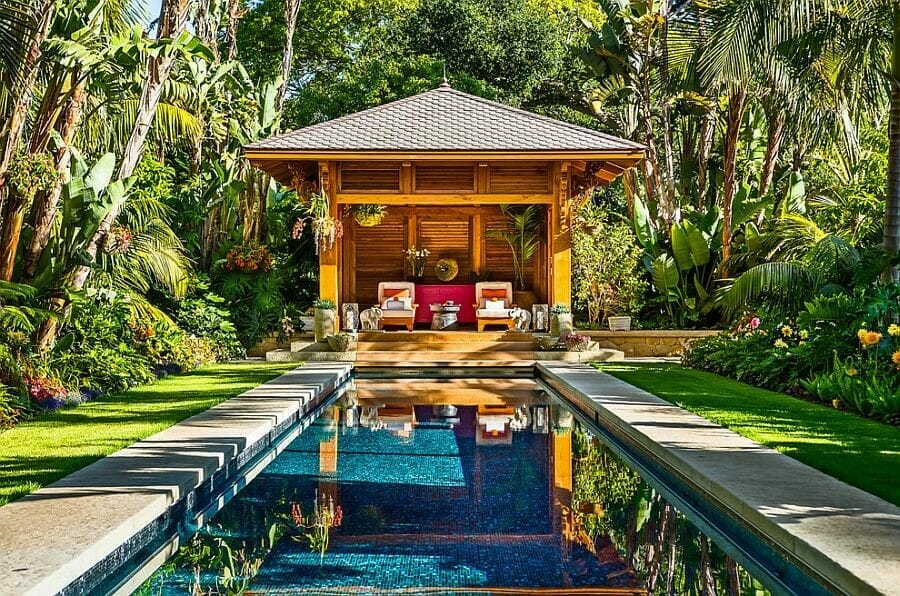 So, how do you make your yard look nice? Get those green thumbs dirty! Plant a few hardy shrubs, trees, or flowers to soften the severity of a paved, bricked, or concrete yard.  One or two plants are enough to mimic the tranquility of nature. If you're not keen on gardening, add realistic faux plants instead.
Love these patio design ideas, but not sure how to apply them to your space? Schedule your

Free Interior Design Consultation

to get started today!
2. Small Patio Designs & Ideas
Tiny can be awesome! What your patio lacks in size, it makes up for in versatility. Firstly, you need less to make this space extraordinary. Secondly, if walls enclose your backyard, you can use them to anchor hanging lights, create a vertical garden, or as support for shading structures, like a pergola or canvas cover.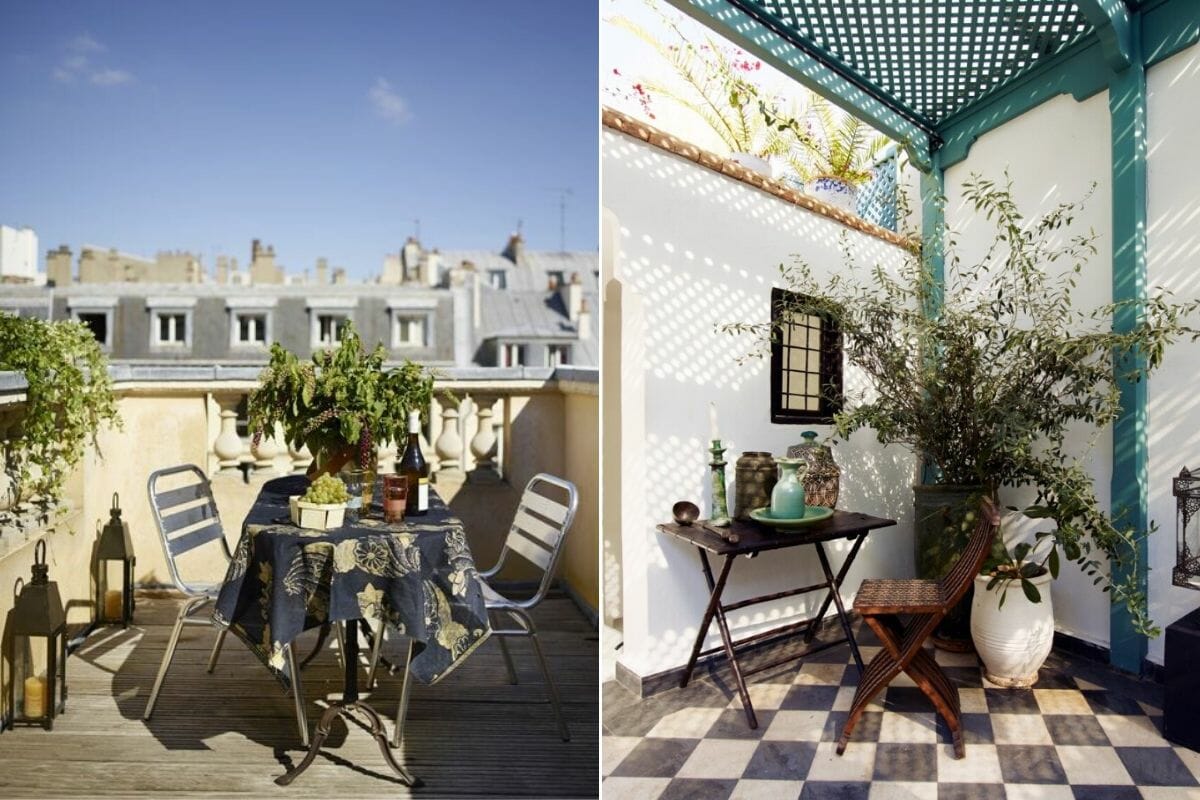 Spruce up your small outdoor patio and turn it into a paradise
There is so much you can do with a small outdoor patio. In fact, it can even double as another room. Be it an al fresco dining, reading, or creativity room. Here are three small outdoor ideas to get started:
Intimate bistro-style dining
If you're unsure about what to do with a small outdoor patio, be practical. A little round bistro table with chairs and a teeny potted plant are all you need to create a sacred space for your morning coffee.
Traveler's reading nook
Some of the best ideas for tiny gardens include cozy cubbyholes perfect for spending leisurely lazy days. Sprucing up a small backyard patio sometimes means making it as comfy as possible for the bookworms in the house.
Mindfulness escape
Take advantage of the fresh air by moving your meditation or yoga zone outside. Even if it's temporary, spending more time outdoors will be good for your mind and body.

3. Concrete Backyard Patio Ideas to Warm Up Your Space
Concrete often looks dull and cold. But adding warm tones and soft furnishings will cozy it right up. So, how do you brighten a dull concrete patio? Simple. Include a few of the concrete backyard patio ideas (listed below) into your home design.
Hang outdoor curtains from a pergola or awning. Flowing material will make the patio design feel more whimsical.
Add beautifully patterned poufs to your patio lounge.
Include warm colors (sienna, maroon, mustard, or orange) in textiles and throw pillows or décor.
Incorporate as many pot plants as you want. The lively green will banish the dreariness of concrete.
Get an outdoor rug to not only cover a cold concrete floor but also provide comfort underfoot.
4. Magical Outdoor Dining on the Patio
Taking a bite of a tasty barbequed-something is one of the perks of having an outdoor area. But a grill necessitates a nearby dining area. And this al fresco experience can be so delightful if done right. Whether big or small, all patio designs can include a dining area that makes everyone happy.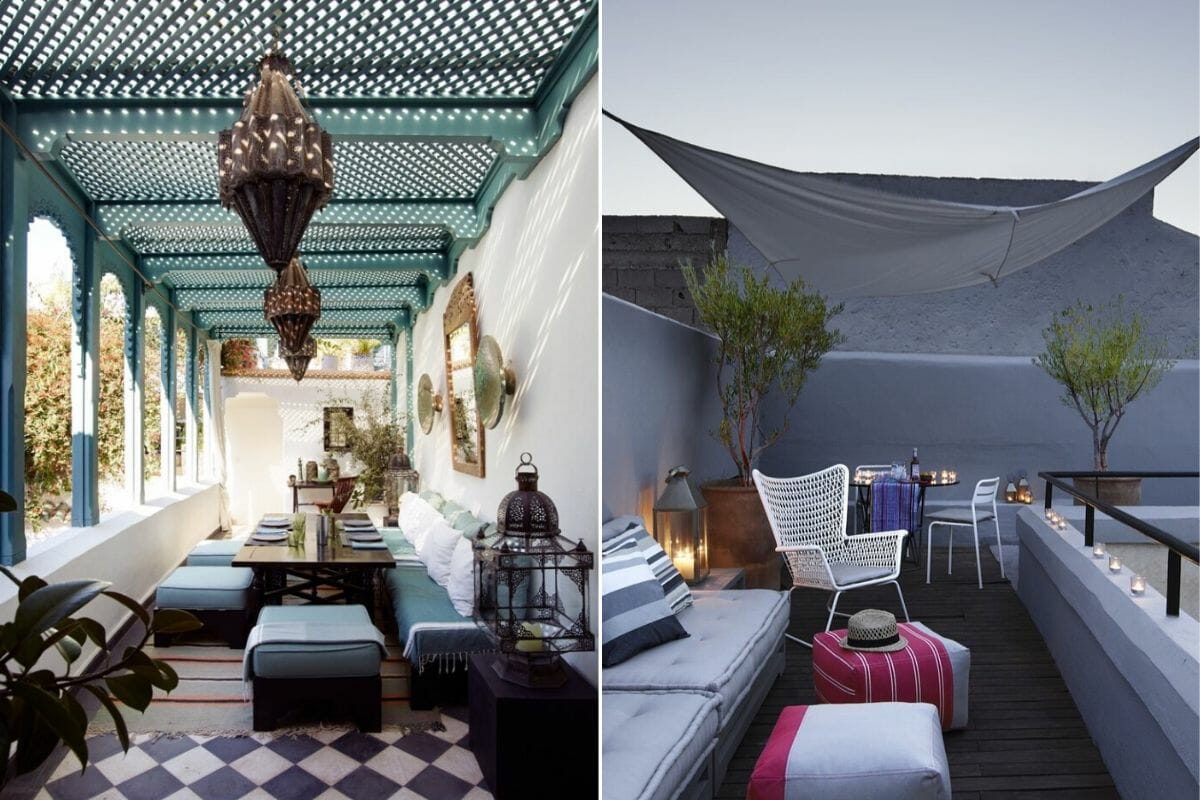 Make sure your patio design is faultless by planning. Measure the planned dining area and ensure that the dining table and chairs will fit. Allow enough space for movement around the table and ensure it's a safe distance from the grill. Also, consider shading options to make sharing meals enjoyable at any time of the day.
5. Patio Designs by the Pool – A Perfect Paradise
Water is nearly magical in its ability to revitalize and relax. So, why not enhance this otherworldly quality with whimsical patio decor ideas like a suspended daybed (a swinging chair) or super comfortable sling chairs. You can install a pergola and a wooden deck, but there are also a few quick ways to transform your poolside patio.
Decorate your pool area in one afternoon with these quick pool patio ideas:
Place decorative lanterns around the pool – one on each corner will suffice.
Add a jute basket to hold colorful or patterned beach towels.
Oversized outdoor cushions can double as casual poolside seating.
Add accent tables to keep poolside drinks out of the way.
Decorate with pretty plants in contemporary containers.
6. Weatherproof Patio Furniture Ideas
Thankfully, patio furniture ideas have come a long way. Now chairs, tables, and decor for outdoors are just as stylish they are for inside the home. New outdoor furniture trends are simply stunning – addressing both function and fashion. And professionally designed patios are structured, maximize natural features, and balances the social aspects with the need for a quiet space.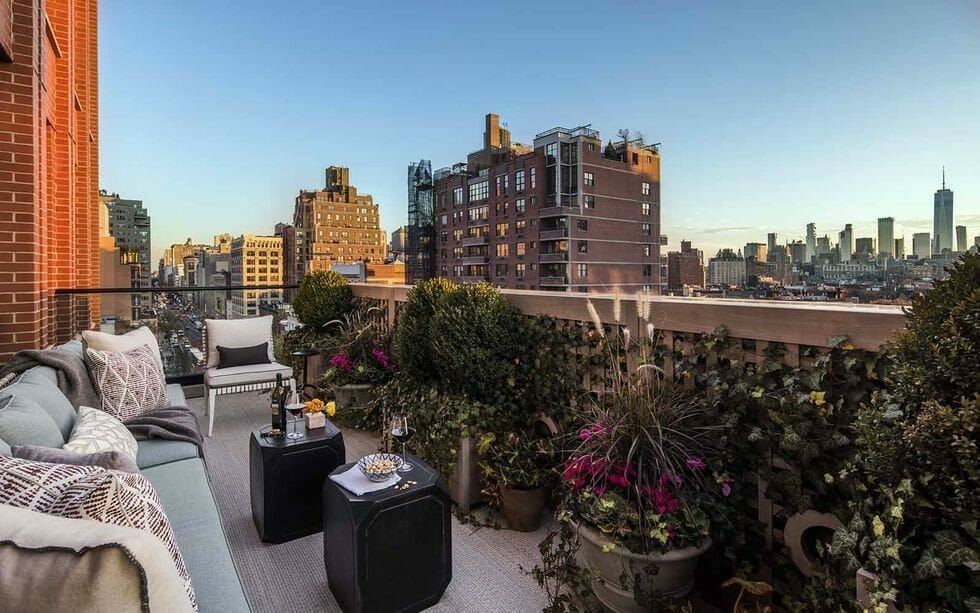 Now you can create any atmosphere you want – from faraway feels to laidback cozy and more. The latest weatherproof patterned textiles and sculptural chairs make designing a patio a dream. With these beautiful furniture ideas, you can truly blur the line between inside and out.
7. Patio Designs That Don't Break the Bank
Sometimes all you need is a simple refresh, so you certainly can create a remarkable patio on a budget. You don't need to be a DIY expert or thrifty shopper to save on patio designs. Firstly, keep the function of the space in mind. What will you do more often: entertain friends or unwind with a good book? Furnish with your set goal in mind and opt for multifunctional items. For example, a comfy bench can double as a storage chest. Other affordable patio decorating ideas include updating light fixtures and creating a focal point with plants.
8. Professional Patio Design Help
Looking for a comprehensive solution with help from interior design experts? An interior design service, like Decorilla, can guide your patio project from start to finish with affordable professional patio designs. After a free initial consultation, you'll receive design proposals from multiple professional interior designers. Then, your selected designer works with you to finalize your design in photorealistic 3D renderings (incorporating new and existing items together to scale). They also create a color palette, floor plan, and online shopping list using great designer discounts. Clients say they love the:
In-home and phone consultations.
Savvy user-friendly online platform.
Realistic 3D renderings for easy visualization.
Online shopping assistance with 10% to 25% discounts at popular stores like Wayfair and Crate and Barrel.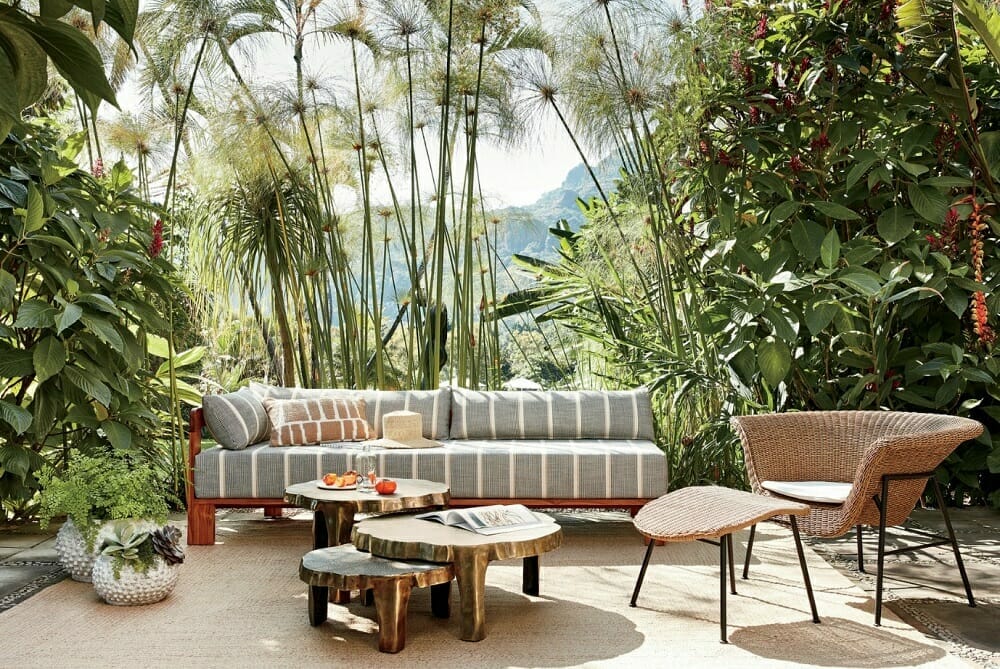 These handy tips will have you on your way to creating your own backyard retreat. Ready to make your dream patio come to life, but looking for a little more guidance? Then, schedule Free Interior Design Consultation today! You could be kicking back in your home paradise in no time.

[images: 1, 2, 3, 4, 5, 6, 7, 8, 9, 10, 11, 12, 13, 14, 15, 16, 17]