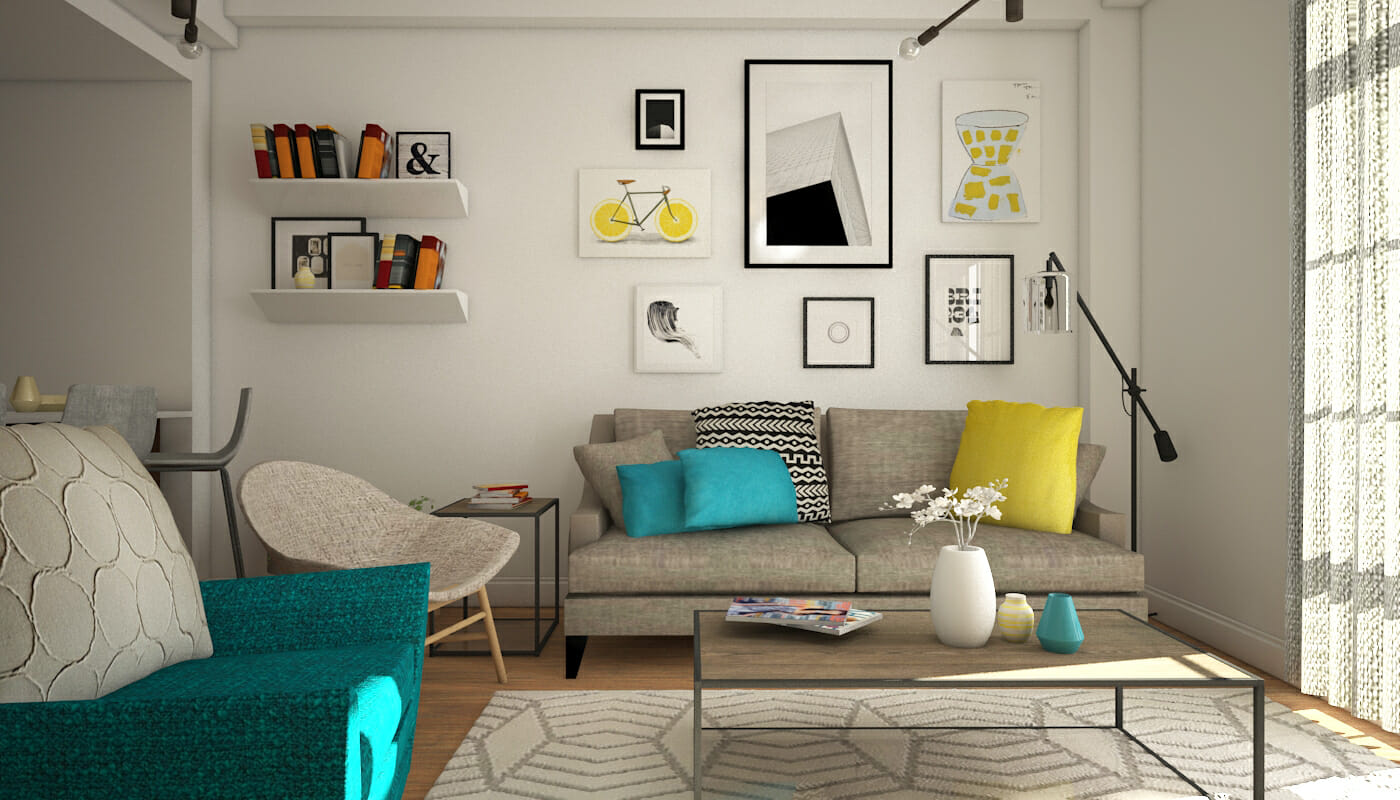 Moving into a new house with a blank space can be overwhelming. Where to start? What to purchase first? What existing pieces to incorporate if any? This can get even trickier when there are family members with different styles.
Our client Kim, was feeling overwhelmed by the challenge and wondering what to do next. She wanted the help of a professional online interior designer to merge their preferences into one beautiful cohesive home design. Read on to see how an empty space was transformed into a colorful and modern living room with clients of varying tastes.
THE BRIEF
The couple was moving into a new apartment in a few weeks. Although they agreed on a shared transitional style, they still had some differences concerning preferences and colors, so they reached out to Decorilla for some interior design help.
One preferred modern and mid century modern style, while the other leaned towards urban modern with a touch of shabby chic. The common ground was wanting a gallery wall as a focal point and interesting accent chairs.
THE CHALLENGE
Create a modern & inviting online living room design from scratch
Combine the clients' different styles
Have a gallery wall as a focal point of the room
THE INSPIRATION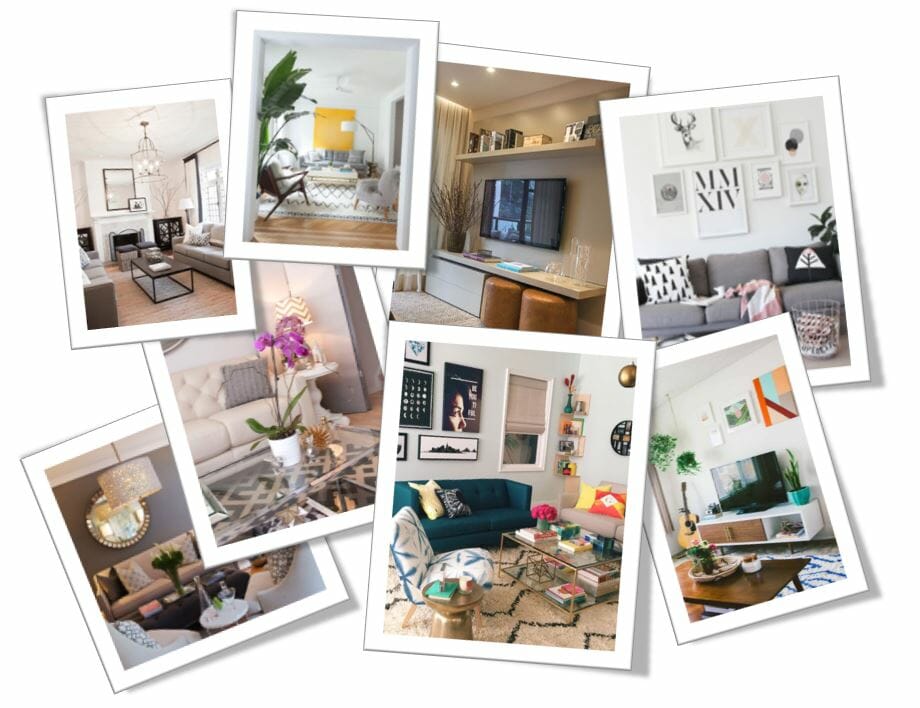 A shared Pinterest board clearly showed differing approaches. Bold patterns and pops of color or solid monochromatic schemes? Black color and strong contrasts or shades of grey with a smoother result? Shabby chic or industrial details?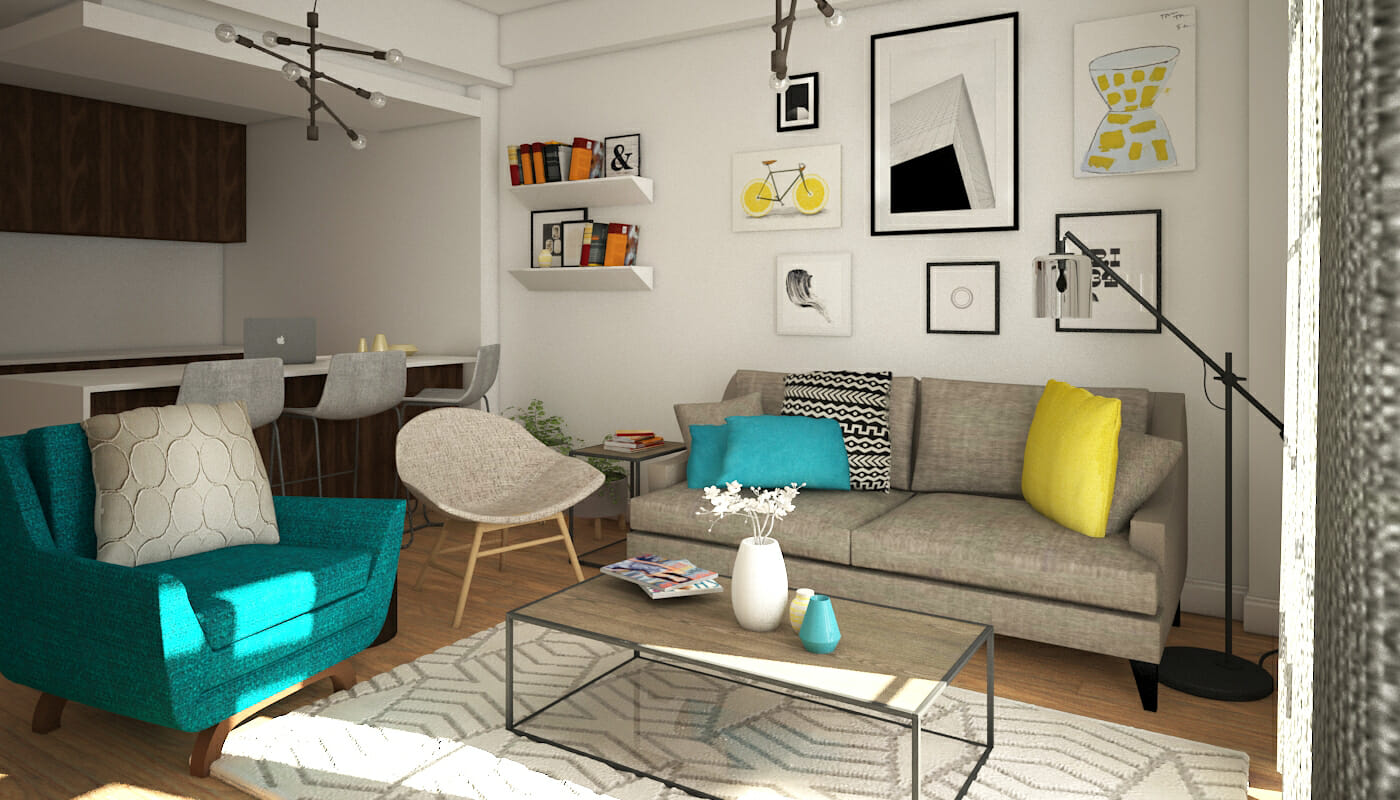 For online interior designer, Anna T, these were a great starting point. After reviewing the inspiration she was confident their preferences could be combined.
THE LIVING ROOM DESIGN CONCEPT
The first proposal tried to combine the modern feel with a smooth grey color pallet and dusted pink as an accent color. A limiting choice of accent color led to an exploration of more mid-century items and other accent color options.
The resulting concept board illustrated  a modern online living room design concept with yellow and teal as accent colors, creating a bold and colorful feel. Stylistically, the couple had commonalities that worked and they made some compromises (not too many mid-century items, more urban details and less shabby, etc). The process gave their online interior designer direction and a way to create balance.
THE LAYOUT
With a clear design direction, spatial layout was next. The small online sitting room design dictated that the gallery art be placed on the larger wall. This made mounting the TV on the opposite wall a good decision. Poufs and ottomans were added to be used as extra seats under a floating TV console which helped open up the space.
A bold teal color was a last minute addition into the accent chair and pillows. This made a difference to the prior, black, white, grey and yellow color scheme, adding another level of interest.
THE GALLERY WALL
One of the main tasks of the project was to create a gallery wall, an exciting idea for both clients and designer.  Although the sofa wall was large, the gallery wall was limited at the area over the sofa in order to be more focused. Floating shelves between the art pieces and the kitchen island helped in separating the spaces easily.
A gallery wall of basic black & white art included some yellow art pieces to help the color flow into the room and set a vibrant up-beat vibe. For more tips on creating your own gallery wall, visit our How to create the perfect gallery wall post, where Decorilla interior designer Christina R. shares some very useful tips.
GET THE LOOK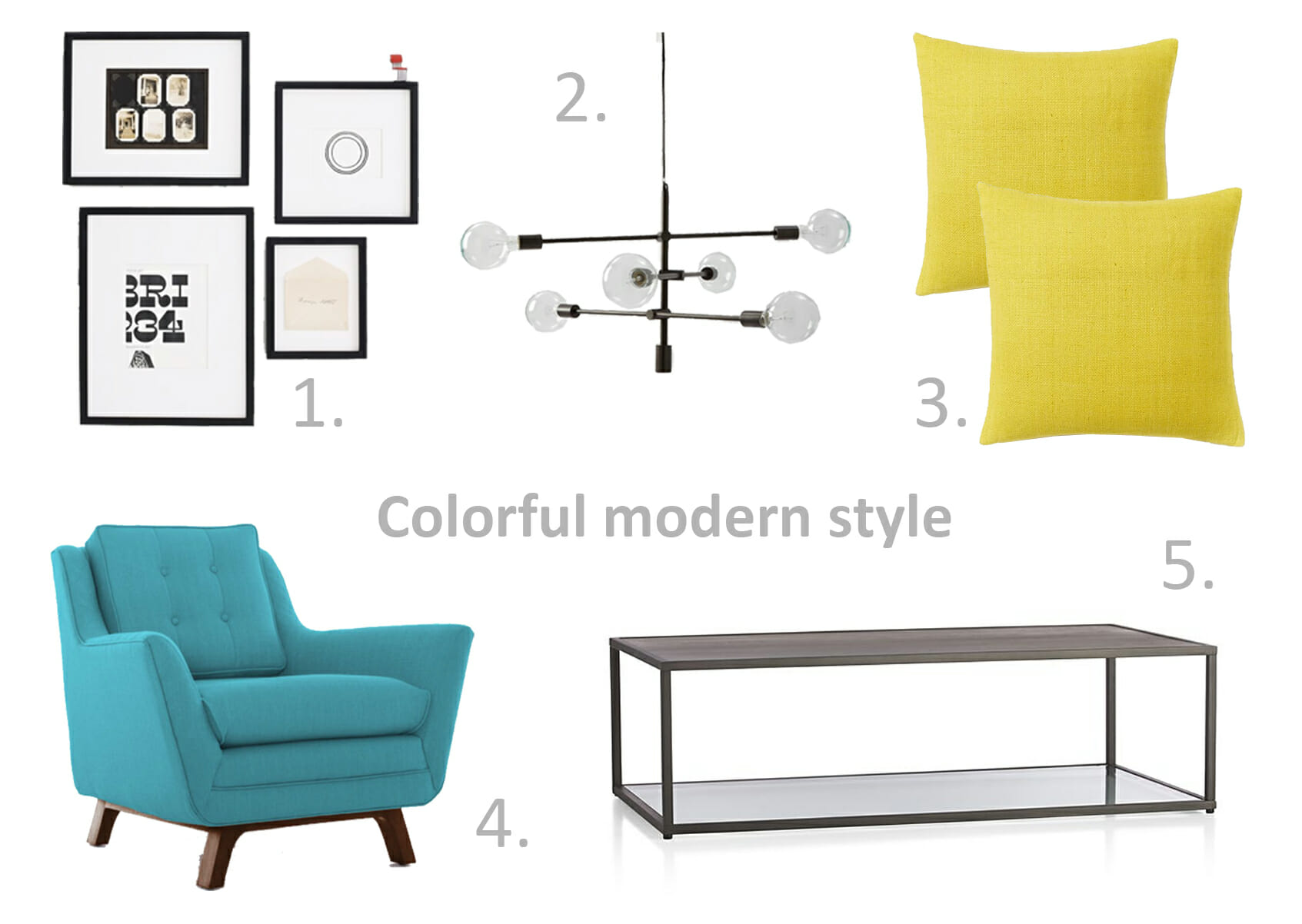 Inspired by this playful online interior designer living room transformation? Schedule a Free Consultation today and get design concepts that you'll love from multiple professional designers and a beautiful, comfortable design.