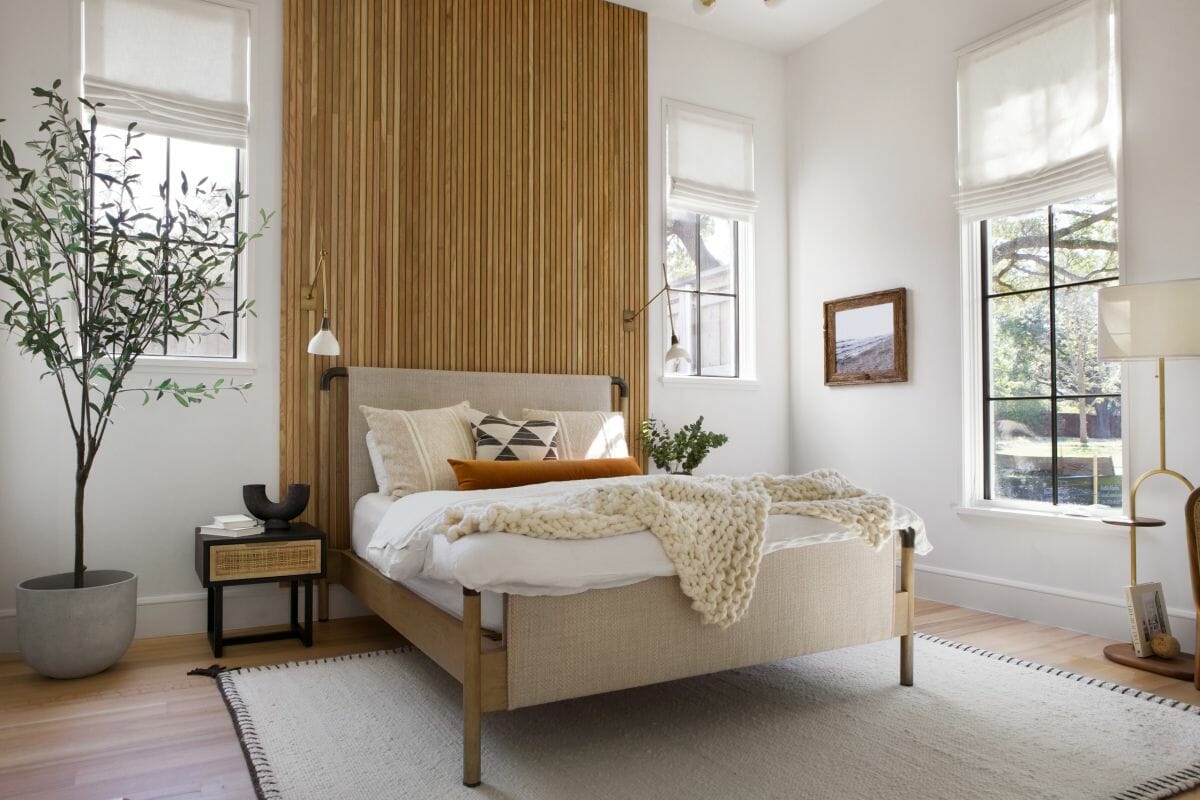 Tired of feeling cramped and cluttered in your uninspiring sleeping chamber? This exciting remodeling story will show you how an ordinary space can be turned into a relaxing sanctuary. With a few strategic changes, you too can have a cozy, organic-inspired oasis in the most important room of your home. Read on to discover the secrets behind this beautiful neutral master bedroom transformation!
The Challenge: Neutral Master Bedroom
The client was looking for fresh bedroom design ideas with a warm and contemporary vibe. She wanted a chamber with a modern feel while still being cozy and inviting—but there were also some functional challenges. In addition to being a comfortable place to sleep, the same room also served as a temporary home office. So, at her first contact with Decorilla, she asked for a designer who could:
Assemble a room with a calm, inviting atmosphere that will be equally functional and aesthetically pleasing

Make the lighting scheme adjustable so it can be bright enough for work yet dimmed down for relaxation

Add a few sophisticated accents to neutral color palette make the layout more interesting 

Source comfortable and stylish furniture with some additional storage space

Incorporate a desk and a task chair
Neutral master bedrooms can come in a variety of styles. Not sure which is right for you? Then take our

Free Interior Design Style Quiz

to find your personal style today!
Finding Inspiration In Neutral Interiors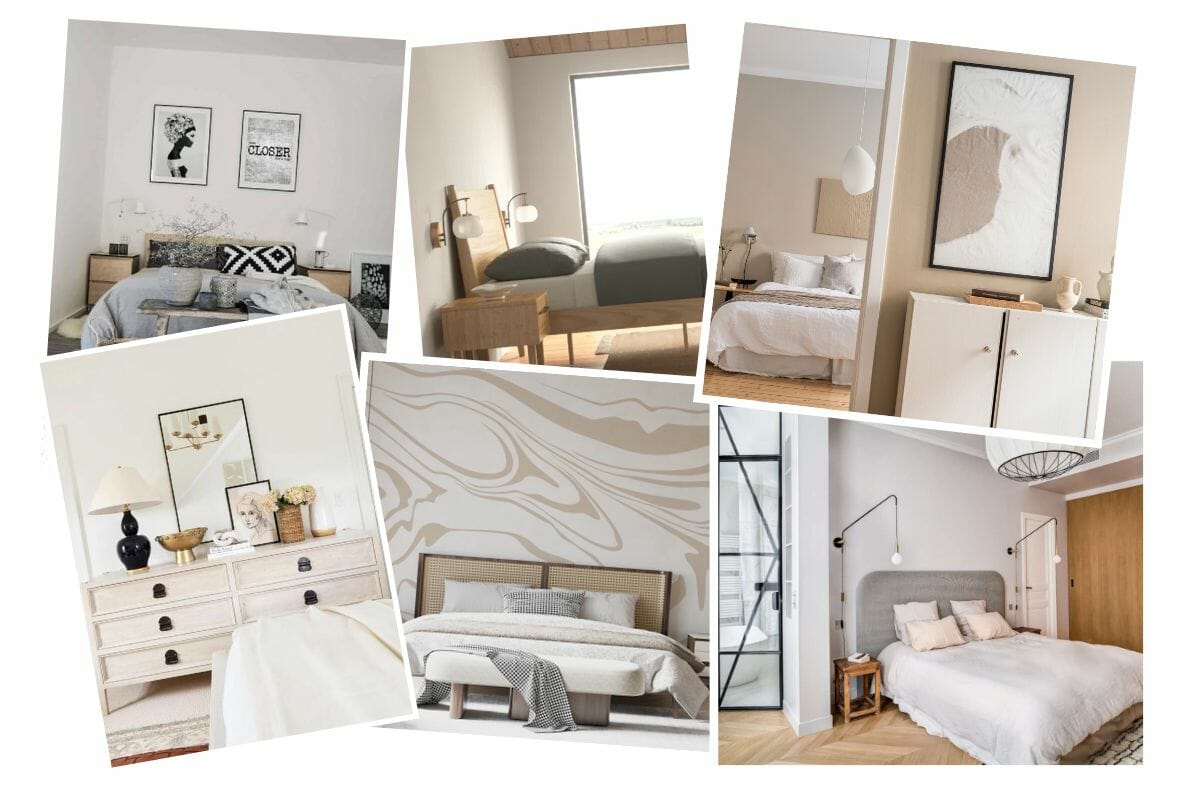 The client's inspirational gallery left no room for doubt regarding the desired vibe. It was full of images depicting organic-inspired layouts using interior design color psychology to create a cozy space. The bedroom styles ranged from minimal, Scandinavian-inspired to eclectic mixes of wooden furniture, natural textiles, and earthy colors. The walls were typically adorned with earthy art bringing the outdoors in, while soft area rugs and accent pillows provided an inviting atmosphere. Organic elements such as plants or wooden accents further enhanced the desired ambiance. Overall, each space felt comfortable and inviting in its own way while also remaining modern and stylish.
Neutral Master Bedroom Ideas & Moodboard
The interior design questionnaire helped the client clarify her master bedroom ideas and vision. Therefore the Decorilla team was easily able to recommend a duo of fabulous designers perfectly suited for the job. With a unique moodboard presented by each designer, it was time for the most challenging part: picking only one designer to proceed with. At last, a winner emerged, the talented Ryley B.'s vision was soon to unfold in its full shine.
Riley's bedroom design ideas featured fresh yet timeless elements. Her initial vision embodied in the moodboard showcased a refined, clean style, Scandi-inspired but with a hint of glam. Mute white and cream colors complemented warm wood tones creating a dynamic palette that felt soothing at the same time. The vibe was brought further by blending abstract patterns with calming textures. In return, this contemporary space felt equally suited to enable comfortable leisure time and promote focus when needed. 

Neutral Interior Design Results
The client wanted to keep the existing queen bed; hence most of the neutral master bedroom ideas implemented in the final design grew from there. The spot by the door, for example, emerged as the ideal space for a small, customized closet. Apart from convenient storage, its functional mirrored sliding doors also reflect the light making the bedroom feel brighter and larger. Meanwhile, ambient lighting comprises table lamps and wall sconces beside the bed, adding a special touch of style to the headboard wall.
In line with the client's request for organic pastels, the neutral master bedroom boasts a soothing color palette. It consists of muted blush, greys, and creams with a tiny touch of metallic accents. Such a combination embodies the designer's idea of bringing spirit, relaxation, and warmth to the multifunctional space. In addition, the subtle contrasting abstract patterns on the headboard accent wall and area rug enhance visual interest without feeling overwhelming.  
The working spot required a desk, so the designer suggested one that switches things up a bit while still complementing the existing furniture. A soft upholstered chair brings comfort and adds more depth to that corner of the room. Large-scale abstract artwork above the desk pulls the elements together with more visual interest and texture. Meanwhile, ripple fold curtains and a large plant complete the bedroom arrangement, bringing in freshness and consistency, along with a dash of sophisticated French atmosphere. 
Before Online Interior Design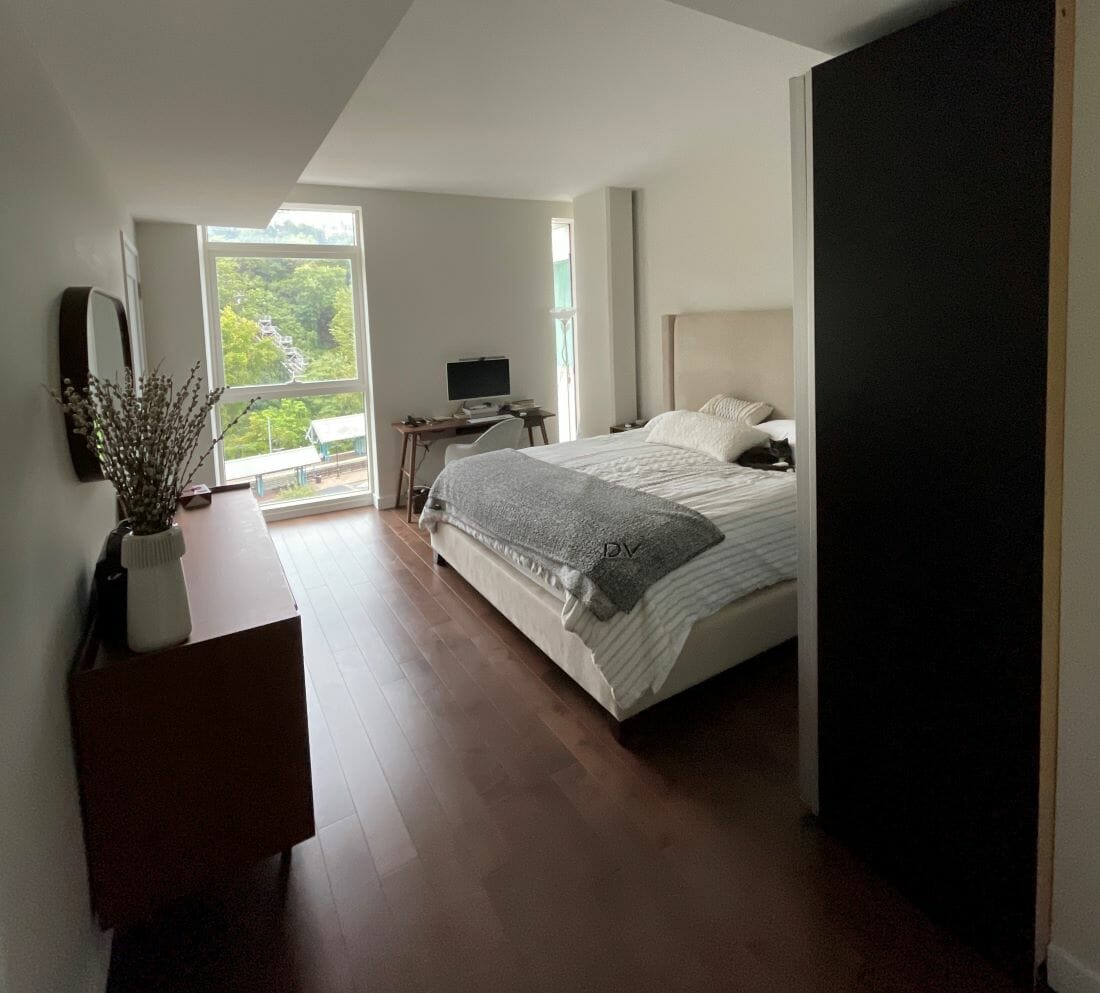 Before introducing neutral master bedroom ideas, the space lacked any clear design emphasis. Although functional, the layout was sparsely adorned and boasted no particular style. With the addition of neutral interior design elements such as organic fabrics, abstract patterns, and brass accents, the space obtained a brand-new atmosphere along with a distinctive, refined character. 
Neutral Interiors Shopping List
At Decorilla, creativity meets convenience. Renowned for their top-notch designs and streamlined approach, Decorilla designers go above and beyond to help you transform your space. Photorealistic 3D renderings offer an authentic experience with each online package, allowing the client to see and feel the design before making a commitment. In addition to elegant designs, a custom shopping list features curated items with irresistible trade discounts. And when it comes to ordering and delivery, Decorilla's white glove concierge service handles everything, ensuring a stress-free design journey. 
Neutral Master Bedroom Top Picks
Shapes, textures, and patterns have a special place in neutral interior design. Whether you prefer muted taupes, washed grays, or creamy whites, these elements are sure to elevate your space even further! While there are countless ways to get there, we've highlighted some of our top picks to get you started: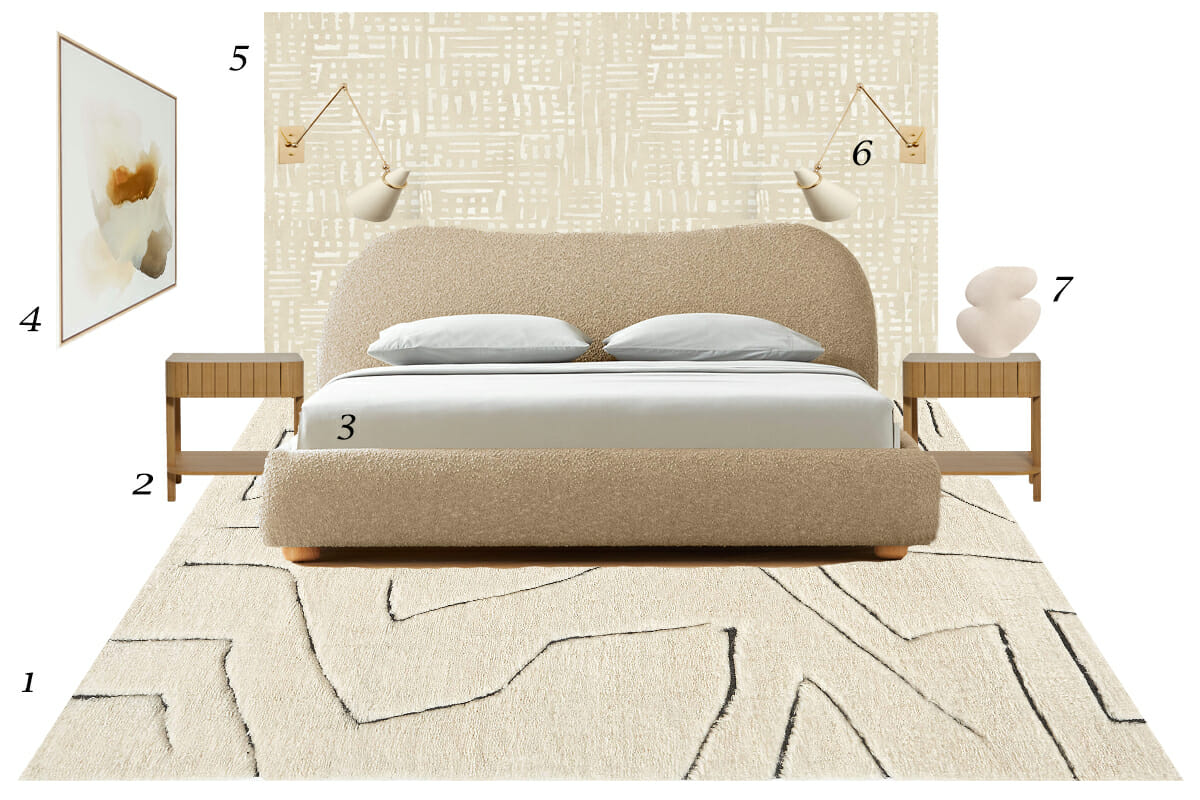 Interested in neutral master bedroom ideas for your home?
Our creative professionals can help you achieve a custom dream space with your own mark. So, schedule a Free Interior Design Consultation to get started today!

Featured Image: [1]