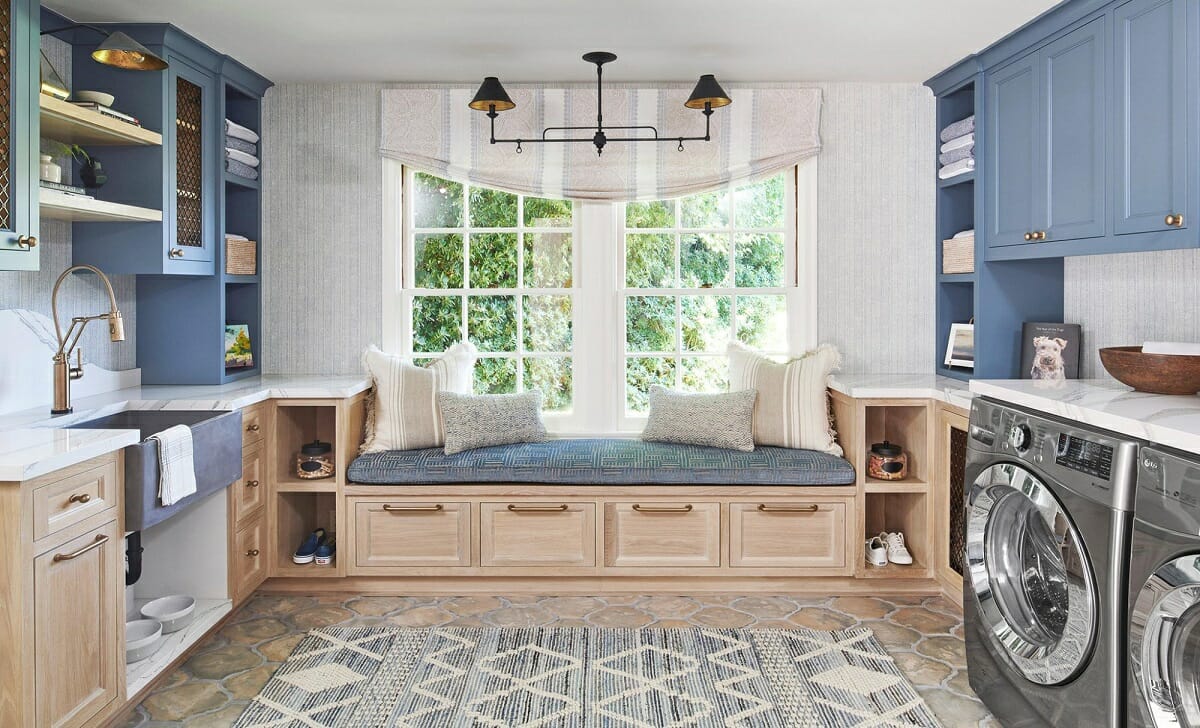 Are you frustrated by the wasted space in your current laundry room? Or, perhaps, you simply need a better storage solution for all of your family's outdoor and sporting equipment. A mudroom laundry room combo may be the perfect answer. Not only does it offer necessary storage, but it also has fun design potential to bring character and charm into your home. So, explore this interior transformation that shows just how stunning function can be!
The Challenge: Mudroom Laundry Room Combo
The client was conducting a major renovation of their home, including remodeling the entire first floor. The extensive scope of the project allowed for many improvements in layout functionality, including a new room addition. The designated space, however, was a bit restrained, while the client wanted to use it for more than one purpose. Looking for out-of-the-box solutions that would be as practical as appealing, they approached Decorilla, asking the team to:
Make the most of the limited hallway space with minimal entryway decor

Propose creative laundry mudroom designs

Find the best layout for a mudroom with a washer and dryer or divide the area into two independent spaces

Come up with storage solutions for both areas
Which style will match your mudroom and laundry room? Find out when you take our

Free Interior Design Style Quiz

!
Inspiration for Mudroom with a Washer and Dryer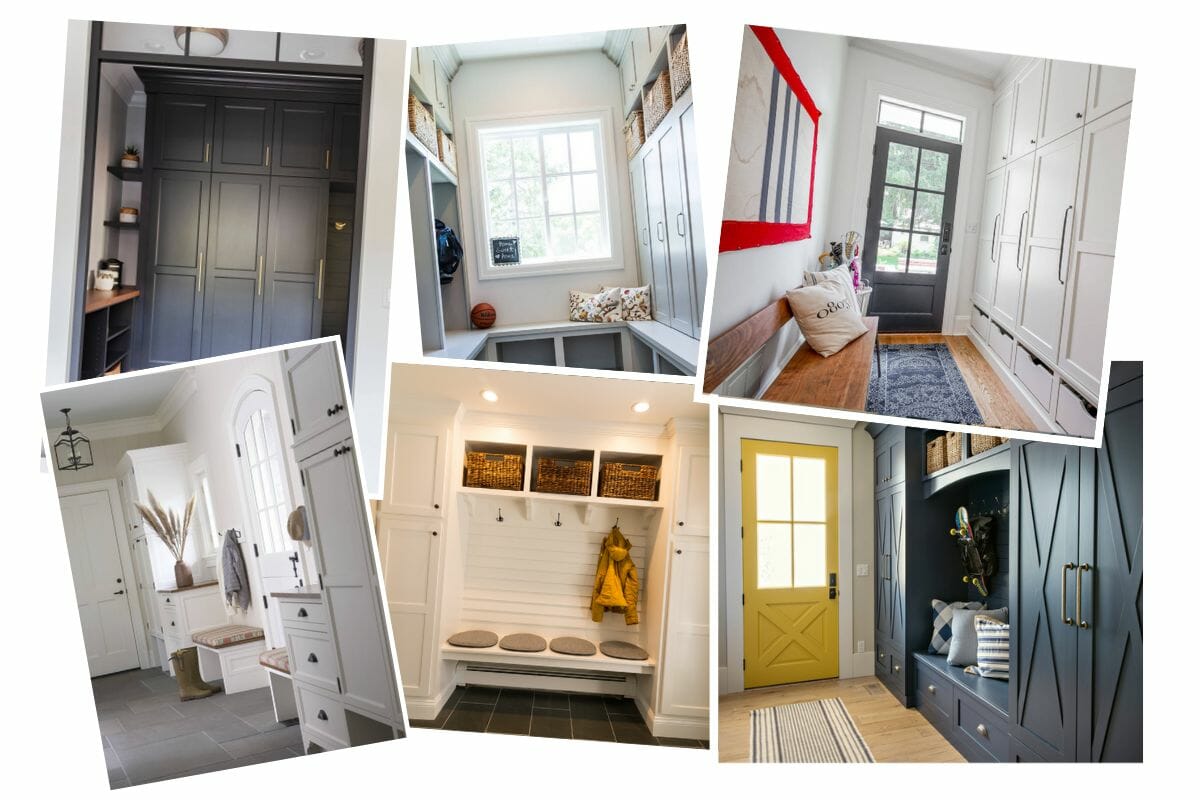 Mudrooms and laundry rooms offer a unique interior design challenge. Making them spacious and functional is paramount while presenting an aesthetically pleasing look. The client's vision involved a laundry and mudroom combination, meaning all elements had to work together to avoid clutter. Their inspirational gallery was clear. There was a lot of easy storage, mud-ready shelving to manage boots and jackets, built-in benches to provide seating and plenty of task lighting fixtures.
Laundry

Mudroom

Designs & Moodboard
The clients needed a designer with the proper vision to make the most of their space, and Decorilla delivered. With the help of a brief questionnaire and virtual consultation, they found two most suited professionals whose styles fit perfectly into bringing this project together. Both designers submitted their ideas in moldboard form, but choosing between these concepts wasn't easy. However, after everything had been narrowed down, the client picked Wanda P. as the right person to turn their vision into reality. 
Wanda knew her clients desired a layout that needed distinguishing laundry room ideas. Therefore, she planned the mudroom renovation with that essential in mind. She used durable yet attractive materials to accommodate hard use and long-lasting style. These included matte cement floor tiles, easy-to-maintain wainscotting on the walls, and streamlined furnishing. They proved to be an ideal solution blending both convenience and aesthetics.

Mudroom Laundry Room Result
Finally, it turned out that dividing the room into two separate layouts was quite doable. As a result, the final design perfectly coordinates the dual function of the mudroom laundry room combo. Now practicality and style reign in one of the most utilitarian spaces of the home.  
Mudroom Laundry Room Layout & Designs
Instead of one substantial closet, a combination of open shelving and closed cabinets provides more flexibility of use. The white hall tree also serves as a bench, enhancing the overall comfort, while the open space below allows for many different purposes at once. A chic mid-century-style wooden cabinet placed next to the entrance juxtaposes the white features, elevating the room style. The large accent mirror and a statement ceiling fixture bring the elements together into a stylish whole, carrying the arrangement beyond basic utility.
Both laundry and mudroom designs follow similar aesthetics, ensuring that every aspect of the space is equally functional and fashionable. Placing the washer and dryer side-by-side under the window allows for maximum daylight, simultaneously allowing for installing additional tall cabinets along the adjacent wall. These new units secure tidy storage of cleaning supplies and various accessories while leaving enough floor free for traffic and tasking. 
A playful wallpaper pattern adds a whimsical element, infusing some cheerful character into the space. It finds a perfect decorative partner in a stripe of deep teal tiles, stretching along the washing area to enhance its low-maintenance practicality. Meanwhile, according to the client's wish, a cat litter station also has its place in the laundry room, discretely built into cabinets.
Shopping List for a Laundry and Mudroom
At Decorilla, you can tap into the expertise of interior design professionals and have access to a look tailored precisely to your taste. Virtual 3D visualizations provide life-like images, allowing you to feel an emotional connection with the space in the making. Meanwhile, you can get hold of all included elements through the custom shopping lists featuring trade discounts from renowned retailers.
Top Picks for Laundry Mudroom Designs
Are you looking for ways to spruce up your laundry room and give it a little charm? If so, then have a look at some of our favorite features. With these picks, you can easily infuse a distinctive character into every inch of the space.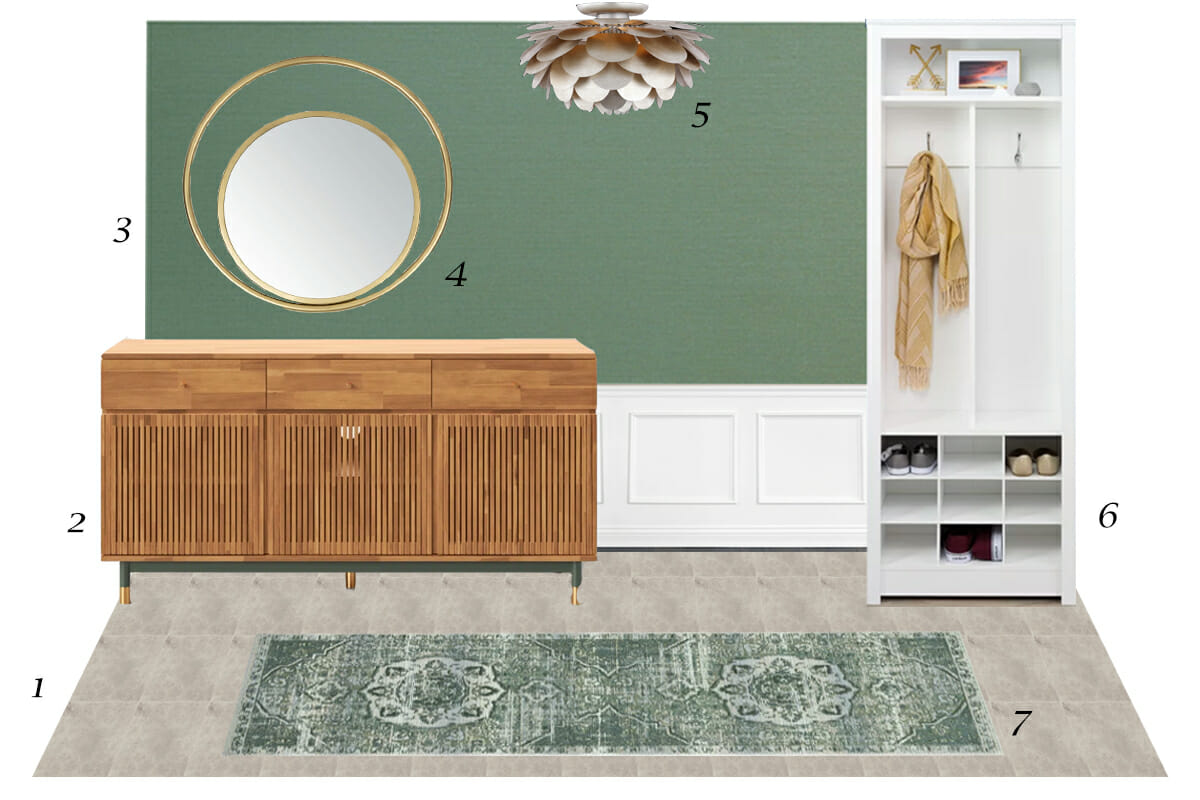 Want a mudroom and laundry room with character?
With simple updates, this utilitarian and often boring space can become the envy of all your friends and family. So, schedule a Free Interior Design Consultation to start your project today!

[images: 1, Decorilla project images]