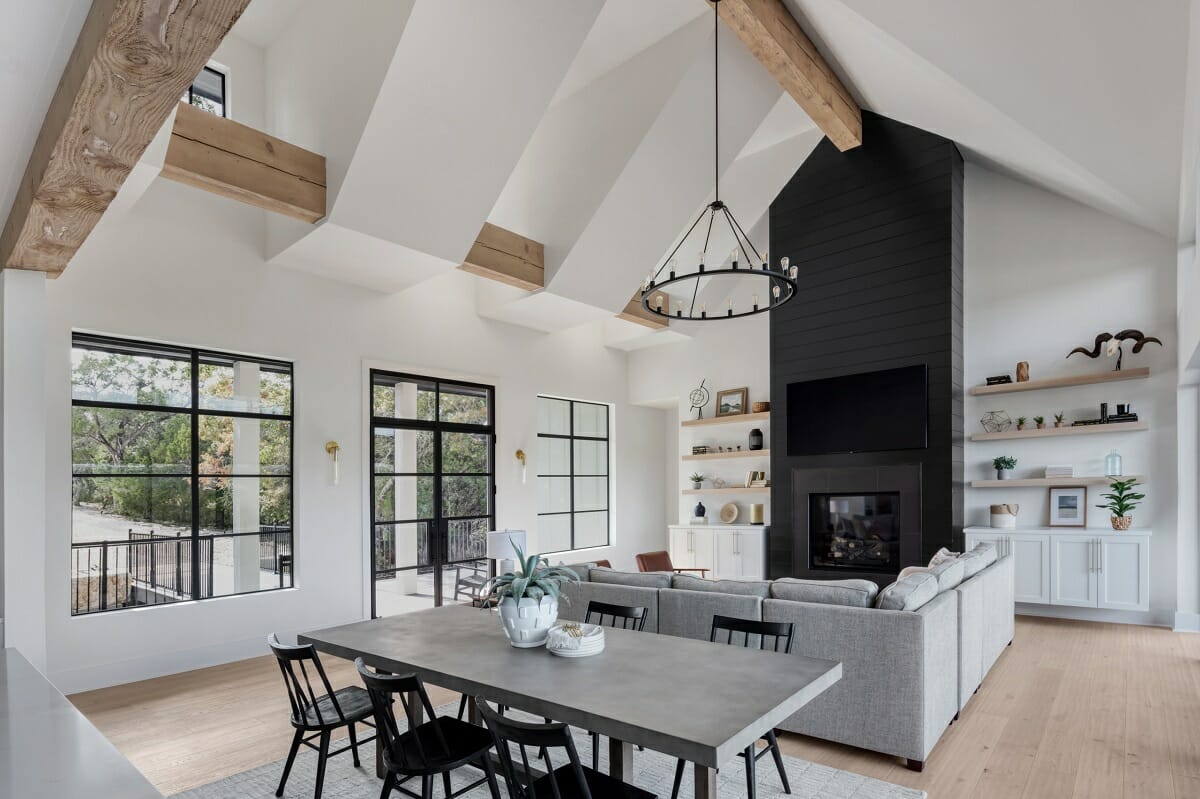 Modern farmhouse design is a balanced mix of a relaxed style and modern touches. Besides being less rustic and more sophisticated, it also uses contemporary elements to add to the refinement. A recent client wanted this for her modern farmhouse living room and bedroom. That's why she turned to Decorilla – read on for the striking result!
The Challenge: Farmhouse with a Modern Style
The client required a glow-up of their living quarters. Fortunately, they had a sound idea of their desired modern farmhouse interior design. That said, challenges are always inevitable. And so, for the project to be a success, the designer had to:
Incorporate existing furniture into the modern farmhouse bedroom and living room

Choose the right mixture of textures for visual depth

Add striking accents while keeping the atmosphere warm and elegant

Contrast the neutral scheme with black, blue, green, and wooden touches

Ensure all spaces are childproof and family-friendly
Want to see if a modern farmhouse living room is right for you? Then take our

Free Interior Design Style Quiz

to find the best style for your home!
Farmhouse Modern Style
Inspiration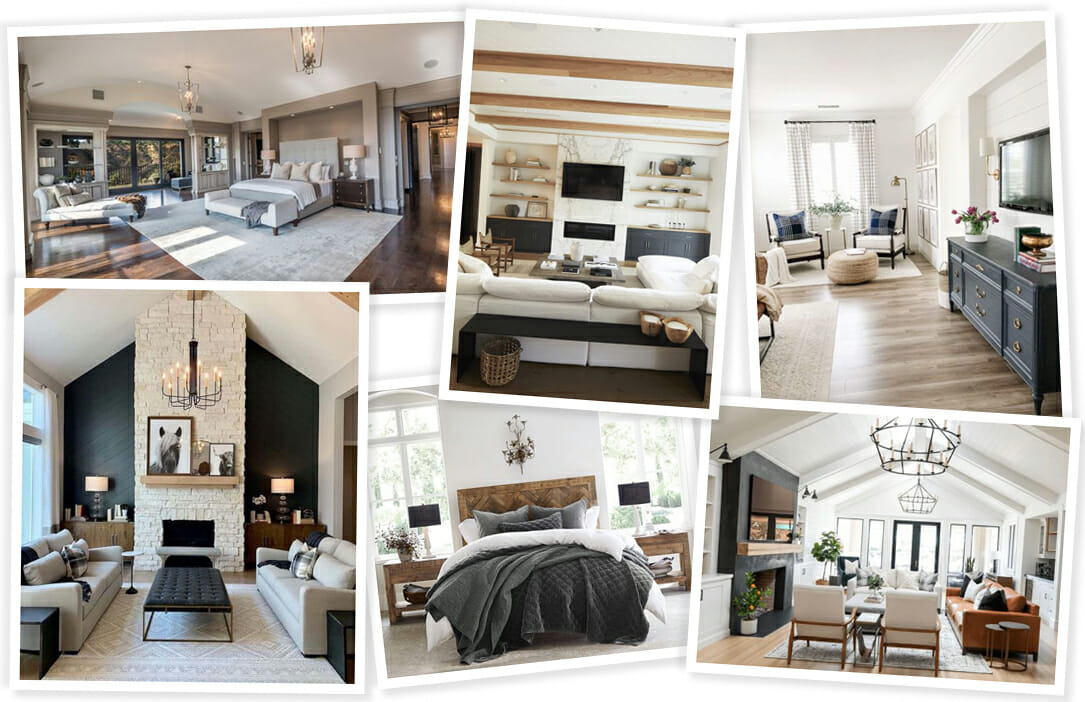 An earthy color palette with subtle pops of color dominated the client's inspiration images. Similarly, modern farmhouse decor added organic texture to these living areas. It was clear that while the client loved simplicity, the designs had touches of sophistication too. The modern farmhouse bedroom and living room ideas also share a serene atmosphere. Their calming tones and naturally bright spaces are certainly covetable.
Moodboard & Modern Farmhouse Design
Now it was time to move on to the online design process. First, the client completed a quick online quiz and provided their inspiration pics. Next, the client met virtually with the Decorilla team for a consultation. From here, the team could pinpoint the client's tastes and budget. Lastly, the team identified two potential interior designers who could excel in the rustic style.
Both designers delivered to the highest degree. However, it was Tiara M. who stole the show. Her proposal contained the right mix of tactile finishes and hues of modern farmhouse color.
Tiara's farmhouse modern living room ideas ticked all of the client's boxes. Her concept features rustic wood furniture, comfy modern seating, and finer details in a soft, neutral color palette. She also includes contrasts with blue, black, and green accents.

Family-Friendly Farmhouse Modern Style Result
The final online modern farmhouse design feels tranquil and sophisticated. A soothing color scheme, coordinated fixtures, plush furniture, and rustic accents bring balance. Moreover, this home now has a clear sense of functionality, which is vital for a family-orientated space. 
Open Modern Farmhouse Living Room & Kitchen
The updated modern farmhouse living room feels roomy, with enough space for a growing, young family. An ample L-shaped sofa and twin armchairs wrap around a round coffee table to create an intimate space.
A black accent fireplace and contrasting blonde wood shelves form the feature wall. In addition, the dark accent chairs and latte-colored couch echo the feature wall's hues, bringing unity into the design. Lastly, an abstract sandy rug brings comfort underfoot, while the modern farmhouse living room décor dots the room.
The open-plan layout includes a compact dining area that divides the living room and kitchen. It's a modern yet rustic space perfect for family meals. A round table and sideboard encourage the farmhouse style, while artwork and dining chairs refine the design. Finally, greenery adds life and charm. 
The kitchen needed a few final touches to tie in with the rest of the interior. Contemporary bar stools suit the farmhouse's modern style. Their dark hue matches the living room accent wall, kitchen backsplash, and window frames. As a result, the space is cohesive and sleek.
Rustic-Luxe Modern Farmhouse Bedroom 
The primary bedroom showcases high-end modern farmhouse bedroom ideas. The bright room balances elegance and cottage comfort. For example, the wooden side tables and bedframe evoke a feeling of country living. At the same time, the navy linen, rug, and curtains add depth and a modern finish. Modern farmhouse bedroom decor is minimal yet ties the room together. These include greenery, a great mirror, and artwork dotted in the interior.
The modern farmhouse bedroom also includes a comfy lounge for parents to unwind. Two cream chaises form the center between the media unit and the bar. As a result, it's a versatile multi-purpose area that can cater to young or old.
Before & After: How did the designer change the room?
Originally, the client's living area held a different style and wasn't equipped for young children. But, the client had a vision for a sophisticated yet rustic home space. Fortunately, the designer's expertise made the new goal possible.
Creating a Family-Friendly Modern Farmhouse Living Room
While a few of the living room elements remained, the space underwent a significant update. The new earthy color palette and mixed textures lined-up with the client's vision. And most importantly, the modern farmhouse living room could now cater to a young family with its child-friendly furniture.
Adding High-End Touches to a Modern Farmhouse Bedroom 
The modern farmhouse bedroom now holds sophisticated elements of navy and oak wood. This added depth and dimension brings a feeling of rustic sophistication. Furthermore, the updated lounge layout is more user-friendly, with added practicality and aesthetics.
Online Shopping List
Putting your space together has never been easier – with Decorilla you receive fantastic benefits! From 3D renderings to instructions on placement, the implementation process is simple. Plus, Decorilla clients receive a shopping list with trade-exclusive discounts. Following the implementation guide lets you piece together your dream design quickly!
Our Top Picks for a Modern Farmhouse Design
Did you love this project and now wish for your own modern farmhouse home? Then, you can recreate this look in your own space with our top picks. All you need are a few items to get started!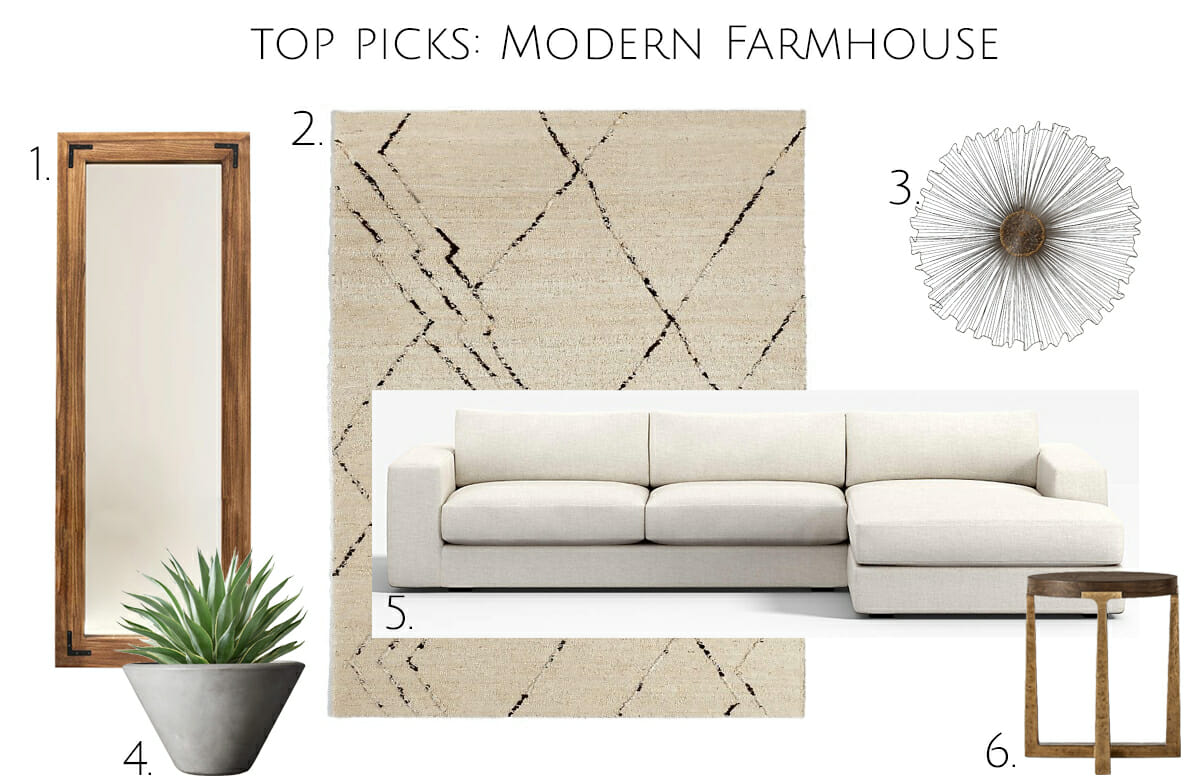 Want your own modern farmhouse interior design? 
Your vision for your home can become a reality. Simply schedule a Free Interior Design Consultation to get started with industry experts today!

[images: 1, Decorilla project images]