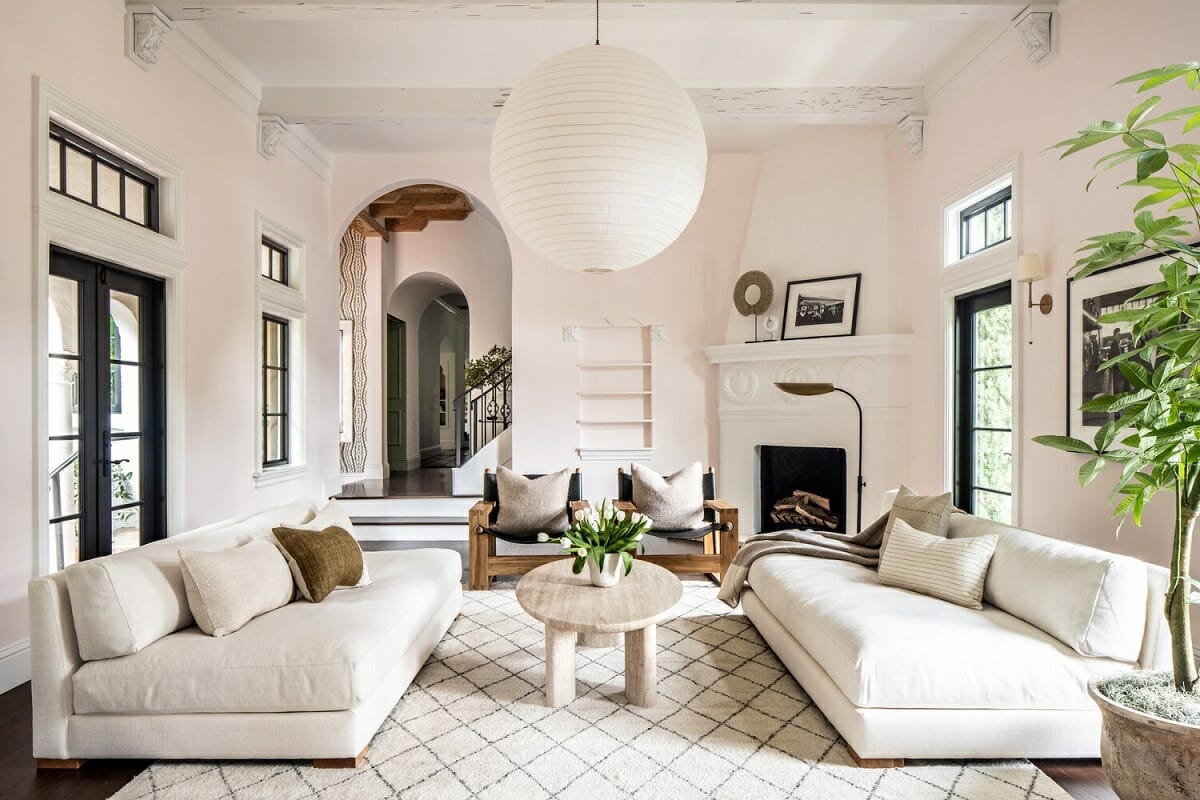 Sleek lines, uncluttered spaces, and simplicity come to mind when thinking of minimalism. It's safe to say a feeling of calm comes with minimalist home décor. But while less is more, achieving this look is more intentional than choosing a few subtle pieces. For this reason, we have compiled a guide on all you need to try minimalist décor at home. 
What is a minimalist decor style?
Minimalist interior design sees a rejection of the over-the-top flamboyance of past designs. It's achieved by exercising restraint and focusing on aspects such as functional furniture. Inspired by Japanese design, minimalist home décor echoes a modern feel with uncluttered open spaces. In fact, the more uncomplicated the décor, the more you can prioritize the essentials!
Not sure if minimalist home decor is the right look for you? Then try our

 Free Interior Design Style Quiz

to discover your unique decorating style today!
Minimalist Home Decor Ideas by Room
When looking to incorporate minimalist décor into your home, it's best to plan it for each room individually while keeping a cohesive theme. That way your minimalist decorating ideas can tailor to room specifics. For example, a minimalist bedroom will require different decor than an office space. So, if you've envisioned relaxing in a minimal home but don't know where to begin, read on. 
Minimalist Decor for a Living Room
Living rooms are for living in, and what's better than living in a room that evokes tranquillity? With this in mind, let's look at how to minimize your layout to the bare essentials. As a result, you will be left with minimalist decor that leaves a lasting impact. 
1
. M
uted Tones
Subtle colors in your materials and finishes allow for other pieces to stand out. For instance, a striking accent chair against the muted tones of your living room décor. Not only do soft shades allow other items to shine, but they create a sense of airiness and openness in a room. 

2.
Minimalist Wall Décor
The key to sticking to minimalist home décor is letting one piece take center stage. Memorable minimalist wall décor that leaves most of the wall open, for instance, is best. A dramatic abstract can do the trick, while a ceiling light is an alternative to additional accessories. The latter acts as a hanging sculpture and creates interest in a minimalist room.
3.
Selective Storage
Stowage is essential when creating a living room with simplistic home décor. Consequently, it is important to be discerning in your furniture picks. Working unique storage ideas, like a wall-mounted media console, into your living room allows for a streamlined design. As a result, the room will feel uncluttered and let the main features shine.
Minimalist Decor for a Bedroom
It is without a doubt that modern minimalist home décor results in a calm, serene atmosphere. Therefore, there is no better place to implement this design than in the bedroom. Relax, restore, and reflect among your minimalist home decor with the following ideas. 
4.
Select a Simple Bedframe
Choosing a bedframe with a minimalist design will make a big difference. Since the bed is the focal point of your room, it will also set the tone. Examples include slender metal bedframes, platform beds, and contemporary low box frames. Keeping storage in mind, you can look into an ottoman bed with lift-up storage. This leaves more space for your minimalist décor in the room!
5.
Add a Pop of Greenery
A cleverly placed plant is a fun, simple, earthy piece of minimalist boho décor. Plus, it's a great way to add color to an otherwise neutral bedroom. One large houseplant or a few smaller ones allow a clutter-free bedroom. Just ensure that the plants don't crowd your artwork!
6.
Lose the Chest of Drawers
Nothing dampens minimalist house décor like bulky furniture, and a traditional chest of drawers is exactly that! Try to get around this by incorporating a single slim dresser or a low-profile built-in. As a result, your space will look decluttered and spacious.
Minimalist Dining Room Décor
As with a kitchen, a dining room is a place for family and friends to gather. With the right modern minimalist decor, your dining room can be a clean backdrop. In the end, your design will depend on a beautiful table and chairs that'll form the focal points of the room. 
7.
Space-Saving Table
Nothing beats a dining table that fits just perfectly into your dining room. For an innovative take on a minimalist design, incorporate an expandable dining room table. This can fold and expand, and accommodate visiting guests. 
8.
Light it Up
Nowadays, lighting isn't only sleek and smart, but can also lower environmental impact. In addition, these pendant lights cast a soft, ambient glow. The result is a cozy atmosphere and warm shimmer on minimalist décor. It is also important to consider the finish and style of these pendants, as it's best to match other hardware in the room.
9
. 
Bring in Interest
Tactile décor is a sure way to dress up a minimalist interior. Wood and leather or steal and boucle, for instance, bring another layer of texture in a design. It creates contrast without being overwhelming. Finally, accessorize selectively – minimalist wall décor or a statement light fixture can bring the room to life.
Minimalist Office Decor Ideas
With clutter, comes an unclear mind – not ideal when it comes to working! Workflow and increased concentration are direct outcomes of a minimalist space. This is due to the clean and organized design. 
10. Keep it Organized
Neat organization is the main rule to achieving minimalist office design. To achieve this, you require plenty of storage space for desk items. In addition, try out an L-shaped desk if you have more than one computer screen. This shape is popular as it fits into an office neatly while being spacious enough to hold accessories. 
11.
Comfy Desk Chair
Splurge on a comfortable desk chair. Ensuring it's easy on the eye is step one, but next is making sure it's functional. You can also opt for an acrylic chair to add a minimalist touch. The result – it ghosts out of sight and creates a sense of roominess!
12
. 
Desk Design
Leave the floor spacious and free from any clutter of desk legs with a wall-mounted desk design. Alternatively, a fold-up desk is another convenient minimalist idea. These are great when the office space resides in a living room or in a guest room.
Want your own minimalist interior design?
You can transform your home with expert design help too! Schedule a Free Interior Design Consultation to get started today!

[images: 1, 2, 3, 4, 5, 6, 7, 8, 9, 10, 11, 12, 13, 14, 15, 16, 17, 18, 19]