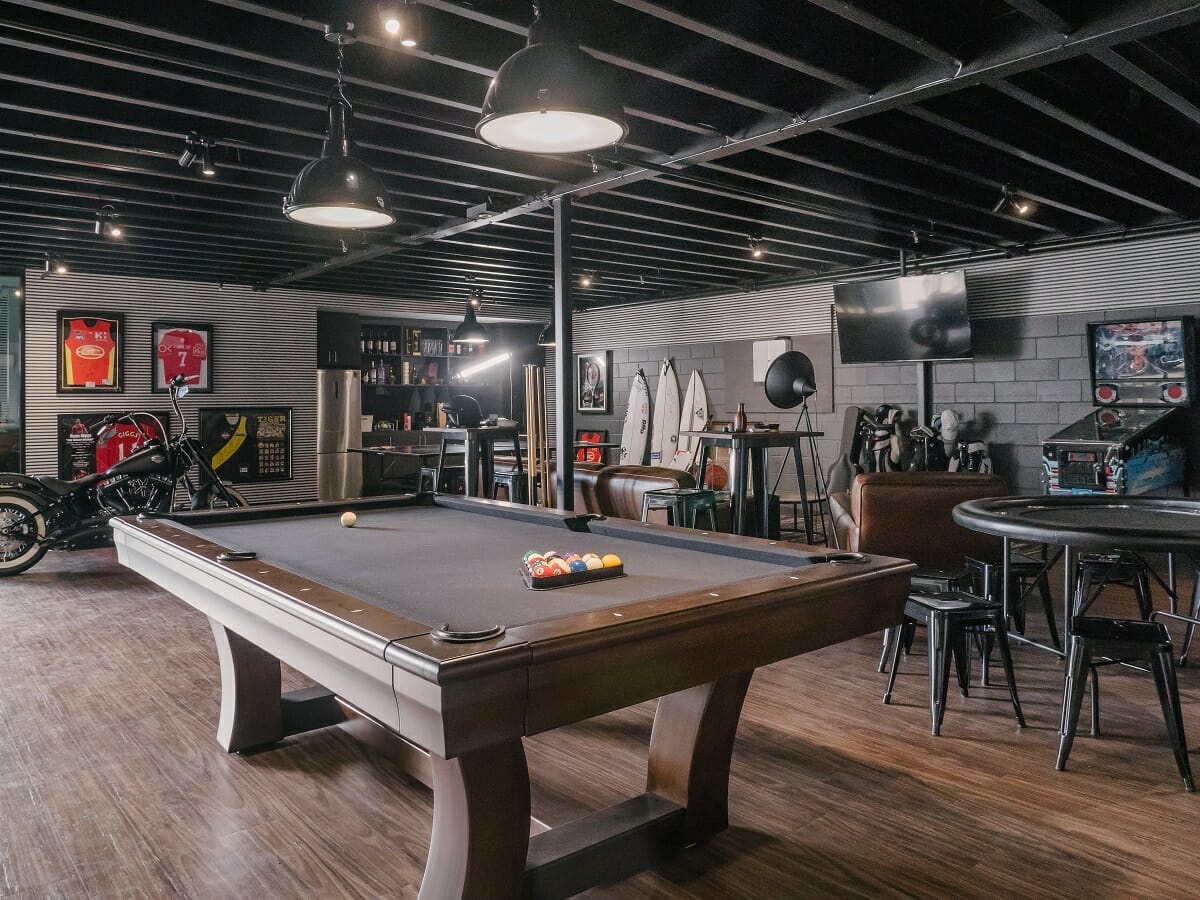 Fathers, husbands, and bachelors: feeling the need for a place to call your own, away from the hustle and bustle of the rest of the house? The perfect man cave design can deliver
 a place to pursue hobbies or indulge in me-time. It's where you can unwind away from it all.
And although your inner child can run free with seemingly outlandish ideas
­
, your den can still be stylish
. In fact, this space can be impressive on a designer level. Read on for our top man cave design and decorating ideas to get started creating your sanctuary today!
Man Cave Design Do's and Don'ts
Getting a few basics straight first will set your design project on a good path. And there is no better way to start than by learning the simplest do's and don'ts. So, without further ado, here are our interior design tips ideal for man caves.
Do layer lighting. Include general, accent, and task lighting in your small or luxurious man cave.
Don't forget the soft furnishings. A man cave design will also benefit from elegant furniture and decorating ideas.
Do incorporate a playful form of entertainment. Darts, a pool or poker table, and a gaming console are excellent options.
Don't try too hard. A man cave is made for relaxing and escaping some of the seriousness of life. That's why a casual air, even in the most luxurious space, is important.
Do pick a theme. You're not limited to sports or games, and you can choose any decoration theme. Chic debonair or woodland hideaway, for instance, can guide your man cave design.
Don't only focus on the function of the room. The aesthetics play a vital role in making man cave games room ideas look classy.
Need help completing your perfect man cave design? Schedule a Free Interior Design Consultation to get expert assistance today

!
Small Man Cave Ideas
Limited floor space? No problem! Small man cave ideas make the most of a room without compromising on comfort or entertainment. Read on for tips on how to make a small room feel bigger.
1. Hobby Highlight
One of the top man cave ideas for a small room is to keep it simple. If not, a too busy interior can feel cramped and take away from your relaxation. Focus and emphasize one hobby or activity. This way, you won't need a lot of room, just enough to move about to do your thing. A corner or under-stair space could even do the trick.
Wherever you choose to create your sacred space, be sure to decorate with only what you enjoy. It can be anything, from a sport, a chessboard, to sound tech.
2. Themed Delight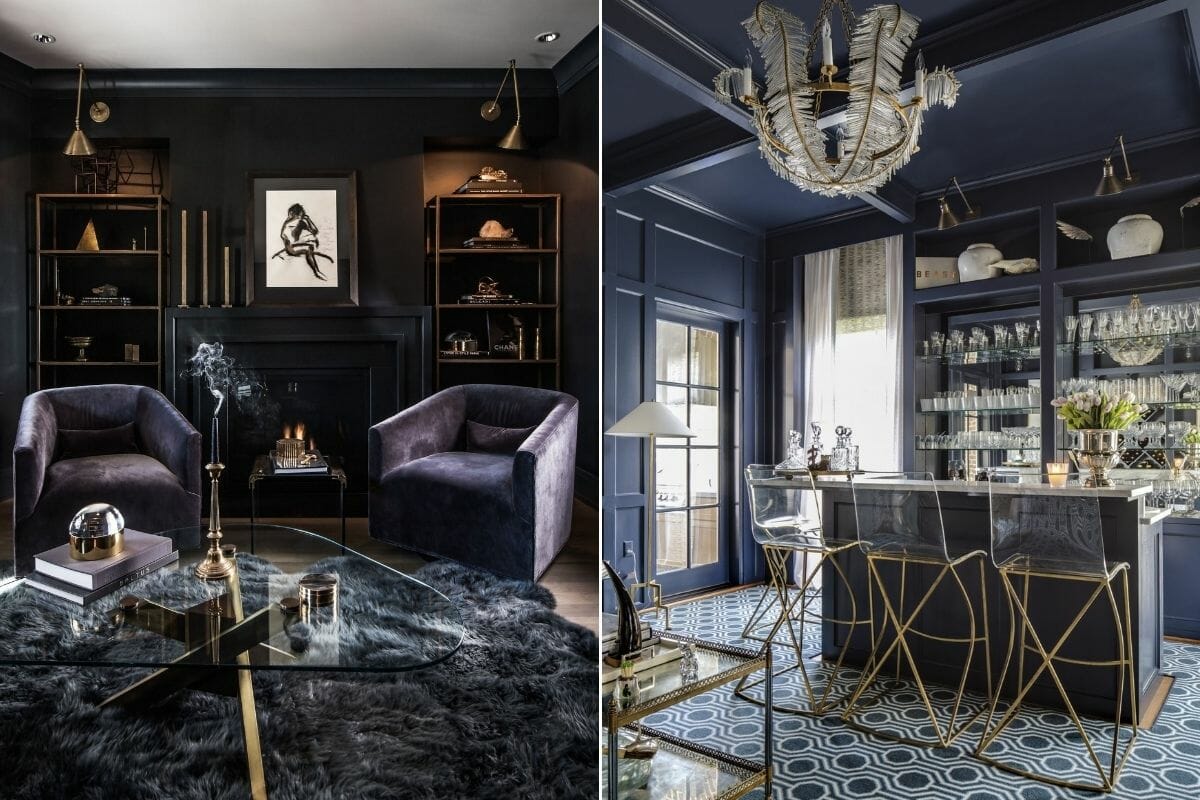 Simplify your man cave design by structuring your ideas into a theme. This way you'll save space by including only what you want and suits your theme. A color, style, mood, activity of treasured memento can all help form your concept.
If you like blue, reading, and moody cigar lounges, for instance, you're well on your way to creating a cohesive theme. For a man cave design to make you happy, it must be appealing to you above all.
3. Marvelous Me-Wall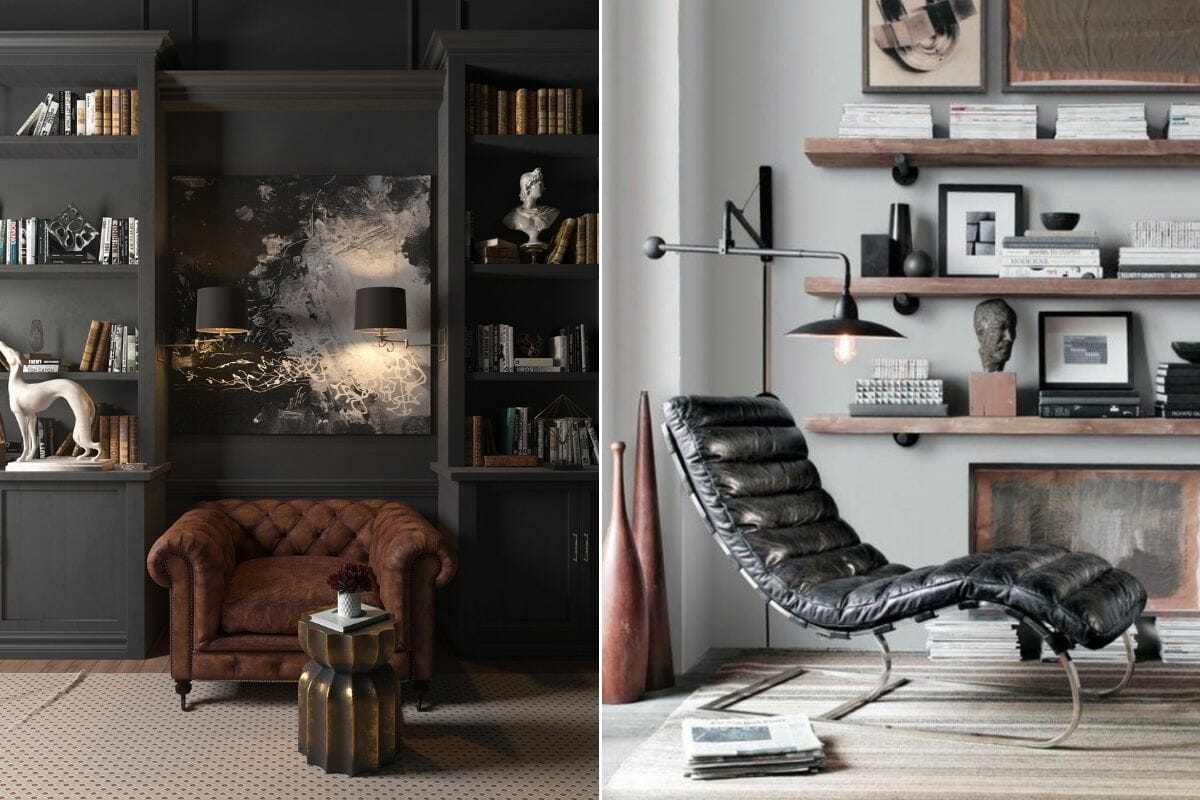 You can still have your special place even if you can't have an entire room. Multifunctional spaces are a growing interior design trend. In fact, a section of wall and floor space is all you need. Pick a quiet corner, preferably away from the hustle and bustle of the household, and make it yours.
A guest room or home office could do the trick. If you love reading, make a reading nook with a bookshelf just for you. And if silence is not possible, consider noise-canceling headphones – they work wonders!

Man Cave Ideas for a Basement
Making the most of a basement is a toughie. Low ceilings and no windows
certainly
present a design challenge. But this less frequented space is also the perfect spot to explore man cave decorating ideas. In fact, its
issues
might even contribute to the exclusive air of your man cave.
4. Private Bar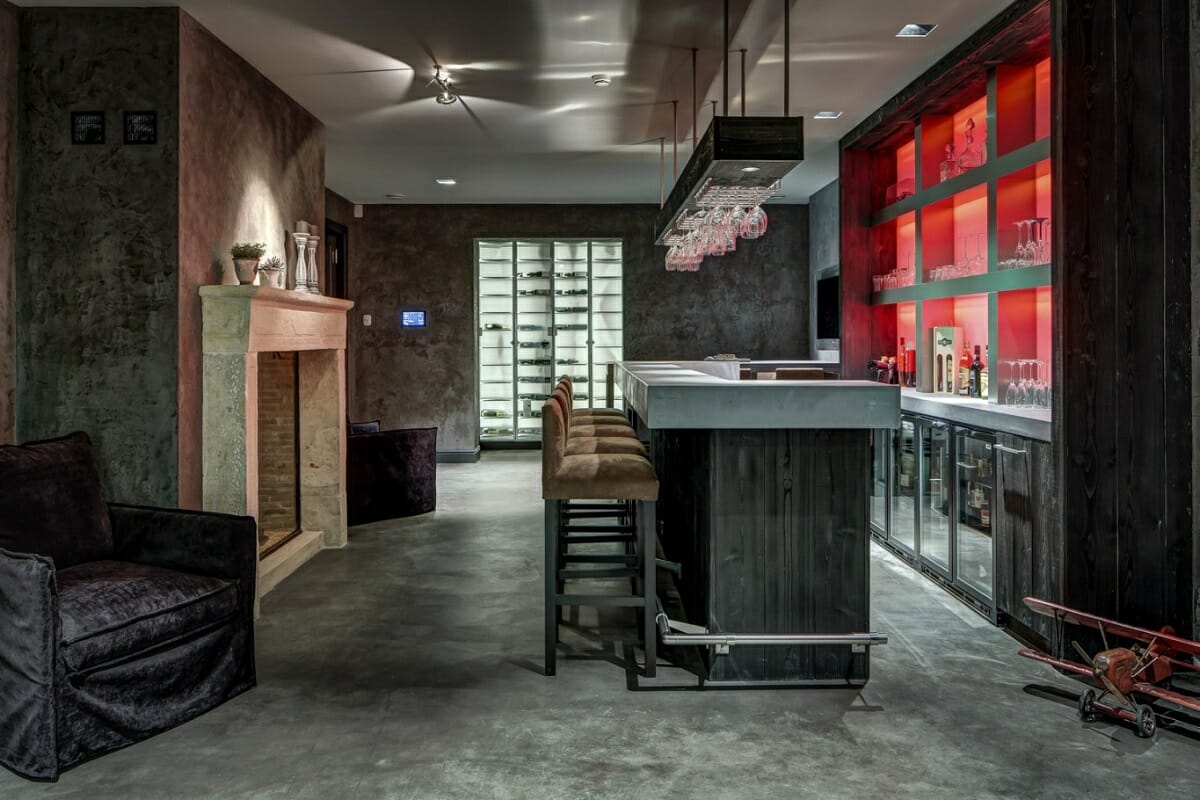 Without natural light, a basement can
easily
convert into a walk-in cellar or upscale bar. What's more, the underground spot feels separate from the main house. It offers more privacy and you don't have to worry about being noisy either.
Here you can practice your mixology skills and host your friends to show off your latest cocktail inventions
.
5. Bibliophile's Den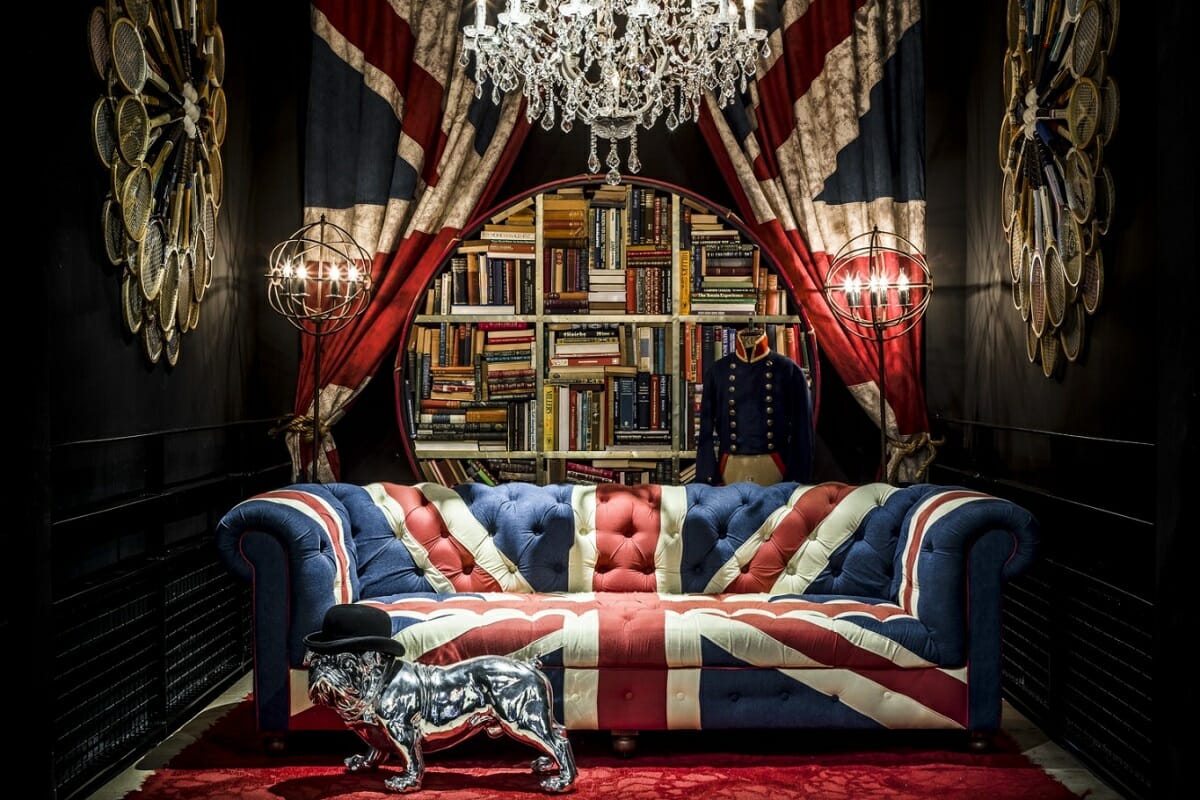 Who said a reading room can't be luxurious and extravagant? With a personal library, you can opt for plush or simplified – it's up to you. Indeed, man cave ideas for a basement come in all shapes and sizes. Even so, include comfortable seating, enough lighting, and enough shelving. Adding treasured mementos won't hurt either.
6. Light Layers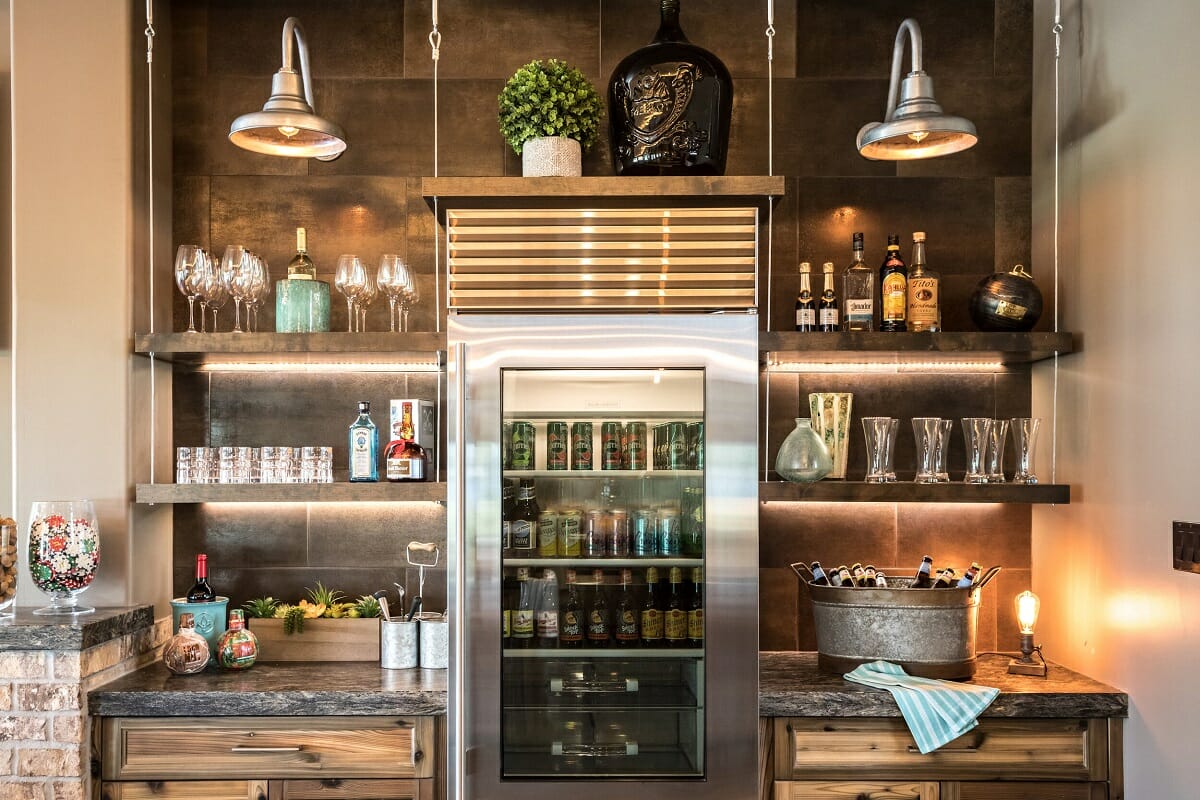 Light makes all the difference, and the lack thereof is not good for design. Ensure your basement has different levels and intensities of light so you can set the mood. Three layers to keep in mind are ambient, task, and accent lighting.
In a basement bar, for instance, overhead sconces, pendants, or down-lights offer ambient (or general) lighting. LED strips underneath shelves double as accent lights. And, lastly, on-counter lamps or under-cabinet lights provide task illumination. Be sure to cover all layers for a beautiful design.
Man Cave Furniture Ideas
A man cave design deserves just as much comfort as the rest of your house's interior. So take your time in choosing what you like and what fits the look of your home.
7. Character Piece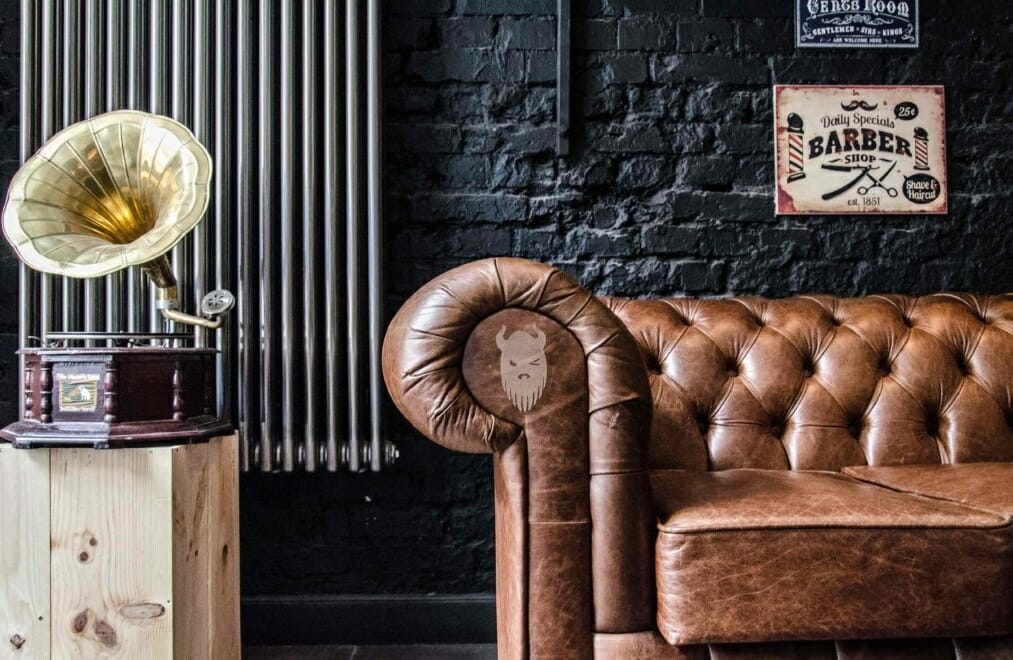 Man cave furniture ideas always feature something unique that adds character to the interior
. It could be an odd dresser doubling as poker storage or a gramophone. A leather chesterfield, for instance, is a showstopper that will look good in most man caves.
8. Something Playful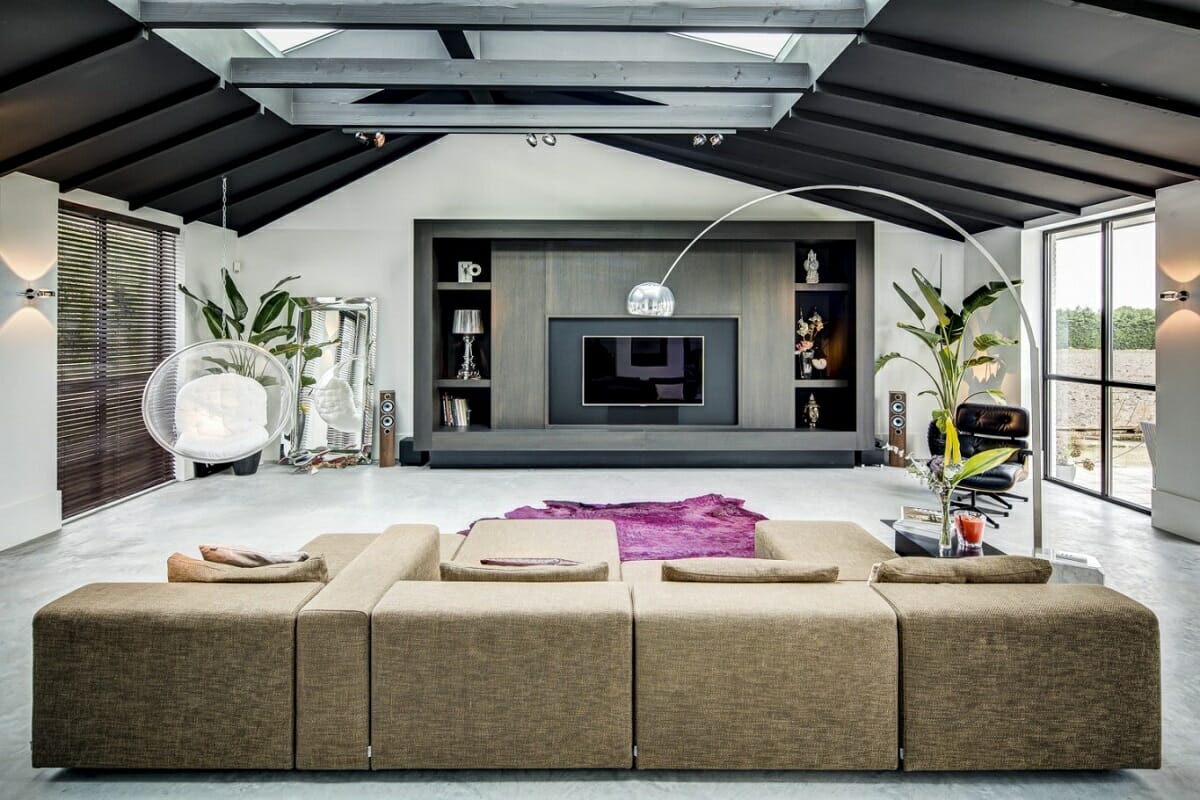 A man cave is where you can be yourself, which often means you get to set free your inner child. With this in mind, include man cave furniture ideas that cater to frivolity and fun. A hanging ghost chair or boat-shaped lounger is sure to lift your spirits whenever you visit.
9. Stylish Surfaces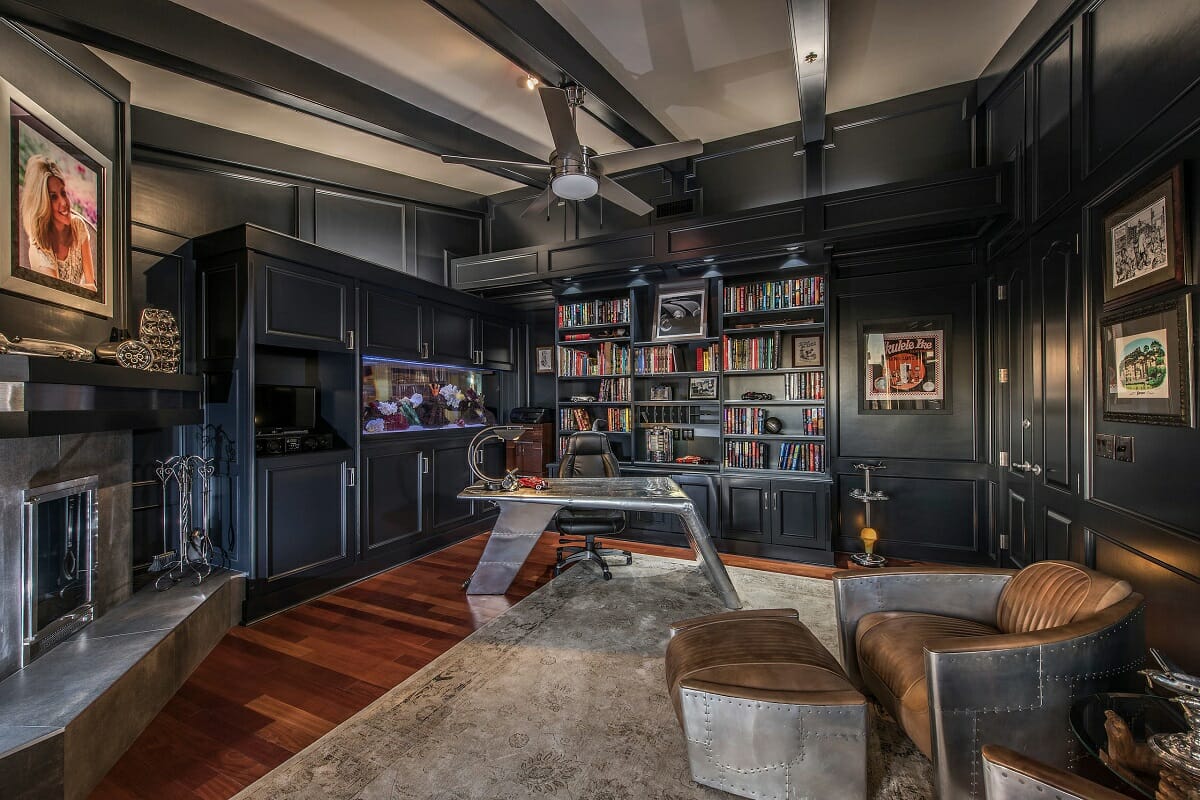 Be practical when planning your man cave design. Not only does the space need character and good taste, but it also needs to be easy to use. So make sure you have enough surfaces and storage space for your big and small man cave ideas.
Luxurious Man Cave Design
An opulent at-home hideaway comes with everything you might need. From new-gen tech to a posh showroom, a luxurious man cave can have it all.
10. Lavish Entrance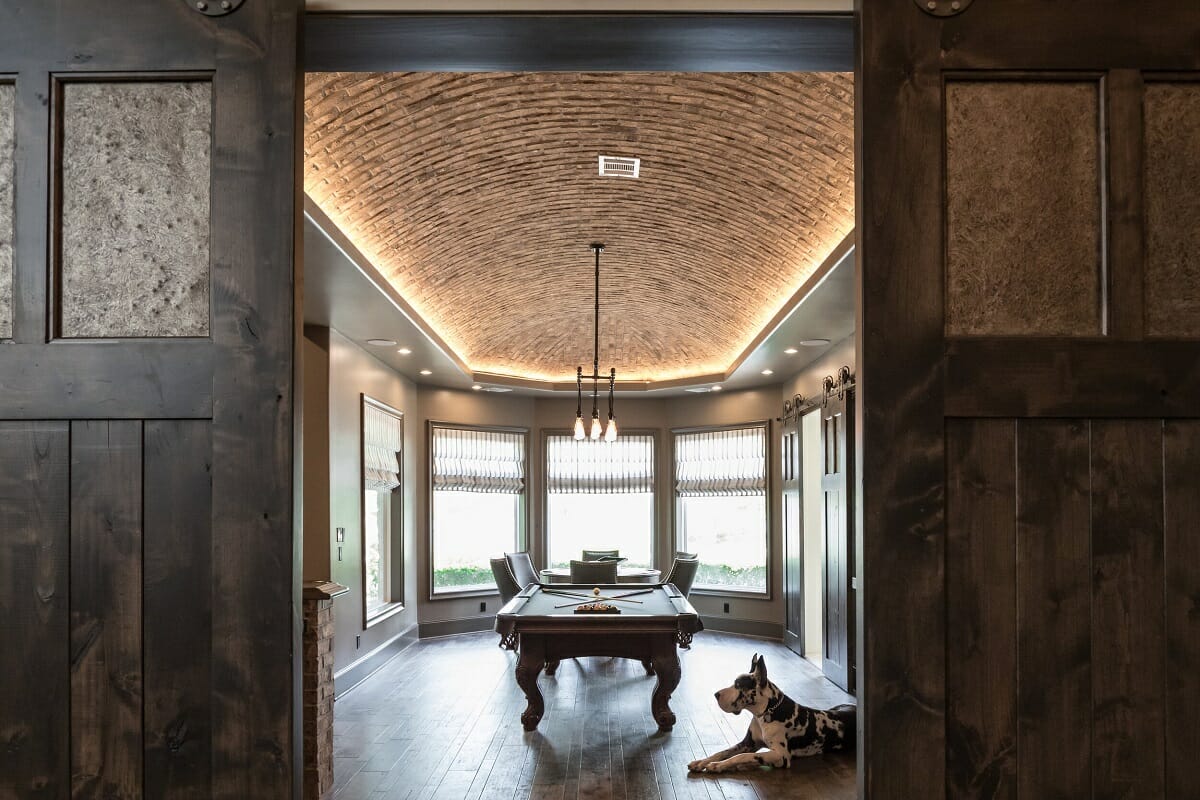 Opt for a double doorway with front-facing sliding doors or an archway that stands out from the surrounding interior
. It's sure to look impressive, like an entrance to a secret gentlemen's club. Combined with man cave decorating ideas, this room will
certainly
be a hot topic.
11. Aesthete's Sanctuary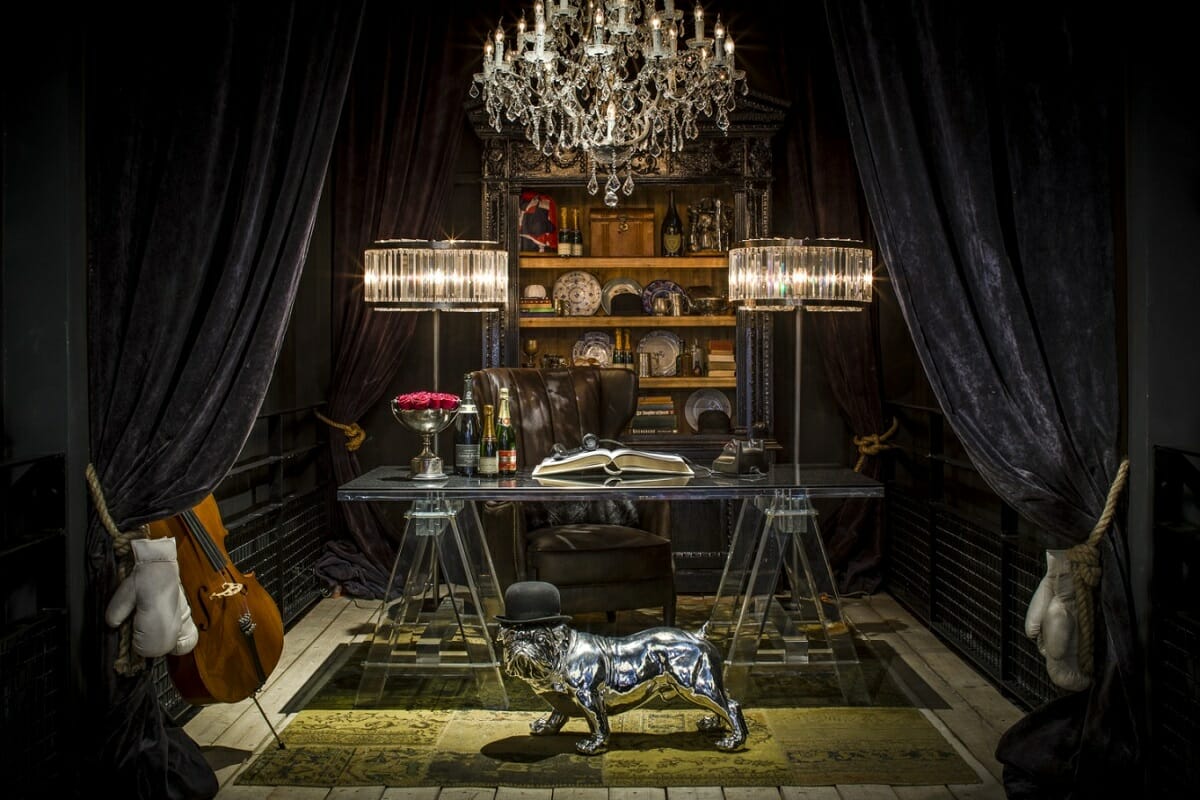 If your ideal sanctuary is a man cave for one, a
fully
equipped library might be perfect. A
luxuriously
decorated room with everything you need to pursue your hobbies undisturbed. For such a space, leave no detail to chance. You can create a
visually
pleasing room, from floor-to-ceiling,
just
for you. Include a plush rug, a statement chandelier, drapes, and indulgent seating.
12. Garage Showroom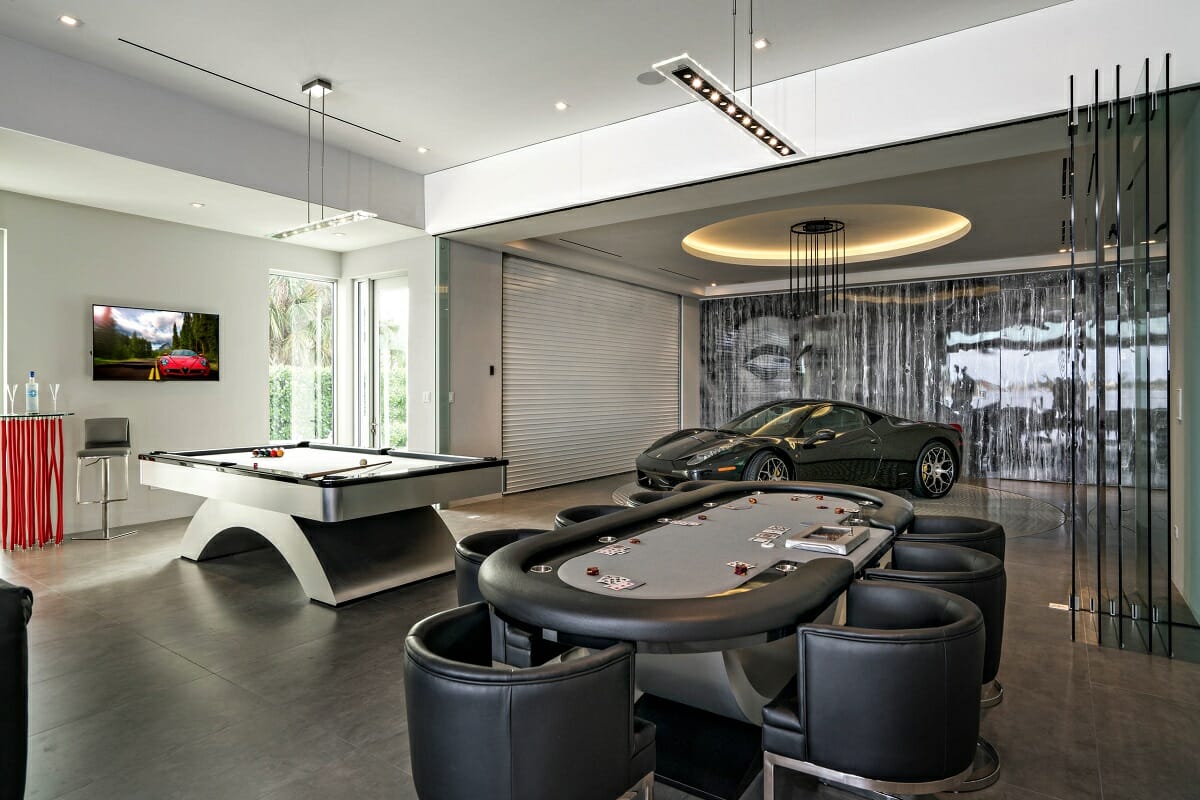 A showroom-come-game-room garage, without a doubt, makes a very luxurious man cave. You can showcase your sportscars by replacing dividing walls with floor-to-ceiling glass panels. This will
instantly
give the interior a boost too. Any addition, like a poker table or lounge, will complement the main attraction.
Man Cave Games Room Ideas
No man cave design list is complete without mentioning games. After all, it is a place made for
enjoyment
, relaxation, and fun!
13. The Ultimate Game Room
A game room with a bit of everything is a dream come true.
Fully
equipped, the
ultimate
man cave provides a pool table, poker, a wet bar, and jamming sessions. Of course, the room will only be complete with chic man cave furniture ideas.
14. Collapsible Ping Pong
Whether it's a friendly or competitive game, ping pong is sure to be good fun. But,
sadly
, it can take up a lot of space. One way to work around this issue is by choosing a table you can fold up and pack away until you're ready for another round.
15. Two-in-One Table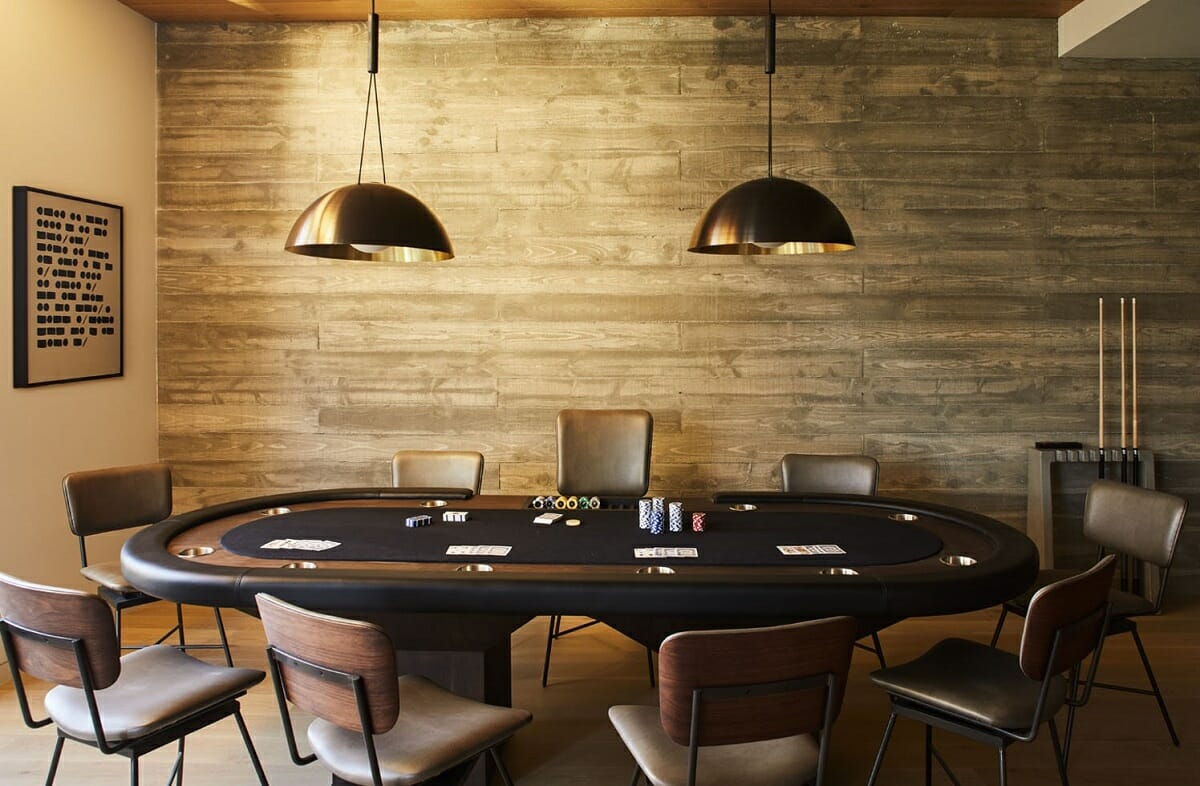 Another clever way to get around space limitations is with a two-in-one
games
table. You and your friends can go from a hand of poker to playing pool in no time at all. With a few man cave games room ideas, you can make any room your private paradise.
Need help with your man cave design?
Everyone needs a place where they can fully unwind, be a child if they feel like it, or pursue their hobbies undisturbed. Do you need help creating yours? Schedule your Free Interior Design Consultation to get started today!