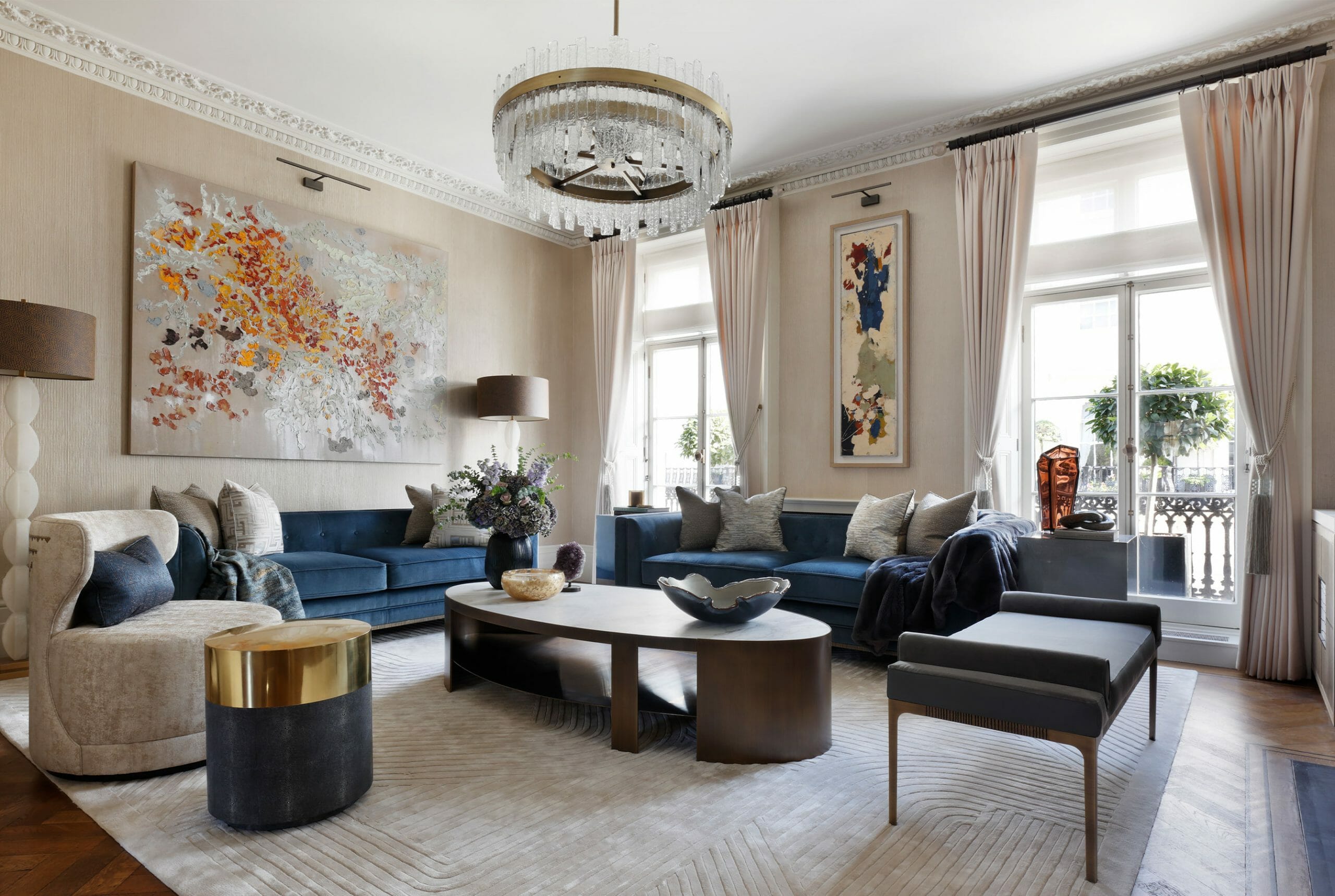 Sometimes coming up with cozy and conversational living room layouts prove trickier than expected. From hosting friends to watching your favorite show with family, a living room must be versatile and cater to an array of needs. That's why we've compiled living room layout ideas to make the essential step of home design as easy as possible – read on to learn more!
Quick Living Room Layout Ideas and Tips
Tip #1: Consider the architecture and size of the space. Every living room comes with a set of limitations and features, and you need to consider each to create the home you want. 
Tip #2: Whatever the size room, furniture proportions are vital to the success of the design. A loveseat can work amazingly in a small living room furniture arrangement, but its scale may seem awkward or get lost in a long living room. 
Tip #3: Furniture spacing plays a key role in living room layouts. Make sure there is enough room around living room decor and furniture items to maneuver around without bumping into anything.
Tip #4: Design the living room layout to best serve the main function of the space. For example, gather furniture closer together if you prefer intimate conversations.
Need help coming up with your perfect living room layout? Schedule a Free Interior Design Consultation to get expert assistance today

!
1. Small Living Room Layout
A small living room furniture layout needs extra attention and special treatment. By taking care in planning, you can save floor space and make the room feel more spacious than it is. Here are small living room layout ideas to kit your tiny home. 
Scale Down the Furniture
When you are tight on space, every inch matters. Therefore, it's best to make smart décor decisions and opt for smaller furniture pieces. Ditch the L-shape sofa and try finding a comfortable straight sofa to open more legroom. You can also add an armchair with a footstool instead of a lounge seat to your small living room layout. 
Use Vertical Space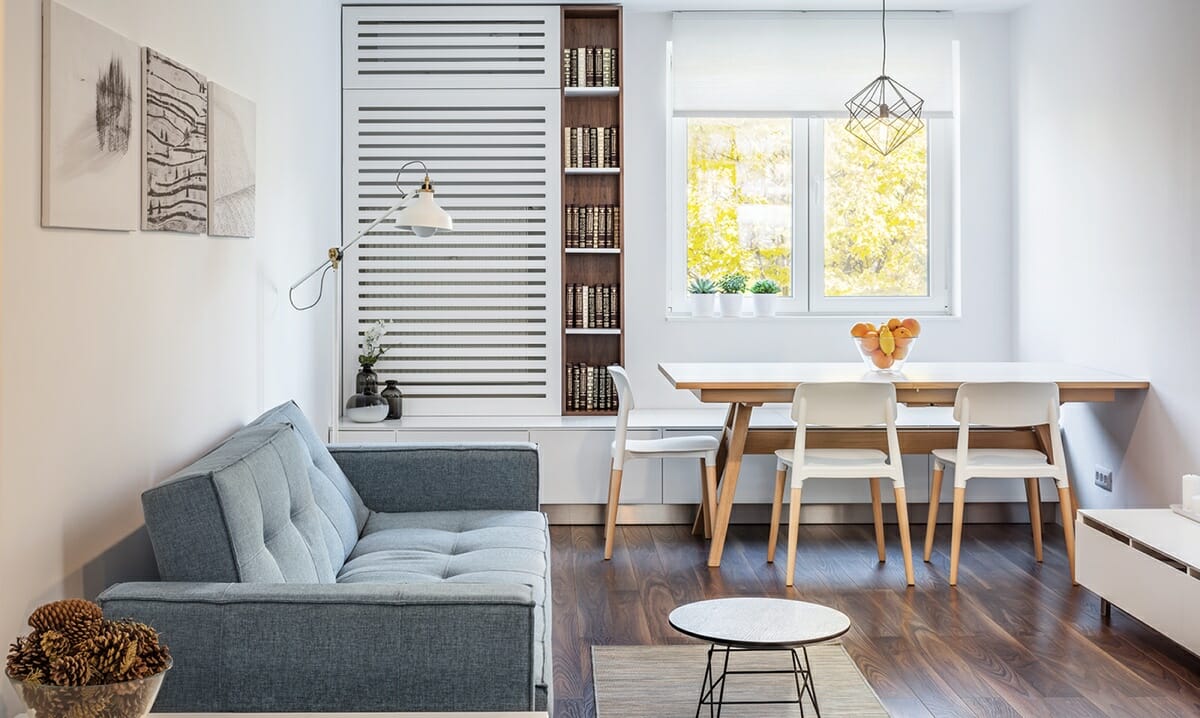 One of the best living room layout ideas is to make use of vertical spaces. Make walls your best friend while designing compact rooms. Adding slender but tall bookshelves, for instance, provides storage while also making the walls appear taller. You can also use wall sconces instead of floor lamps to add oomph and open the floor area. 
If you have high ceilings, leverage them to your advantage by using extra-tall shelves and long mirrors. Both these items will add visual height and depth to the interior. On the other hand, if you have a small living room with a low ceiling, use ceiling-to-floor curtains to give an elongated feeling to your living room. 
2. Rectangular Living Room Layout
Rectangular living rooms are every designer's dream. Why? They offer a large variety of living room layouts. Since you have many options, be playful with your space and don't shy away from experimenting with your living room design. Here are rectangular living room layout ideas to spur inspiration:
Opt for a Conversational Arrangement  
If you have a rectangular living room, take advantage of the abundant space. Let the focal point of your living room inspire you to create a living room furniture layout. For instance, place your main sofa to face a fireplace or TV unit before arranging the rest of your seating. Alternatively, you can use sectional sofas and bigger couches for a luxuriously cozy look. More seating means you can have more guests over! 
Add Mini Seating Nooks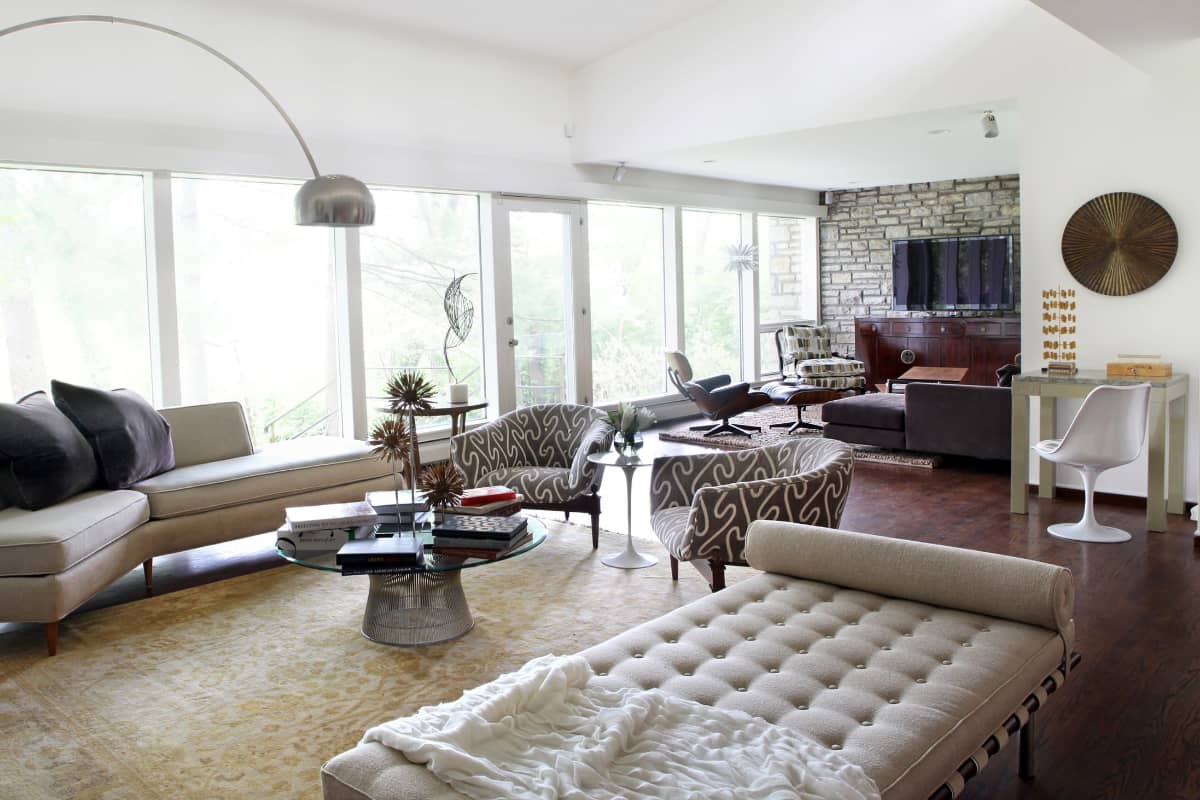 Working around set architectural features, like doorways and windows, can pose a challenge. For a practical, a rectangle-shaped living room furniture arrangement, additional seating is always a good idea. Design and decorate an intimate reading nook on one side of the room, for example, is a great way to maximize the room.
In some cases, synchronizing a living room furniture arrangement with the window placement is tricky. You can work around it with armchairs – or even a chaise lounge, an accent table, and a floor lamp to elevate the space. 

3. Long Living Room Layouts
Creating a layout for long living rooms could be likened to piecing together a puzzle. However, with these long living room layout ideas, you can tweak your space and ensure a free flow of traffic.
Use Floating Furniture Pieces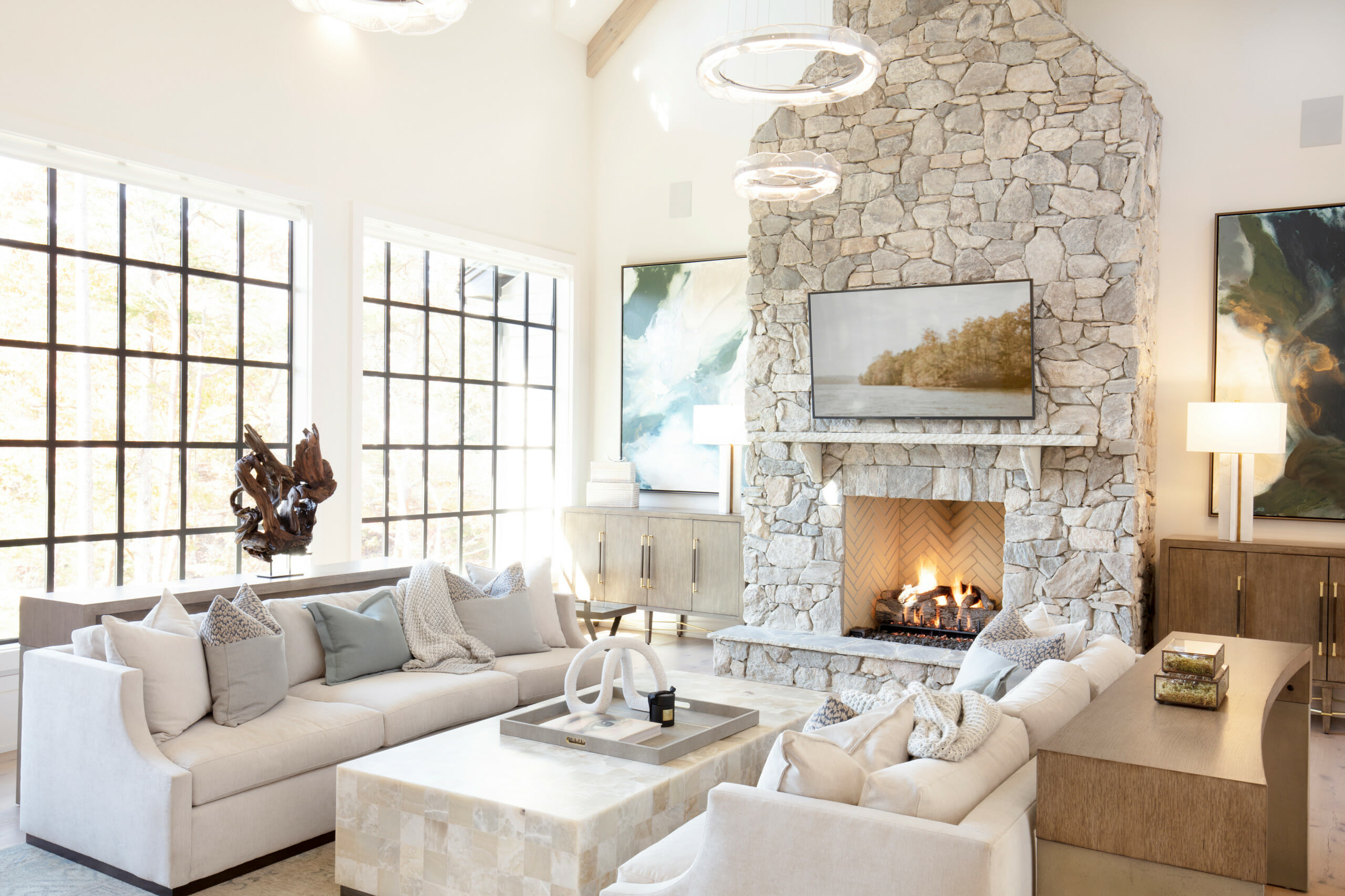 One of the most common, yet incorrect, ways of placing a sofa in a long living room is up against a wall. Instead of adding space, it makes a room seem smaller and more cramped than it is. Rather make the most of your room by pulling furniture away from the walls.
The floating sofa gives a feeling of spaciousness and is often considered one of the best large living room layout ideas. In addition, this can also help you in directing the flow of traffic across the room. 
Split Seating Areas
A narrow living room layout needs extra planning to avoid wasting space. First, split your living room into sections to visually divide the space. For instance, you can have a seating area on one side of the living room and a coffee table with a pair of armchairs on the other end. Alternatively, you can use the extra space on one side of the room for a bookshelf or even a dining table. 
4. Large Living Room Layout Ideas
Design challenges come in all shapes and sizes, which means small interiors are not the only ones that have problems to solve. Large living rooms can be just as intimidating, sometimes even more so! But embrace the opportunity, and you'll have a stunning interior as a result. Here are large living room layout ideas to help you maximize your capacious lounge. 
Be Generous with Spacing 
While dealing with huge spaces, always think big! Placing furniture too close together will create a cramped look and unused dead space around it. Instead, let your furniture breathe. An open floorplan and floating seating area are perfect for large living room arrangements.
In addition, you can also create zones in the living room. For instance, divide two seating areas by placing a sideboard table behind a couch. This will help in filling each area logically. Moreover, you can use partitions or room dividers to carve out a nook for your reading spot too.  
Go Oversize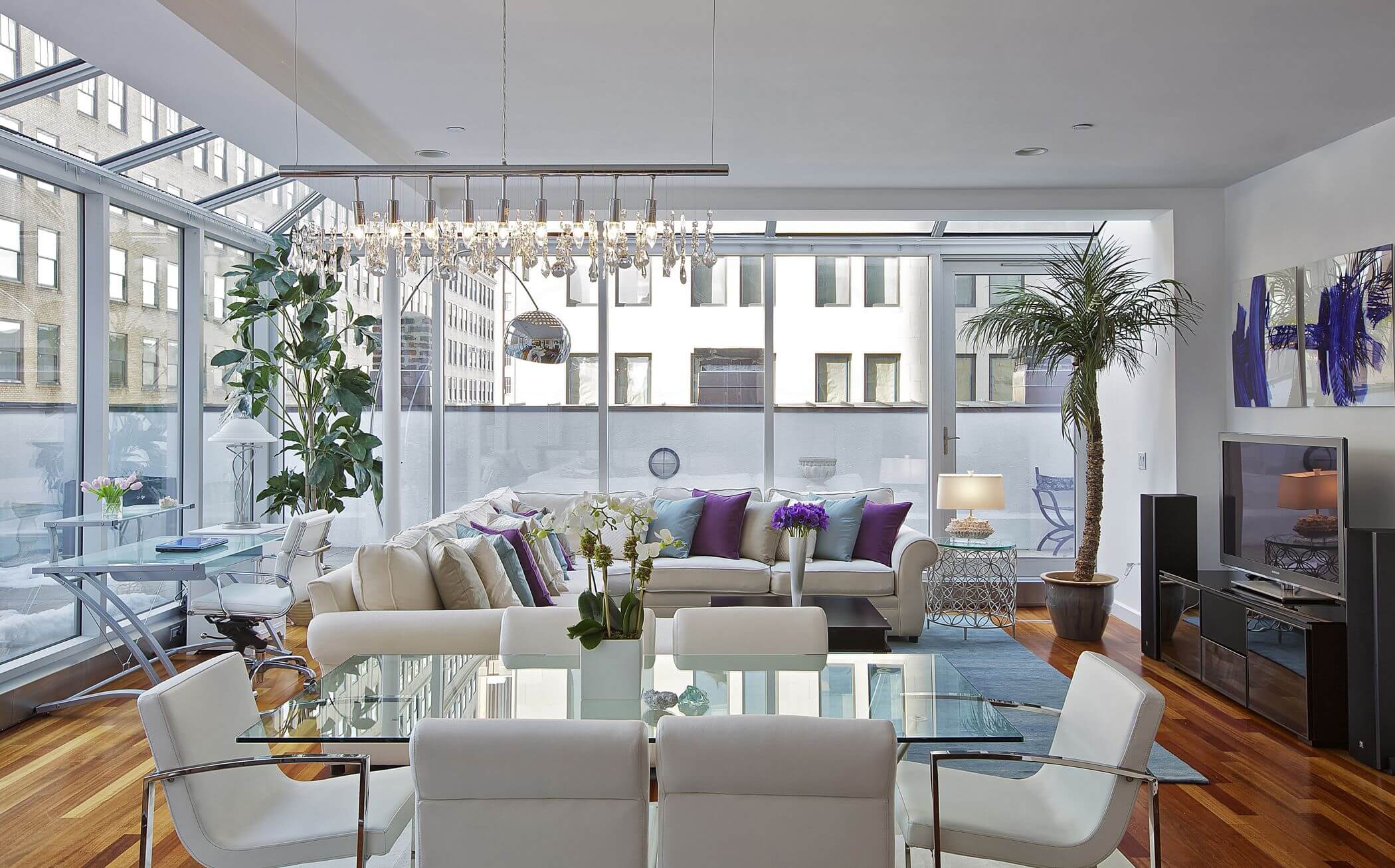 Scale can make or break a room instantly. When working on a large living room furniture placement, opt to oversize your main furniture pieces. A small sofa will definitely get lost in a mammoth room. However, an ample, cozy sectional sofa can fill the space properly without compromising on aesthetics. For instance, you can use a focal piece, like an elaborate chaise lounge, in a large living room furniture arrangement to get a luxurious look. 
5. Living Room Arrangements with Fireplace
Choosing between a fireplace and television will always remain one of the biggest design dilemmas while creating living room layouts for a family home. Yet, with living room setup ideas, you can make both work in your interior without compromise.  
Create a Focal Point 
Creating a focal point will give that wow factor to your living room and it'll instantly brighten your interior. To create a feature of a combined television and fireplace wall, use similar rectangular shapes to draw the eye away from the stark black screen. Add a dark background color to your fireplace and artwork surrounding the wall for balance. Then, finally, center the furniture around the focal point to create a cozy conversational seating. 
Have a Neutral Seating 
You can ditch the dilemma of television-or-fireplace altogether by letting these features rest in the background of your lounge. Select a neutral backdrop to mount or install these items then let the seating face each other instead of the wall. This option is also preferable if you entertain more than you watch television. 
Need Assistance With Your Living Room Layout?
If you need a little extra help putting together your perfect living room arrangement, schedule your Free Interior Design Consultation to learn more about your design options today! 

[images: 1, 2, 3, 4, 5, 6, 7, 8, 9, 10, 11, 12, 13, 14, 15, 16, 17]