In our latest interior designer spotlight, we are getting up close and personal with Decorilla online interior designer, Sonia Carlson. She comes from a rich Scandinavian background and that shines through beautifully in each of her designs. One glance at her portfolio can tell you how hard she has worked to become the incredible designer she is today. Get ready to be inspired as Sonia tells us about the influences in her life and what really inspires her as a designer.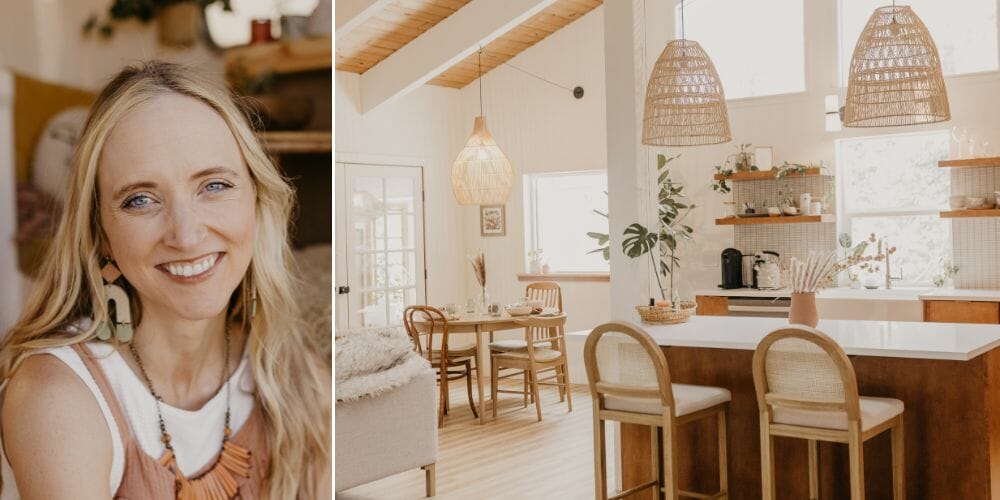 As a dynamic interior designer, Sonia Carlson is known for her boundless enthusiasm and adept communication skills. From her early days shadowing her Norwegian grandfather on construction sites, Sonia's design fascination sparked at a tender age and propelled her into a journey of artistic exploration. Let's get to know more about her eclectic interior designs and inspiration!
Love Sonia's virtual interior designs? Then, schedule a Free Interior Design Consultation to learn more about working with her today!
1. Were you always interested in design? 
Yes, from a very young age. As a child, I followed my Norwegian grandpa's on-site visits; he was a contractor and did amazing custom casework. I knew at that moment that I wanted to be a designer, at the ripe old age of 10. I started drafting with him right away, and I haven't stopped since.
Between my Associate of Arts Degree and my BArch, I even boldly took a year off to "perfect" a portfolio that I thought was worthy of acceptance to a 5-year design program!

2. How would you define your design style? 
My heart loves Scandinavian and mid-century modern design; influenced by my blended Norwegian and Swedish heritage, for sure! My own home has antique teak furniture from my grandparents in Norway, but blue, yellow and white paint accents for my Swedish husband. This bedroom above by Z design at Home embodies that look.
I have a knack and passion for eclectic styles. I love to bring in plants and Moroccan prints, and things with an international flare. Also to blend transitional with a more masculine contemporary/modern flare… I really just love a design challenge! When a client doesn't know what their style is, I find that exciting, and then we find it together.
3. Who or what influences your work?
Like I said, definitely my strictly Norwegian bloodline :). I also really like the work of Frank Lloyd Wright and often refer to his styles for common spaces or public design. My focus for a large part of my career has been on hospitality and rental properties, so the client or visitor experience is super important to me.
"It's all about creating an experience, whether it's a home or an office. So keeping the end user in mind also greatly influences my work."
4. What's a must-have item you make sure your interior designs include?
Plants! Pretty simple, I love green.
5. What is a design trend that you're loving at the moment?
I'm really digging eclectic styles. Blending what I would consider mid-century modern (my passion) with patterns, textures, layered neutrals, and tons and tons of plants and natural fibers. A bold color like navy blue makes this style totally "wow." Love it!
6. If you had to pick a favorite room in your home, which would it be and why?
It's the room that isn't quite done yet! I'm turning the downstairs bedroom into an office, guest room, gym combo. Seattle is tight for space, and our rooms' footprints are quite small. The plan is to make the space as multi-functional as possible, and I'm really excited to be working on it finally! We will have a sleeper murphy bed that doubles as storage; movable utility carts that double as nightstands and weight/workout equipment storage; and a minimalist desk with a yoga ball for my desk chair.
7. What is your favorite design magazine or blog and why? 
I like Scandinavian Standard. It covers interior design but also has fun features on travel, food, fashion – all things that interest me – with a Scandinavian focus. I also love to follow Dwell Magazine for their drool-worthy products and their photos are always top-notch. Bungalow5 Danish blog and My Scandinavian Home are just beautiful in a way that makes you feel good.
8. What is the best thing about being an interior designer?
Having people thank you for helping them put together a vision that they couldn't quite picture. When a client says something like "this is making my life so much easier" it makes me very happy.
"If it's not rewarding for you, you're probably doing something wrong."
9. What was your first big project and what was your favorite part?
I worked on a restaurant design in San Diego CA during my first year on the job as a Project Manager at an architecture firm. It was a tenant improvement; we were custom-designing everything from top to bottom. The brief was to turn a large commercial space on the ground floor of a skyscraper into a unique restaurant.
My favorite part was client management! I loved working with this client. Obviously, not all clients are as positive and fun as these, but seeing them get excited about the concepts and construction, and even helping them navigate issues and questions with the contractors really made me feel good and challenged in new ways every day.
10. How do you manage challenges that come up during a design project?
I try to communicate, communicate, communicate. If there's confusion or misunderstanding, the best thing I can do is try to explain my point of view or the dilemma as clearly as I can to the client. If that's not the issue, I try to take a step back and assess what I need; do I need intervention from someone else on the team?, do I need a day off to figure out where to direct the project? I try not to rush decision making as it often backfires if it's done under pressure.
11. Why do you like online interior design?
I love the wide range of clients it has exposed me too! I have worked with clients regionally, many on the opposite side of the country, and even a few internationally. The exposure to different climates, cultures, restrictions on the spaces/styles, are all awesome benefits. The other most obvious perk is that I can work from anywhere, and so can the client!
Ready for your ideal interior designer match?
Start a project with Sonia Carlson if you love her clean aesthetics and Scandinavian designs! Or, schedule a Free Interior Design Consultation so Decorilla can match you with your designer today!