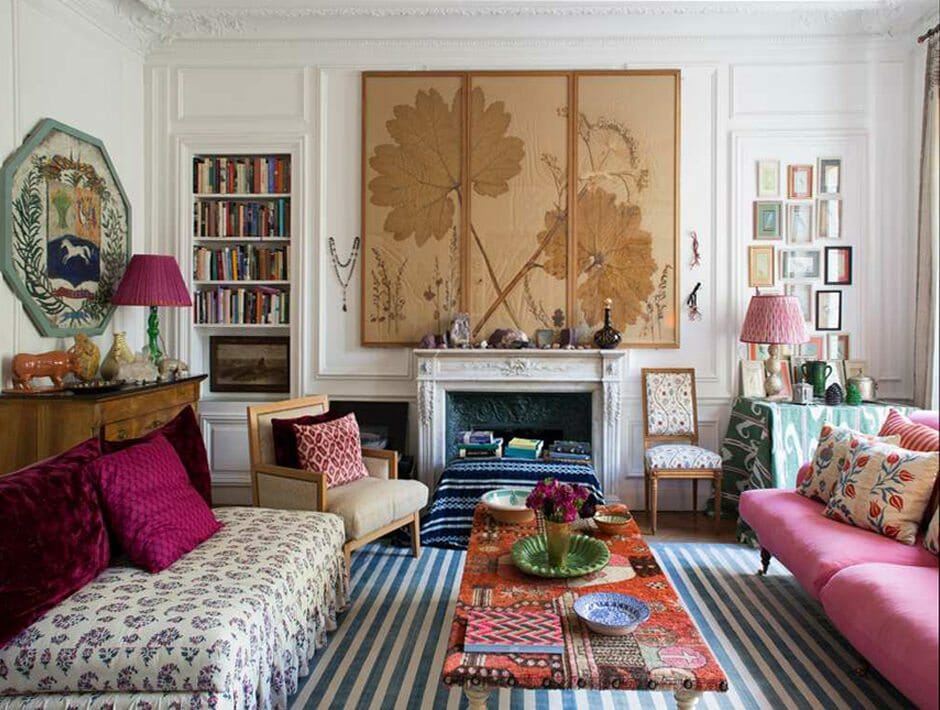 In our latest spotlight feature, we get to know KaSonndra Leigh, who has more up her sleeve than the knack of creating beautiful interiors. In fact, this multitalented designer is also a creative writer and blogger. Like the characters in her stories, every interior is full of life and personality. Read on to learn more about what makes this online interior designer tick!
Did interior design always interest you?
I would say a resounding yes! I've always been the go-to for deciding on a pillow, a wall color, or any new furniture purchase. In 2005 I purchased my first home and the decorating bug quickly took over. We transformed a ranch house into an Italian villa, which we nicknamed Bramasole Due as an ode to the villa bought and restored by Frances Mayes. 
We gutted the house from the inside out and painted the exterior a beautiful color called Moroccan Brown by Sherwin-Williams. We did everything: installed new lights, new plumbing, painted the interior, swapped out our old furniture for a more Mediterranean look, and turned the deck into an outdoor room. 
By 2014 I started a lifestyle blog called Live Well Be Fabulous. The primary focus included stories about fashion and tips for home renovation. And two years ago, I started my journey in online interior design services. 
How would you define your design style?
I would define my style as modern old-world, but the official term is Haute Bohemian. More specifically, it is a mix of NYC sleek and a touch of Mediterranean timelessness. When you step into one of my rooms, you instantly feel as though you've been taken back in time even if the room has new furniture. 
Love KaSonndra's online interior design work? Then, schedule your Free Interior Design Consultation to get started with her today!
What was your first big project and what was your favorite part?
My first big project involved the total remodel of a Chicago penthouse. The client wanted a very sexy dark and moody kind of vibe but with a feminine twist. I was nervous because I had just started my business as an online interior designer and this project was the real deal. 
By partnering with Material Bank, I could come up with a beautiful plan that included texture color and lighting that would spur conversations for my client and his guests. And did I mention that this particular client loved horses? Picking out the art for this project was so much fun because I am a horse lover myself. 
A certain type of confidence blossomed in me that day and my design business hasn't been the same since. After completing that project, I knew that I could take on anything.

Who or what influences you, as an online interior designer?
If I had to pick a few, I would say Kelly Wearstler, Abigail Ahern, Miguel Flores, and Veronica Solomon. While my influences certainly span a pretty large group of talented designers, these are the first ones that come to mind.
The places I travel to and the stories I write also influence my designs. Designers must always look for beauty in the simple things as well as the complex. It's all about feeding your creative muse daily. 
What's a must-have item you make sure your interior designs include?
Mirrors! I can't think of a single design where I didn't use a mirror. They've come such a long way since the days of square brass objects. Now you can get a mirror framed by bone or one that looks more like a work of art than a mirror. 
What I love most about mirrors is they serve several purposes in design. They make a small space appear larger if situated on a wall opposite windows. They add a touch of class in otherwise blah areas such as an office hallway. And one of the most important things that a mirror does in Feng shui is it makes up for a loss of an architectural element. For example, my home is L-shaped. To make up for the missing quarter piece that would traditionally form an H, I've placed a mirror on that wall. It instantly adds sophistication, style, and functionality.
What is a recent design trend that you love at the moment?
It's a little thing I like to call The Blue Obsession. Blues are on the rise in everything interior right now – paint, couches, kitchen cabinets, bedroom décor. Along with mirrors, you're likely to find something blue in my designs. Most clients don't realize how much they like blue until I find the right shade to fit their design needs. Moreover, it's a color that's timeless and completely flexible. Almost every shade of blue works in a room design.
If you had to pick a favorite room in your home, which would it be and why?
My bedroom. A couple of years ago I painted it a dark and moody color called Fashionista. This was a huge change from the pastel pink Bellagio effect that was on the wall before. I painted everything, including the trim, the doors, and the ceiling, and I love every single thing about it. 
The color changed the entire mood of my room. And it worked well as I was at a turning point in my life and needed a change. I spent days in my room working from bed, meditating, and writing. It's a maximalist's dream bedroom and an Haute bohemian paradise.
What is your favorite design magazine or blog and why?
I enjoy reading several different ones because each publication has something unique to offer. Some of the magazines I like are Architectural Digest, HGTV Magazine, Magnolia by Joanna Gaines, and Elle Décor, for example. I do have my favorite design books though. Haute Bohemians by Miguel Flores tops that list. 
What is the best thing about being an online interior designer?
There's a unique kind of satisfaction that comes with helping someone create their dream space. It's very similar to writing fantasy novels in the sense that the world you create for a client exists in a place of realism instead of the pages of a book. I always compare being a designer to the job of a parent whose child just left for college. You nurture your baby, aka the design, until it can stand on its own. That feeling of completion is hard to define yet enlightening to experience. 
How do you manage challenges that come up during a design project?
Every day is a challenge as an online interior designer and decorator. Because of difficulties, like the corona pandemic and the fact that everyone is remodeling their home right now, lead times for getting a unique or popular item are crazy. Every single job has some type of challenge, but I simply take the problem one step at a time. For example, you have to break each task into manageable chunks and work on solving them at a steady pace. That's about all you can do. Work the challenge and don't let it work you.
Why do you like to be an online interior designer and decorator?
A friend of mine always told me how she wished I lived close enough to help decorate her home. She lives in Arizona while I'm in the City of Alchemy and Medicine, North Carolina. She wasn't convinced I could help her from a distance. However, every day she would like every single room design I showcased on Instagram. It wasn't long before she sent me a message to ask what online interior design was all about. I sent her to my website, which has a video about how the process works. As a result, she was sold, and I was happy. 
This is the main reason why I love being an online interior designer. In addition, I get to help clients all over the world who otherwise would not have access to my services. And there's so much joy in making a living doing what I love without geographical limitation.
To see more of KaSonndra's interiors check out her Decorilla designer portfolio or start a project with her today.