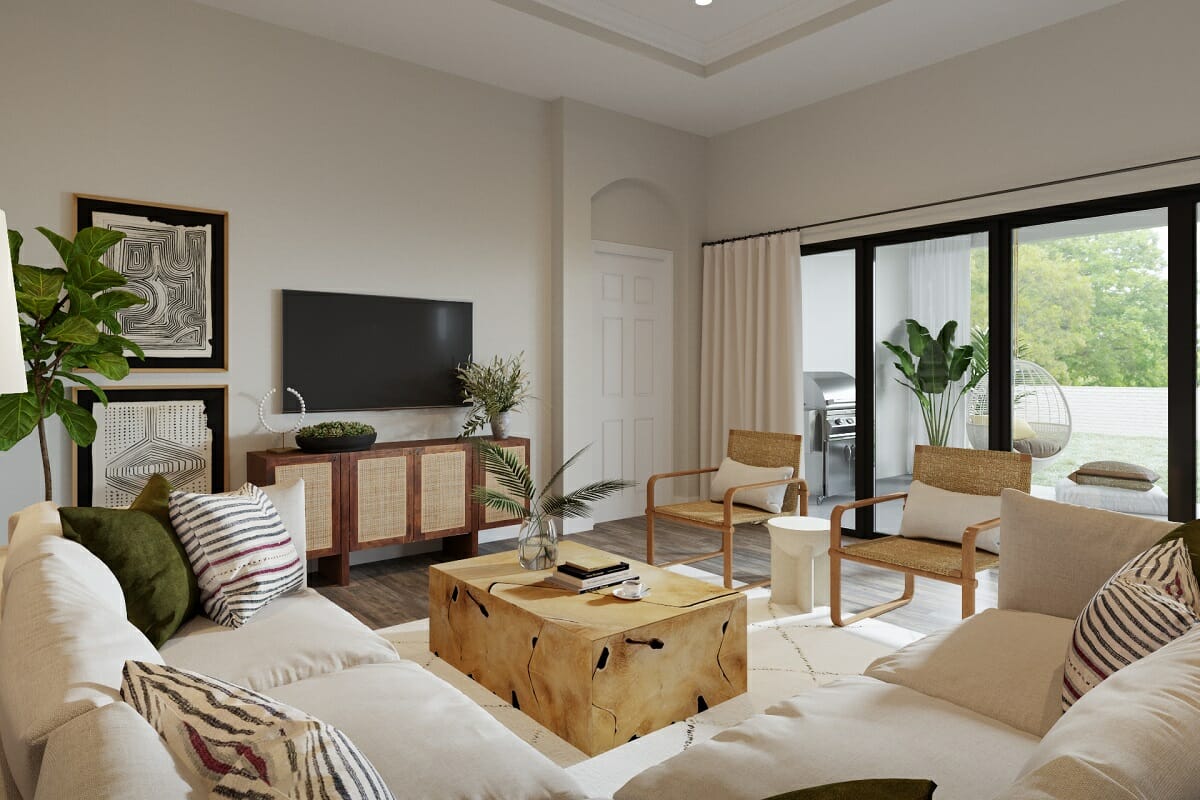 In our latest spotlight, we delve into Drew Facey's creative process and what it takes to be an interior designer of many different styles. Behind this globe trotter's keen eye is a fondness of eclectic interiors that fuse many design styles to tell the story of those who dwell there. This passion certainly shines through in his projects. So, let's get to more on the inspirational online interior designer and decorator below!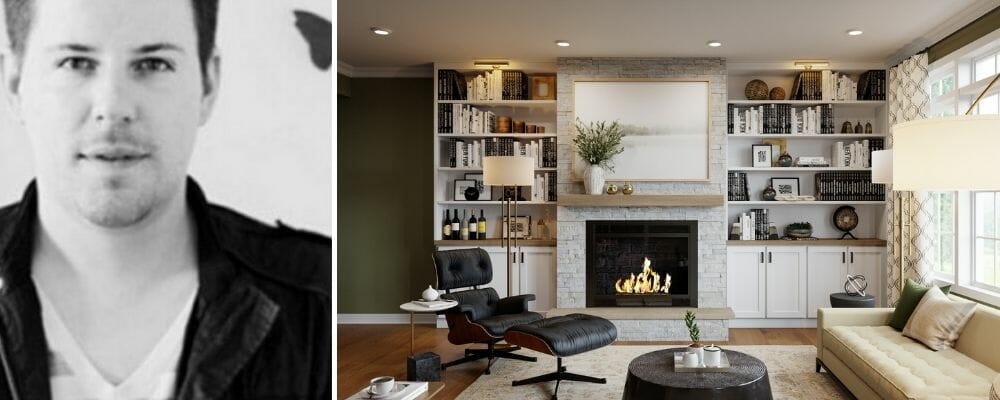 Drew's love for interior design came from an avid fascination with people and their environments. Through observation and study, he could see a connection between the two: we need spaces to help us function at our best. In time, Drew's understanding grew so much that, today, he can craft interiors that foster happiness and seamless efficiency.
Indeed, his global eclectic contemporary style alone can make any space special. But once this covetable aesthetic combines with decades of industry experience, something magical happens. It's no wonder that interiors by Drew are truly mesmerizing. 
Love Drew's online interior design work? Receive 15% OFF your first project with Drew today!
Did interior design always interest you?
Yes! I have always loved interiors and furniture. When I was ten years old, I asked for a subscription to Architectural Digest for Christmas, and I've been a subscriber ever since! I am fascinated by our relationships with our homes and how much our spaces affect our quality of life.
Who or what influences your work?
I have a greedy eye that constantly turns my surroundings into something that inspires me. That's why travel has been such an influential factor, making a great impact on my work and life. In fact, it feeds everything I do. At the moment, I live in Merida, Mexico, and everything about my environment plays into how I see the world and approach interior design. This stunning colonial city overflows with inspiration, like the crumbling architecture, overgrown jungles, and Mayan and pre-Columbian culture amongst so much more.
What's a must-have item you make sure your interior designs include?
Books, art, and plants – one isn't enough! Wherever I go, these three are sure to follow. These elements not only bring life and personality to any space, but also provide opportunities to really showcase a homeowner's individual taste and style.

What is a recent design trend that you love at the moment?
I adore the current renaissance of bulbous 1970's high-design pieces. It's certainly an interesting reaction to the pandemic as people are craving ultra-loungey, comfortable furniture in their homes right now. There is also something cheeky and a bit humorous about many of these items. Take the Camaleonda sofa, for instance, it is an undoubtedly quirky piece! All in all, I think people are looking to find some lightness in our complicated world.
If you had to pick a favorite room in your home, which would it be and why?
My partner and I purchased a house in Merida recently, and now we are in the process of renovating and landscaping the property. Currently, my favorite space amidst the building is our living room, where I have my design studio set up. There are two sets of 9-foot tall double doors that open out to our courtyard, and I always have them wide open with the sunshine pouring in. I especially love being able to look out on the pool and casita and, one day soon, our garden!
What is your favorite design magazine or blog and why?
I love Athena Calderone and her blog Eyeswoon. It's filled with amazing ideas and incredible combinations of furniture and art. I also love Amber Interiors and have followed her on Instagram for years!
What is the best thing about being an interior designer?
The best thing about being an interior designer, by far, is being able to help people realize the ideal version of their space. I love collaboration, which is very helpful. The best interior designs certainly come from a strong connection between the client and myself.
What was your first big project and what was your favorite part?
I have been working with a dear friend of mine on her penthouse condo for years! The renovation consists of many stages, and as her home and style evolve, so do my designs. As a result, this collaboration has led to an incredible space. We are currently finishing the latest phase of the project by reworking her fireplace, installing all-new trims and moldings, and installing stunning chevron hardwood floors throughout the home.
How do you manage challenges that come up during a design project?
I emphasize and encourage clear and continual communication, practice thoughtfulness, and listen to the client's needs so that I can offer solutions. I think it also comes back to collaboration and considering all the facets of a particular challenge. Only by working together and communicating clearly can we find the best path forward.
Why do you like to be an online interior designer and decorator?
I love online interior design! I think of it as the democratization of interior design by making interior designers readily available to the public at reasonable prices. We are spending so much time in our homes now, more than ever, and it continues to inspire crowds of people to invest in improving their spaces. Above all, I feel very fortunate to be part of this movement and I'm excited about what the future will bring.
Want to Work with an Online Interior Designer like Drew?
To see more of Drew's interiors check out his Decorilla portfolio or start a project with him today! 

[images: 1-14]