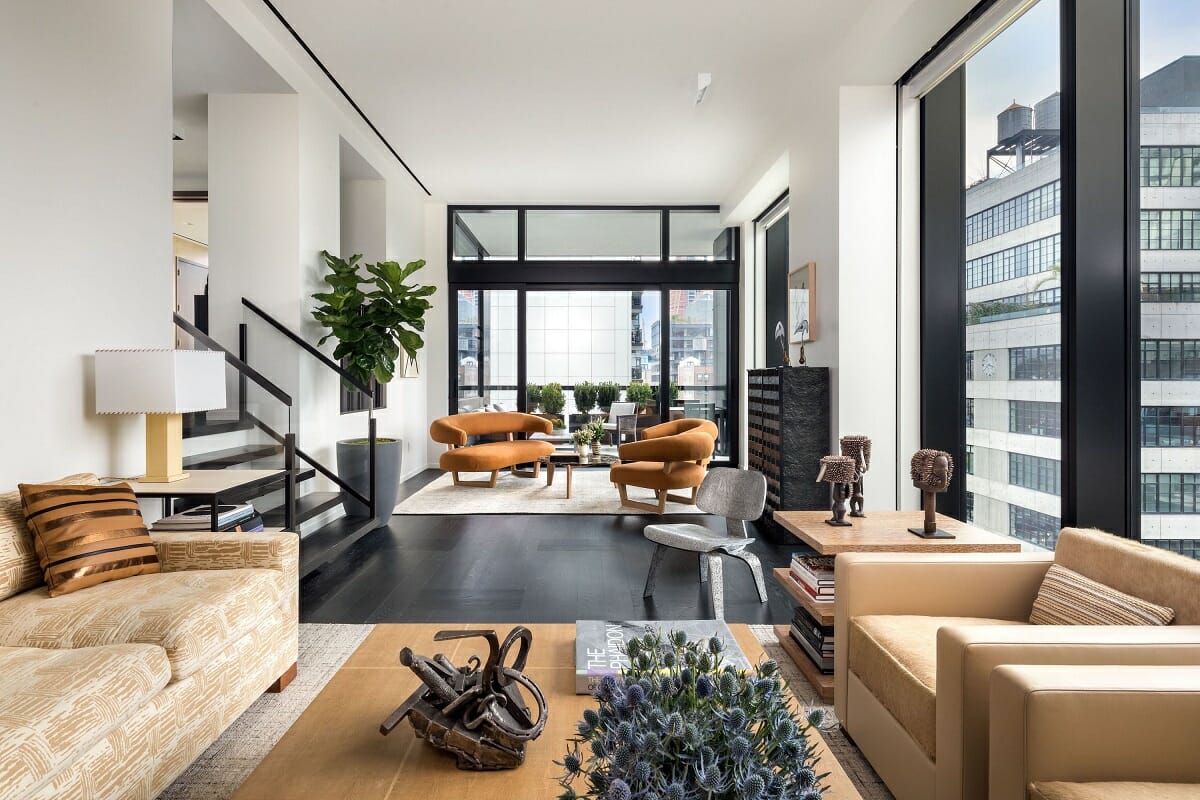 The prospect of a fresh interior is exciting! Once you've decided to hire a decorator, you're already one step closer to enjoying that new space. Next, you should consider what type of service suits your needs best. An interior design consultation is a great way to test the waters. So, to simplify your life, we've put together a guide covering the top types of interior consulting. Read on to learn how you can get the most out of each.
Types of Interior Design Consultations
Interior design isn't a one size fits all experience. Every client is unique: their situations and requirements are all different. One's top concern might be the cost of an interior designer in 2022, while another cares about finding the right shade of paint.
That's why there are many interior design consultation services. Each is as distinct as their clients. Whatever your needs, there's a consultation solution out there for you when searching 'interior designers near me'! Consider the types below when making your decision.

In-Home Interior Decorator Consultation
During in-home consultations, designers tour the space that needs updating. They typically ask about your vision, the project scope, and how the current layout works. As they inspect the interior, they'll take notes and brainstorm. Be sure to have existing floor plan documents ready. The designer can then use a copy for their floor planning.
Remember: the initial interior designer consultation isn't only a chance for designers to explain how they work. It allows you to ask questions too. Before hiring an interior designer, ask them a few essential questions. Be thorough in the beginning to enjoy a smooth process overall.
Online Interior Design Consultation
A virtual interior design consultation follows a surprisingly similar process to an in-home one. The main difference is that it takes place online or over the phone. It's great because you are able to work with designers from anywhere in the country, or even the world! Decorilla is one such online interior design service specializing in one-on-one virtual consultations.
Every Decorilla project begins with a complimentary consultation to go over your specific requirements, how the service works, as well as answer any initial questions you might have. Designer portfolios and samples of previous transformations can also be shared. Before choosing a designer, Decorilla clients complete an easy interior design style quiz and short project brief. These details help the team recommend designers for the project and then guide the designers during the initial phases, like floor planning and improving layouts. The best part is, they're never more than a click away. Decorilla welcomes constant communication. And the interactive online platform lets clients and designers discuss every aspect of the design. 
Need help transforming your interior into your dream space? Schedule a

Free Online Interior Design Consultation

to get started with the finest interior designers today!
In-Store Interior Design Consultation
Apart from selling furniture and décor, certain retailers also offer in-store design consultations. For the most part, the process is the same across stores, with only minor differences. As the name implies, clients discuss their needs with consultants at these retailers. The consultants then make recommendations based on pieces sold by their store.
Since these consultants don't usually do home visits, they don't have the complete picture of a client's space. In-store consultations work well when you want a hands-on experience. With this in mind, you have to tend to room dimensions and layout yourself.
Interior Design Paint Consultation
Before hiring a color consultant, you need to realize most of them aren't full-on interior designers. They usually work for paint stores and make house calls. During visits, they ask clients about their vision for a space. They also consider the lighting, plus any existing finishes and furniture. 
After consideration, color consultants will suggest paint options for elements in the room clients want to repaint, like the walls and cupboards. An interior design paint consultation is ideal if you only want to make a quick color change. However, it's good to keep in mind that interior designers include paint consultations in their service. 
Interior Design Consultations 101
Do your research before choosing an in-person or online interior design consultation service. In this way, you will manage your expectations and find a service that meets your needs. After all, you want to end up making an informed decision and guaranteed satisfaction.
What is included in an interior design consultation?
Ultimately, what's included in a first interior design consultation differs from one designer, firm, or service to the next. However, there are some elements that most discussions have in common. These include, but aren't limited to:
An initial phone or video call

The designer's first thoughts, impressions, and ideas on how to proceed

A thorough discussion of the relevant business practices and processes

An explanation of how the billing works
When working with Decorilla, the early-on consultation process also gives you access to two custom mood boards. Two talented designers create concepts based on your quiz results and design brief. You then choose your favorite option to continue. 
How much does an interior design consultation cost?
Depending on who you choose to work with, initial design consultations can be free or billable. If there is a consultation fee, it'll likely be a flat rate that usually includes about an hour of the designer's time. If you decide to move forward with the project afterward, payment can take on different forms. 
On average, interior designers have an hourly rate of $50 – $200, and clients spend roughly $1,893 – $ 11,180 per project. Typical forms of payment include:
A flat rate

An hourly fee

A payment percentage of the total project cost
Decorilla offers a free online interior design consultation. That means you only start paying once you choose to continue with a design package. Another great thing about working with Decorilla is that you determine the budget! There are different ways to pay, including:
Custom packages, available for a flat-rate fee of $75 per hour

Bronze packages ranging from $549 – $899 per room

Silver packages ranging from $649 – $1,099 per room

Gold packages ranging from $849 – $1,849 per room

7 Tips on How to Prepare for Design Consultations
If you've ever found yourself wondering, 'How do I prepare for an interior design consultation?', don't fret. We've got you covered! Thanks to our guide below, you'll speed up the initial process by providing the interior designer with meaningful information.
1. Calculate Your Budget
One of the first questions you'll need to answer during an in-person, in-store, and online interior design consultation relates to your budget. Designers need to know how much they can spend to put together the best, most accurate concept for your money's worth. 
When you know your budget, it also makes finding the right service easier. This is because you can narrow down your options to only those within your price range.
2. Determine the Function of the Space
Decide on the interior's use and function before scheduling any design consultations. If you have a clear vision of a room's purpose, it'll help inspire and guide the designer's work. 
Share everything you want to use a space for and what you want to experience in the space with the designer during your consultation. Doing so will ensure you get an equally beautiful and practical interior.
3. Name Your Goals
Decide on your interior design project goals. The checklist can be about style, layout, usability, timeline, etc. Be mindful that clear communication during design consultations goes a long way. In fact, it'll help you achieve the best project outcome possible. 
Get the designer's expert opinion on how realistic your objectives are. You can then adjust them accordingly. Also, keep in mind that you and your preferred interior designer's aim must align. If not, book another consultation until you find the right fit.
4. Explore Your Likes and Dislikes
It's always a good idea to explore your likes and dislikes before a face-to-face or online interior design consultation. It ultimately benefits the entire process. Take the time to gather inspirational photos and research different aesthetics. 
Then, show your favorites to your designer during the consultation. Indicating what you don't like also helps. It'll not only help them interpret your tastes, but also lead to creating a similar look in your space. 
5. Set a Realistic Timeline
Consider a timeline before your interior design consultation. By when should the project be complete? Mention this to the interior designer early in your discussion so that they can work out a schedule accordingly. As every service is unique, they also have different turnaround times. Some, like Decorilla, even offer fast turnaround and flexible schedules.
6. Provide Floorplans
There's plenty to do and discuss during the first design consultations. To enjoy an efficient initial consultation, prepare a copy of your floorplan (and room photos) beforehand. Doing so will save the designer time, as they don't necessarily have to take measurements. It could also speed up the entire project. The designer can start working on a concept straight away, using the floorplan to perfect the layout and dimensions.
7. Prepare Questions
Whether it's an in-person or online interior design consultation you're getting ready for, prepare your questions. After all, the meeting isn't just for the designer to ask you questions – you can and must enquire too. That way, everyone remains on the same page, and the project can move ahead without a hitch. Good questions to ask designers relate to:
The designer's credentials and references

Specifics regarding services and packages

Whether they've done similar projects before
Best Interior Design Consultations by Type
By now, you may know which type of interior design consultation suits your needs. But, if you're still unsure, review the finest options per category below. You're sure to find your best fit!
In-Home Consultation: 

Houzz
Finding in-home interior design consultation services near you has never been easier thanks to Houzz. Here, you can search for home construction and design professionals in your area. Plus, you can find inspiration for projects too. 
Aside from offering plenty of resources to consumers, Houzz also has a Houzz Pro division. It features useful information for homemakers, like nailing an initial design consultation. With Houzz, you'll be setting up in-person design consultations in no time.
Virtual Interior Design Consultation: 

Decorilla
Few online interior design consultation service providers can compare to Decorilla. First of all, the initial consultation process doesn't cost you a penny – it's completely free! You'll be able to share your requirements, learn more about their process, receive package recommendations, and review samples of previous projects. Second, if you choose to continue with the paid design services, you will receive initial concepts from two designers. You then get to pick your favorite designer after considering their custom moodboards. And best of all, every Decorilla project includes a curated shopping list with exclusive trade discounts that often exceed the cost of services!
Ready to chat with some of the best interior designers about your interior design needs? Schedule a

Free Online Interior Design Consultation

for expert assistance getting started today!
In-Store Interior Design Consultation: 

West Elm
Fans of furniture and home décor retailer, West Elm, will be happy to hear that their free in-store consultation services are simply terrific. The consultants are certainly knowledgeable about their brands. They can provide simple home styling tips, as well as more intense home makeover advice. Don't hesitate to pop into a store and ask for assistance.
Interior Design Paint Consultation: 

Sherwin-Williams
Of all the color consultation services out there, Sherwin-Williams is the favorite. They offer free 30-minute consultations online, during which you get to speak to a color expert. They will suggest paint hues for your interior then send you color chip samples and a custom project plan.
Searching for the perfect 'interior design consultation near me'?
With online interior design consultation, Decorilla can be of assistance anywhere in the country! So, schedule a Free Interior Design Consultation to get started with your project today! 

[Feature image: Architect Magazine]