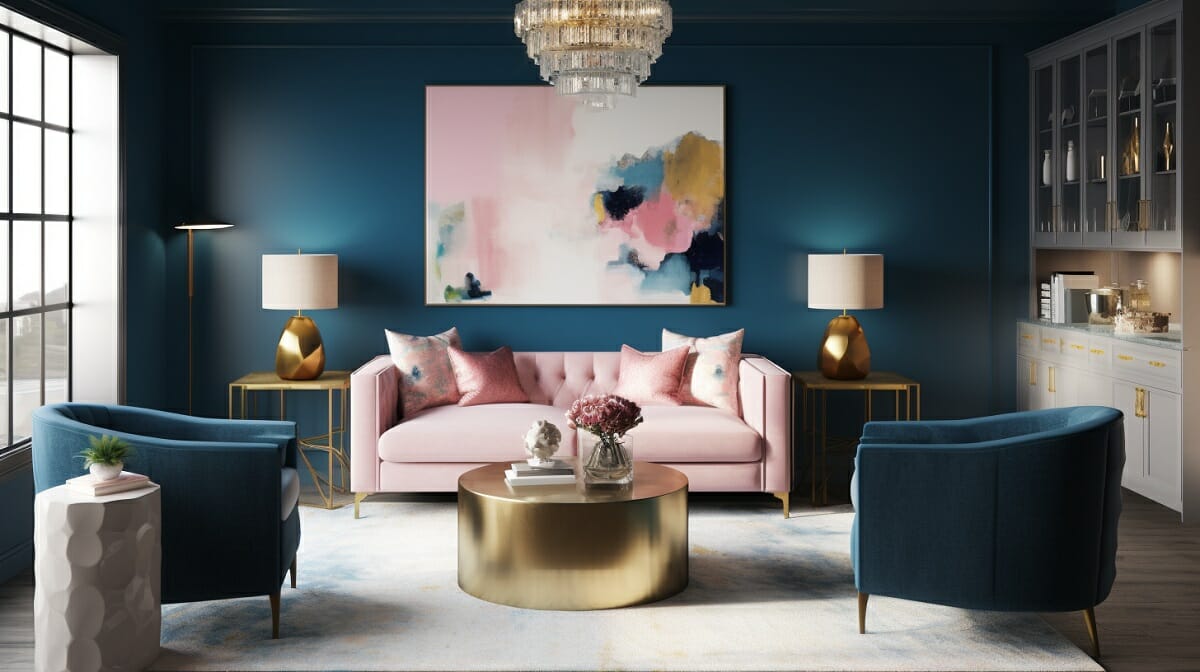 Guest quarters make it possible to have family and friends over whenever you like! One recent Decorilla client desired exactly that but didn't know where to start her house plan with guest quarters. Fortunately, she turned to expert Decorilla, and the result is swoon-worthy! Read on to discover the transformation!
The Challenge: Transitional Interior Design
The client wanted to transform her upstairs space with a transitional interior design. While their guest quarters are mainly for visitors, they also need the space for household use. More specifically, a space for exercise and their teenager to relax with friends. For this reason, the designer had to solve specific design challenges. In essence, the designer needed to:
Put guest bedroom ideas together containing two larger beds rather than bunks

Ensure the rumpus room has space for guests to keep snacks and beverages

Structure the rumpus room for relaxing and entertaining rather than watching TV

Allow all three rooms to transition seamlessly with the same feel

Keep a portion of the rumpus room as a workout space
Wondering which look will be best for your guest quarters? Then take our

Free Interior Design Style Quiz

to find your ideal interior style!
Guest Quarters Inspiration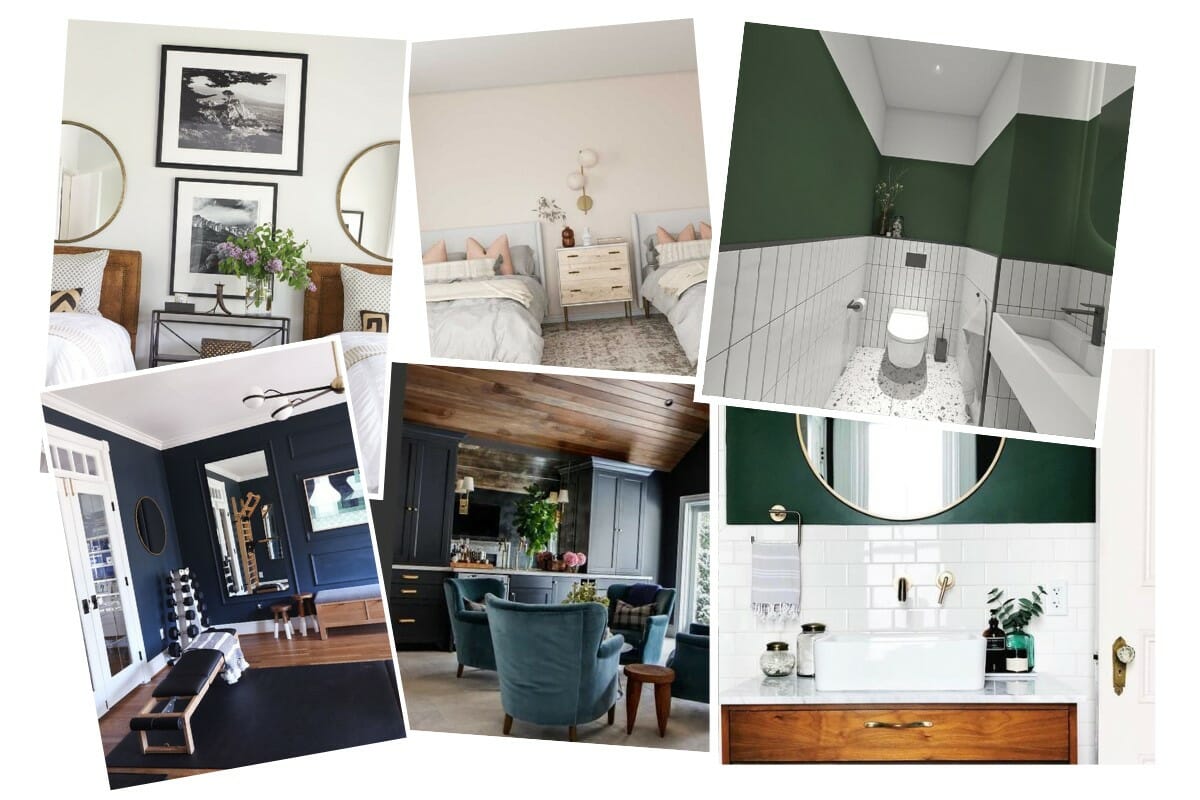 The client's gallery included guest bedroom ideas that promoted a bunk bed design. However, she was open to having two large beds instead. Her rumpus room ideas were full of sophisticated, Gatsby-esque flair. Moreover, the bathroom ideas show striking details, like decorative tiles and brass details. Overall, the client appeared to love a transitional interior design with a unique style.
Moodboard & House Plan with Guest Quarters Design
Now it was time to begin the design process for the rumpus, bathroom, and online bedroom project. First, the client took a quick online questionnaire to pinpoint her style preferences. Next, she hopped on a call with the Decorilla team to complete the design brief. Thereafter, the team could identify two talented designers who would work on proposals for this project. Not only were they skilled in their task, but they also excelled in the client's chosen style.
Both designers had excellent concepts, but it was Jessica S. who stole the show! Her proposal showed a classic transitional interior design style with a touch of old Hollywood glam. In addition, her ideas for the house plan with guest quarters featured comfy furniture and unique touches. She chose a balance of bold and neutral color palettes for each space. Furthermore, her picks of brass underscored her proposal and promised to bring cohesion through the design.

Luxe Guest Quarters Result
Ultimately, the new house plan with guest quarters is sophisticated and welcoming. Each space is neat with its unique flair, yet the rooms flow seamlessly into one another. In addition, the layout incorporates complementary color tones, finishes, and décor. As a result, the makeover has a homely yet polished feel.
Memorable Rumpus Room Design 
One of the main features of the guest quarters is an oh-so-sleek rumpus room. Here, the client and her guests can converse until the early morning hours, with a fully stocked wet bar and chic lighting to keep the atmosphere alive. Its rich navy base sets the tone for distinction. Not only do the brass finishes pop against the dark hue, but the azure saturation also creates an intimate ambiance.
A light 2-seater couch, blush chaise lounge, and oversized abstract artwork contrast the dark backdrop. Together, these elements form a luxurious interior. The Gatsby flair is certainly felt, with character and personality shining through the speakeasy vibe of the room.
This dual-purpose room holds much visual interest while being very useful at the same time. It's more than a place to relax and entertain. In fact, a spacious section of the room holds a rejuvenating workout zone. Neatly organized, the gym equipment lines a wall next to a workout mirror to ensure proper form accompanies movement. An exercise bike cleverly faces a large window to provide the rider with visual stimulation too.
Glam Guest Bedroom Design
Bold with a twist, this guest bedroom design features two accent walls – one deep green and another dazzling patterned wallpaper. The combination is luxurious and will certainly make guests feel pampered. The brass detailing continues from the wallpaper to the round mirror and even in the hues of the throw cushions on the beds. These sprinkles of sparkle tie the room together and unify the theme.   
The decoration is as quirky as it is refined, with artwork, an area rug, and transitional-style bed lamps defining the interior. And visual interest overflows thanks to the raw-edge wood headboards, texture-rich rug, and layered linen throws. As a result, the coziness of this room adds to the inviting feel of the guest quarters. In addition, the room has two spacious beds instead of bunk beds. They allow for a more classic and mature feel and layout.
Transitional
Guest Bathroom Interior Design
The guest bathroom design has a refined yet classic feel to it. Like the bedroom, a deep emerald hue lines the shower and the vanity. And to give this transitional interior design character, black and white tiles line the length of the space. In addition, brass finishes dress mirrors, taps, and shower fixtures. Moreover, the narrow interior features a frameless shower door to keep an open and airy feel.
Overall, the guest bathroom design feels chic, neat, and distinct. Its open appearance feels immaculate, while designer touches bring character and uniqueness. Now it's a place to refresh and feast the eyes on plenty of stunning aesthetics – rejuvenating in every way!
Online Shopping List
Decorilla's design process helps make a beautiful home simple. In essence, you get maximum gain with minimal effort. The project outcome includes the designer's picks of the correct furniture and décor for your design. Moreover, you get to see your new room in photorealistic 3D visuals. You also get a curated shopping list – complete with trade-exclusive discounts! And finally, you'll receive an implementation guide, expert tips, and a white glove concierge service!
Our Top Picks for a Transitional Interior Design
Elegant furniture and refined décor are necessary to convey a welcoming yet neat transitional interior design. Check out our top picks below from this project's guest quarters ideas that you can include in your home!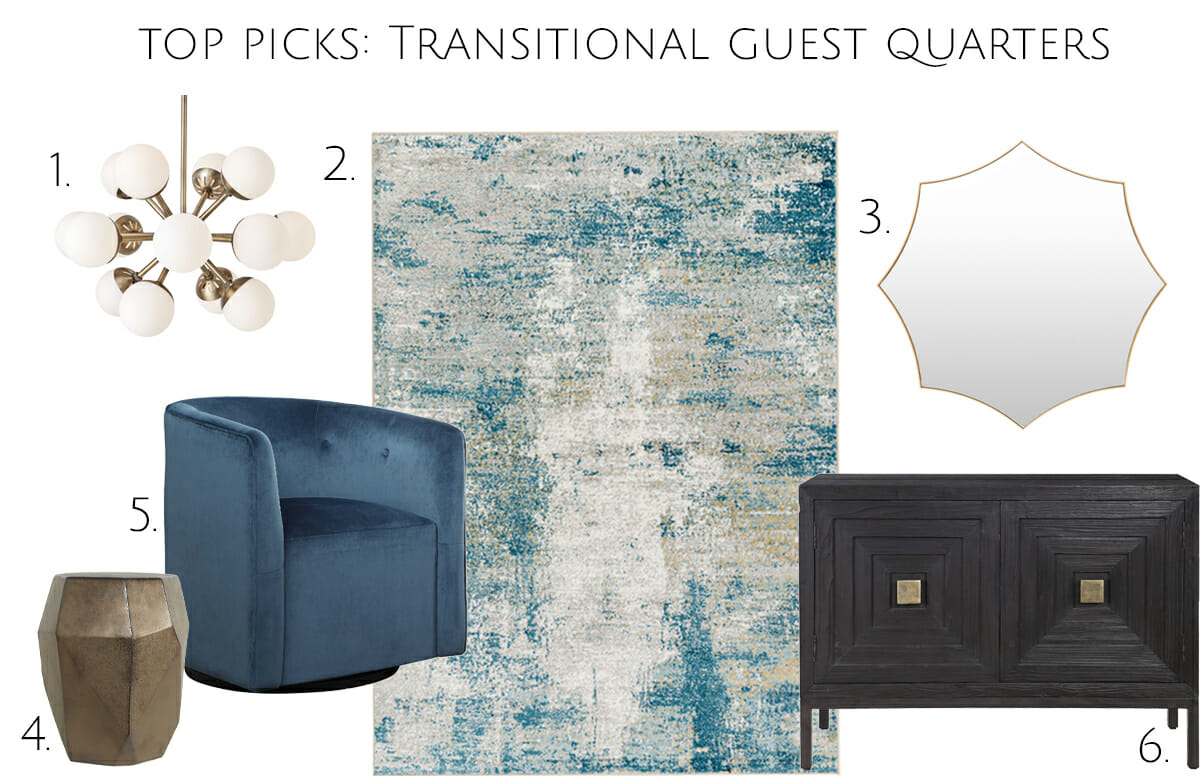 Want your chic guest quarters interior design? 
Transform your space with tried and trusted interior designers by your side. Simply schedule a Free Interior Design Consultation to learn more about your options today!

[images: Decorilla project images]