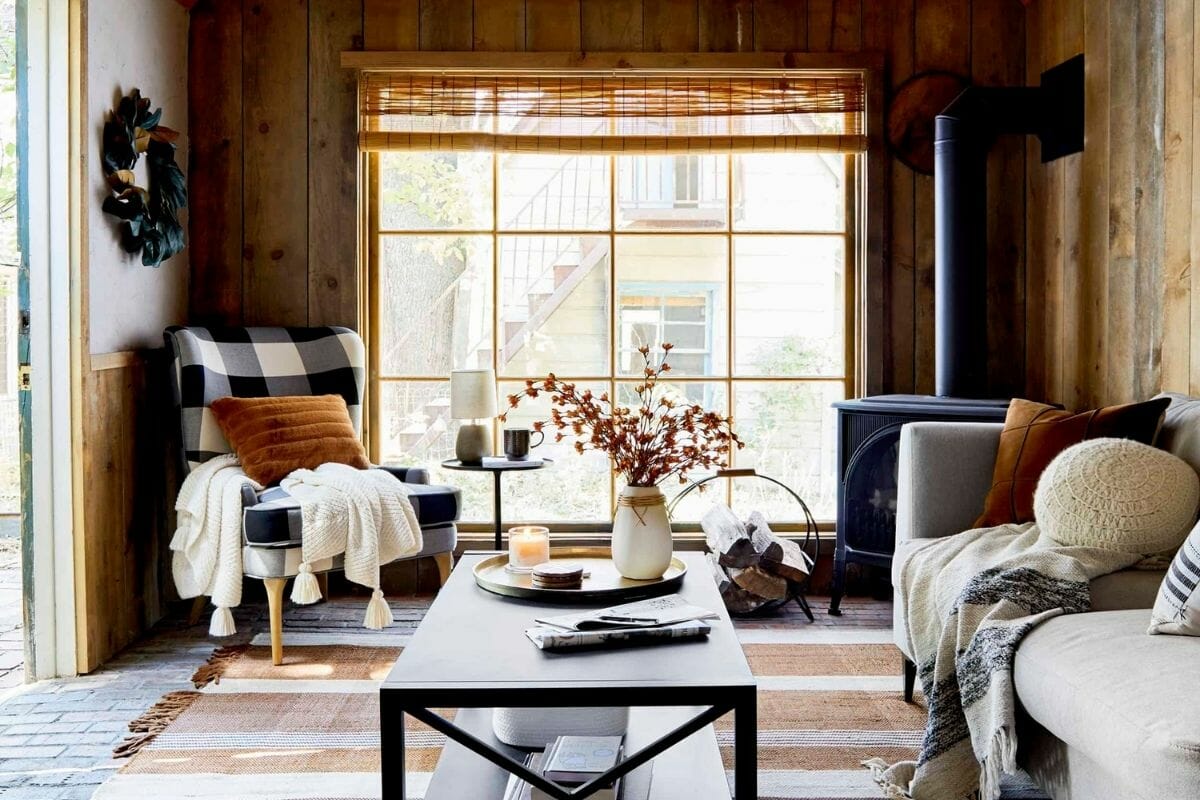 Autumn is in the air, which means the time for cozying up is here. However, that doesn't mean tacky décor needs to run rampant. In fact, fall decorating ideas can be cozy, classy, and chic. Here are the top easy-to-do updates to warm up your interior. 
Fall Decorating Ideas 101
We tend to crave all the creature comforts as we huddle indoors in the fall. For this reason, creating an autumn-ready interior is a good way to ensure your home is warm and your mind easy. So, set your space up for intimate get-togethers and snug nights with a few key items. But whether you're looking for fall porch décor or the best fall color schemes, consider these things first. 
When to Start Decorating for Fall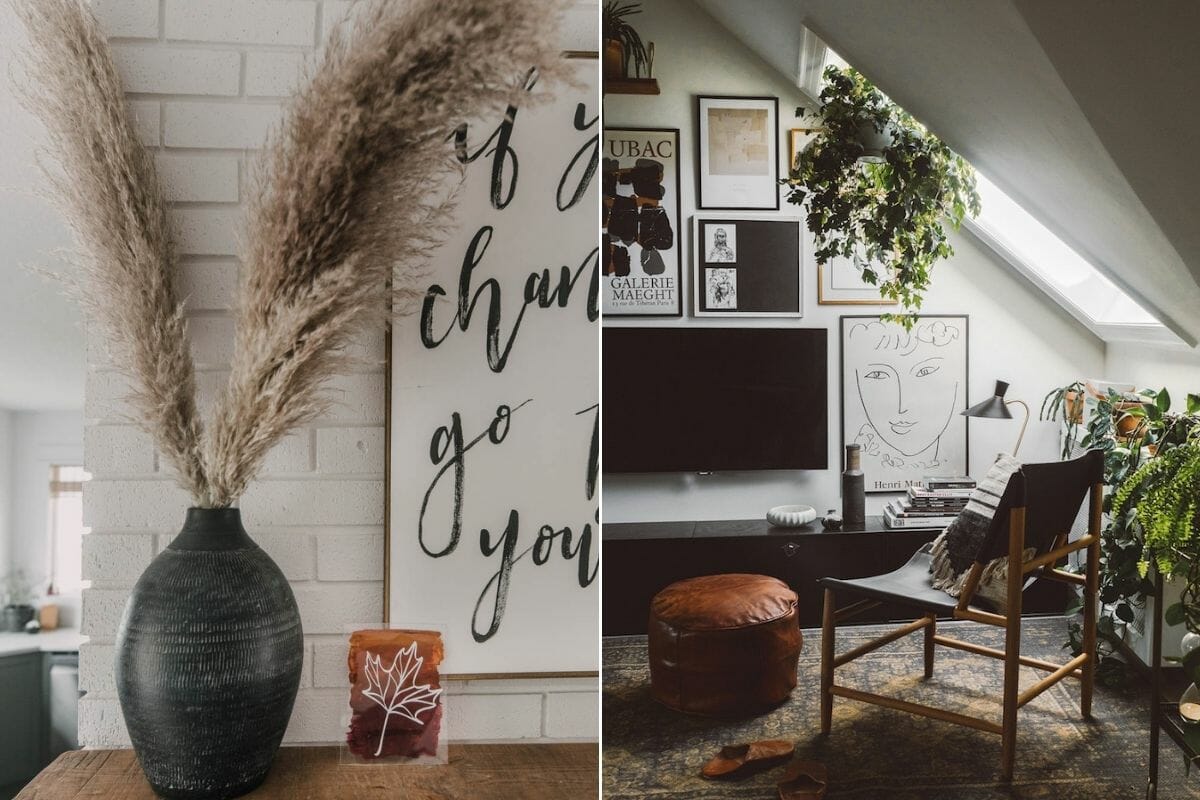 No date dictates when fall home décor needs to come out. That said, when you should start decorating your house for fall comes down to three things. The temperature drops, on which side of the hemisphere you live, and the calendar all play a part. You'll feel the cool air sweeping in, you'll surely want a blanket or two to keep you warm.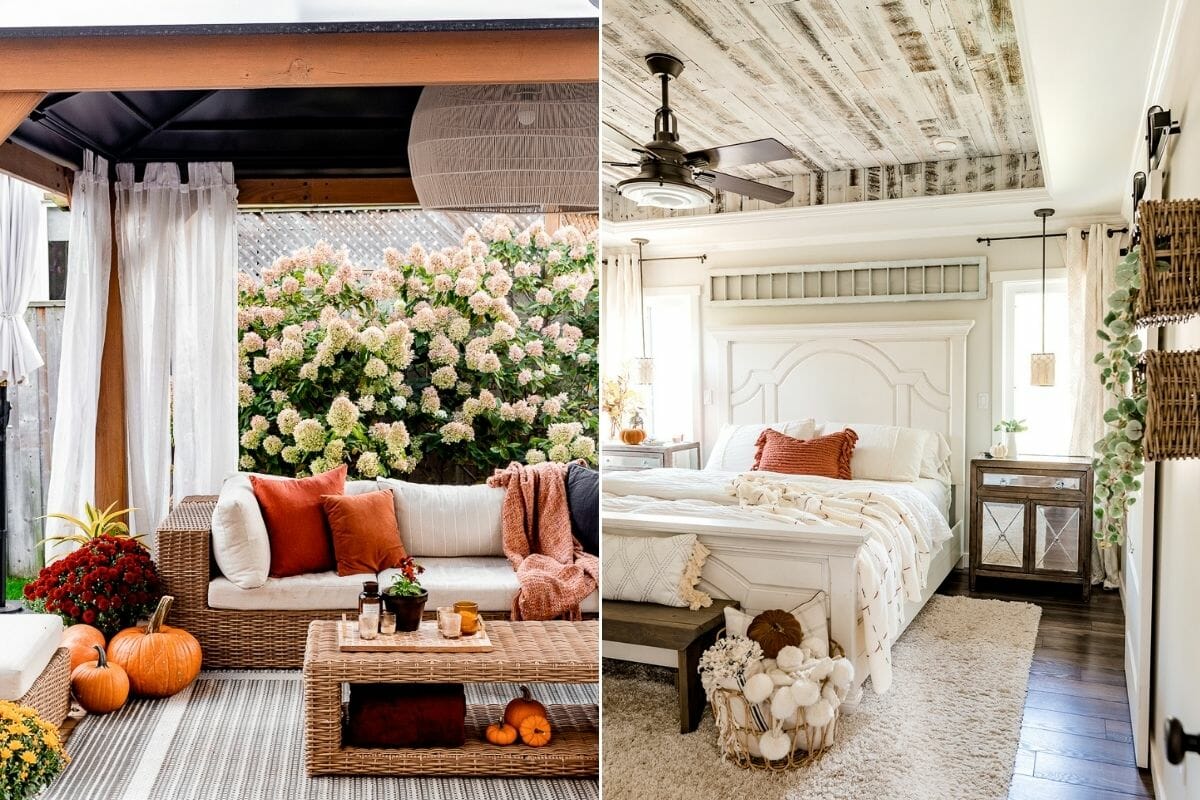 Here is a rough estimate for when to start decorating your home for fall:
In the Northern Hemisphere, you can decorate between September and October.

For those in the Southern Hemisphere, March to April is a good time for fall decor. 
Need some help incorporating fall decorating ideas into your home? Then, schedule a Free Interior Design Consultation for expert assistance getting started today!
How to Make a House Feel Autumnal 
It only takes as little as a pop of yellow in a monochromatic interior to create an autumnal atmosphere. So, next time you're wondering "how do I make my house autumnal", look to color for inspiration. The hues of the season will automatically add warmth to your interior. Additionally, fall table decorations are easy to do and instantly give another layer to your home. 
Try Something Different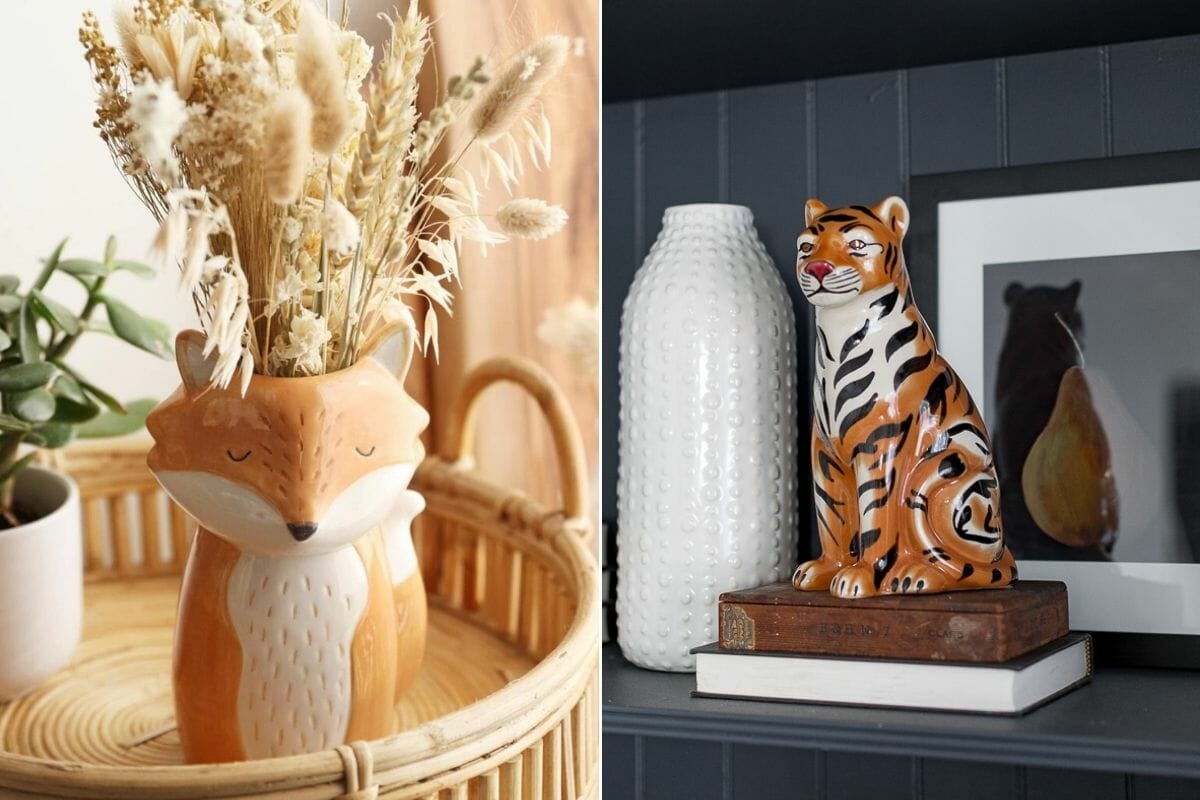 Seasonal décor is fun because it's temporary. And it doesn't have to align with typical seasonal decoration. In fact, pumpkins can sit out this fall. You can still keep to the autumnal theme through color and related objects. Woodland creatures, for instance, can add a quirky twist to your fall interior. 

Quick & Easy Fall Home Decor Ideas
Hop into the season with quick fall decorating ideas. Perfect for fickle weather changes, instant décor is ready within an instance's notice. 
1. Warming Autumnal Textiles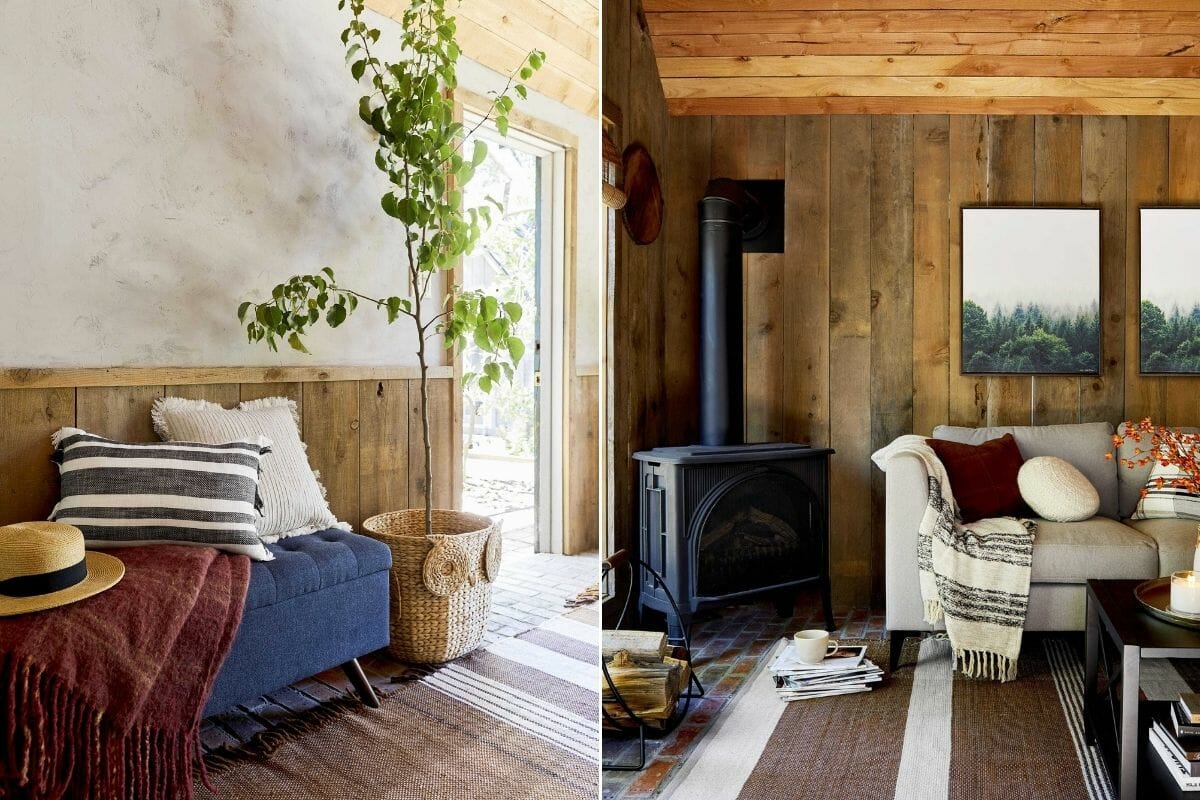 Soft furnishings, like throws and scatters, work especially well as autumn decorations. Choose velvety or woolen textures for that extra oomph you need on a cool evening. Throw blankets with tassels or fringes also add a rustic, comfy touch. In addition, plush scatters can make an interior feel luxurious in its coziness. 
2. Cozy Curtains
You can change the entire look of your home with new curtains. They can even double as fall bathroom décor to make a typically cooler interior feel warmer. Update your space with colors that have a warm undertone. Choose a hue that fits the season but also your color scheme. To be safe, pick subdued or neutral colors typical of the season and fall home decor. Moreover, sandy or wheat-colored drapes can suit many interior styles and palettes.
Spruce up Your Fireplace with Fall Mantle Decor 
A fireplace is not only a pretty feature, it's practical. And when the temperatures drop, a lit fireplace becomes a focal point. Combined with fall mantel décor, it can certainly steal the show. 
3. Seasonal Artwork & Beads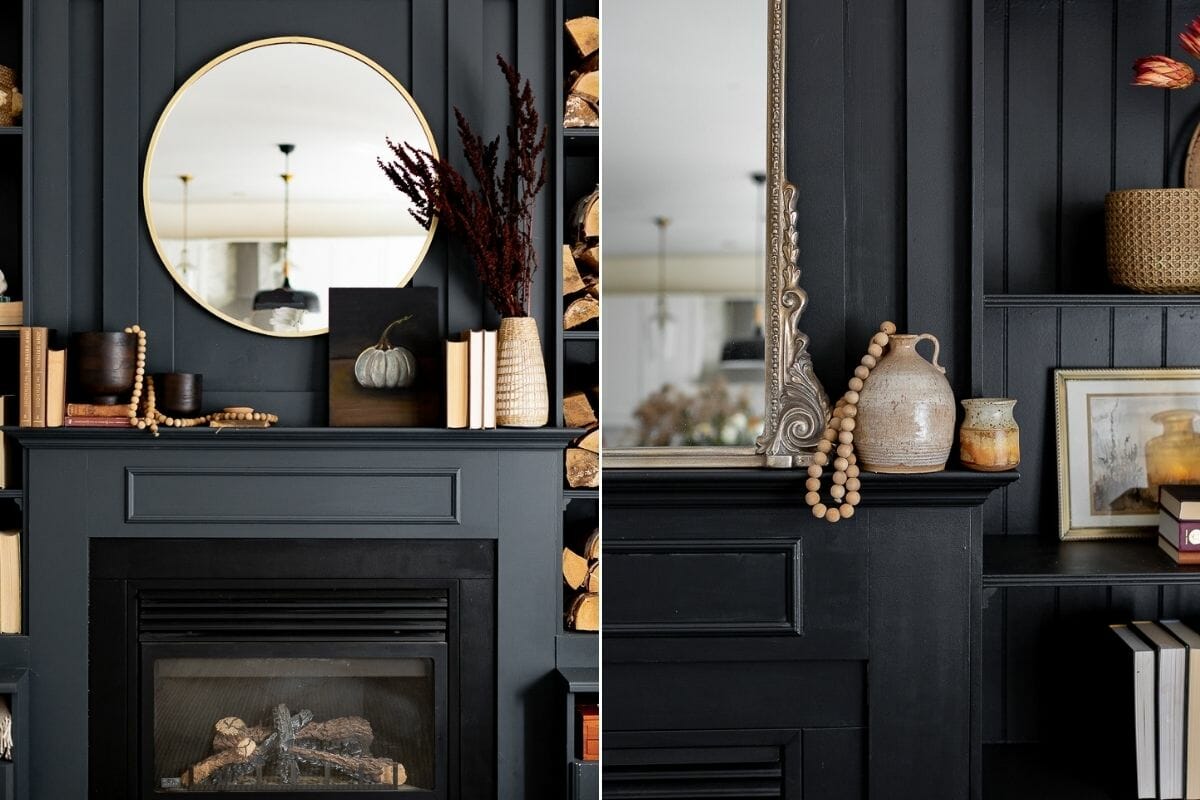 Traditional themed decor doesn't have to feature in your design. You can opt for earthy beads and fire-baked ceramics. But, if you do like the idea of squash with a twist, add a vintage-feel painting instead. 
Set against a black or charcoal backdrop, earthy browns and amber are great colors for fall mantel décor. Create a stunning vignette by framing the centerpiece (a mirror or artwork) with pretty bowls and old books. 
4. Natural Minimalist 
Fall home décor can fit into any setting, especially when you keep things natural. Pair a minimal design with an elegant vase, seasonal blooms, and one or two petite candles. The arrangement is subtle yet enough to add an autumnal air to the interior. 
Fall Bedroom Decor for Welcoming Guests
It can take as little as fluffy grasses and a comforting quilt to make your guests feel welcome and snug in the cooler season. In fact, with a few autumn decorations, your guests might never want to leave. 
5. Dreamy Cinnamon and Chocolate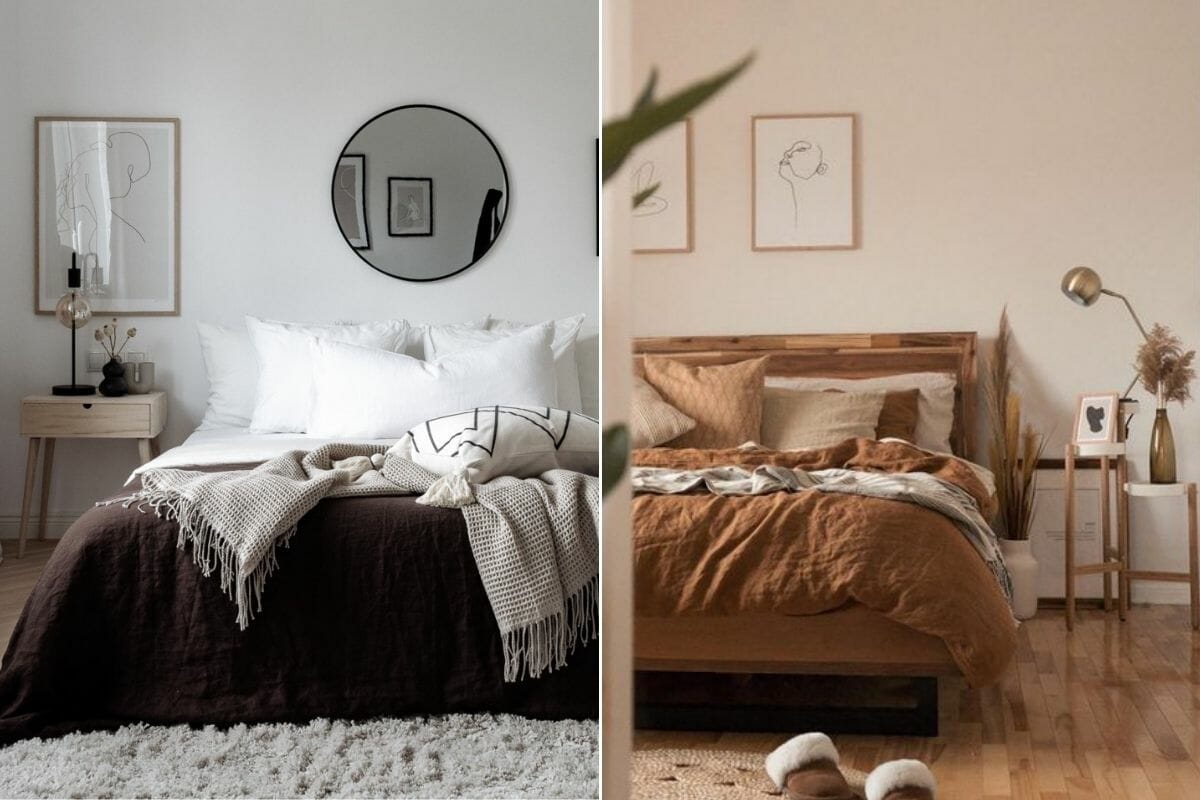 Take fall room décor to the fullest with cocoa and cinnamon! Warm-toned and dark colors are perfect for bed linen. Not only will quality bedding ensure a comfy rest, but a bold color will also give the room a distinct look. Pair your chocolate or cinnamon sheets with a chunky wool blanket and a warming area rug for that special cozy vibe. 
6. Colorful Throw Pillows
If you prefer smaller touches, opt for soft fall bedroom décor like orange or crimson scatters. Create an arrangement of colorful throw pillows in sets of two or three. You can incorporate patterns too or let the textures be the highlight. For balance, choose two accent pillows and a smaller decorative pillow, like a bolster, to round off the look. 
Cozy Fall Decor Ideas for the Living Room
Winter and fall certainly see more days spent indoors. This means shared areas, like the lounge, can do with stylish fall decorating ideas, making it even homier and more inviting. 
7. Textures of Fall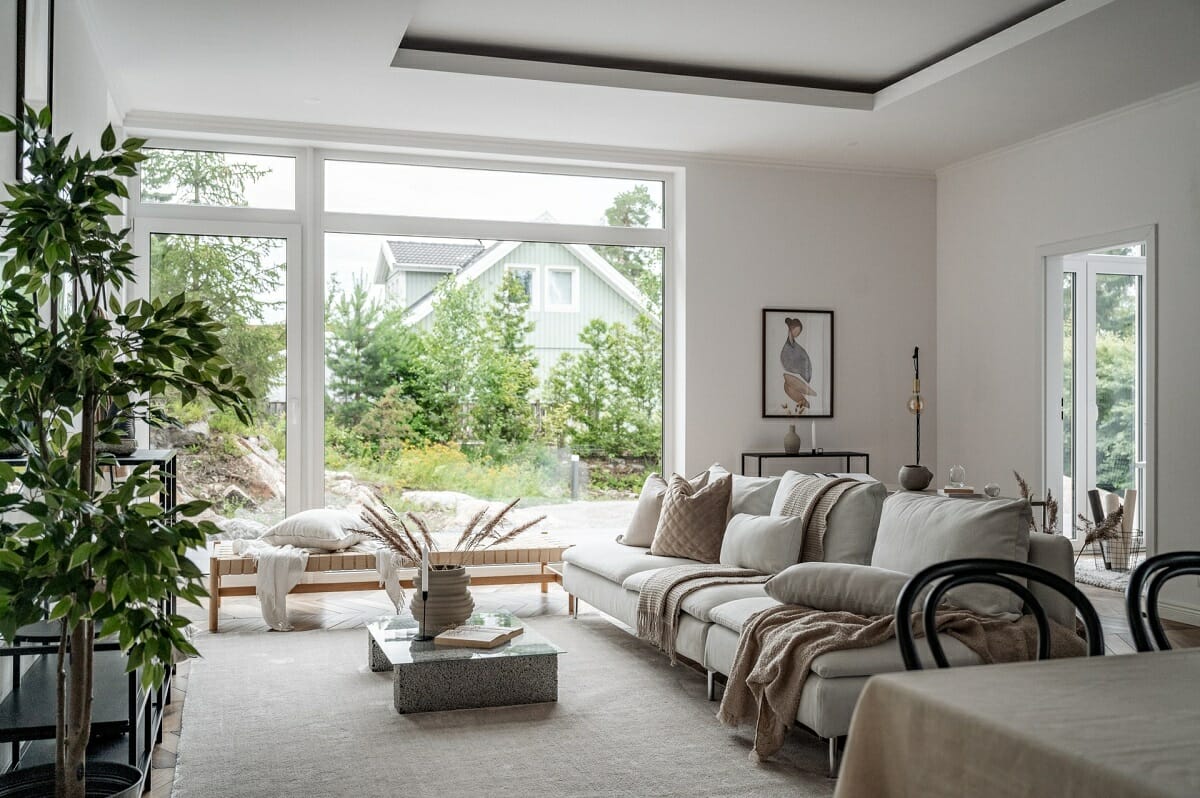 Skip the hues of the season if monochromatic is more on your style. Instead, indulge in layered textures, textiles, and materials to cozy up your space. Try fall decor ideas that physically warm up a living room. These include all the soft luxuries that come to mind, from blankets to throws and rugs. Other textural elements can include woven baskets and sculptures. As long as you stick to your muted colors, it'll be easy to incorporate new items. 
8. Colors-of-the-Season Rugs and Flowers
Mimic the warmth of the autumn sun through warming decorations. A patterned red-mustard rug and fresh sunflowers can do the trick. Moreover, according to color psychology, yellow can promote feelings of happiness and optimism. This is especially useful for creating a vibrant and uplifting home in the cooler months. 
Inviting Fall Kitchen Décor
With all the special dates and delicious comfort food being cooked, spending more time in the kitchen is inevitable. Make this space feel rich in details with beautiful fall kitchen décor.
9. Fall Decorating Ideas with Pears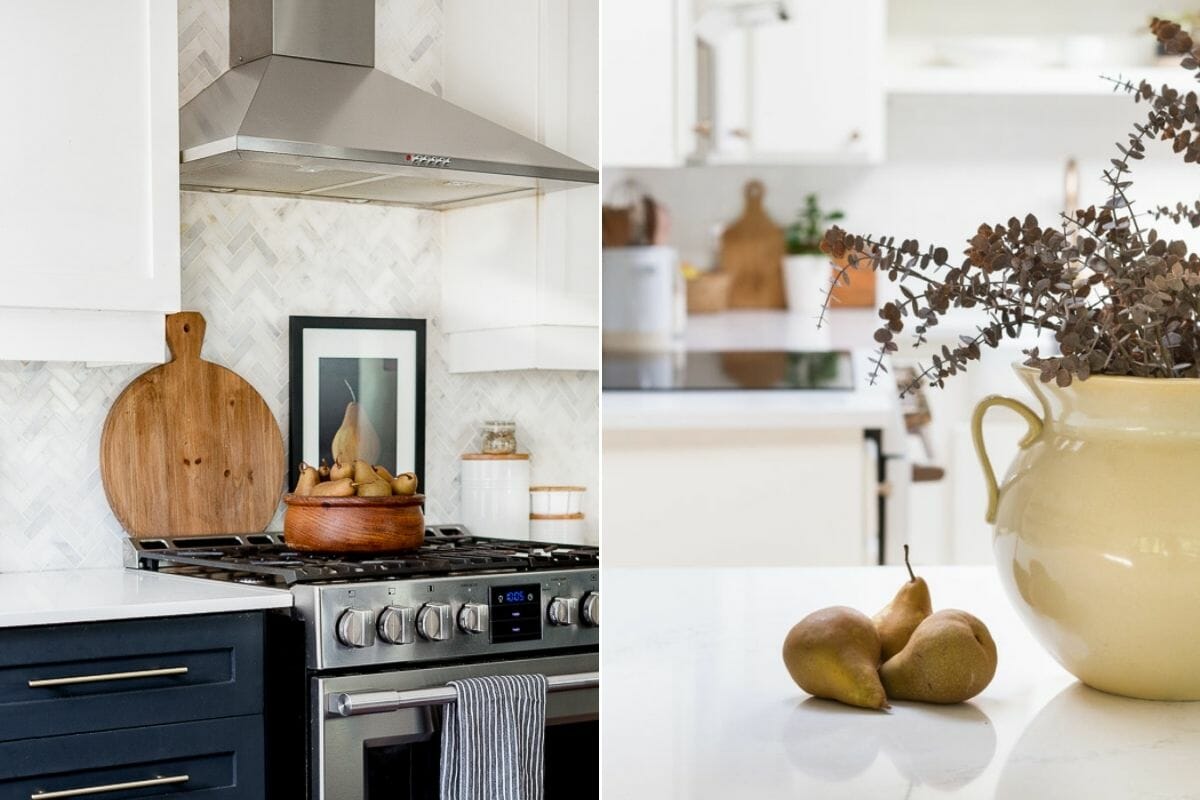 A basket of fruit on a kitchen counter adds a homey touch. So, celebrate the season's produce by pairing fruit with rustic autumn decorating ideas. Select the prettiest pears and display them in a carved bowl and add pear-themed artwork for a touch of fun. 
10. Golden Details
Gold accents, whether in bowls or fall wreath ideas, can give a luxurious air while keeping to the tone of the season. In fact, paired with white and natural woods, golden details are warming even in small amounts. Incorporate golden details into your interior for a memorable season. 
Looking for more than fall decorating ideas?
Whatever the season, your home can be your dream space. If you want to spruce up your interior or find useful advice, schedule a Free Interior Design Consultation to learn more about your design options today!

[images: 1, 2, 3, 4, 5, 6, 7, 8, 9, 10, 11, 12, 13, 14, 15, 16, 17, 18, 19, 20, 21, 22, 23, 24, 25, 26, 27, 28]