Thanks to eclectic modern interior design, this makeover story features a home brimming with a daring fusion of styles. Each room is steeped in the unique charm of old meets new. This isn't just a house—it's a dynamic, personality-filled masterpiece!
The Challenge: Eclectic Modern Interior Design
As a newly minted homeowner, a recent client was eager to create a cohesive and stylish look throughout her entire home. Such a goal involved a professional interior designer's assistance to make the most out of the opportunity. In addition, the client desired to invest in well-crafted, statement pieces that would properly reflect her taste, which she described as "eclectic modern farmhouse." After researching the internet for the best option, she finally contacted Decorilla, asking for a seasoned professional to:
Source stylish yet easy-to-clean, pet-friendly furniture

Compose 

affordable living and dining room

 layouts with a warm and inviting vibe in mind 

Make the most out of the confined dining room area 

Brighten up the darker bedroom

Build the design on a neutral base but incorporate vibrant pops of color 
Not sure if eclectic modern is the right look for you?

Then, take our

Free Interior Design Style Quiz

to discover your unique decorating style today!
Contemporary Eclectic Interior Design Inspiration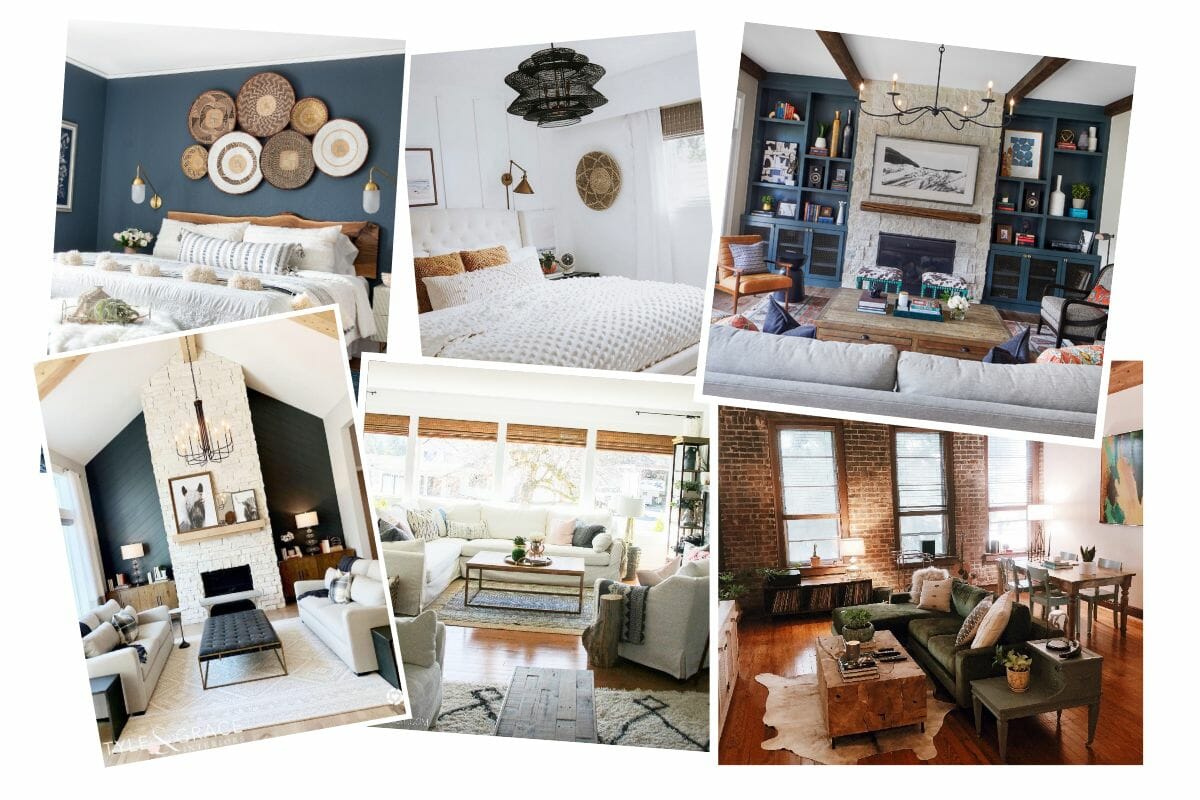 The client's inspirational gallery contained some fine examples of eclectic modern interior design. A stunning collection of rooms seamlessly blended diverse furniture and decor elements, emphasizing contemporary functionality above all. In addition, the rooms exuded a warm, lived-in feel reminiscent of a contemporary farmhouse with a touch of eclectic interior design flair. A notable common characteristic of the designs was also the combination of natural materials, such as abundant wood, stone, and leather.
Modern Eclectic Ideas & Moodboard
By completing the design questionnaire, the client also provided invaluable insight into her lifestyle, including specific needs and requirements. Armed with all the necessary information, the Decorilla team was able to propose two highly skilled designers with a special flair for the desired style.
It was not easy to choose between the two stunning modern eclectic moodboards presented; hence the client thoroughly reviewed both concepts before making her final decision. In the end, Darya N.'s solution proved to be the perfect fit for her needs.
The space Daria envisioned was graceful yet comfortable and inviting. Her contemporary eclectic interior design moodboard showcased an excellent example of how to layer textures, patterns, and styles. It also used elaborate creativity to communicate the client's individuality through cohesive design. The setup promised an exciting look in return – timelessly appealing and highly functional at the same time.

Mid-Century Eclectic Living Room Design Results
The client's request for the living area was to keep the off-white walls and white trim that extend throughout the open concept space to the adjoining kitchen. That implied introducing color pops via furnishing and decor. As a result, a deep moss green sofa and mustard yellow accent chair dominate the conversation area of the modern eclectic living room, making it feel welcoming and cozy. 
The furniture lines are clean and understated, with a subtle nod to mid-century modern style. In combination with soft poufs and visually interesting decor, the setup oozes welcoming comfort. It is equally suited for cozy relaxation on weekday evenings after work as well as hosting a small house party. 
To highlight the modern eclectic living room's character, the designer incorporated a gallery wall next to the main seating area. It serves as a focal point, drawing the eye away from the fireplace and TV to seal a designer touch to the space.
Modern Eclectic Dining Room
The issue of a somewhat small modern dining room required the designer to maximize the space with a functional furnishing layout. That task was made slightly more challenging by the client's wish to accommodate a table that seats six and also keep her gray sideboard.
The solution came in the shape of a delicate mid-century modern dining set featuring wooden tables and chairs. It takes center stage, adding natural charm and simplicity while also beautifully pairing with the existing elements. 
The simplicity of this modern eclectic interior design solution highlights distinctive elements with character. A combination of various styles and features conveys an inviting and meaningful dining space that still feels ample and airy. In addition, the layout is minimal, allowing the sleek brass chandelier to act as a statement piece. 
The modern dining room decor selection works in perfect harmony with the background of light gray wainscotting. A brass bar cart stands out against it as a functional accent piece that brings a touch of sophistication to the room. Meanwhile, two potted plants flanking the sideboard add to the natural atmosphere and balance the overall look without cluttering it.
Eclectic Modern Master Bedroom Design 
The primary bedroom is a testament to the beauty of mixing different design elements to create a unique, eclectic modern interior design. With walls covered in green board and batten paneling, it also evokes southern countryside charm. Behind the bed, vertical paneling leads the eye up to find a modern black & gold fan providing function and form without compromising the room's clean and crisp aesthetic. 
The overall color scheme feels fresh, soothing, and organic, with pops of light amber and pink. It continues the coherent narrative of the modern eclectic living zone, paying homage to American mid-century design. In a similar manner, occasional brass accents also serve to deliver a touch of glamorous sophistication to the layout.
A bright wooden bed pairs unexpectedly well with the contemporary upholstered bench at its bottom. Across the room, a mid-century accent chair arched floor lamp, and patterned side-table create a comfortable reading spot. The eclectic rug grounds the arrangement with an effortless pattern play. But what really makes this bedroom stand out is the plant-inspired wall art that, together with a potted plant, brings a touch of nature into the room. 
Mid-Century Eclectic Modern Bedroom
One of the brightest rooms in the client's home, the second bedroom also explores different levels of eclectic modern bedroom design. Incorporating elements of beloved American mid-century style and folklore inspiration created a multi-layered and visually stunning space as a result. 
While the hardwood floors and statement patterned rug provide a solid foundation, the addition of extra soft textures creates warmth and exceptional coziness. Light gold and orange hues pair with vibrant accents to emphasize a bold eclectic vibe. Meanwhile, the vertical wall art triptych completes a style statement, also tying the earthy color palette together.  
How Eclectic Modern Interior Design Transformed the Client's Home
The modern dining room is the first room visitors see walking in the front door. According to the client's wishes, it was essential not to make it feel dull or "nondescript." Instead, the well-balanced pairing of features and colors produced an exquisite ambiance that is sure to impress guests as a result.
The design solution also seamlessly merged diverse elements to brighten up a space with the issue of sparse natural light. Such attention to detail and careful consideration delivered a flawlessly eclectic modern bedroom sanctuary in return. It sets a perfect example of how a space can be equally functional and stylish, all while maintaining a seriously coherent tone.
Online Interior Design Shopping List
Decorilla's innovative approach allowed the homeowner to complete her transformation with ease and certainty. The photorealistic 3D visualizations, helped her preview the finished design so she could make informed decisions before committing to any changes. On top of that, exclusive trade discounts and a custom shopping list guaranteed her the best prices on the items she loved. 
Top Picks for a Modern Eclectic Living Room
Pull together your own eclectic modern interior design with some of our top furniture and decor selections inspired from this project: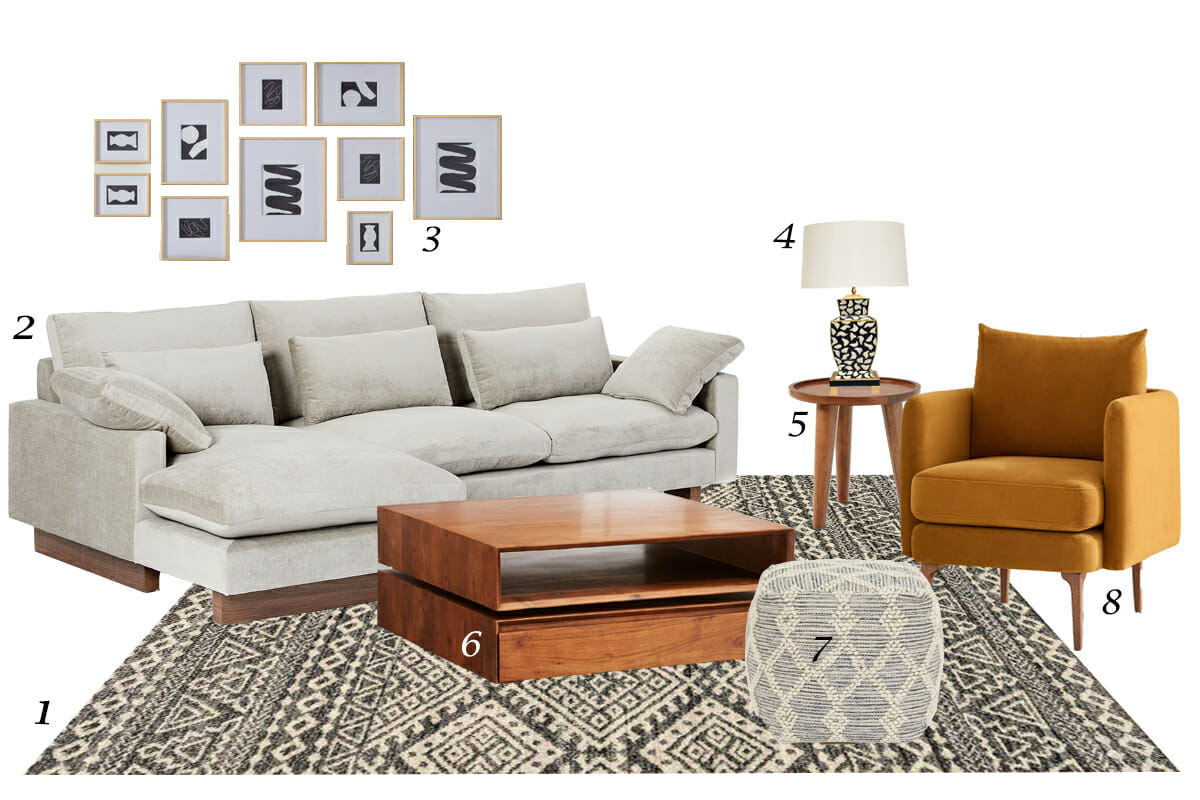 Can't wait to transform your home?
Start your design journey today! Book your Complimentary Design Consultation to discover the perfect designer for your space.