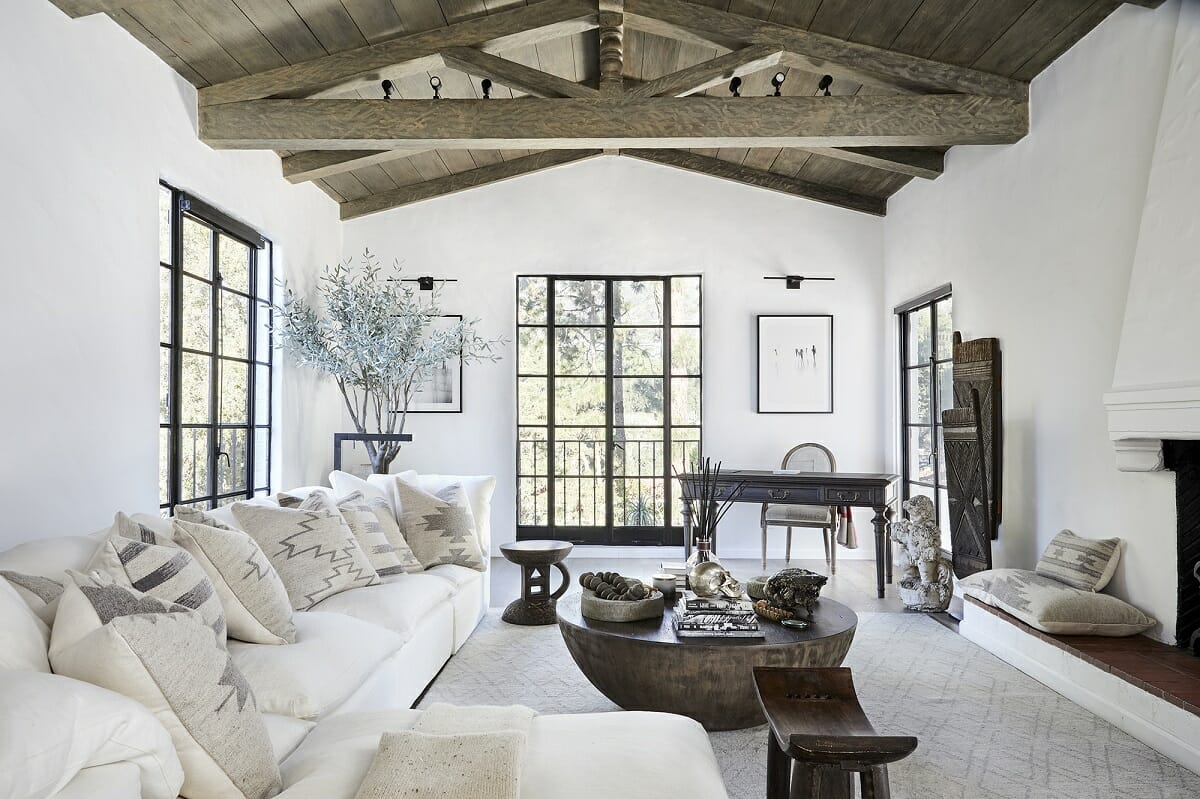 Online interior design makes beautiful interiors accessible and affordable. Easy to use and a big time saver, it's the way of the future! That said, it can be tricky to decide where to begin. Today we'll look at two leading industry experts in a Decorilla vs. roomLift comparison. So, read on to find your right fit! 
Decorilla vs. roomLift – A Quick Glance at Both
You need to know the best online interior design services to consider your options. Furthermore, you must mull over their features and benefits to find one that matches your style and budget. 
First, let's get started with a glance at Decorilla vs. roomLift. 
Decorilla
Firstly, Decorilla projects incorporate a fun and interactive style quiz to identify your exact taste and budget. After that, the team matches you with two interior designers who will make proposals. Because Decorilla cares about your wants and needs, they enable you to decide which design you want. In the end, the designer you choose will ultimately transform your home!
It doesn't end there. Similarly, your selected designer assists you with great deals too. At a fraction of the cost of traditional services, you will receive a curated shopping list with exclusive trade discounts. Moreover, the package includes 3D renderings, color schemes, layouts, and décor selections. 
roomLift
On the other hand, roomLift also offers a unique solution to interior design. The magic happens when you connect with a professional designer who hears your visions and dreams for your home. roomLift's goal is to save time, money, and stress. And the result is a seamless and enjoyable process.
roomLift follows a similar path whereby clients fill out quick questionnaires. The platform then creates and sends a tailored box of design ideas to the client. These concepts include scaled floorplans, samples, and furniture specifications. 
Decorilla vs. roomLift: Overview Comparison
Let's look at a comprehensive synopsis of these two great online interior design providers.
Design Concepts from Multiple Interior designers
Clients receive initial proposals from two interior designers. The proposals contain aspects such as your decor, layout, furniture suggestions, and color palette. Lastly, you decide which designer will recreate your space. 
3D Renderings
Your designer will provide photo-realistic images to portray their suggestions for your new space. As a result, you can decide if you like the look before committing to the project concept. 
Online Shopping List
When you proceed with your project, you will receive a curated virtual shopping list from Decorilla. Moreover, this list includes details you will require to start putting together your new interior. Moreover, you will receive exclusive trade discounts from popular vendors. All this is without the pressure to purchase. 
Detailed Furniture Layout
Decorilla provides all clients with a clear-cut 2D floor plan. In short, this floorplan details where each of your purchased items would be in the room. 
Color Palette
Each client receives wall paint that will complement their new home. Using this base as a guide for your home is good if you want to design some rooms yourself. 
Tips and Implementation Guide
A step-by-step manual is given to the client to guide the decorating process. Within this manual, your designer provides handy tips to help set up your room perfectly. 
roomLift Online Interior Design Packages
Collaborate with an Interior Designer 
After the client downloads the roomLift app and creates an account, they'll complete a quick questionnaire. Then, the roomLift team can peruse their inspirational photos. Ultimately this allows the team to connect you with the appropriate designer who will provide a complete game plan. The designers come from external interior design companies that partner with roomLift. Once roomLift understands your project needs, they'll match you with the perfect partner. 
Boxes with a Full Game Plan
A comprehensive box filled with a design package is shipped within four weeks. Overall, this box includes cards that portray your discounts, designer notes, and two to three options of items you wish to purchase.  
Timelines
An estimated timeline of one to two weeks is necessary to put together your game plan of custom professional design expertise. After that, it'll take another two weeks for your box to be shipped to you with everything you need to put your project together.
Add Ons 
In addition, acessoryLift is an option for clients. This solution provides advice on aspects like fixtures and finishes in your home. Furthermore, clients can book 5-minute consultations for quick meetings on tips and tricks. 
Decorilla vs. roomLift: Features
FEATURES

DECORILLA

ROOMLIFT
INITIAL CONSULTATION
Yes
Yes
FURNITURE DISCOUNTS
Yes, up to 45% off popular brands
Exclusive trade discounts are offered
ONLINE PLATFORM
Yes, an interactive platform
Yes
INTERIOR DESIGNER EXPERIENCE
Decorilla designers either have a degree in interior design or architecture
Professional interior designers with 5-40 years' experience
DESIGN CONCEPTS
Yes, from multiple designers
Yes, from one assigned designer
CUSTOM & CAD DRAWINGS
Yes, included in the gold design package
Yes
3D MODEL
Yes, photorealistic 3D renderings
No, a floorplan is provided
INCORPORATE EXISTING CLIENT ITEMS
Yes, in 3D rendering
Yes, in 3D rendering
PHONE CALLS WITH DESIGNER
Yes
Yes
COST
$75-$1,699
$100 - $1500
COMMERICIAL, BUSINESS & RESIDENTIAL
Yes
Residential
REMODELS
Yes
Yes
ORDERING CONCIERGE
Complimentary meticulous purchasing service
Available
MARKUPS
No, shopping list and discounts do not expire
No
PROJECT TYPICAL DURATION
3-5 weeks
1-4 weeks
IN-HOME CONSULTATION
Yes, available per request
No
REVISIONS
4-10 with designer
No
PARTNER VENDORS
300+
New vendors can be requested and used in projects.
Designers suggest vendors
WALLPAPER & PAINT COLORS
Included in flat-rate price
Included as samples in box
WINDOW TREATMENTS
Window treatments, shades and curtains included
Window treatments, shades and curtains included in box
LIGHTING DESIGN
Custom and track lighting, floor and table lamps, chandeliers, pendants and sconces available.
Per request
ROOM DESIGNS
Bedroom, bathroom, patio, kitchen, hallway, living room, dining room (all – customizable packages)
Living room, dining room, kitchen, bedrooms, kids' rooms, nursery, family room, bathroom, office, basement, outdoor
Schedule a Free Online Interior Design Consultation to learn more during a chat with one of Decorilla's online interior decorators today. Or Choose a Design Package to get started with a click of a button!
roomLift vs. Decorilla: Design Process and Flexibility
To create the perfect space, you need to find a designer who shares your vision. The interior design company you choose should meet your tastes and budget. With this flexibility in mind, let's look at the Decorilla vs. roomLift comparison. 
Decorilla Interior Design Process
Decorilla's design process is far from cookie-cutter. Their packages are customized and progressive, arranged in three tiers – Bronze, Silver, and Gold. Each level holds knowledge and expertise from its professional interior designers. Moreover, they cater to all budgets and styles. They also have a Premium option for luxury, high-end interiors. 
The Decorilla interior design process rolls progressively too. An initial consult takes place after a brief questionnaire. Subsequently, you match with the appropriate interior designer. After that, you'll receive concept boards. In essence, the designers compete to collaborate with you on your project. 
Once you select your ideal concept, your designer will be by your side from start to finish. Open communication is crucial to this collaboration. For this reason, all emails display on the Decorilla online platform. 
In the end, the designer provides you with 3D renderings, a cohesive shopping list, and an implementation guide. You'll also receive all color schemes, floorplans, and décor. Moreover, the shopping list will include exclusive trade discounts. 
Lastly, Decorilla boasts excellent customer service. In fact, they have a customer service team available on hand to solve any problem. As a result, there are many happy homeowners due to Decorilla and its team of leading experts. 
roomLift Design Process
roomLift works in a similar yet different manner. After creating your account, you'll receive a link to complete a questionnaire. Your info lets the team discover more about your wants and needs. Next, you'll receive a second link to a Dropbox file. Here, you can upload inspirational photos of ideas or furniture you wish to keep.
The next step is for the designer to work on your full package. Then, you'll receive a box of tactile cards within four weeks. These cards contain samples of the materials you wish to use or swatches of color. For this reason, you'll get a tactile experience of your concept before going ahead and making purchases.  
roomLift vs. Decorilla: Furniture Brands
Nothing is out of the question when it comes to roomLift stores. Moreover, there is always the potential for trade-exclusive discounts. While roomLift does not partner with any stores, they work on growing their discount offering to their clients. As a result, their designers have zero limits when sourcing furniture items.
Likewise, the Decorilla team sources their furniture from all over. They've partnered with over 300 vendors and often offer product discounts of up to 45% off retail value. Popular brands like Crate & Barrel, West Elm, and William Sonoma are among these vendors. That said, non-partnered brands can also be used for your design. 
In addition, Decorilla's customized shopping lists allow for a convenient one-stop shop. The orders team takes care of each step, from placing orders to delivery. 
Decorilla vs roomLift: Ease of Use
In the roomLift vs. Decorilla features comparison, both interior design solutions are straightforward. Moreover, Decorilla is user-friendly. With a seamless progression and open designer-client communication, Decorilla ensures a hassle-free process. 
In addition, the interactive platform enables direct designer and client communication. You can ask questions, make notes online, or allow emails to show on the platform. Plus, there is the option to chat over the phone too. For these reasons, the Decorilla team is known for their swift responses, whether it's their 24/7 customer support or the designer. 
roomLift is user-friendly too. The process is seamless and runs like clockwork, allowing you to shop, install and enjoy. Furthermore, the communication channels are wide open. For instance, you will receive prompt feedback if you wish to send an email or chat on the roomLift platform. With the motto of "let us lift you up," the leadership and customer services team have your best interests in mind. 

Decorilla vs. roomLift: Customer Support Comparison
In addition, both Decorilla and roomLift place a high priority on providing excellent customer service. For instance, Decorilla guarantees 24/7 service availability because of its online framework. And so, you can access assistance on weekends or after business hours.
Likewise, you can contact a roomLift customer support agent by email or an online chat.
Decorilla vs roomLift: Pricing
Online interior design is becoming increasingly popular worldwide. In fact, you can secure a luxurious interior at a fraction of the cost of traditional design services. So, let's look at the difference between Decorila vs. roomLift in pricing. 
Decorilla Pricing
The pricing for Decorilla depends on the room type and level of designer experience. For example, a bathroom design would cost less than a kitchen due to the size and space. Plus, you receive a discount when designing more than one space. 
Bronze Tier – $549 – $899/room
2-5 years of experience for each designer

Multiple designers provide the concepts and ideas

Simple requirements for room designs
Silver Tier – $649 – $1099/room  
5-10 years of experience for each designer 

Multiple designers provide the concepts and ideas

Faultless designs handed over without any back-and-forth snags
Gold Tier – $849 – $3,200/room
10+ years of experience for each designer

Multiple designers provide the concepts and ideas

CAD drawings available

Quality items and exclusive furniture sourcing

High-end designers with a wealth of industry knowledge 

End-to-end project and timeline management
The premium package offers everything included in the Gold tier and: 
Expertise of an industry-leading interior designer

Unlimited calls (including video calls) with your designer

Curated shopping list, ordering, tracking, and delivery coordination

Management of contractors for gut-renovations 

End-to-end project management, including the project timeline, weekly check-ins, and in-home coordination available
Custom Design Package – $75- $500/hour
Custom packages at an hourly rate for those that require something unique
roomLift Pricing
roomLift has a flat-rate pricing structure and depends on the interior designer you select. Similarly, there are different packages available. 
Access an Expert – from $100
Proposal on a complete house makeover, remodel, or a special design challenge

Custom proposals

A virtual or phone call consult for immediate tips 
accessoryLift – from $750
A mailed box with floor plans, samples, and furniture suggestions

List of specifications of how to purchase the discounted items
roomLift – from $1500
A mailed box with floor plans, samples, furniture suggestions

List of specifications of how to purchase the discounted items
houseLift – Enquire about pricing
Professional proposals for a project of any size

In-depth reviews of your needs and a custom proposal
Decorilla vs. roomLift Reviews 
Decorilla Reviews from Customers – 

5 Stars
Decorilla's clients thought highly of the service:
"I recently completed a project with Decorilla to design my living room. As a matter of fact, I can't speak highly enough about my designer and the platform in general. Everything was so seamless and well thought out." 
"The designs were very creative and professional. Most importantly the design & all the pieces worked and made sense. We could never have achieved such a good look at such a reasonable price without Decorilla's help. They deserve the 5-star rating!!!"
Decorilla Reviews from Interior Designers – 

4.1 Stars
Likewise, Decorilla designers were positive when it came to their experiences:
"Decorilla is a great company! Their team is so friendly, and supportive it's a pleasure working with them. Furthermore, you will always get help if you need it. You will learn a lot about online interior design and its background."
"I work remotely for this company which I enjoy a lot. I feel that they care about their employees and try hard to make sure both employees and customers have a good experience and are treated well."
Interior design makeover by roomLift
roomLift Reviews from Customers – 

5 Stars
roomLift customers were satisfied with their design solution:
"Thank you for your wonderful business! I've worked with designers in my house in the past and I've been pleased, but no one could come up with a good solution for this room!"
"I got the box. I am extremely pleased and playing around with it. Thumbs up completely on the layout, and the best find was the chaise!" 
roomLift Reviews from Around the Web (

1

, 

2

)
Mixed reviews pop up from around the web:
"The result has been amazing. For an unbelievably affordable price, roomLift made my house look incredible and made it fun to be a part of the design process. I highly recommend it to anyone looking for a stylish, affordable interior design for their home."
"roomLift's primary plans don't provide opportunities to meet with your designer. Their recommendations are based only on your answers to their questionnaire. Therefore, it's up to you to be extremely clear and thorough about your expectations."
roomLift & Decorilla Alternatives
If you'd like to explore other platforms, here are some options:
Pros
3D renderings with product proposals

Consultation with a design specialist

Interior design help is free
Cons
Only furniture is available when it comes to suggestions
Pros
Free interior design services 

Art installation is available

Sustainability is the brand's goal
Cons
No discounts 

Furniture is not high-end
Pros
Multiple packages offered at affordable prices

Unlimited redesigns are available with the Luxe package

All items are available for purchase through Collov
Cons
Sales pressure due to designers earning a commission

Confusing pricing structure
Decorilla vs roomLift: Differences & Conclusion
Both roomLift and Decorilla are quality design platforms. However, no matter the benefits, selecting the one that gels with you may still take time! Here are a few pointers to iron out the major differences between roomLift vs. Decorilla.
Decorilla
Multiple interior designers produce design concepts

Realistic 3D renderings 

Shopping list with exclusive trade discounts

CAD drawings available

Custom packages at an hourly rate are available

24/7 customer support

No additional fees
roomLift
Three packages are available – design hours, accessory updates, and room redesign

Work directly with your chosen designer

Not based on commission

No sales pressure

Receive and see tactile samples in person

1% of proceeds go to selected charities
Still weighing up roomLift vs. Decorilla?
Our team can help you find the right designer for your home. Schedule a Free Interior Design Consultation to learn more today! 

[Feature image: 1]