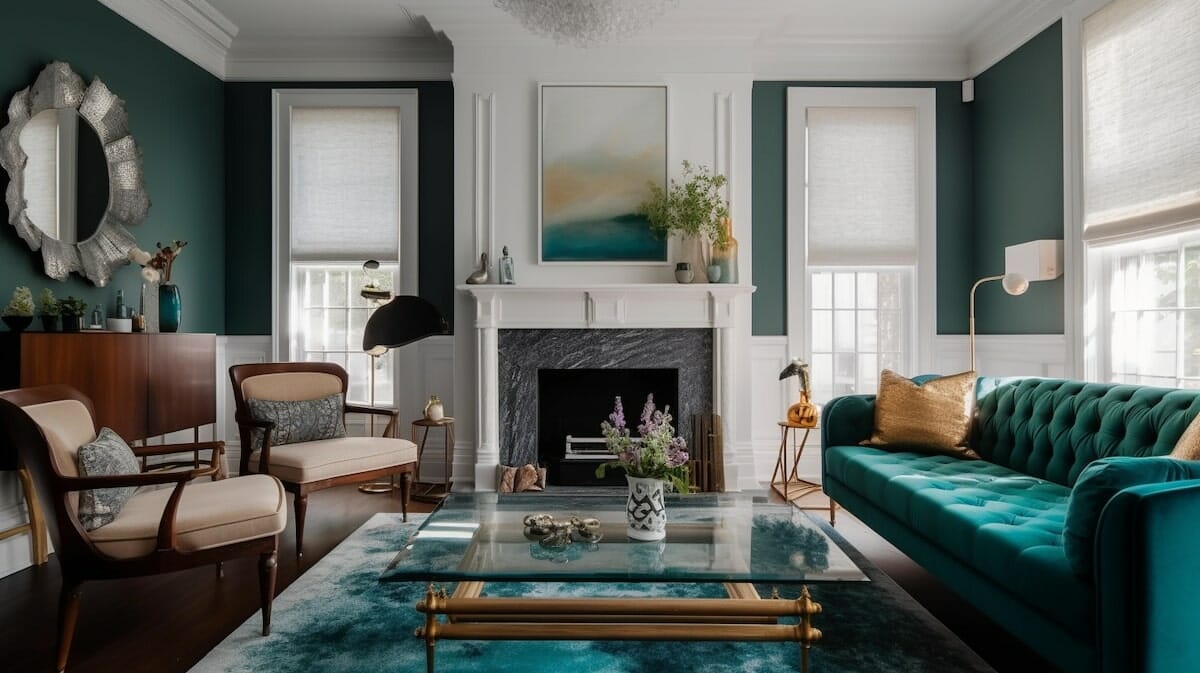 Transforming your house into a home is no easy task. Online interior design takes all the difficulty out of the process, so it's easy to see why it's a popular choice among homeowners, renters, and business owners alike. Keep reading as we compare two popular online interior design companies, Decorilla vs Modsy and help you determine the right fit for your home.
Decorilla and Modsy – A Quick Glance at Both
With Decorilla, you have the ability to see two different designer perspectives for your room.  After seeing both design concepts you can then choose which designer you'd like to continue working with. From decorating your home to total remodels and custom designs, Decorilla covers all aspects of design. If one of their set packages doesn't include everything you require, they will create a custom package that caters to all of your design needs. The initial free one-on-one designer consultation will help you determine the right package for you. Decorilla covers more than just residential homes and single-room designs. There are also options for business and commercial office design, custom lighting, and window treatment selections to name a few.
The Modsy interior design service is a great budget-friendly way to visualize your home with the help of a professional. You can explore your design with their 3D Style Editor Tool and change furniture out as you wish based on what is in their online catalog. Modsy is great if you are comfortable using design software and prefer the DIY route.

Decorilla vs. Modsy: Overview Comparison
Let's start by looking at what's included in each online interior design package.
Decorilla Online Interior Design Packages
Concept Board From Multiple Interior Designers

These include a detailed floor plan, décor, furniture, and color palette suggestions. You choose which designer you'd like to continue designing your space.

3D Renderings

Photo-realistic quality images of your new room. You can see how everything looks in the space prior to making any purchases.

Online Shopping List

Virtual shopping list which includes detailed information about all your designers' suggestions. Decorilla passes along their trade discounts from 100s of popular vendors so the design fees can pay for the package many times over. 

Detailed Furniture Layout

A furniture layout that details where each and every piece from your shopping list goes. It's easy to see where things should be placed and how they'll fit together. 

Color Palette

Suggestions for paint colors to compliment your new space design. 

Tips and Implementation Guide

A step by step guide to help you through the decorating process. Your designer will pass along tips and tricks that will help you finish your room with ease.
Modsy Online Interior Design Packages
Draft 3D Designs from One Interior Designer

Two draft designs from the interior designer you are paired with. These show layout, furniture, and décor in 3D.

Use of Style Editor

Using furniture that is within Modsy's 3D modeled pieces, you can edit your design within the 3D editor software and switch furniture pieces out as long as it is within their catalog.

Online Shopping List

Shopping list with your designer's furniture suggestions and online price matching. 

Modsy Optional Add-ons

Color Palette
Window Treatments
Existing Furniture in Renderings
Ordering Fee
Decorilla vs. Modsy: Features
| FEATURES | DECORILLA | MODSY |
| --- | --- | --- |
| CONCEPTS FROM MULTIPLE DESIGNERS | Yes - Competing Design Concepts from Multiple Designers | No - 2 Concepts from 1 Designer |
| DISCOUNTS ON FURNITURE | Yes - 10% to 45% off popular brands. | Yes - Price matching with brand's advertised price. |
| PARTNER VENDORS | 300+. New partners can be requested and used in projects. | ~100. Limited to partners that are currently in Modsy's 3D model library. |
| ORDERING CONCIERGE | Complimentary white-glove purchasing service | $20 ordering fee for purchasing service on orders over $500. |
| DESIGNER EXPERIENCE | Interior design or architecture degree required | No degree required |
| DESIGNER PAY | $400 - $1,600 per room | $30 per room |
| TYPICAL DESIGNER TIME PER ROOM | 10 to 40 hours per room | 2 to 6 hours per room |
| INCORPORATE EXISTING OR REQUESTED PIECES | Included in flat-rate price | Additional $15 per existing item |
| WALLPAPER & PAINT COLORS | Included in flat-rate price | $30 to request a wallpaper in 3D renderings, uses existing wall colors unless specified. |
| LIGHTING DESIGN | Custom and track lighting, table and floor lamps, pendants, chandeliers, and sconces available. | No custom or track lighting available. Table and floor lamps, pendants and chandeliers available. |
| WINDOW TREATMENTS | Window treatments, shades and curtains included | No window treatments and curtains included |
| NO MARKUP OR SALES PRESSURE | Shopping list and discounts do not expire | Shopping list and discounts do not expire |
| KITCHEN, BATHROOM, CLOSET & PATIO DESIGNS | Yes | No |
| 3D MODEL | Yes - Photo-realistic 3D Renderings | Yes - Photo-realistic 3D Renderings |
| REVISIONS | 4 - 10 with designer | Unlimited self-edits with Style Editor tool |
| IN-HOME CONSULTATION AVAILABLE | Yes | No |
| RENOVATIONS | Yes | No |
| COMMERCIAL & OFFICE DESIGN | Yes | No |
| DESIGNER PHONE CALLS | Yes | No |
| PRICING | $75 - $1,699 | $69 - $129 |
Schedule a Free Online Interior Design Consultation from one of Decorilla's online interior decorators today. Or if you're ready to get started, Choose a Design Package that suits you with a click of a button!
Modsy vs Decorilla: Design Process and Flexibility
The interior design help process looks different for every company. Therefore, it's important to see the differences before making the decision on which online interior design service is right for you. In addition, flexibility is equally important when it comes to designing your home. Here's how Modsy vs Decorilla compares.
Decorilla Interior Design Process
Decorilla offers a custom fit design process. To begin you complete a simple and fun online style questionnaire where you give some information about what you need for your space. Shortly after, an interior designer will reach out to you to schedule a free initial one-on-one consultation. During this consultation is when the designer can help create the perfect package for you. Decorilla offers bronze, silver, and gold level pricing which also determines the experience level of the interior designer. In addition, Decorilla also offers in-home consultations in over 20 major US cities.
Next, once the initial consultation is complete, you're paired with two interior designers who are style matched to you. An interesting feature of Decorilla; their interior designers compete to work with you. Both designers submit concept boards based on your project needs and you have the ability to choose who you would like to continue designing your space. The communication process is straightforward and simple and can be done through email or the Decorilla platform. Organization is key which is why emails are automatically posted on Decorilla's platform.
Together, you and your designer will finalize the room design. The next step is the photorealistic 3D renderings which allow you to visualize how everything will look in your space prior to making any purchases. These also include any existing furniture and/or décor that you would like to keep in your space. The final design package includes a concept board, furniture layout, color palette, paint suggestions, 3D renderings, and an online shopping list. Decorilla passes along its designer discounts of up to 45% off from hundreds of popular retailers. Additionally, included in every project is access to Decorilla's white-glove ordering team. They allow you to order from multiple vendors all in one place, coordinate deliveries, answer questions, and help with returns so that you don't have to deal with 10 to 20 different vendors. You just have one helpful point of contact. 
Modsy Design Process
The first step of the Modsy process is to take their fun interactive style quiz. Part of the quiz is leaving details of all your project needs including existing furniture and budget. Modsy offers packages for living rooms, dining rooms, entryways, bedrooms, offices, and nurseries. Each package includes two custom design plans from an interior designer paired with you. If you want to see your existing furniture in the design let your designer know beforehand and they will incorporate any items in 3D for $15 each.
Next, you have the ability to revise your room with their unique 3D Style Editor. You can easily switch pieces out for other options within the Modsy online catalog. This includes furniture choices from hundreds of popular vendors that you can shop directly from your 3D room design. Modsy also offers an ordering concierge service for a small $20 fee.
Modsy vs Decorilla: Furniture Brands
With the Decorilla team, you can take advantage of discounts from over 300 different vendors with prices of up to 45% off. Decorilla works with trade exclusive brands as well as favorites like Wayfair and West Elm. The discounts that the Decorilla designers pass along can essentially cover the cost of the package. Clients are not limited to only Decorilla preferred vendors, they can specify furniture and décor from any company you'd like to use. In addition, Decorilla designers don't make a commission off of furniture selected so you can be sure the items are being sourced with the best intentions.
The Modsy design team sources their furniture from almost 100 online furniture vendors. With some trade exclusive brands along with the popular big-box retailers, they're able to accommodate all styles and budgets. The Modsy 3D online catalog includes a curated selection of designer favorites from popular retailers, which you can choose from.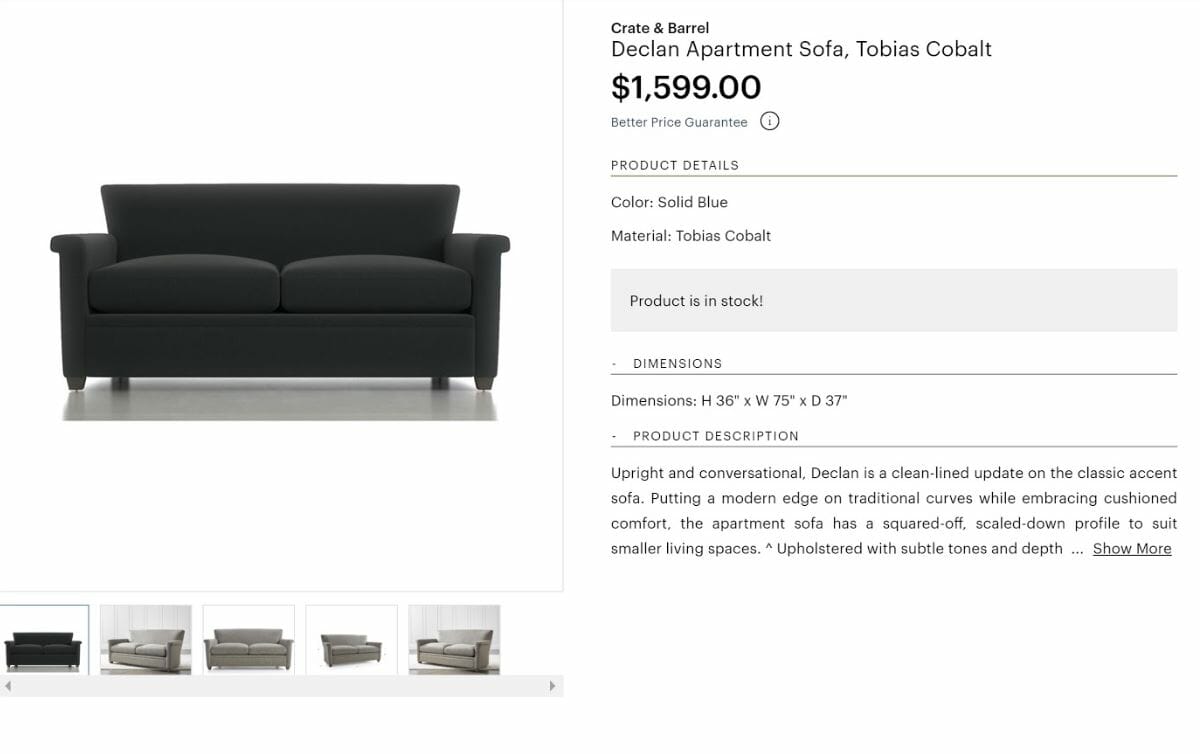 Let's compare the discounts. This sofa is $1,599 on Crate and Barrel. Modsy has a promo code for $150 off orders over $3,000 so unfortunately that wouldn't apply to this one. It's also important to note the free shipping is only on FedEx and ground ship items. So, though Modsy I would pay $1,599 for this sofa plus the $20 ordering fee. In comparison, Decorilla applies their Crate and Barrel designer discount so this sofa on Decorilla would be $1,343. 
Decorilla vs Modsy: Ease of Use
The Decorilla online interior design platform is a streamlined, easy to use website that helps keep all of your information organized throughout the process. Communication with your designer can be done directly on the platform or via Gmail, which gets posted on the platform to ensure everything is in one place for you. You also have the option to request a phone call. Each step of the design process is clearly labeled and you know what to expect next. If you have questions throughout the process you can ask your designer or the talented customer service team that is there 24/7.
Modsy also has a wonderful platform that is very easy to use. Communication with your designer is conveniently done via email. You can also choose to communicate by phone with the premium and multi-room plan.  Modsy uses an interactive 3D design platform that allows you to explore and edit your design in 3D. While they are limited in the number of items they have in the 3D style editor, they've selected designer favorites that appeal to all budgets and styles.
Decorilla vs Modsy: Customer Support
Quality customer service is so important, especially with an online service. The Decorilla team takes pride in its stellar 24/7 service with someone always available to help. The handpicked team of customer service members are there for you day or night. The Modsy team also has customer service members available to help. They can be reached via email anytime. 
Decorilla vs Modsy: Pricing
Traditional interior design was once thought of as a luxury service but ever since online interior design has been gaining momentum having a professionally designed home has become more attainable than ever. Here is a breakdown of each companies pricing.
Decorilla pricing is based on the room and experience level of the designer. Smaller spaces such as hallways are different prices than larger spaces like great rooms. In addition, they also offer multiple room discounts if you want to take on more than one space.
Bronze Design Package

– $549 – $899/room

Includes two experienced designers concepts and ideas

Designers have 2-5 years of experience and an interior design degree

Professional interior design help for a space with simple requirements.

Silver Design Package

– $649 – $1099/room

Includes two very experienced designers concepts and ideas

Designers have 5-10 years of experience and an interior design degree

Stunning designs completed seamlessly with less back and forth.  

Gold Design Package

– $849 – $1,849/room

Includes two high-end interior designers concepts and ideas

Designers have over 10 years of experience and an interior design degree

Expert interior designers with the best industry knowledge for luxury interiors

Custom Hourly Design

– $75/hour

Custom packages available if the other packages don't cover your needs
Modsy Pricing
For Modsy, they offer three packages which are based on the level of design you need and the experience level of the interior designer.
Premium Design Package

– $159

 

Includes draft designs from one interior designer and unlimited revisions. 

Work with one of Modsy's more experienced designers

This package allows you to get more hands-on help from one of Modsy's designers. 

Multi-Room Design Package

– $299

Includes draft designs from one interior designer

Work with one of Modsy's established designers

If you have more than one room to design this is a good pick for you

Luxe Design Package

– $499

Includes draft designs from one interior designer and unlimited revisions

Work with one of Modsy's more experienced designers

This package allows you to get more detailed advice from your designer like paint and window treatment options.
Modsy Reviews vs Decorilla
Decorilla Reviews from Customers

(5 stars)

Check out what some happy Decorilla customers had to say:
"It was not only incredibly easy to get the projects underway, but the concepts were excellent and the communication with the designers was dynamic and timely. They were able to address questions and make adjustments to concepts as the project was underway and we were very satisfied with the final designs."

"I cannot recommend Decorilla highly enough. I have really high expectations for customer service and they surpassed all of them. I've used them for several projects, and the work has been phenomenal – great ideas tailored to my needs and tastes."
Decorilla Reviews from Interior Designers

(4.3 stars)

Decorilla interior designers also had great things to say about the company:
"The clientele is growing rapidly! (I wish I had the time to say yes to ALL of them!) As long as the project you're working on is running smoothly and at a good pace then the pay is totally worth the hours and time put into it."

"I love working with Decorilla as an online platform – the opportunities they have brought me with fantastic clients has been career changing. They are supportive, friendly, always make time to listen to my concerns/ideas"
Modsy Reviews from Customers

(3.7 stars)

Modsy does not have a Yelp page, but the online reviews are mixed. Some reviews you may see while browsing online are sponsored so that is something to keep in mind. However, that does not mean they are not genuine.
"Easy to use, super helpful, beautiful renderings, affordable! I hate to think of the costly mistakes I COULD have made that Modsy helped me avoid."

"I was expecting a quicker response. Had to follow up with them after which they responded promptly. It's a good idea but didn't help me much. I was designing my studio apartment. Their designs weren't too special. And definitely over budget."
Modsy Reviews from Interior Designers (2.5 stars)
In comparison, there were mixed Modsy interior designer reviews, some had a great experience while others had different opinions.
"No matter how long a room takes you to do, you only get paid $30/room. Rushing through the work to finish under the 2 hr mark isn't really an option since your employment is based on customer ratings of your designs."

"Everyone I came into contact with was completely lovely. However, I feel like I was subject to a bait-and-switch situation and I'm sure I'm not alone. The current model is basically going to encourage shoddy work and/or high turnover."
Modsy Reviews from Around the Web
Modsy reviews can be found from many different sources on the web. Here are a few highlights.
Sponsored review: "Even though the service chose pieces that were a bit too pricey for my current budget (I chose the cheapest option, which was $2,500 or under for the room), I'll be back."

"

The 3D rendering is great. Design is nothing I requested, but I can swap furnitures out myself and try different stuff at least."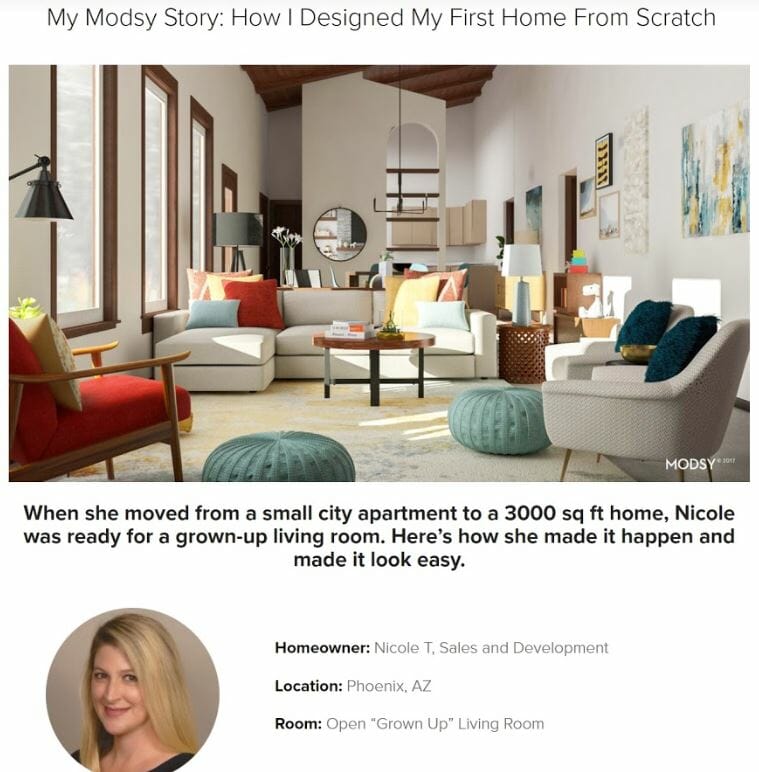 Modsy and Decorilla Alternatives
If Decorilla or Modsy don't seem like the right fit for you here are some great alternative options to consider.
Pottery Barn Interior Design Service
Pottery Barn Design Pros
One on one consultation with a designer

Meeting with your designer can be done at your local store and in your home

Free design service
Pottery Barn Design Cons
Constricted to only choosing from Pottery Barn pieces

Must have a pottery barn store near you
Wayfair Interior Design Service
Wayfair Design Pros
Budget-friendly design advice

A fun design questionnaire to help determine your style

Three different package choices
Wayfair Design Cons
Limited to furniture sold on Wayfair

Must purchase the most expensive package for 3D renderings

Only some packages offer revisions
Home Bunch Design Service
Home Bunch Design Pros
Only works with one client at a time to ensure quality service

One on one communication via email

Also offers home staging packages
Home Bunch Design Cons
Online only design service

No interactive design platform, email communication only
Decorilla vs Modsy: Major Differences and Conclusion
It's clear to see why these online interior design services are at the top of the list. With so many great features it may seem overwhelming trying to make the ultimate decision on who is the right fit for you and your home. Here is a breakdown of the major differences between the two.
Decorilla
Interior design concepts from multiple interior designers

3D renderings and VR designs

Shopping list with trade discounts on furniture and decor

Custom packages and CAD work

An in-house team of architects and designers that handle large-scale projects and renovations

An online team available worldwide

24/7 customer support via email and phone

No add-on fees
Modsy
Interior design concepts from one interior designer

3D renderings and 3D Style Editor

Shopping list with Modsy preferred vendors

No bathrooms, kitchens, commercial, business, or outdoor design

No renovations or remodels

Services available in the US

Email customer support services
Do you still have questions about if online interior design is the right fit for you? Schedule a Free Interior Design Consultation with our team today to learn more!