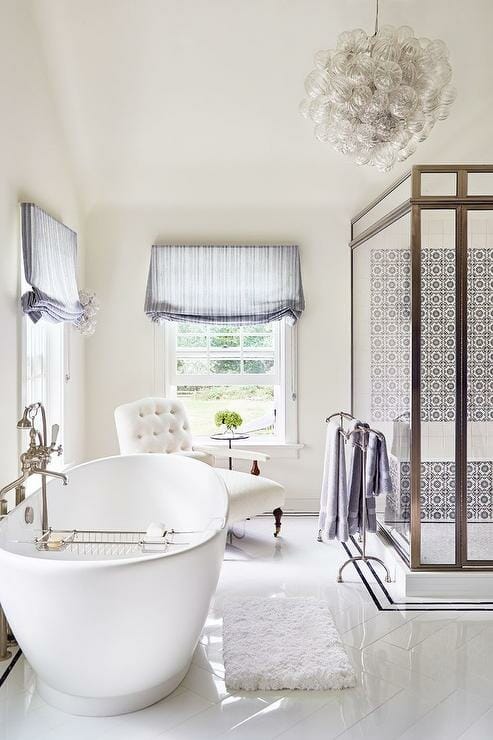 If you want a peaceful space at home in which you can relax and rejuvenate your senses, look no further than the humble bathroom. A home bathroom has the potential to be transformed into a magical haven where you can break away for much-needed pampering and me-time. Water has a calming effect on the mind and can relax tensed muscles, so make the most of this serene source and create a luxury sanctuary for the ultimate relaxation at home. But remodeling your bathroom can be intimidating, not to mention stressful. To help you get started, we've put together a checklist for the ultimate luxury bathroom. Here are the 5 must-haves! Want more? Check out our top ways to hygge your home. Hint: #6 is all about bathrooms!
1. Bring in some bling


Give your bathroom the regal treatment with a shimmering element. Think gold mirrors, crystal lamp shades, a copper sink or metallic faucets and accessories. Opt for a less-is-more strategy to avoid creating a shiny but potentially tacky mess.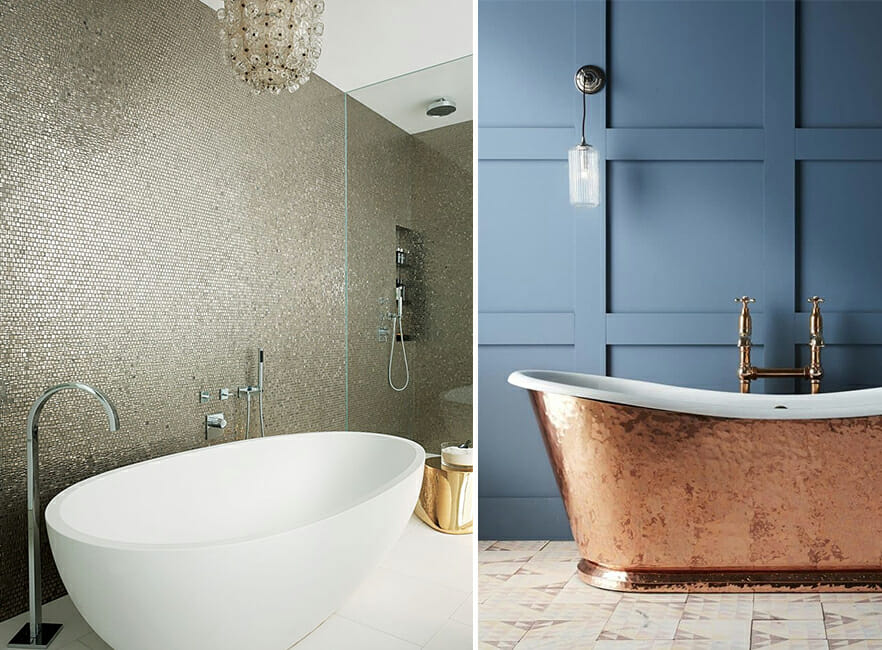 If you want metal to be the focal of your bathroom, choose a metallic tile for the walls or a striking copper bathtub. Other options to consider include metallic candles, side tables, shelving and towel rails. Have a look at the practical extras in these heavenly bathrooms for inspiration.
2. Go green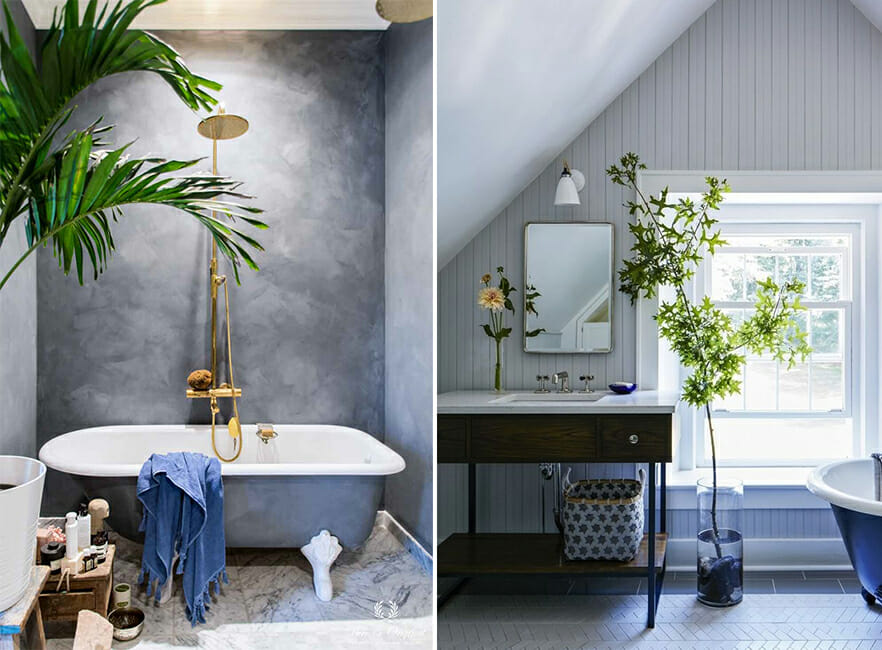 Invigorate your bathroom with greenery! Fresh plants add more than just cheer to the cold interior of a bathroom; they are multifunctional in that they absorb air pollutants while looking fabulous. Pick tropical plants that thrive in a humid environment and require minimal maintenance. Peace lilies, orchids and aloe are some of the many options ideal for a luxury bathroom.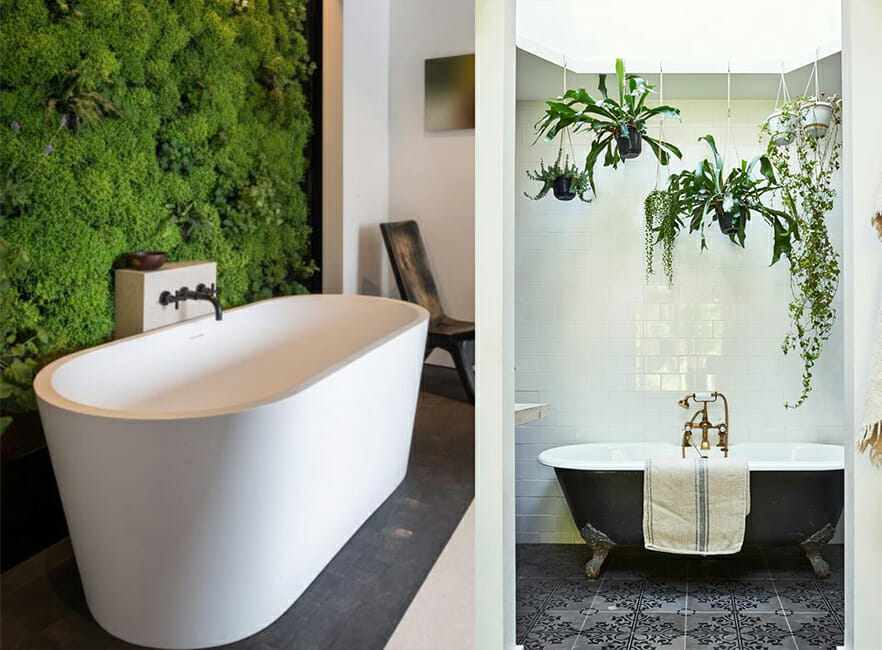 Save space and maximize your area of greenery by suspending potted plants or kokedama above a beautiful freestanding bathtub, or create a living wall for a stunning focal. Whichever way you use them, plants make for a tranquil and relaxing environment and the perfect remedy for a long day.
3. Freestanding Bathtubs
A freestanding bathtub is the ultimate in luxury bathroom design. A large freestanding bath will be the most significant feature in the room, and the choice of tub will impact the style of the entire bathroom. One thing is certain; lying in a large tub in a luxurious interior will have you feeling like a royal. Here is more inspiration for a modern bathroom that you'll never want to leave!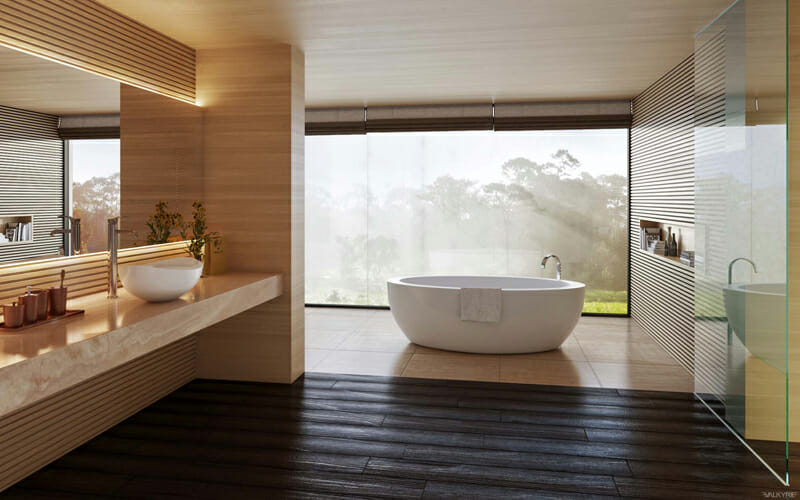 There is something magnificent about the way an enormous, dark freestanding bathtub can add dramatic effect to a bathroom while the impact of a white bathtub is that of quiet serenity. Whichever you choose will add amazing value and to your bathroom.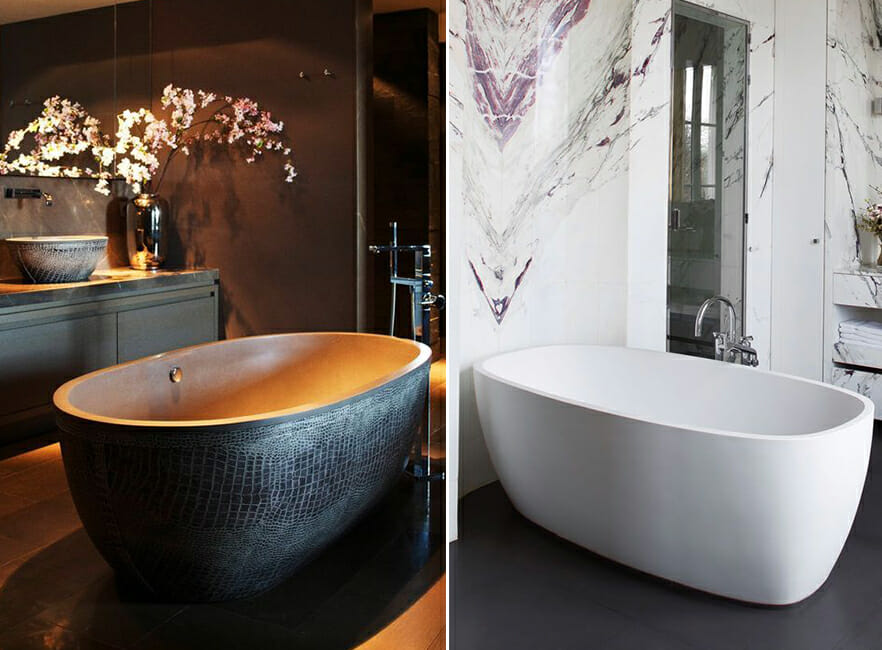 4. Heated Towel rails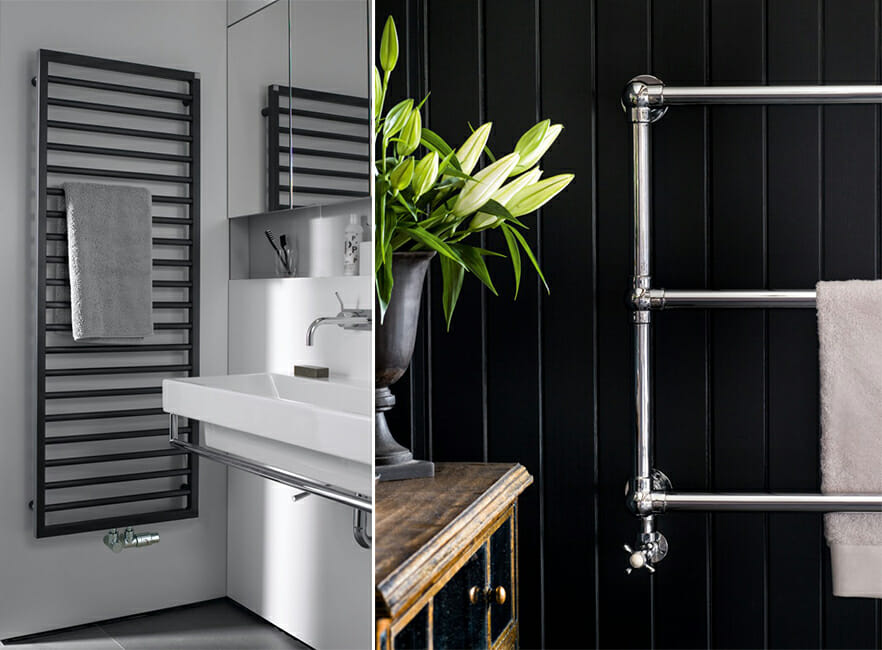 Super luxurious and practical, towel rails will completely change your bathroom. With a quality towel rail, you can snuggle a warm towel within 15 minutes! Apart from keeping you cozy, heating your towels has another benefit; it keeps them fresh and eliminates harmful bacteria that might think of your damp towel as an ideal breeding ground.
5. Luxurious lighting
When it comes to choosing lighting for your luxurious bathroom, you'll have to dust of the crystals and get out the feathers because it's time to go all out! Delicate pendant lighting, intricate chandeliers, and experimental designer lighting can shape your bathroom into something exquisite.
Remember that even though you want bright and clear lighting in a bathroom, you also want to maintain a spa-like atmosphere. That is where the dimmer comes in. If you don't want two different types of lighting in the bathroom, dimmers are a practical alternative; perfect for adjusting the light intensity to suit your mood.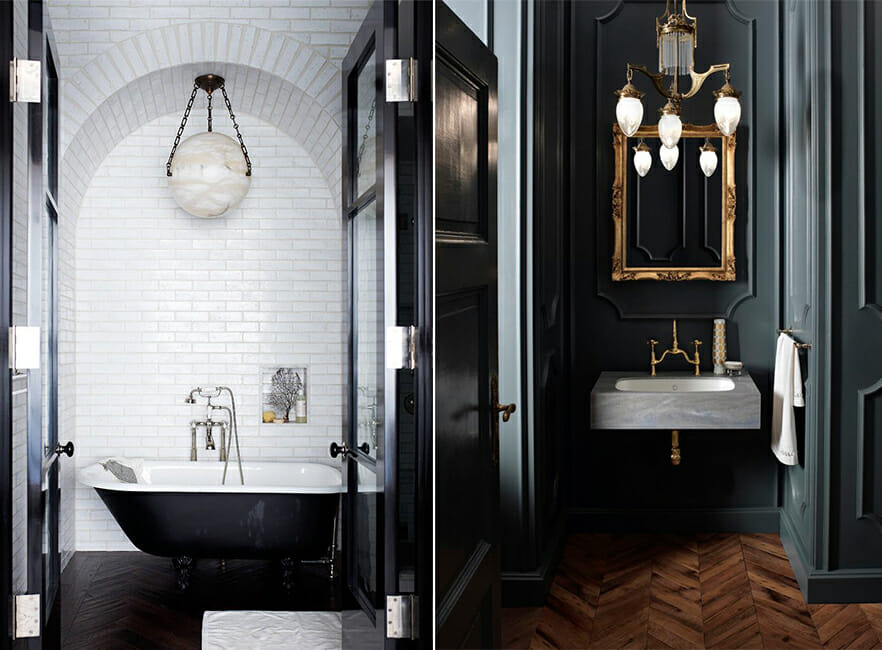 Because water and electricity can be a fatal mix, you also have to keep the safety regulations in mind when deciding on bathroom lighting. Fittings should be completely covered, and light switches should be outside the bathroom to avoid a potential fire hazard.


Have a look at these modern bathroom designs to arm you with more great ideas for your ultimate private sanctuary. Still need a little guidance? Get in touch with one of our expert online interior designers to schedule a free consultation and help you with your luxury bathroom ideas. You'll be soaking up peaceful vibes in your magical luxury bathroom in no time!